Junior running back's 4 scores Slaughter No. 9 Winslow
October 8, 2021 by George Werner, AZPreps365
---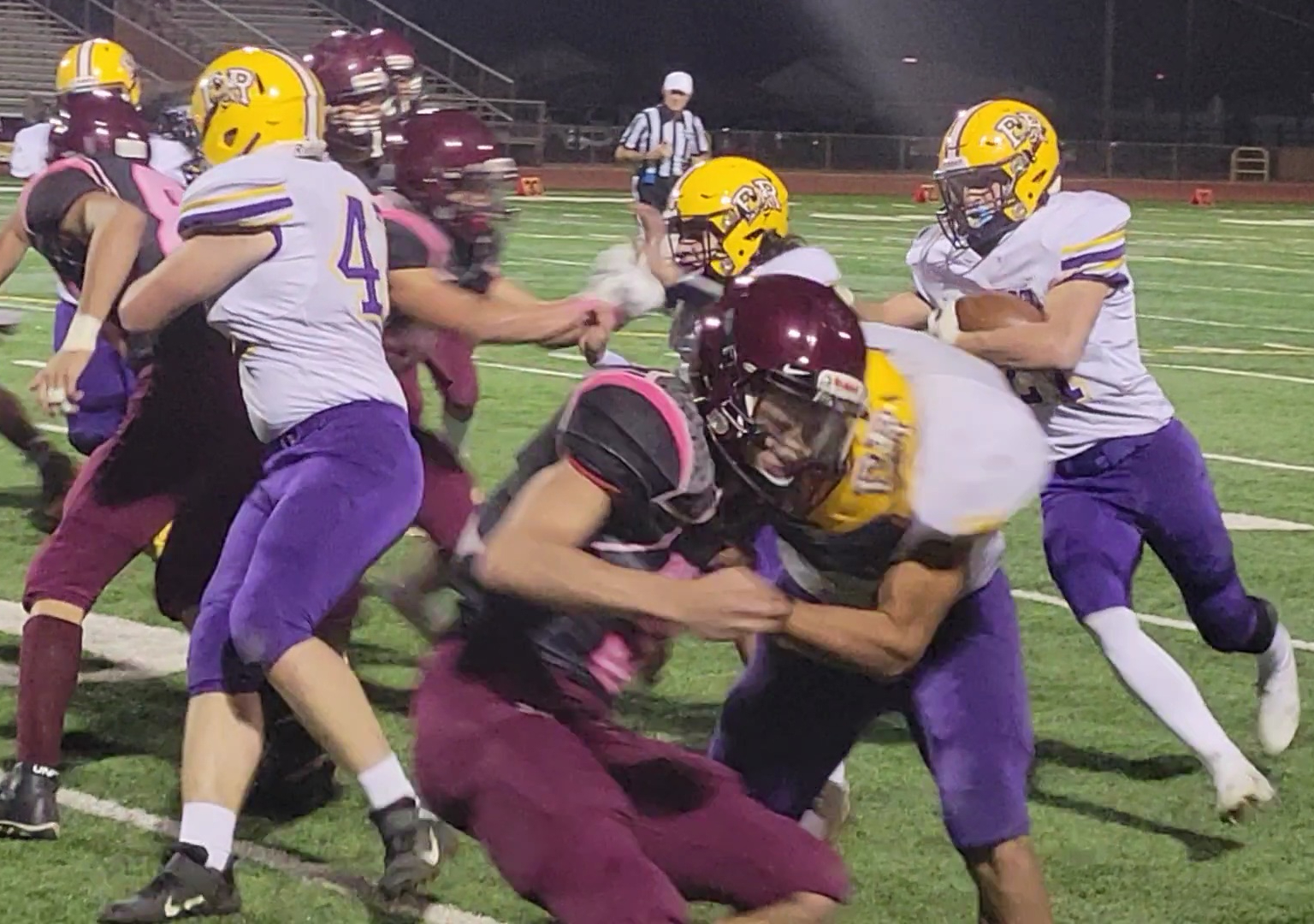 Of the five battle-scarred Blue Ridge High School running backs revolving Thursday, Oct. 7, through the dizzying door of its double wing formation, it was ultimately a Slaughter at Winslow's house.
A week after Franko Harris upended Prescott with an Immaculate Reception of a two-point conversion in spite of a wrist sprain, Seth Slaughter lived up to his Internet-Breaking Ralph, pro wrestling and Kurt Vonnegut namesake four times in the Bulldogs' end zone for the Yellowjackets' first regional win, 28-7.
"We know we can be more physical than other teams, and we're starting to execute. I like that a lot," said the junior running back, who had touchdown carries of 10, nine, eight and four yards following the removal of stitches from his left leg, injured during the win at Prescott. "Even though I scored all the touchdowns, and the running back gets all the credit, really, it's the [offensive] line that's doing all the work."
Even more than the less-modest, eponymous pseudo-sergeant who stalked World Wrestling Federation arenas four decades ago, Slaughter always answered the call to carry the football into an overmatched Bulldogs defensive line as part of a 297-yard rushing attack.
"Everybody knew what was coming, and they still couldn't stop it," Blue Ridge head coach Jeremy Hathcock said. "We actually stopped ourselves: we threw a pick on our one [pass] attempt."
Without that second-quarter lesson learned through the air by junior quarterback Hunter Martinez, the Yellowjackets would have won their third straight game--this time without throwing a single pass.
"Dang it!" Hathcock joked after the Bulldogs couldn't capitalize on senior Micah Johnson's athletic interception at his own 37-yard-line. "At least we're one for one."
Which was, unfortunately for Winslow, all it could muster on the stat sheet for takeaways as well as touchdowns. That lone score came with one minute to play in the opening quarter off a nine-yard end-around by junior Bryan Larsen to tie it up.
"That was a pretty good Winslow team, man," Hathcock said. "They smacked Flagstaff; they're pretty good physically."
But right up until under a minute before halftime, however, when senior quarterback Jace Lyons fumbled a snap out of the shotgun at his own 25, it wouldn't become apparent to the Bulldogs that the Slaughter Race had already started.
It began the game's opening drive, in fact, as the junior running back, Harris, and seniors Sam Montoya, Christian Roman and Cody Wallace took multiple turns pounding away at the Winslow defensive line from their own 30.
"They say, during the wars back in Roman times, the soldiers would burn their ships so they can't go back. That's just how we are right now: We keep going forward, no matter what," said Wallace, who is Martinez's substitute Caesar behind center in case further injury incapacitates him. "It's fun, and you get a lot more confidence when your line's blocking for you, and making those big holes."
More than 65 yards and six-and-a-half minutes later, behind the blocking of senior center Royer Gonzalez and sophomore Ayden Olguin, Slaughter would smash in a four-yard run on third down and goal and never look back.
"Even my quarterback, he wants to throw the ball, but he knows what's best for the team," he said. "In this offense, I can't thank him enough for doing everything he can to block for me."
After the Lyons fumble, Hathcock managed the clock to perfection, going no-huddle without receivers, concentrating all 11 of his personnel on a five-play grind to the goal line sprung 10 yards by Slaughter with less than 11 seconds to play.
"We just came together as a team," he said. "I trust my line; they trust me. They're creating these huge holes and being super physical."
The drive that broke the back of the Bulldogs, however, came as soon as the fourth quarter started, following a goal-line stand by the Blue Ridge defense punctuated by sophomore David Simmons' breakup of a Lyons three-yard pass to senior Chris Arellano on fourth and goal.
"Our defense is one helluva defense," Wallace said. "The kickoff returns, we don't do as well on, but if our linebackers make good reads, [and] if our defensive backs can have good coverage, we should be good."
Taking over at his own 3, Martinez marshalled a 97-yard drive in less than two-and-a-half minutes to seal the game. On first and goal from the Bulldogs' 9, Slaughter battered his way across the plane of the Winslow goal line to make it 21-7.
All his 8-yard scoot around left end to complete the scoring less than seven minutes later meant that he was one third-quarter score short of a Slaughterhouse Five.
"We switched up the offense these last three weeks, and we're starting to trust each other," Slaughter said. "We can do great things. It's a huge team effort."