How an eye injury and faith has shaped this collegiate prospect's swim career
October 15, 2021 by John Cascella, Arizona State University
---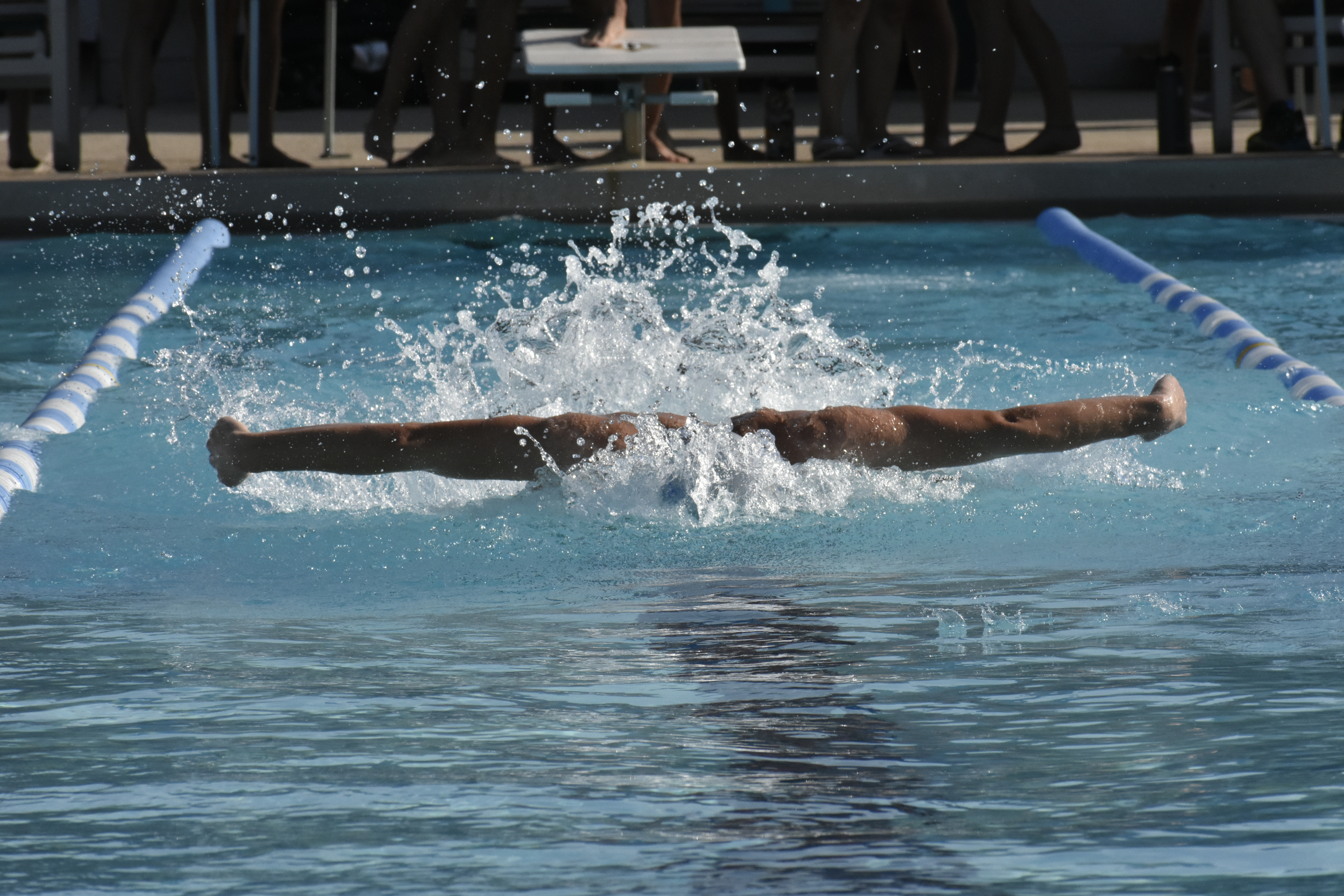 John Cascella is an ASU Cronkite School of Journalism student assigned to cover Dobson High School for AZPreps365.com.
For this top swim recruit, the pool isn't his first priority after graduation. Dobson swim star junior Carson Hamblin has been swimming since four years old, but his faith has always come first.
A member of the Church of Jesus Christ of Latter-Day Saints since birth, Hamblin plans to serve a two-year mission after graduation. Hamblin could have his pick at most Division 1 swim schools, but to him, " for the most part, it's church before swim."
Hamblin started his swim career at the young age of four with the Dobson Dolphins, a local Mesa recreational swim team. He would swim with the Dolphins until he was about nine years old when he sustained a gruesome eye injury, sidelining him for more than six months.
The culprit? A broken wind-up helicopter toy wing.
The wing ended up cutting Hamblin's right eye and shortly thereafter, was rushed to the emergency room for stitches. Once the stitches were removed, Hamblin received cataracts surgery.
"That's one of the main reasons I have glasses and not just … contacts," said Hamblin. "We're trying to protect my one good eye."
Hamblin fears if the eye receives more damage, he may become legally blind. "I can see out of it [the right eye]," he said. "It's just blurry."
Because of this, Hamblin quit sports like baseball and basketball at a young age, though he would continue with soccer up until 6th grade. With this extra time, Hamblin joined Mesa Aquatics Club (MAC), an Arizona year-round swim club. He's now been swimming year-round, competitively with MAC since middle school.
Hamblin has flourished in his time with MAC. SwimCloud.com currently ranks him as Arizona's number two recruit out of the Class of 2023, behind Olympic Trial participant Keaton Jones. At last years' AIA D1 Swim & Dive Championship meet, Hamblin shined. Representing the Mustangs, he placed 2nd overall in the 500-yard freestyle and 3rd in the 100-yard fly.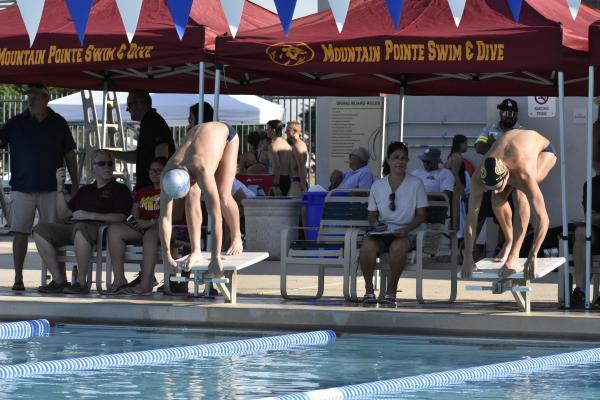 Hamblin (left) takes his mark for the 200 IM against Mountain Pointe. (John Cascella/AZPreps365)
A junior, Hamblin is now in his third year with the varsity boys swim team. Although not practicing with the team every day, he still makes his impact inside and outside the pool.
"He's willing to help out anyone on the team," said boys head coach Brian Mellott on his swimmer. "If I say 'show this guy a start,' … he's more than willing to take them off to the side and work with them, and even if I don't tell him … he takes it upon himself and takes the initiative."
"He's already a great leader," said fellow junior swimmer Sarah Roberts. "He's a good example for other swimmers… to reach a goal."
Lined up to be the senior captain of the boy's team next year, Hamblin's time with the Mustangs is dwindling. For a prospective Division 1 swimmer, Hamblin's post-graduation plans are rather atypical.
Ideally, he hopes to train with a program for a semester before departing on his two-year mission trip. With the time out of the water and off of a consistent practice schedule, Hamblin hopes to redshirt the following season to allow himself to get back into shape. If all that doesn't work, he also mentioned the possibility of walking onto a team.
Although this plan is fluid, one thing is for sure and that is Hamblin's mission.