One direction to the state tournament
November 8, 2021 by Ethan Schwager, Arizona State University
---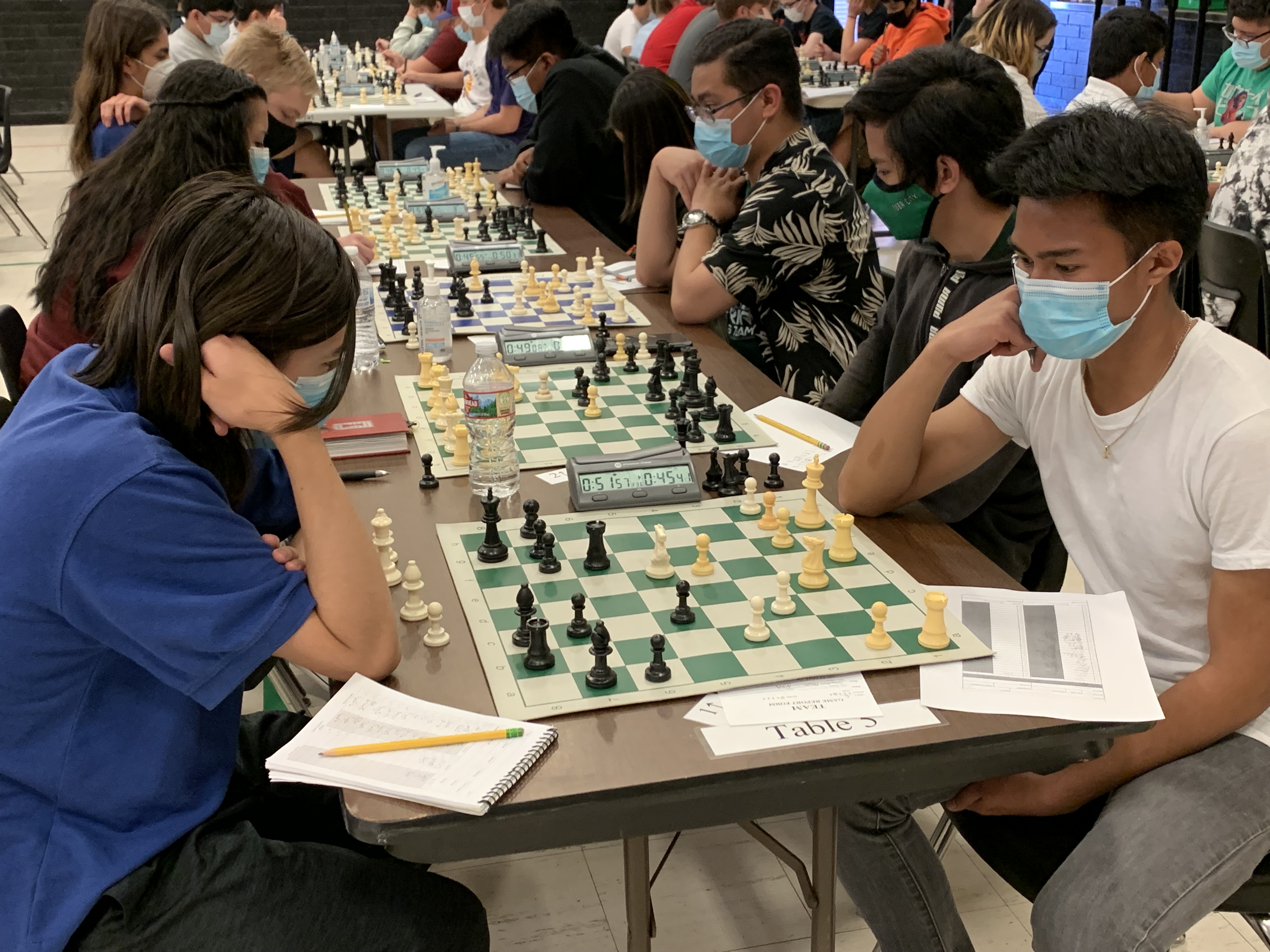 Ethan Schwager is an ASU Cronkite School of Journalism student.
At the AIA chess state team championships on Nov. 5-6 at Apache Junction High School, a man showed up wearing a matching green shirt and facemask sporting the colors and logo of the Tuba City Warriors. That man is the Warriors' chess coach, Mike Belinte, whose legacy goes back to 1984 when he helped the school win its first state chess championship as a student.
To understand what chess means to Belinte and his team is to understand Tuba City, Arizona. Tuba City High School, which has an enrollment of around 700 students who are primarily Native American, is located on the Navajo Nation in Coconino County. The rural setting of the school makes it difficult for the athletes, as competing against other schools requires a sizable amount of travel no matter the location.
"The closest place we could go [to compete] is about an hour away in Flagstaff," junior Jeremiah Walters said. "It's a lot of sacrifice that takes away from school time."
Tuba City recognizes its chess program as a varsity fall sport alongside football, volleyball and cross country. While travel may not be easy for the program, having the support of the athletic department allows Belinte's team to have the same opportunities to compete as some other Arizona chess powerhouses — schools like BASIS Chandler and Brophy Prep in Phoenix.
"We're lucky and fortunate that our athletic department pays for our transportation, our meals and our [motel] rooms," Belinte said.
Every chess competition is an overnight trip for the Warriors. Apache Junction High School, which hosted last weekend's state championships, is 256 miles away from Tuba City — meaning the team spent nearly eight hours on the road to be able to compete at the highest level.
There is some preparation for these tournaments on the bus rides, but the team stays loose for its matches by having some fun as well.
"We do karaoke," Walters said.
The Warriors spend their bus rides relaxing their minds and tiring their vocal chords. Those who participate sing "Never Gonna Give You Up," by Rick Astley, and Kanye West songs, in addition to their music theme for the bus ride.
"The theme today was boy bands," Walters said. "Every boy band you could think of, that's what we were singing."
Some players prepare for competition in other ways. Freshman Aedhan Yonnie tends to spend his bus rides independent of his teammates.
"I have my own earbuds in," Yonnie said about the long bus rides. He says he prefers to listen to heavy metal music that he has curated on his own playlists.
While traditions have changed over the years, the school has been competing in chess since 1976. When Belinte was a student in 1984, the Warriors became the first program from a Native American school to win the state chess championship in Arizona. The team has won a few more state titles since Belinte took charge of the program as head coach more than a quarter-century ago.
Each of Belinte's chess players has a passion for the game. Some of them have been playing for years, while others are fairly new to the sport. No matter their experience level, the chess athletes are always willing to work hard for their coach.
"[Belinte] taught me everything I know about chess," senior Kyle Morales said. "He taught me all of the openings and tricks, and I got better."
Belinte has one wish for his program when he eventually retires from coaching the team.
"I just don't want to see the program go down, or be cut," Belinte said.