Ping's top underclass time in America leads girls into state cross country meet
November 11, 2021 by George Werner, AZPreps365
---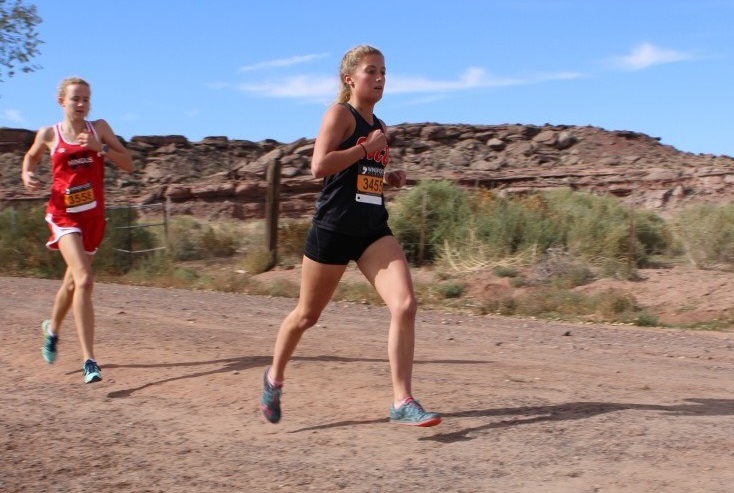 Twenty minutes is a magical time in girls cross country.
Unlike in other fall sports, where the goal often becomes reduced to just using it up, Arizona high school 5K runners, from the Rez up to crowded Division I, make that time a target to beat.
Because they know, if they cross that Cave Creek Golf Course finish line Saturday, Nov. 12, in less time, a medal and a place on the winner's podium could be theirs at the state cross country championships, which begin at 8:30 a.m.
But the competition is fierce: Even though the COVID-19 pandemic narrowed last year's Divisions I through IV field at Gilbert's Crossroads Park, 72 female runners still managed to run the course in 19:59.5 or faster. Most of those back to beat those times, including eight of last year's 11 underclass medalists, are from Valley programs.
Foremost among them is Desert Vista High School junior Lauren Ping, Arizona's cross country Runner of the Year as a freshman, who became the state's only high school female to run a 5K in less than 17 minutes Sept. 24, at the Desert Twilight Festival.
But the pandemic's impact hit the smallest schools the hardest.
While Chinle, behind junior Temyra Bia, is the Navajo Nation school hanging tough in Division III, St. Michael and Many Farms, champion and third-place teams, respectively, at the 2019 Division IV championships, have nearly no one with eligible times this season.
Only St. Michael junior Amber Woody, whose eighth-place North Section finish was still three minutes slower than her fourth-place, 20:00.4 freshman time at the Division IV state 5K, returns from those Cardinals champs.
Ganado, which lost both a year and a classification to the pandemic after finishing third in Division III, brings back top 15 senior runner Whitney James to join freshman AnnaMarie Yazzie as new challengers for the Division IV podium.
They will all need to surpass Round Valley senior, and North Section winner, Jessica Madrid, the only returning Division IV medalist from a program outside of the ultra-competitive Phoenix area with a sub-20-minute finish last November. Her 18:03 personal record is the seventh-fastest 5K time in the state, set in her only finish lower than first this fall Sept. 24 at Desert Twilight, where four of the state's six runners ahead of Madrid had their PRs as well on the San Tan Valley's Links Golf Course.
Those runners, along with the rest of the medalists, their State times to beat and the toughest challengers they will face, are profiled below: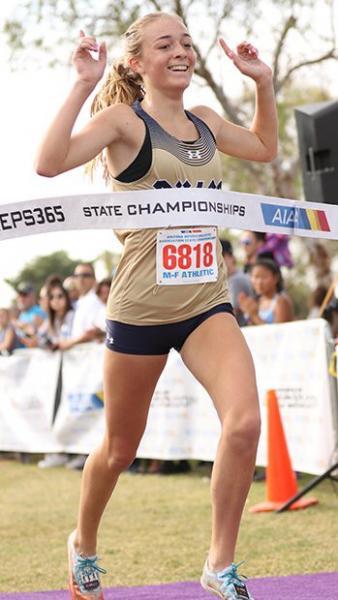 Lauren Ping
Division I
Katie Sigerud, senior, Desert Vista, 17:38.6: Sigerud's PR of 17:32.6, good enough to take State most years, is a poor fourth by comparison this fall to her all-Arizona teammate, with Ping's natural gift for speed peaking Sept. 24 at Desert Twilight, when she became just the second runner to break the 17-minute barrier with an unparalleled 5K time: 16:40.4. Until a Lewisville, Texas senior proved eight seconds faster at her 6A state championship Saturday, Nov. 6, Ping's finish stood supreme among all high school female runners this fall and continues to rank second in the nation among underclassmen. But her and Sigerud's times, along with low 18-minute finishes from Ping's classmate Bailee Christofis, makes the Thunder, defending state champions by just three points over Gilbert's Highland High School, a very difficult team to bet against Nov. 13. Hawks juniors Emma Baugh, Kayla Case and Lindsey Schlink, all top eight runners in the division, all still have work to do to break the 18-minute barrier, with Case at least having a bronze medal from last season's state meet to show for her efforts. Perry senior Taylor Lovell, supported by junior Alexis Pagel, will also keep the Pumas in the hunt with low 18-minute finishes.
Division II
Mia Hall, junior, Flagstaff, 17:54.6: Flagstaff's fastest female would have also been the swiftest high schooler in the state Sept. 24, were it not for Ping's sub-17-minute milestone. The defending gold medalist for the defending Division II team champions, Hall has senior support from Brenna Biggambler, one of a trio of other underclass Eagles who finished their state 5K last fall in under 20 minutes--and within 15 seconds of each other--but whose PRs have otherwise fallen off this season. Hall will be pushed Nov. 13 by medalist challengers from Campo Verde and Catalina Foothills high schools--and not necessarily in that order. Falcons junior Taylor McCue has run a sub-18:00 5K, while last year's bronze medalist, sophomore Coyote Clara Jones, has not. The biggest shock, though, would likely be if Flagstaff head coach Trina Painter, winners of nine of the past 10 team D-II titles, does not make it seven in a row Nov. 13 for the Eagles.
Division III
Kylie Wild, junior, Salpointe Catholic, 18:37.3: Tucson's fastest high school female ran even faster this fall with her 5,000-meter PR of under 17 ½ minutes at the Fountain Hills Invitational. Wild's gold medal, which propelled the Lancers to the state team championship, came in a photo finish two-tenths of a second ahead of another junior, Evelynne Carr of American Leadership Academy - Queen Creek. Carr can run a 5K in under 18 minutes, as she proved last October, with three-and-a-half seconds to spare, at the Casteel Invitational. But beyond that event, Carr's finishes have fallen behind her Nov. 13 time, making her a solid silver medalist as Division II's only other 18-minute runner in 5Ks. A foursome pushing the 19-minute barrier, including Lancers senior Maria Fernanda Ruiz de Chavez, Gilbert Christian bronze medalist Ryley Nelson, and Desert Twilight underclass stars like Coconino junior Wheaten Smith, still have a couple minutes of improvement to go where Wild's times are.
Division IV
Madeline McBee, junior, Glendale Prep, 20:04.02: Last year's only medalist with a 5K time over 20 minutes, to have a shot against Madrid, McBee will need a return to her 19:39.5 PR, also set at Crossroads as a sophomore when she finished second at the Phoenix Classic - Showdown at Sundown. McBee will also face stiff competition from Northland Preparatory Academy runners like sophomore Indi Jones and junior Meg Moyer, who broke the 20-minute barrier Oct. 13 but at the three-mile Flagstaff City Meet, a course one-tenth of a mile shorter than Cave Creek's.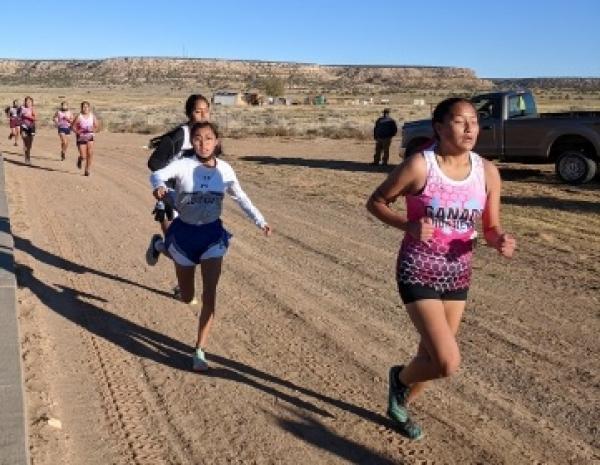 Ganado runners like senior Whitney James and freshman AnnaMarie Yazzie will compete for Division IV medals with senior Tuvasi Shelton and other Hopi runners at the state meet Nov. 13. (Photo courtesy Ricky Greer)