Mia Hall repeats as Division II champion, but Flagstaff streak snapped by Casteel
November 13, 2021 by Keith Dottley, Arizona State University
---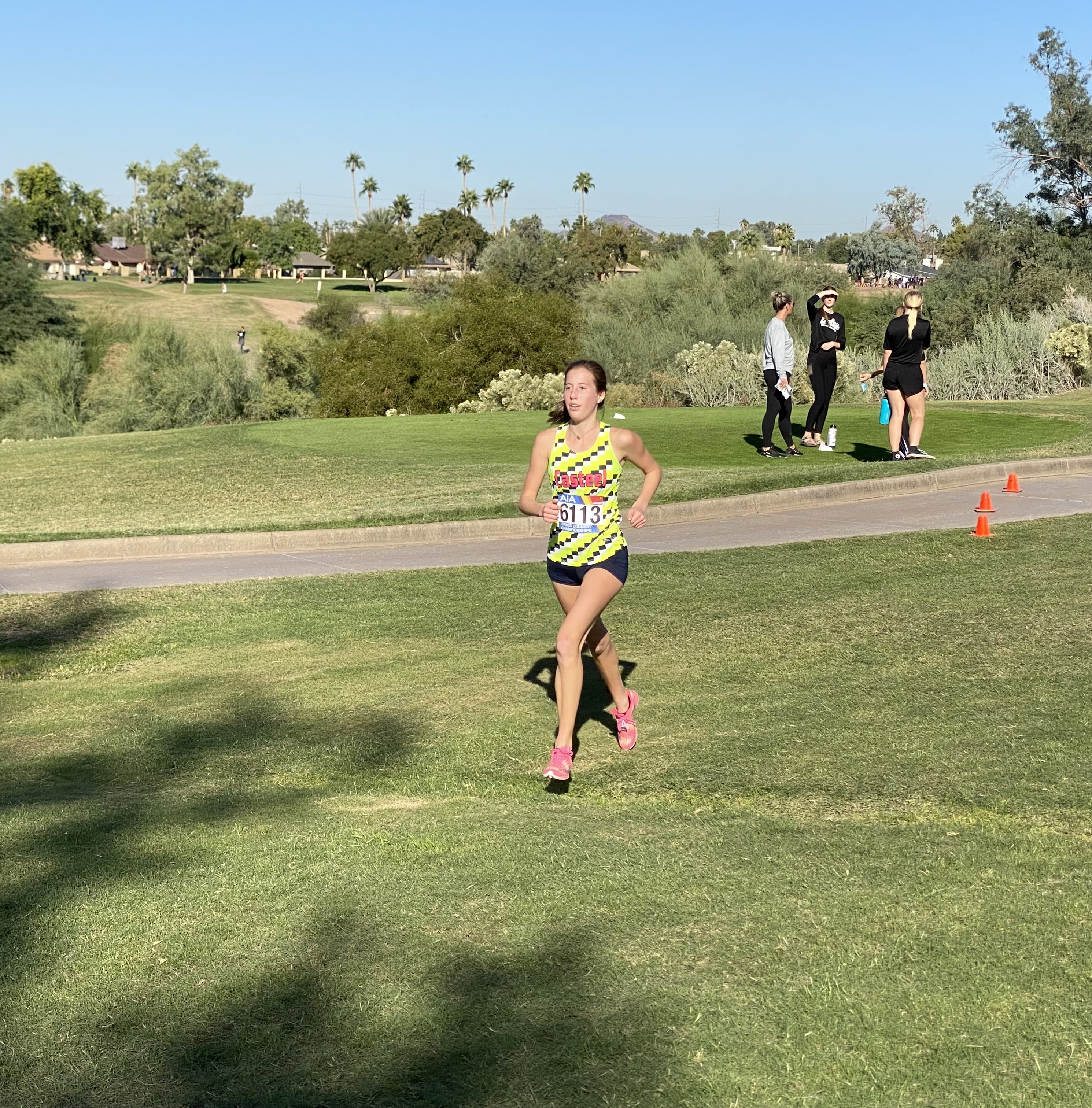 Keith Dottley is an ASU Cronkite School of Journalism student assigned to cover Coronado High School for AZPreps365.com
PHOENIX-- Flagstaff's Mia Hall won the battle, capturing her second straight state championship, but Queen Creek Casteel High School won the war on Saturday, dethroning Flagstaff from its six-year reign atop Arizona girls' Division II cross country.
Cave Creek Golf Course served as Saturday's battlefield, as the Colts edged out the Eagles, 68-90. Casteel's victory was truly a team effort, as its 1:42 gap between its first and fifth finishers was over two minutes faster than the second-place Eagles. It was just enough to overcome Flagstaff's :02 advantage in average time as well as the Eagles' top three runners beating out their Casteel counterparts.
"You can never count Flagstaff out, never," said Casteel coach Whitney Lemieux. "They are gamers, they know what to do, they've had such success winning. Kudos to them for making us that much better."
Colt senior Jadyn Herron-Jonap led the way for neon green singlet-wearing Colts, finishing fourth overall with a time of 19:15. Her strong showing served as a redemption for failing to medal last year after COVID-19 contact tracing forced her to quarantine for two weeks prior to the state championships.
"Last year at state, some things didn't work out because of COVID for me or the team as much as we wanted," said Herron-Jonap. "But we finished strong and hard, and I think that is what motivated us here."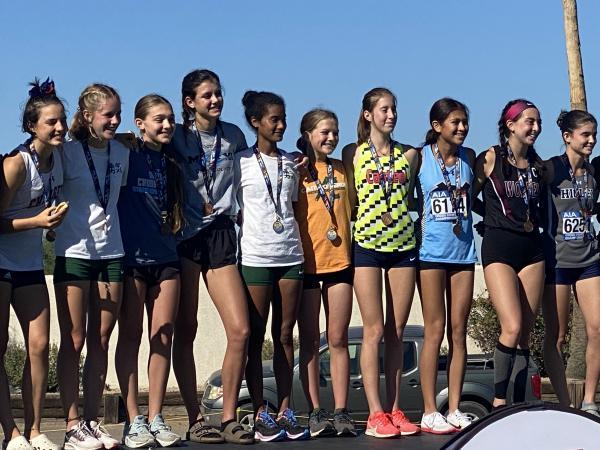 Hall (middle in white) and Herron-Jonap (in neon green singlet) occupy the awards podium, showcasing their medals. (Keith Dottley/AZPreps365)
Three other Casteel runners earned a spot on the podium, with Kyah Zurek placing 13th, Natalia Medina 16th, and Herron-Jonap's fellow senior, Sydnee Elliott, finishing 21st. Elliott's eight-spot edge on Flagstaff's fourth finisher, Olivia Baker, was crucial in the upset victory.
"Sydnee Elliott really had a gutsy race," said Lemieux. "She had one goal, which was to medal, and she got 21." Casteel boys' head coach Todd Daniels yelled in enthusiasm while hearing the news in real time.
As influential as the two coaches have been in the building of Casteel's cross-country program over the past four seasons, the team's biggest cheerleader on Saturday happened to be nestled in the arm of a Colt runner as the team accepted their trophy. His name is "Colton the Colt," and he holds the title of team teddy bear.
Acquired by the girls two years ago at a Build-A-Bear Workshop the day before the Woodbridge Invitational in Norco, California, the fun-sized mascot has accompanied the team at every meet since.
"It's a team mascot for us," said Herron-Jonap. "We dress it up, have a Colt headband, sunglasses, and everything. At the end of the season, we bequeath something and it's still in discussion, but we may bequeath Colton to the younger girls."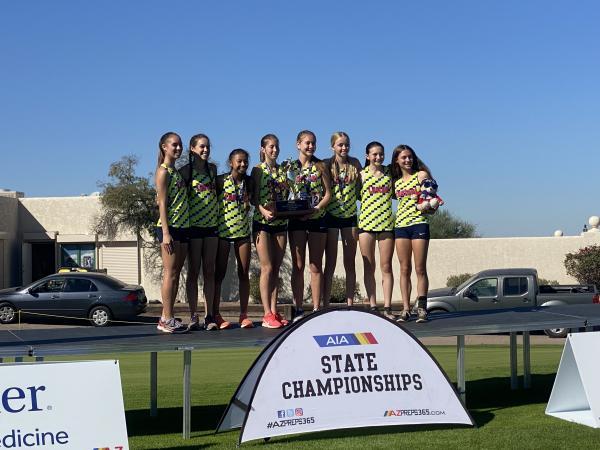 Casteel shows off the 2021 Division II trophy along with Colton the Colt (far right). (Keith Dottley/AZPreps365)
Mia Hall captured the second state gold medal of her high school cross-country career with a swift time of 18:06. While it wasn't the personal best of 17:14 she ran nine days earlier at Northwest sectionals due to the steep terrain of the course, she still finished a colossal 53.3 seconds ahead of the second-place runner, Campo Verde's Clara Jones.
"The last 800 meters was hard," said Hall. "That part was hard because of the climb. At that point I was dead, but I finished strong."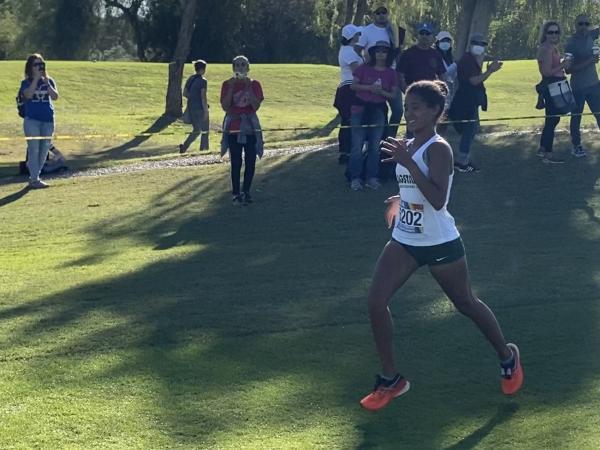 Mia Hall begins to taste victory as she prances down the home stretch. (Keith Dottley/AZPreps365)
Mia and her three sisters, Hana, Lily and Jasmine, were adopted from Ethiopia by Ryan and Sara Hall in 2015. It's no surprise the sisters acclimated to running quickly, as their adoptive father holds the American record for fastest half-marathon and their mother claimed victory at the 2011 Pan-American games in the 3,000-meter steeple chase.
With older sister Hana Hall winning the Division II title in 2019, the sisters have created a dynasty, with gold adorning their castle. Mia will look to add another medal to the family treasury next year, as she will have the opportunity to three-peat as a senior.
When asked if she'll achieve this goal, she responded, "I hope so," with a giggle.