Hamilton repeats as 6A volleyball champs
November 13, 2021 by Les Willsey, AZPreps365
---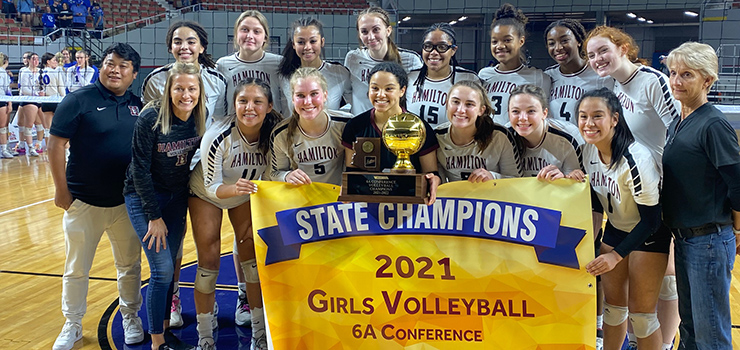 It took a long time for Hamilton girls volleyball to get over the hump and win a championship. The Huskies accomplished that last year after more than a decade pursuit.
Hamilton got its first opportunity to become a repeat champ and didn't wait to take advantage. The second-seeded Huskies avenged a season-opening, five-set loss to top-seed Sandra Day O'Connor on Saturday notching a hard-fought, 26-24, 25-22, 25-27, 25-20 triumph at Arizona Veteran's Memorial Coliseum to earn back-to-back title trophies.
Hamilton's attack was relentless led by seniors Jordan Middleton and Micah Gryniewicz. Unofficailly Middleton piled up 26 kills and Gryniewicz amassed 17 kills. They got ample help junior Neomi Beach, who chimed in with 14 kills on another busy night for setter Melia Barlow.
Middleton liked repeating the feeling of last year.
"It feels really good, I can't lie," Middleton said. "Especially with a win in our very first state volleyball championship match last year and then having another one back-to-back this year."
Hamilton coach Sharon Vanis said the Huskies were ready for the postseason this year after a year as champs behind them.
"The season was tough and we learned some lessons along the way when we lost to teams that we had beaten before," Vanis said. "That prepared us for this. When we see an upset, we don't look past our opponents. You pay attention because there's so many things to learn. But this senior class is very mature, very talented, and chemistry is great. And they are intelligent girls. Celebrate, but then get visual and look across the net and see what's going on. And they did that. They can run themselves because they are at that high a level.
"I don't see the panic in my kids. What was an advantage for us is that we were here last year. We knew what it would take and we had that experience."
Hamilton led most of the way in all the sets, save the second when it held advantages of seven to nine points. The Huskies closed out the first set thanks to a hitting error and kill by Logan Blutreich. With a 2-1 set-lead late in the fourth set, Hamilton kept O'Connor from evening the match at 2-2 with a strong finish. Middleton had four kills, Ella Butler one and Gryniewicz one down the stretch when the Huskies actually were trailing 18-17.