Ping won her third straight championship; Saturday's winners
November 14, 2021 by Andy Morales, AZPreps365
---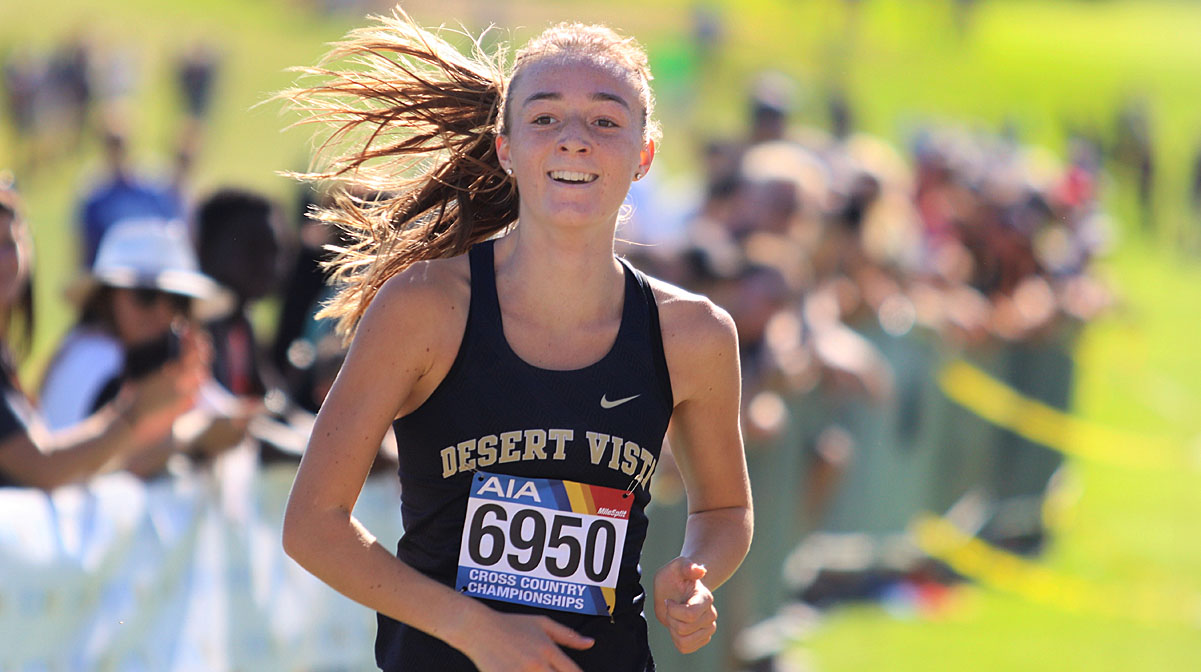 LINK: COMPLETE RESULTS
LINK: PHOTOS OF THE CHAMPIONSHIP
DIVISION I GIRLS
The Highland girls won the first state championship in program history after defeating seven-time state champion Desert Vista 38 to 45 Saturday at the Cave Creek Golf Course in Phoenix. Desert Vista edged out Highland last year (41-44) after beating the Hawks by wide margin in 2019 (49-99).
Desert Vista junior Lauren Ping picked up her third straight individual championship while recording the best time of the day with a 17:39.4.
1 Highland 38
2 Desert Vista 45
3 Liberty 90
1 Lauren Ping 11 Desert Vista 17:39.4
2 Emma Baugh 11 Highland 19:05.2 2
3 Kayla Case 11 Highland 19:06.7
DIVISION I BOYS
Desert Vista captured five championships in a row from 2014 to 2018 but that run was ended with back-to-back runner-up finishes to Highland in 2019 and Brophy last fall. It is the 1tth state championship for the Thunder.
Thunder standout Noah Jodon took second place last year but the senior moved into the championship spot this year by holding off the field by just over one second.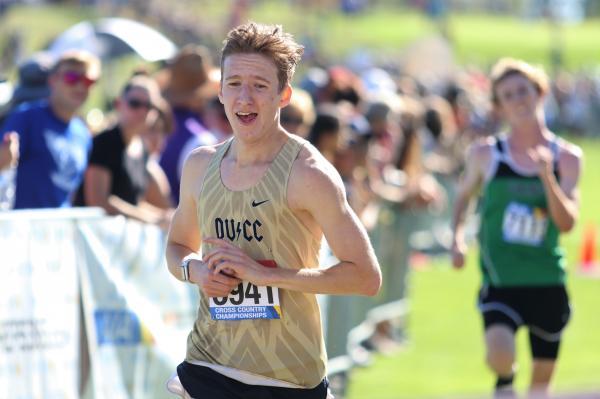 Noah Jodon (Andy Morales/AZPreps365)
1 Desert Vista 58
2 Highland 90
3 Mesa Mountain View 126
1 Noah Jodon 12 Desert Vista 16:09.4
2 Trevor Querciagrossa 12 Sunnyslope 16:10.8
3 Bennett Meyer-wills 12 Cibola 16:15.9
DIVISION II GIRLS
Casteel took third place last year but the Colts dethroned Flagstaff to win the first title in program history on Saturday. Flagstaff had won the last six state titles and the last nine out of the last ten years.
Flagstaff junior Mia Hall picked up her second state championship in a row by over 50 seconds on the field.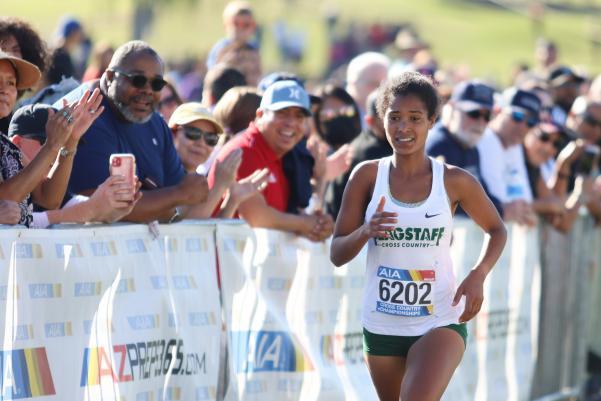 Mia Hall (Andy Morales/AZPreps365)
1 Casteel 70
2 Flagstaff 94
3 Desert Mountain 127
1 Mia Hall 11 Flagstaff 18:06.2 1
2 Clara Jones 10 Campo Verde 18:59.5 2
3 Taylor McCue 11 Catalina Foothills 19:04.8
DIVISION II BOYS
The Flagstaff boys won five straight championships from 2015 to 2019 but Gilbert beat the Eagles last year. The Flagstaff boys are back on top this fall.
Gilbert senior Terrence Keys became the first runner in school history to claim an individual title after taking third place last year.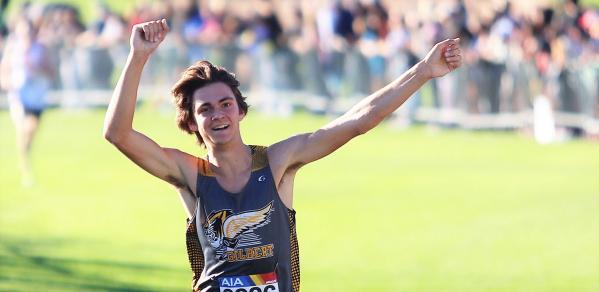 Terrence Keyes. (Andy Morales/AZPreps365)
1 Flagstaff 85
2 Ironwood Ridge 90
3 Gilbert 102
1 Terrence Keyes 12 Gilbert 15:43.9
2 Logan Marek 12 Ironwood Ridge 15:55.3
3 Noah Plaza 12 Williams Field 16:07.3
DIVISION III GIRLS
Coconino won the first title in program history after holding off Salpointe 72 to 74 after the Lancers beat Coconino 68 to 71 last year.
Salpointe standout Kylie Wild won her second championship in a row.
Kylie Wild. (Andy Morales/AZPreps365)
1 Coconino 72
2 Salpointe 74
3 Chinle 97
1 Kylie Wild 11 Salpointe 18:41.0
2 Evelynne Carr 11 ALA Queen's Creek 18:55.7
3 Wheaten Smith 11 Coconino 19:39.4
DIVISION III BOYS
The Salpointe boys made it two in a row under head coach Mike Urbanski who picked up his fifth state championship combined which puts him in a tie for the most from Southern Arizona.
Mingus Union junior Cesar Diaz won the first championship in program history.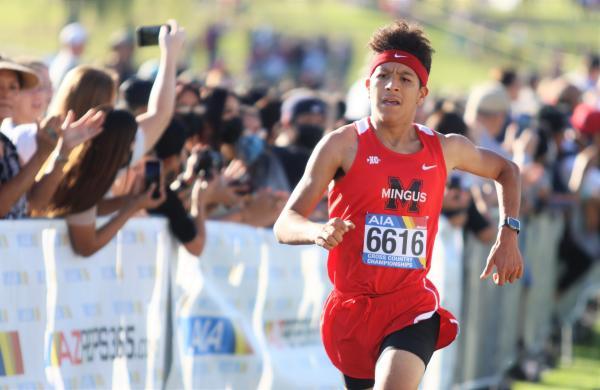 Cesar Diaz. (Andy Morales/AZPreps365)
1 Salpointe 46
2 Page 127
3 Shadow Mountain 162
1 Cesar Diaz 11 Mingus Union 16:20.0
2 Jorge Trujillo 11 Rio Rico 16:25.2
3 Nate Pestka 12 Shadow Mountain 16:30.0

DIVISION IV GIRLS
Northwest Christian took second last year and first place this year for the first time.
Jessica Madrid won the first state championship for Round Valley since the program won three in a row from 2002 to 2004. Madrid took second last year.
Jessica Madrid. (Andy Morales/AZPreps365)
1 Northwest Christian 69
2 Glendale Prep 86
3 Pusch Ridge 126
1 Jessica Madrid 12 Round Valley 19:52.7
2 Taryn Janssen 9 Glendale Prep 20:21.1
3 Kimi Cahoon 10 Phoenix Country Day 20:33.2

DIVISION IV BOYS
Northwest Christian won the first championship for the boys.
Jon Barney took second place last year for Veritas Prep and he won it all this year.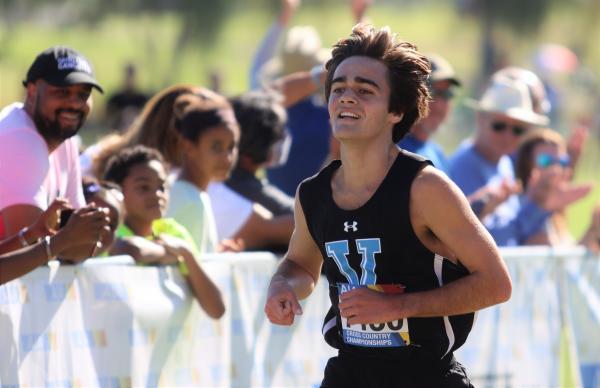 Jon Barney. (Andy Morales/AZPreps365)
1 Northwest Christian 105
2 Northland Preparatory 122
3 Chandler Preparatory 129
1 Jon Barney 12 Veritas Prep 16:20.0
2 Shota Yabuuchi 12 Sedona Red Rock 16:31.8
3 Micah Slivers 12 Ganado 16:34.2