Paradise Valley's Romeo Monterroza is a man of many hats
November 14, 2021 by Anthony Remedios, Arizona State University
---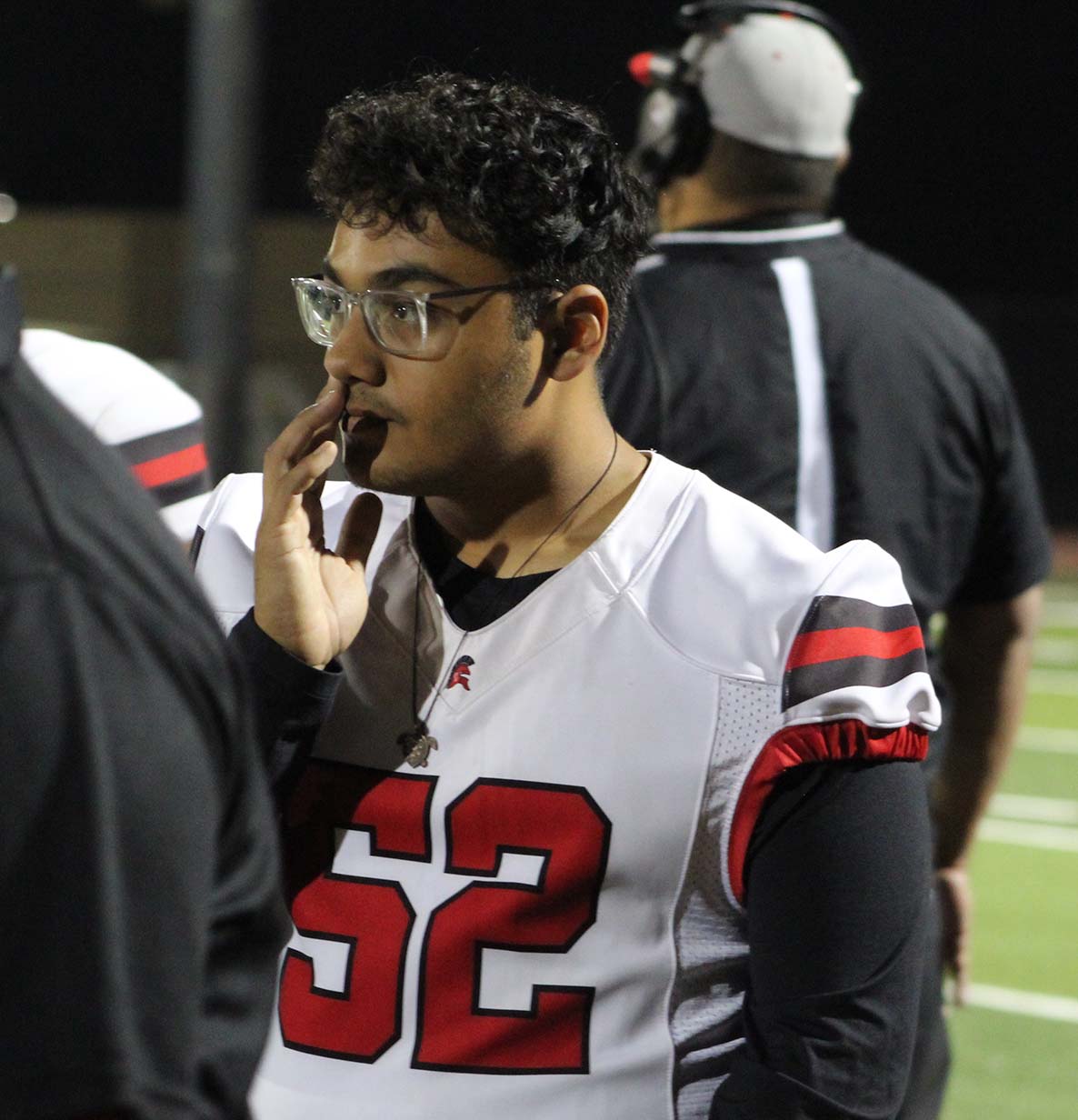 Anthony Remedios is an ASU Cronkite School of Journalism student assigned to cover Paradise Valley High School for AZPreps365.com.
High school is an eventful experience filled with enriched extracurricular offerings from academics to athletics to social opportunities. Few have packed as much into their high school lives as Paradise Valley's Romeo Monterroza.
Monterroza is a multi-sport athlete running track all four years, including this upcoming spring; a football linebacker during his freshman and senior seasons; and a cheerleader during his sophomore and junior years. Off the field, he has been involved in student government, including positions as current student body president and class president in his junior year. He also challenges himself academically with honors and AP courses.
"He has always been very enthusiastic, very outgoing," student government advisor Brett Bowman said. "He wants to be involved himself and wants to get others involved."
As student body president, Monterroza is the main leader of the student government class, overseeing all operations and available to answer any questions that may arise from other students.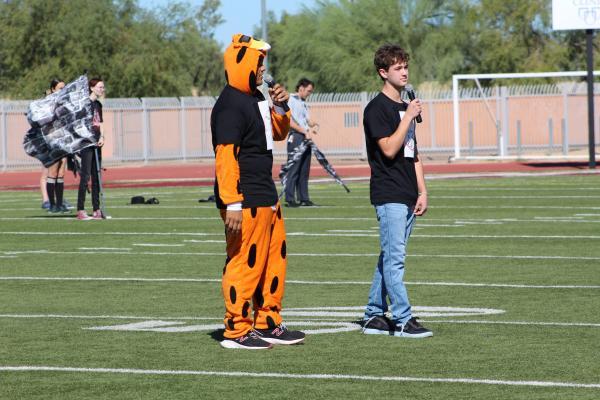 Student body president Romeo Monterroza (left) addresses the student body at the homecoming rally on Oct. 15. (Anthony Remedios / AZPreps365)

Bowman said Monterroza has also done a great job mentoring the younger students in the class by delegating certain tasks to them and teaching them the school culture, similar to how he was prepared by his predecessor in his junior year.
Student government has allowed Monterroza to give back to his community by planning events that are well-liked by the student body, including surveys of the student body, fundraisers around town and karaoke sessions in the school courtyard.
"Romeo listens very well," Bowman said. "He gathers everyone's ideas and tries to at least compromise or collaborate on some, while making sure everyone's voice gets heard."
When asked what inspired him to get involved in his various extracurriculars, Monterroza gives credit to his mom.
"[My mom] is a very outgoing person. She was very involved when she was in high school and would always talk about it. So, it carried with me that I wanted to be involved in it as well and that I wanted to meet as many people as I can," he said.
"He comes from a good family," Bowman said. "He is very focused on his family, likes spending time with them and I think that close-knit group that he has with his family, he wants to incorporate that with his friends, his classes, and the student body at PV."
Time management is a critical skill for all students, but especially for those who are involved in several extracurriculars in addition to rigorous coursework with honors and AP classes.
Monterroza says although it is a little difficult during certain times of the year, he is able to get it done and tries to finish most of his work during class to allow him to focus on his extracurriculars.
"I don't know how he did it," football teammate Erick Reyes-Aguilera said of Monterroza's time management skills. "It surprised me how he was [both student body president and playing football] at the same time. … He really did a great job."
The learning experience for Monterroza through all of this has greatly benefitted him.
"[Each of these extracurriculars] has taught me a value of life or something I need to take on to be a better person, [a] better man in life," Monterroza said. "It helped me with critical thinking and to persevere to push on, especially with AP classes."
After high school, while Monterroza is unsure of his career goals, he plans to attend Northern Arizona University in Flagstaff as a psychology major.
His advice to younger students is to follow their passions and interests.
"If you truly love what you're doing, then push through it and keep doing it," he said. Everything that I've done has been something that I truly love, and something I could see myself going through it again."
"I want my legacy [at Paradise Valley] to be to not be afraid to try something and to not be afraid of failure," Monterroza said. "It's bound to happen, but you're going to learn from it and everything will be OK."
"It's been a pleasure working with Romeo. I don't know if there's very many other students who could take us out of the challenges of a year like COVID and still bring that positive personality and environment into this school year right now," Bowman said.