Snubbed from Open, Highland makes 6A statement
November 19, 2021 by Nathan Peterson, AZPreps365
---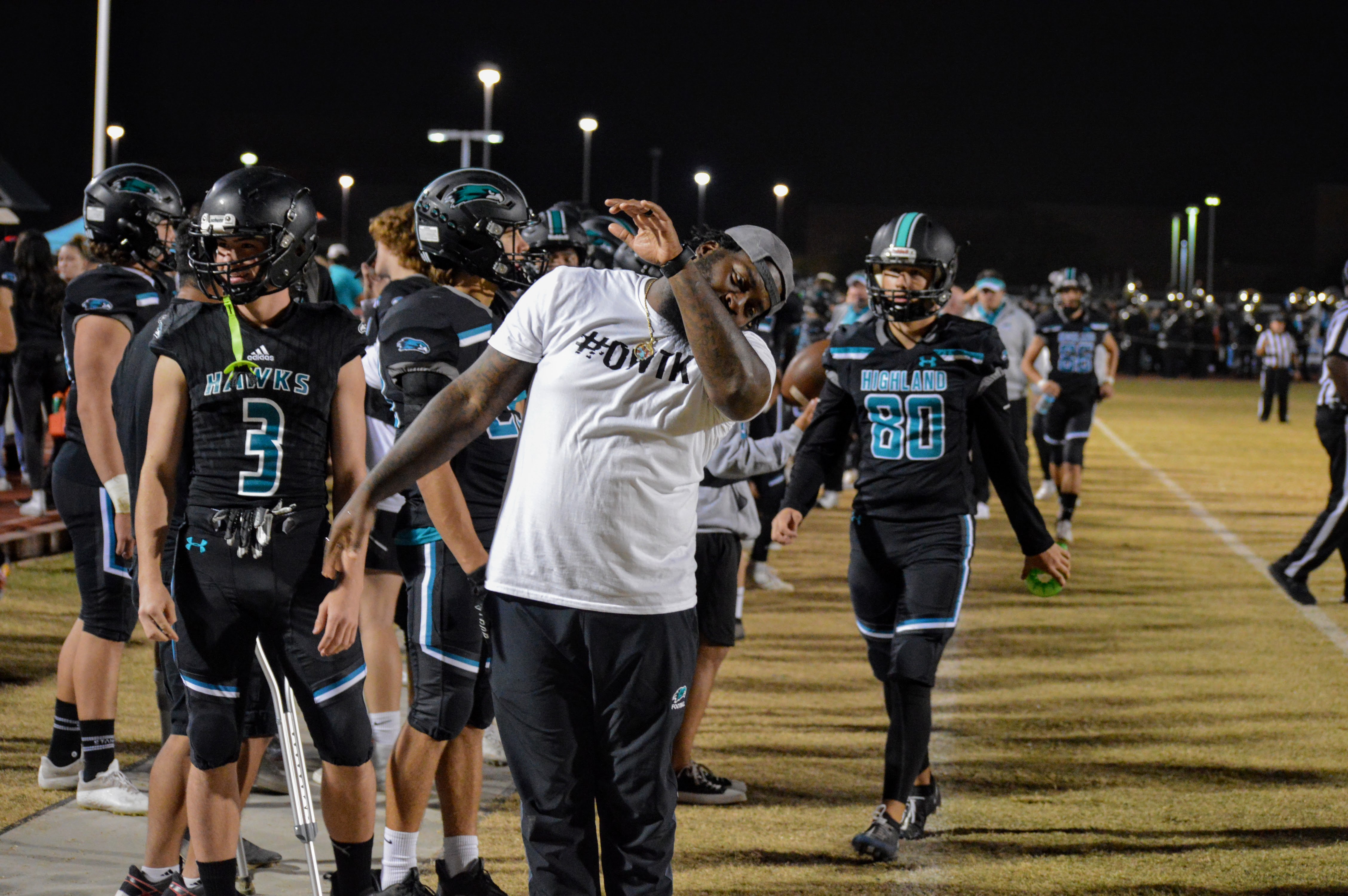 Highland was deemed not Open Division worthy, and the Hawks took that personally.
With "The Nest" rocking 30 minutes before the ball was even kicked off, the Hawks brought every ounce of intensity Friday, routing Mountain Pointe 45-0 behind an electric playoff home atmosphere.
Highland took advantage of turnovers and short fields all night as the Hawks took an early 14-0 lead. The Highland defense had an interception returned for a touchdown and a fumble recovery off the first two Mountain Pointe drives.
By the six minute mark of the first quarter Highland raced out to a 21-0 lead.
"It started on defense," Highland head coach Brock Farrel explained. "Mountain Pointe chose to receive the ball and we stuffed them. We were able to jump out fast and our offense took advantage by capitalizing off it early. We felt a little disrespected after being left out of the Open Division playoffs. We played the top three Open teams but couldn't find a win in any of them. We needed to win one of those and we didn't."
With Highland's defense rolling early, senior quarterback Gage Dayley showed why he has one of the best arms in 6A, going 11 for 13 with 216 yards and three touchdowns in the first half. That included a second quarter 69-yard touchdown pass to junior wide receiver Malloy Hess that split the cover three over the top.
Dayley got the rest of the night off after halftime.
"Coach called up a cover three beater," Dayley said. "Malloy made a great catch and the defense just forgot to tackle him. Our student section is one of the best in the state, and they bring so much energy. We always say 'protect the Nest' and we did that tonight. Last year was the first time for this program to get to a state championship. This year will be the program's first year winning state."
After going 1-7 last season, Mountain Pointe earned its 6A playoff berth with a 4-6 record and a strong rating to clinch the No. 16 seed this season.
"We are headed in the right direction," Mountain Pointe head coach Eric Lauer said. "We haven't been here in a while and to know what it takes to get here you have to experience things like this. These seniors have spring boarded the younger guys off in a positive direction. We like where we are headed with a good group coming back. We played a heck of a team tonight and unless they stub their toe into an upset, they are going to win it all."