Welcome to Jungle boys basketball
November 22, 2021 by Les Willsey, AZPreps365
---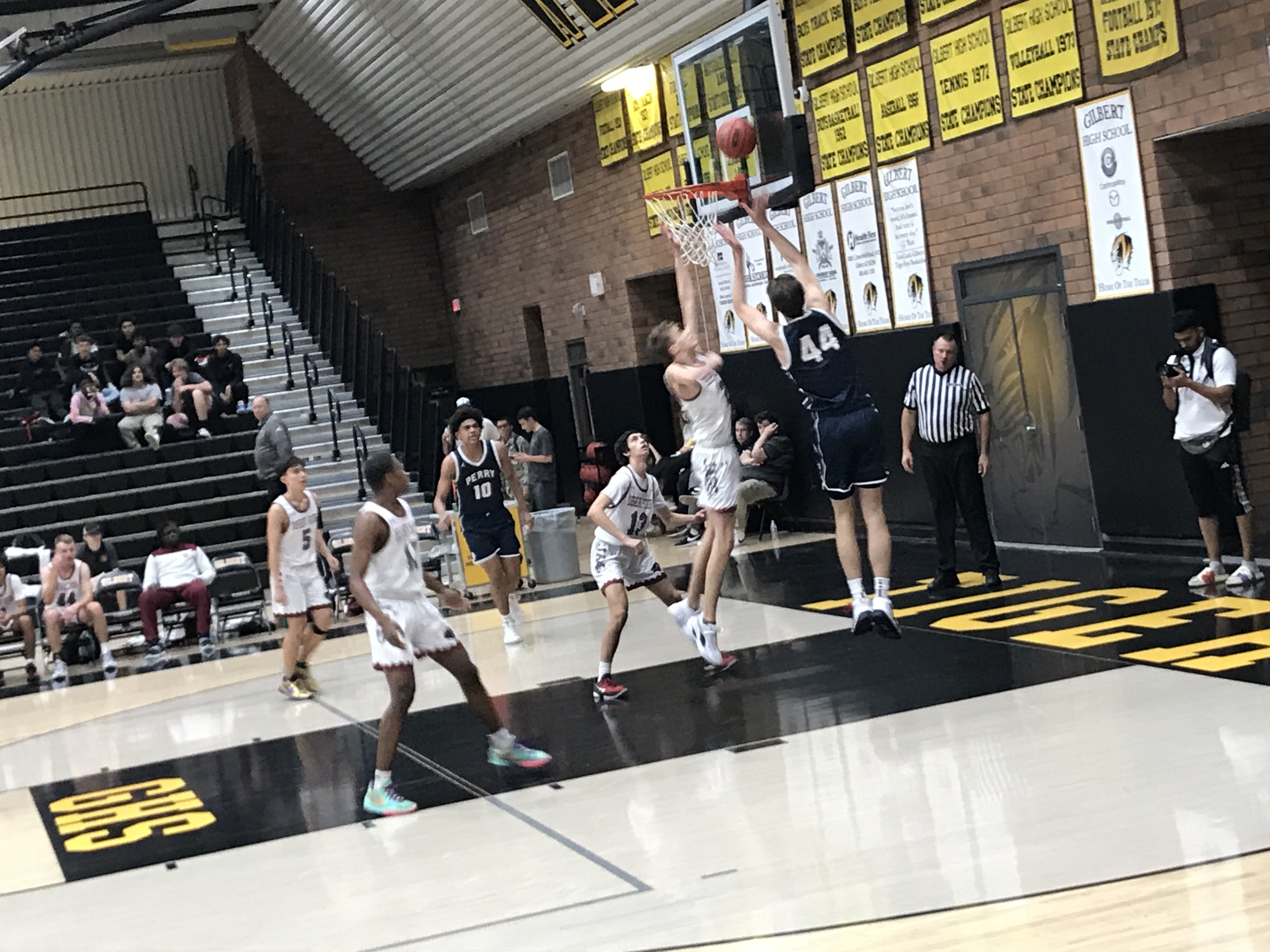 Perry's boys basketball team is getting plenty of preseason accolades and got the chance to show off their wares Monday in their season opener against Desert Ridge.
Playing the opening game of four at the 2021 Welcome to the Jungle Holiday Tournament, Perry wasted no time in building a huge lead and ultimately posted a 75-34 victory over Desert Ridge at host site Gilbert High.
With key players returning in 7-foot senior Dylan Anderson and 6-7 junior Cody Williams from last season's 6A quarterfinalist, Perry bolted to a 26-2 lead after one quarter and 45-7 advantage at intermission over the height-challenged Jaguars. Anderson scored Perry's first eight points of the game and the Pumas were up 17-0 before Desert Ridge made its first basket. Anderson and Williams scored eight points apiece in the first quarter. By halftime Williams had tallied 15 and Anderson 13. Williams finished with a game-high 19 points and Anderson totaled 17.
Returning varsity junior Ben Egbo checked in with 10 points and a pair of freshmen rounded out balanced scoring for the Puma. The freshmen are D'Andre Harrison (9 points) and Koa Peat (eight points).Brandon Mangahas led Desert Ridge with nine points.
"I thought Jay was my friend," Desert Ridge coach Greg Ream said tongue-in-cheek of Gilbert coach Jay Caserio. Caserio assembled the four opening-round matchups for the eight-team tourney.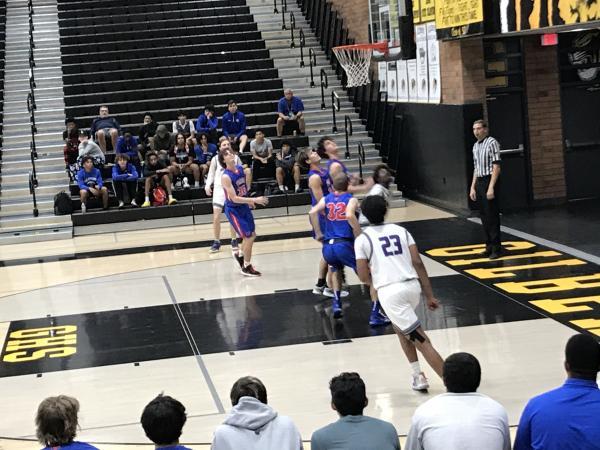 Mountain View (blue) and Valley Vista (white) players wait for a rebound in their game at Gilbert High (Azpreps365 photo)
The second game Monday featured Valley Vista and Mesa Mountain View. Both schools qualified for the 6A state tournament last year with Mountain View reaching the quarters and Valley Vista falling in the first round. Valley Vista put on a solid defensive showing and defeated Mountain View, 66-54. The Monsoon managed an eight-point lead after the first period and led by 12 at halftime. Mountain View got no closer than nine points thanks to Valley Vista's steady play.
Valley Vista made it tough on Mountain View with balanced scoring - four players in double figures. Dwayne Jones led the way with 17 points. The trio of Aadem Isai, Clayton Werner and Dallas Marker chipped in 12 points apiece. Mountain View received a game-high 18 points from Connor Cook, 12 points from Jefferson Rawls and 11 from Peyton Rule.
In Monday's late games, Gilbert handled Chandler, 70-54 and Corona del Sol outlasted Pinnacle, 65-60.