Hyman remains gold (medal) standard in Arizona high school swimming
November 23, 2021 by George Werner, AZPreps365
---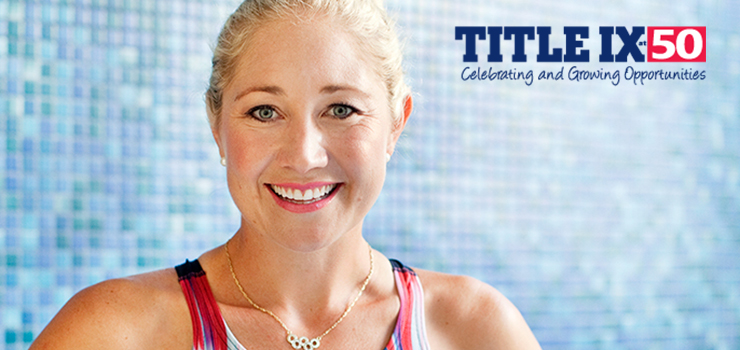 Trailbazing legislation known as Title IX was passed on June 23, 1972, which prohibits discrimination based on sex in educational programs or activities that receive federal financial assistance. It was the catalyst for bringing girls athletics in high schools to the forefront. As we celebrate the 50th anniversary of this momentus occasion, the AIA will produce a feature on the 23rd of every month on a female that paved the way for girls athletics in Arizona.
Twenty-five years ago, Misty Hyman's final day of swimming for Shadow Mountain High School was a springboard not just for her collegiate, coaching and Olympic success, but for the achievements of generations of Arizona female swimmers.
Arizona State University's senior assistant swimming coach, inspirational speaker, and 1998 NCAA Swimmer of the Year at Stanford University would go on to international renown as the 200-meter butterfly world record breaker, medaling gold in the 2000 Olympics in Sydney, Australia.
But at the 5A Conference state championships Saturday, Nov. 9, 1996, Swimming World's High School Swimmer of the Year the previous year had a performance the magazine would later describe as "arguably the greatest one-day performance in the history of girls' high school swimming," breaking her own record in the 100-yard butterfly with a time of 52.41 seconds.
At the time, it was the fifth-fastest swim ever in the event, three-quarters of a second off the national mark set at the 1992 NCAA meet. Although collegiate swimmers since have managed to shave three more seconds off that time, Hyman's finish stood as the national record for the next 19 years -- and remains the state's best.
But Swimming World's "most highly recruited prep swimmer in the country" wasn't done, busting national records in the 100-yard backstroke and 200-yard medley relay as the anchor on the latter team, along with sisters Jana and Jaime Krohn as well as Matadors junior April Osback.
Hyman's finish of 53.68 seconds in the 100 back stood as the state record until 2019, when Millennium High School's Helen Kennedy Noble beat it by eight-tenths of a second at the Division I preliminary state heat. Noble, a Goodyear senior and Olympic trial qualifier, looks to follow in Hyman's footsteps, having surpassed that mark by as much as .85 of a second three other times since.
Hinging her body at the shoulders, ribs, hips and knees during the underwater portion of her 200-meter butterfly in Sydney, then moving both head and arms together in a single, undulating motion, Hyman would dethrone Australia's "Madame Butterfly," the continent's third-most-decorated Olympic athlete ever, Susie O'Neill, in 2000.
Since 2009, Hyman, one of the first swimmers to use her core and vertical ankle to increase her first 15 yards of speed in a kick known as the underwater dolphin, has trained young swimmers individually at a Paradise Valley resort. She is a Hall of Fame member for both Arizona Sports and Stanford University Athletics, where the five-time NCAA champion capped her collegiate career as one of the Top Eight Award winners, across all sports nationally, for athletics, academics and community service.
Previous Features: