Wojcik's 3 TD catches put Mesquite 2 wins from 4A three-peat
November 27, 2021 by George Werner, AZPreps365
---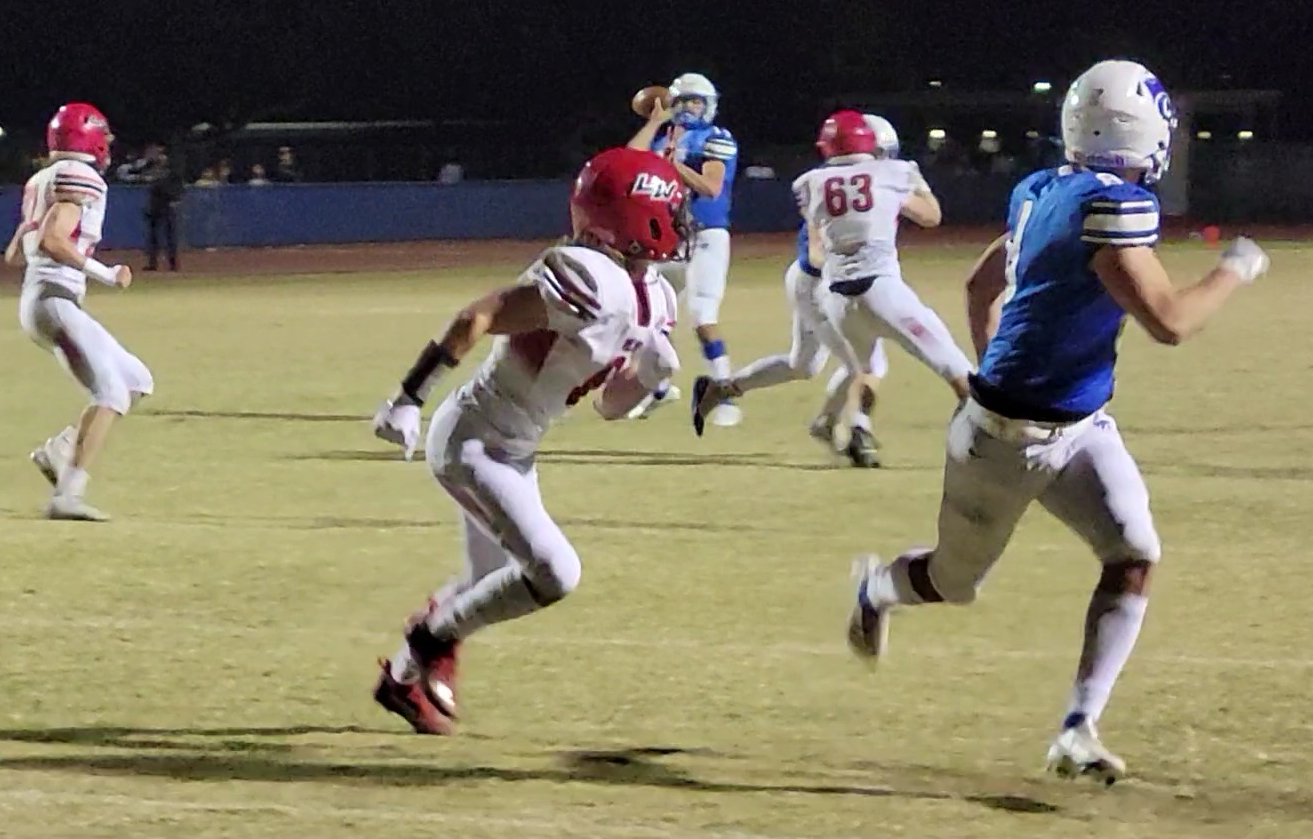 If there is such a postseason football game as a defensive shootout, two-time defending 4A Conference champion Mesquite High School won it Friday, Nov. 26, in its home quarterfinal.
Although 11th seed Lee Williams won the 12-turnover battle for the second straight week, with two more fumble recoveries--including an eight-yard return at the end of the third quarter for its first touchdown--to stay within striking distance, senior Carter Wojcik's three touchdown catches won the third-seeded Wildcats' war for a state semifinal berth, 27-13.
"We're not looking for one individual person, but if a guy starts showing us a hot hand, then we're going to ride that hot hand," Mesquite head coach Scott Hare said. "Carter had a great game."
Wojcik, in fact, had a career night, in both single-game scoring, longest touchdown reception and total single-game receiving yardage. His three scores are half his total number of touchdown receptions in his first full year on varsity.
The first one went for 12 yards off a rollout by senior quarterback Gerardo Saenz. It built on the opening score, a 19-yard catch by senior wideout Andrew Morris, that capped a 70-yard opening drive in the game's first 1:49.
"Gerardo made some really good throws," said Hare, two wins from his third state title in three years as Wildcats head coach. "We've won two in a row, so, I mean, yeah, if somebody wants to come in and get [the 4A title], they can, and we'll respect anybody who wants to do that. But if you really want to get it, you've got to play up--and play us."
The second came just before halftime from 27 yards out, establishing a commanding 21-0 lead.
"Mesquite, they're here for a reason too, and they're proving why they're back-to-back state champs," said Volunteers head coach Patrick O'Boyle, who finished the Volunteers' most successful season in their nine-year history with a record of 8-4. "Our kids battled hard. I'm very, very proud of what we were able to accomplish all year and what they did [Nov. 26] across the board. "
The third, Wojcik's career long scoring reception, went for 90. Most of those yards were run after the catch of a hitch pass from Saenz that built a four-touchdown lead nearly eight minutes into the second half.
"He said, 'Try to get the outside, because [their cornerback]'s been playing inside the whole time,'" Wojcik recalled. "As soon as I caught it, I faked in, just hit the outside and went down the field."
He would have had a fourth, from 33 yards out, but it was nullified by a holding penalty.
In between, both offenses traded three interceptions and two fumbles, including two picks by Volunteers sophomore Devin White and two fumble recoveries by senior Payton Wayman. Mesquite left at least two scores off the scoreboard, fumbling twice more in first-and-goal situations inside the Volunteer 5-yard-line.
"Turnovers are a part of the game," Hare said. "That's not really something we're going to work on.
"I don't fret on it. I think, whoever we play, we're going to try and play as clean a game as we can."
Although the Volunteer defense denied the Wildcats' subsequent two-point conversion attempt, Wojcik's final back-breaker extended the Mesquite shutout to 27-0 with 4:04 to play in the third quarter.
"Respect Coach Hare: He's always got a game plan ahead of them," Wojcik said. "When Coach Hare started coaching here three years ago, he wanted that [championship] ring from the very beginning. All the way back in June. That's what we pushed, the whole time, every time in practice, is to get there and get that ring."
Three minutes after his third touchdown reception, Wojcik stepped in front of a sideline pass by Lee Williams senior quarterback Devean Santos inside his own 8-yard-line to make his seventh career interception.
Not a bad bounceback from a first-round win in which Wojcik was completely missing in action from the Benjamin Franklin box score, while Morris had all but 40 of the Wildcats' receiving yards and 12 of their 26 points Friday, Nov. 19.
"Yeah, we focused on stopping the run," O'Boyle said. "We knew they were going to take shots over the top. We knew they had a physical receiver in Morris. We had to take one or the other."
So Wojcik stepped up in support of another senior, running back Blake Corner, on track to be the conference's second-leading rusher, who was largely stifled by the Volunteer defense after carrying the majority of the Wildcats' first round offensive load with 142 yards rushing.
"They had a good defensive plan; they have a good defense," Wojcik said. "They were watching film; they tried to lock up [our] inside-outside running play. Luckily, we have enough players to balance it."
That was small consolation to an emotional O'Boyle after the game, despite blanket coverage of Morris by Reilly Feil and fellow freshman Thomas Doxtader scoring the first postseason touchdown on the Wildcat defense from nine yards out late in the contest.
"They have high IQs, and they just come out and compete," O'Boyle said. "That's all they know how to do. We're very fortunate to have them [for] more years."
Saenz will need Wojcik, Morris, Corner and more Friday, Dec. 3, in the 4A semifinal at No. 2 Casa Grande, which came from one point down to St. Mary's late to win on a late field goal.
"They haven't played someone like a team from around here, so I'm excited to play them," Wojcik said. "They've come a long ways. We love that. I'm ready."