Technical suits have taken over swimming at the high school level
November 30, 2021 by Ethan Schwager, Arizona State University
---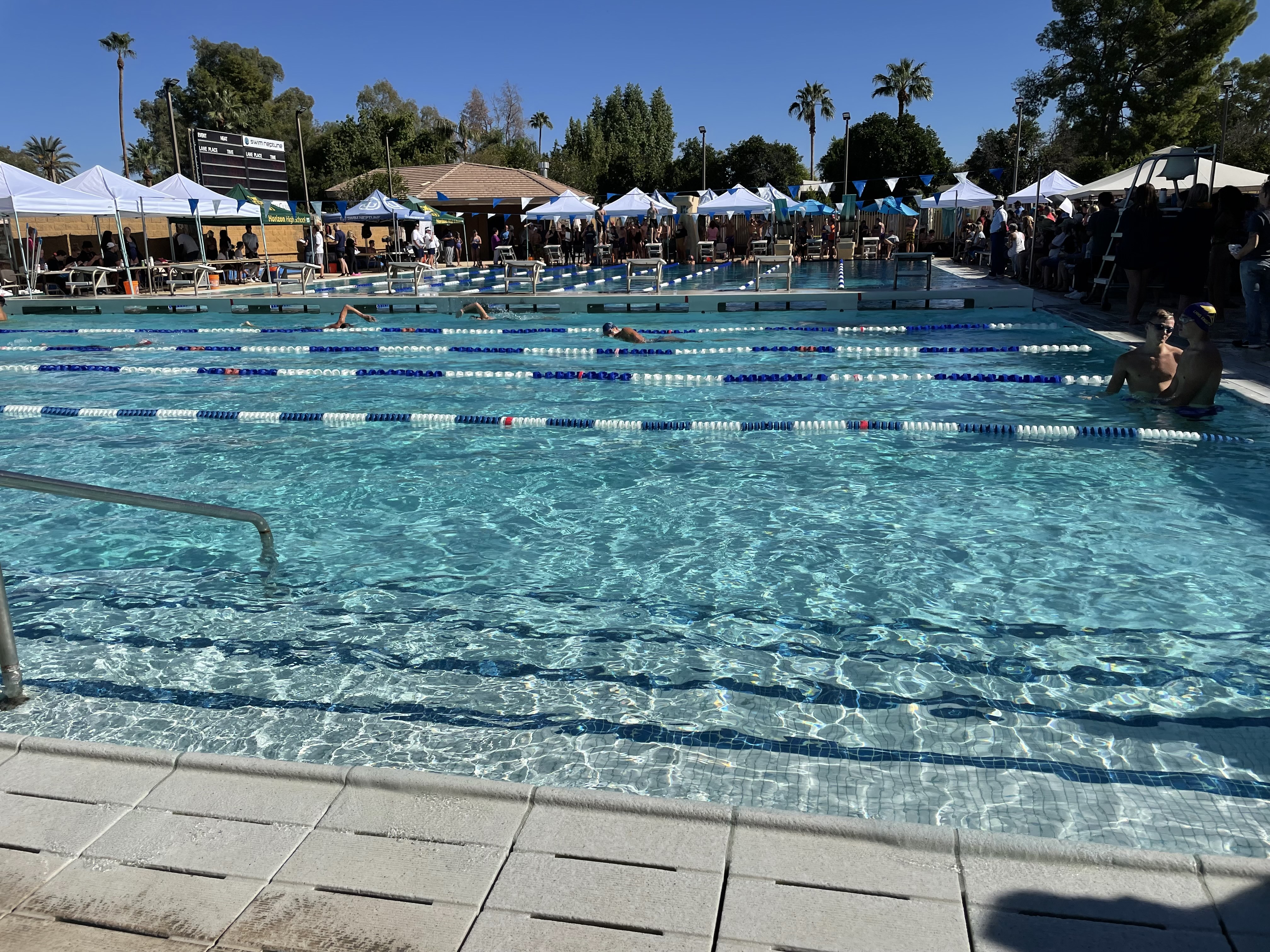 Ethan Schwager is an ASU Cronkite School of Journalism student assigned to cover Pinnacle High School for AZPreps365.com.
Pay-to-play is a term often used in sports to describe participation fees that may disadvantage those who are unable to afford to pay those sports. But participation fees aren't the only financial burden on young athletes trying to fulfill their potential—soccer has expensive cleats, ice hockey has expensive sticks, and swimming has technical suits.
Technical suits are racing swimsuits that are made from water-repelling fabric in order to eliminate as much drag as possible for a swimmer in the water. They come in a jammer for men and a kneeskin for women. There are many manufacturers for these suits, most notably Speedo, Arena and TYR. These suits take a swimmer upward of 10 minutes to put on, and often cost a couple hundred dollars. Many of them also only last for six to eight races before they start to lose their compression.
At the PVUSD District Swimming Invitational on Oct. 15 at the Moon Valley Country Club, many top performances came from swimmers wearing these suits.
Pinnacle High School freshman swimmer Reese Sweeny competed in an Arena Kneeskin suit on Friday where she dropped five seconds in her 200-yard freestyle race.
"I feel fast," Sweeny said after her race.
Sweeny, however, feels that the advantages to her swimming boosted by her swimsuit are more mental than physical.
"From my standpoint, I'd say it doesn't matter if you're wearing a tech suit or not," Sweeny said. "It's more mental, but the suit does give you a mental boost."
No matter how swimmers feel these technical suits give them a boost, many swimmers agree that there is some sort of competitive advantage when wearing the water-repellent technology.
Pinnacle senior Bailey Reynolds, who owns two Speedo LZR kneeskins, also believes there is a huge mental advantage to wearing these technical suits.
"[I think a lot of the advantages come from] the mental part of having that compression," Reynolds said.
Reynolds did admit the suit gives her a physical advantage in the water.
"It feels different in the water because you can almost feel the water slide off of you," Reynolds said. "I think that, that kind of feeling adds to that power you get when you swim."
No matter how swimmers feel about the impact of racing technology in their swimsuits, it is a fact that these suits have influenced dramatic changes in the sport.
In 2009, FINA, the international swimming federation, announced a ban on technical suits after 130 world records fell in the 17 months following the release of Speedo's LZR Racer. This ban, which cited similarities to doping, was later reversed and amended the rules banning full body suits on swimmers.
Just a few years ago, USA Swimming announced it would ban swimmers age 12 and under from wearing these racing suits. This move was thought to be beneficial to help younger swimmers focus on technique, it would also help bridge the competitive gap among younger swimmers whose families may not be able to afford the tech suits.
Pinnacle senior and University of California at Berkeley commit Luca Gissendaner has been competing in tech suits for half of his life. Gissendaner agrees there is some mental component to the advantages that a tech suit gives a swimmer, but he believes there is a physical advantage to wearing a tech suit in his races.
"I think what a tech suit does is it makes your hips higher in the water and that'll help you go faster," Gissendaner said. "When you feel faster, you're naturally gonna go faster."
It has been 13 years since tech suits revolutionized the sport of swimming. While these suits are expensive, often retailing between $100 and $600, swimmers continue to race in them because the benefits seemingly outweigh the costs.