Pinnacle girls defeat Shadow Mountain, 55-21
December 1, 2021 by Ireland Horvat, Arizona State University
---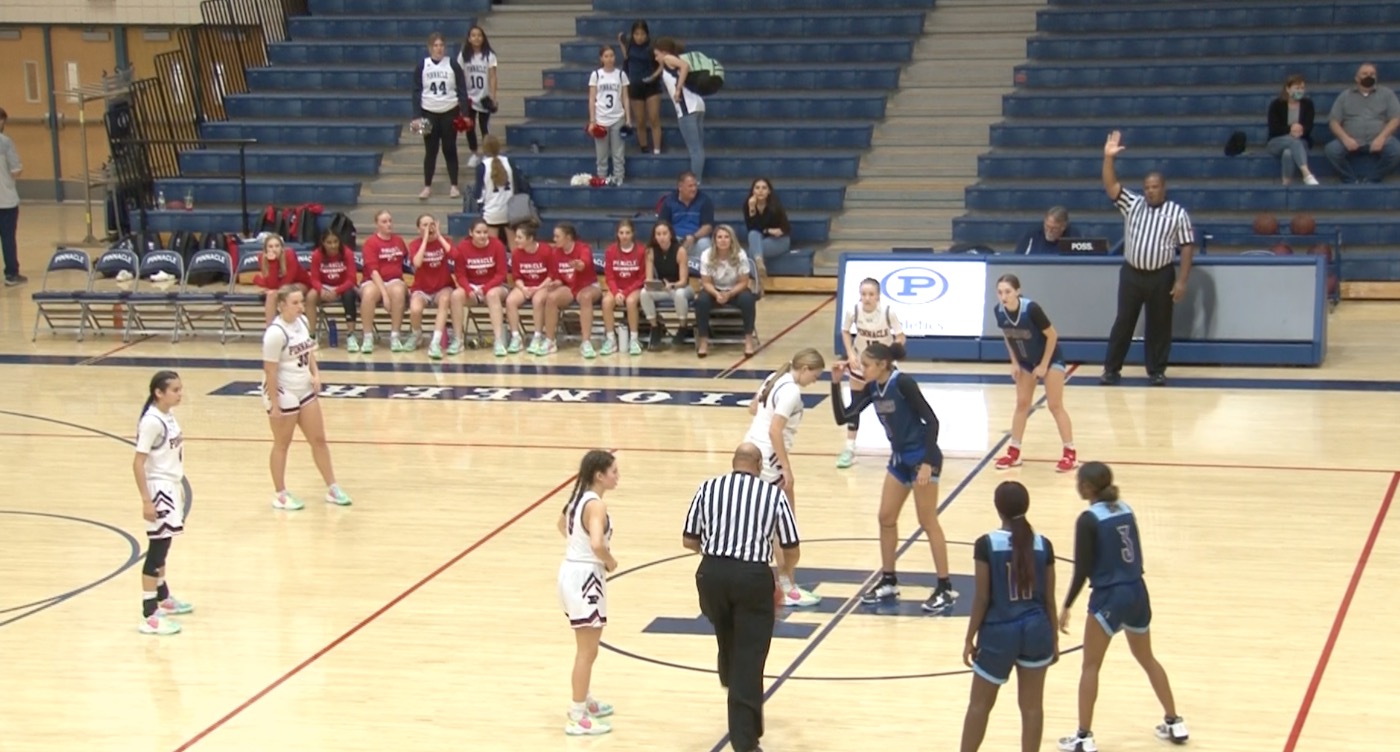 Ireland Horvat is an ASU Cronkite School of Journalism student assigned to cover Pinnacle High School for AZPreps365.com
SCOTTSDALE— After winning seven consecutive games last week in the preseason Welcome To Our Backyard tournament in Queen Creek, the Pinnacle Pioneers trounced Shadow Mountain on Tuesday, 55-25. Tensions were high towards the end of the game, culminating in a Shadow Mountain assistant coach being ejected from the game.
The Pioneer defense was tough and effective, only allowing Shadow Mountain to score 25 points in the duration of the game. "Our defense is our main focus every day in practice," said Pinnacle coach Erica Farnsworth. "We implement a lot of things like defending through back screens and over the top of the screens. I knew they would have it big so we worked a lot on defense. Anytime you're big, good or bad, they're effective."
Pioneer senior small forward Kamri Gilliland scored the first two points of the game, setting the tone for the rest of the team. "It felt great," said Gilliland. "Hitting that shot started the game. We were kind of slow in the beginning but my shot just started us all up and we ended up having a great game."
During the first quarter, the Shadow Mountain Matadors could not get a point on the board and struggled to do so until the second period, scoring 11 points.
Pinnacle power forward Zoe Duggan, one of just two seniors on the team, hustled a lot up and down the court, scooping up loose balls before they went out of bounds and demonstrating her forte: three-pointers. "I just always try to get every loose ball," said Duggan, whose sister, Lainey, is a sophomore on the team. "Even if I don't score on offense I try to get it on defense and start an offense for us."
Towards the end of the fourth quarter, Shadow Mountain received two technicals, the second technical being assessed on assistant coach Sharon Miller, resulting in her ejection.
"It's bound to happen if it's a close game or a big deficit like this game due to frustration from another team," said Coach Farnsworth. "I've always told my kids if you're frustrated, whether you're winning or losing, you're doing your job and to just make sure you stay in check. I think we did a good job at that."
Pinnacle will play Horizon at Horizon on Friday at 7 pm.