A star is born in Coronado's loss to Mesquite
December 1, 2021 by Keith Dottley, Arizona State University
---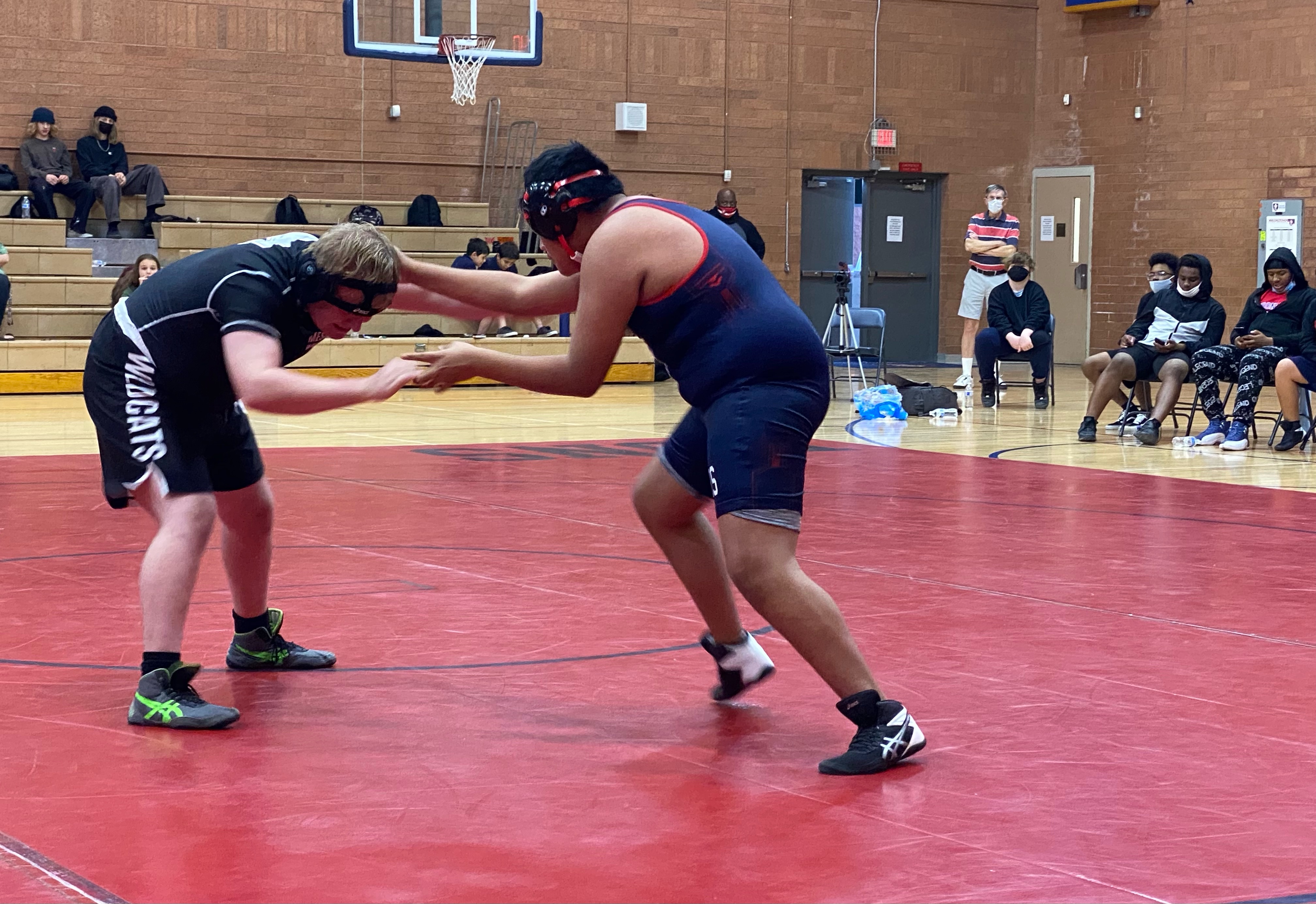 Keith Dottley is an ASU Cronkite School of Journalism student assigned to cover Coronado High School for AZPreps365.com
SCOTTSDALE-- Dylan Castaneda flickered as the lone bright spot in Coronado's 48-6 wrestling defeat at the hands of Mesquite in a Division III dual meet Wednesday night.
In his first-ever wrestling match, Castaneda rebounded from a 7-2 deficit to pin Mesquite's AJ Nolan in the second period and capture the victory.
"Dylan is just one of those wrestlers who comes out here and has a lot of natural ability," said Coronado coach Joseph Valenzuela. "He seems to have that natural grit to where once he gets some more experience and some more training underneath him, he's going to be unstoppable."
The slender, 138-pound Castaneda sprung to life after Nolan attempted to pin him with 30 seconds remaining in the first period. Castaneda survived 15 seconds in this position and started to work off his back, gaining a reversal at the end of the period to cut the defecit to one.
Castaneda, his shaggy blonde hair sprouting out of his red headgear, chose top to start the second period and tossed Nolan to the mat inside of five seconds. He wiggled his way into range to take Nolan's back and scored a pin with 1:26 remaining in the period.
The first-timer's comeback victory sent the gym into pandemonium, with his teammates joyously jumping, creating a frantic blur of scarlet and navy bordering the right side of the mat.
Valenzuela expressed unmatched exuberance as he held Castaneda's head in his hands after the match, shouting, "Wasn't that fun?"
"I was happy," said the soft-spoken Castaneda. "I was glad that I won. It was good to see them proud of me."
Castaneda's pin was far from the only one of the meet, as Coronado's auxiliary gym could have been mistaken for a bowling alley with eight of the nine matches ending in a pin. Unfortunately for the Dons, all but one occurred with a Mesquite wrestler on top.
Jason Revels, a starting linebacker on the Dons football team, trailed 3-2 with 20 seconds remaining in the first period. A barely in-bounds takedown of Mesquite's 157-pound Nicolas Bermudes and a subsequent 3-point near fall gained Revels a 7-3 lead.
However, Mesquite coach Jeff Alexander noticed the excessive fatigue Revels accumulated over the first two minutes and egged Bermudes to come out aggressive in the second period.
Bermudes put his coach's advice to use quicky, gaining a takedown out of bottom position and putting Revels in jeopardy of a pin just 20 seconds in. Revels bridged and flopped back onto his stomach with 1:15 remaining but couldn't permanently shake his opponent as the Wildcat pinned him with 0:41 left on the clock.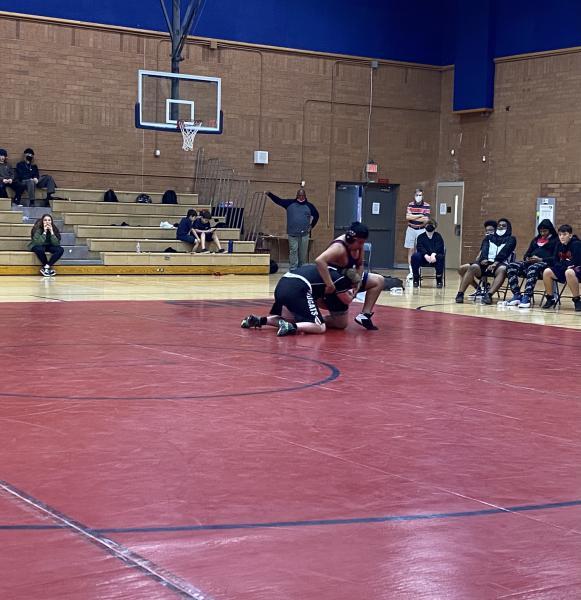 Coronado's Elliot Parker looks to gain dominant position, an elusive task for the Dons on Wednesday. (Keith Dottley/AZPreps365)
The sectional match between the two members of AIA's Division III, Section III served as the season opener for both squads. While Mesquite gained the advantage from the first match and never relinquished its top control on the Dons, Valenzuela still left the meet with plenty of positives.
"It was wonderful coming off of the pandemic, we only had a team of seven and now we have a team of 25," said Valenzuela. "Lots of freshmen and lots of sophomores, so getting them out and getting to wrestle again was just fun in of itself."
Coronado should gain reinforcements for its upcoming freedom meet at Marcos de Niza High School on December 9th after forfeiting three matches on Wednesday due to academic ineligibility and missed weight.
Mesquite will look to utilize its dominating win as a springboard into Friday's Pat Kenny Invitational at Holbrook High School.