Bradshaw Mountain's region title defense starts strong, gets Wilder
December 6, 2021 by George Werner, AZPreps365
---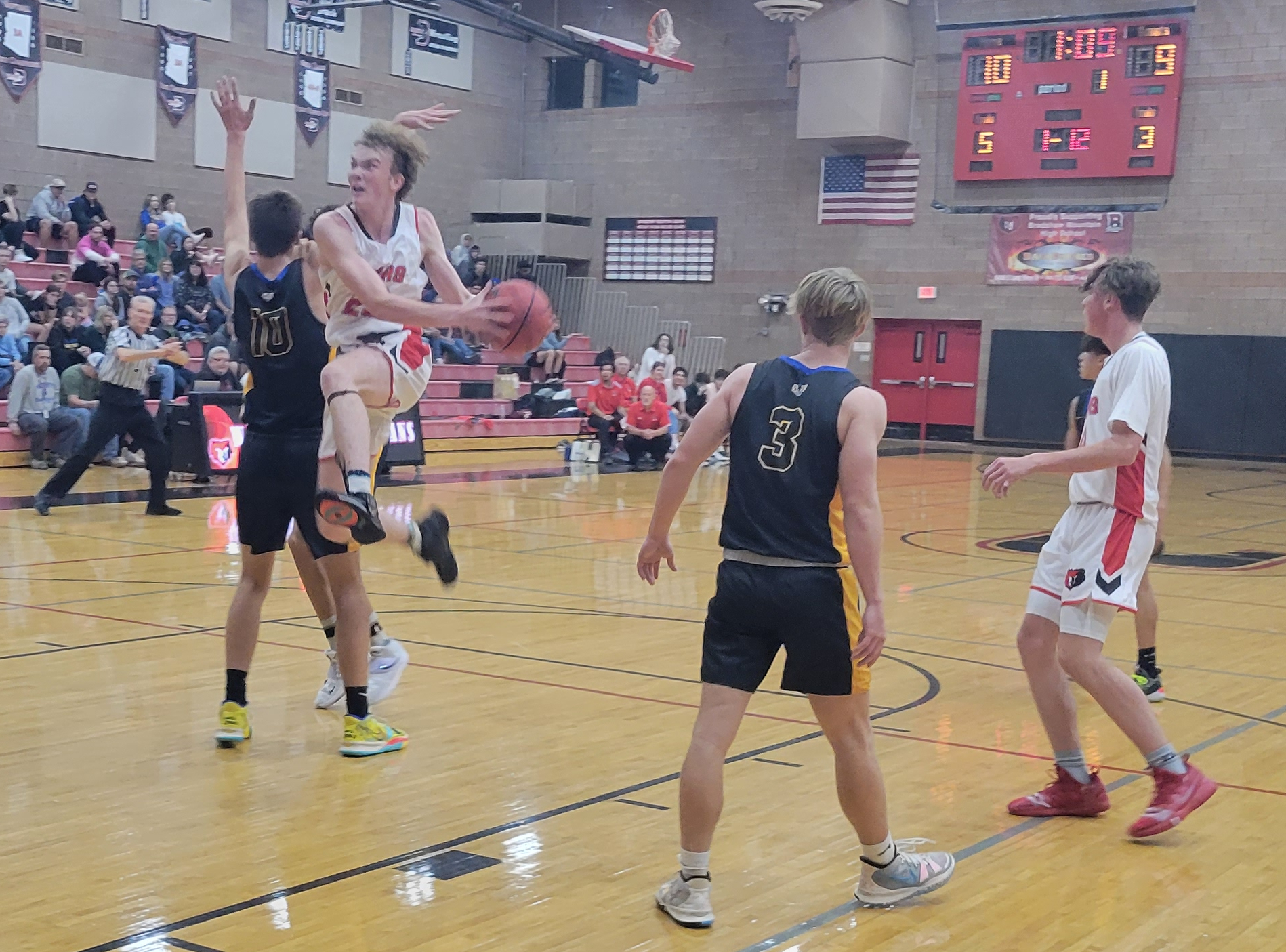 Bradshaw Mountain High School senior guard Josue Luna joined the Bears fans in a postgame celebration Friday, Dec. 3, as big as the one they could have shared last season upon winning the Grand Canyon Region title.
However, in the moments following the Bears' 55-45 region-opening victory over rival Prescott, their head coach, Blair Hillig, remained woke to the reality of their "huge" win in their region opener: "We've got a long ways to go."
Longer, he hopes, than last season's second-round 4A tournament exit, behind the leadership of Luna, second-team all-region guard and assist king of the rivalry game whose six fourth-quarter free throws helped put away Prescott.
"We teach our guys, if he's got the ball, he's probably going to get by people," Hillig said. "He's going to draw a help defender, so be ready to catch and shoot it."
Junior Ben Wilder was, leading the team with 17 points, highlighted by three baseline three-pointers that gave the Bears their first lead in the first quarter, their largest first-half lead in the second quarter and the lead for good with 4:30 to play.
"He was our sixth man last year, but he was not our sixth-best player--definitely top five," Hillig said of Wilder, who, as an honorable mention selection, was the only other returning Bear from last season's all-region teams. "As a sophomore, he liked that role of coming in and providing a spark for us."
After a tight first quarter in which neither team led by more than three points, Wilder's second three 1:15 into the second quarter opened up a 22-15 lead, forcing a change of strategy by Prescott head coach Travis Stedman.
Following a time out, the region's reigning Coach of the Year rolled out the full-court press, led by the Badger with the state's second-most field goals made, senior Jason Parent. The 6-foot, 4-inch all-region first-team forward finished with six steals and game-high totals of 18 points and nine rebounds to stay as one of Arizona's top scorers heading into his second regional matchup Tuesday, Dec. 7, at Coconino.
"They caused a lot of problems for us," said Hillig after his third straight win over the Badgers, who suffered their first double-digit loss of the season. "Silly, silly turnovers. The pressure was getting to us for a while."
That led to freshman guard Uriah Tenette picking up 10 points off turnovers and fast-break opportunities in the first half to lead all scorers.
"Prescott's really, really good," Hillig said. "They played really hard."
Which earned the Badgers a one-point lead at the end of the third quarter, necessitating Luna's and Wilder's contributions as well as 12 points from senior forward Nick Summit, whose right-handed slam dunk with 90 seconds to play put the exclamation point on the Bears' win.
"I'm really proud of the way they got their composure back and took care of the ball much better," Hillig said. "So if we can continue to do that, it'll be a good year. We've just got to understand, we've got to do that every night."