Joseph City's Jesmer, MVP Edwards team up to take Williams tourney
December 6, 2021 by George Werner, AZPreps365
---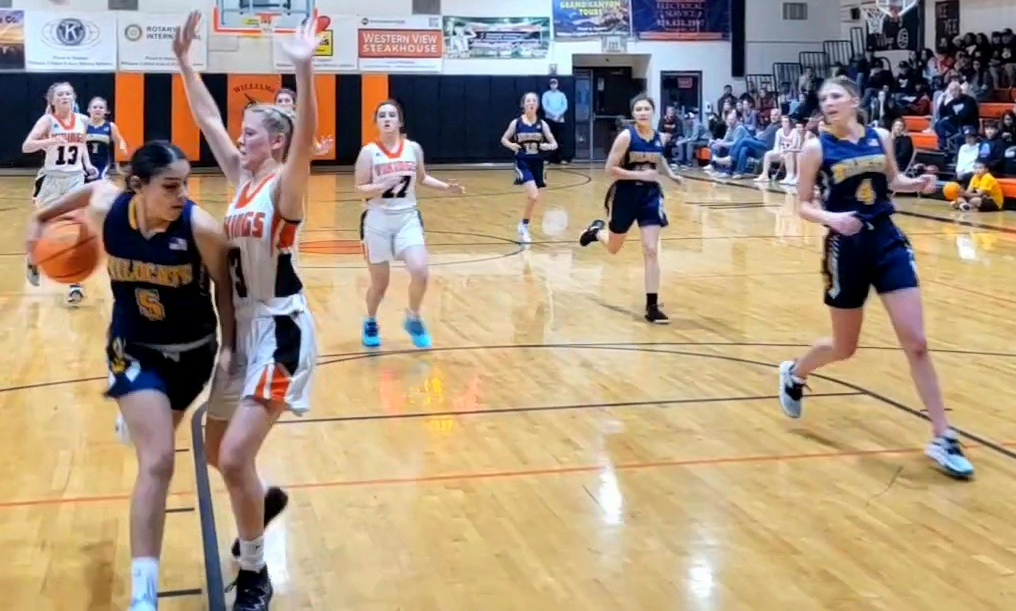 Looking at the run Joseph City has made the first two weeks of its girls basketball season, even the Energizer Bunny would probably stop working.
Second-team all-region forward Kate Edwards' Most Valuable Player performance Saturday, Dec. 4, highlighted a 10-2 run overall for the Wildcats through two tournaments in Tucson and Williams, where the Wildcats handled the host Vikings, 47-29, to win the Route 66 Classic.
"I think there were other girls on my team who were higher scorers," deferred Edwards, the Wildcats' second-team all-region forward whose two first-half three-point shots helped her team build a 27-13 halftime lead. "I couldn't have done it without this girl."
Edwards, after saying that, looked guard Samantha Jesmer's way. Jesmer, the game's high scorer with 13 as a starting freshman, also had two early threes but exponentially more steals flying around the court in head coach Dan Bushman's full-court, buzzer-to-buzzer press.
"We knew we were going to win," agreed Jesmer, who played like the mascot on her jersey to jump on the struggling Vikings, 11-4, after the opening quarter.
"She's a cat," Edwards said of Jesmer. "She can get slammed on the ground, she pops right back up, she's fine."
Nothing personal against Williams: It wasn't just their host, who the Wildcats will match up against again Saturday, Dec. 11, that they treated so unkindly. Before allowing 32 points from semifinal opponent St. David in a nine-point win, its closest of the season, Joseph City had held its three pool opponents--BASIS Flagstaff, Seligman and Winterhaven, Calif., high school San Pasqual Valley--to 37 points. Total.
"They wanted it so bad, they flat-out refused to give up," said Bushman, Coach of the Year in last season's consolidated North East Region, where the Wildcats went 8-8 as a No. 8 seed through the second round of the 1A state tournament. "They worked their tails off; it didn't matter who was doing what."
That particularly applies to guard Arami Miller, a starter on that 2020 team, who contributed eight points--including two first-half threes of her own--in her new role off the bench backing up Jesmer's sister Gabrielle, a freshman.
"She has sacrificed; she has bought in," Bushman said of his senior. "I thought she stepped up with great minutes."
Add a 22-point victory at Northland Prep and 53-10, 39-17 and 39-24 wins over Hayden, Duncan and Baboquivari, respectively, to open the season at Amphitheater High School's Boyd Baker Invitational in Tucson, and Bushman could have his best group of players in his five-year tenure, if not five more years longer--back when the Wildcats won a Section III title and were the Division IV runners-up in 2011.
"To tell you the truth, they were doing most of the coaching," Bushman said. "Our ladies came out determined [and] focused."
Junior forwards Kadence Armstrong and Abi Smith joined Edwards and Jesmer on the all-tournament team, along with Williams sophomore Kai Mortenson and junior guards Kadance Orozco and Shaelee Echeverria, who led all scorers with nine for the Vikings, who also defeated St. David in earlier tournament play, along with Grand Canyon and Hopi, twice.