Ready … set … click?
December 17, 2021 by AJ Peterson, Arizona State University
---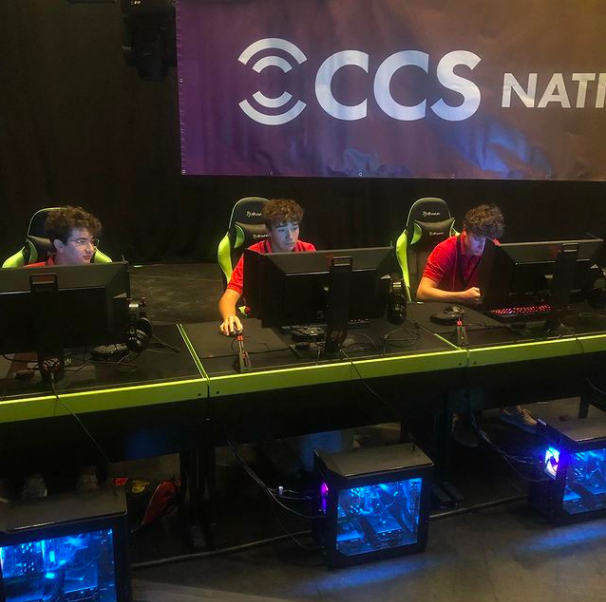 It's Dec. 4, 2021, and the venue is packed. Fans going crazy, players under the spotlight, a state championship on the line. No, I am not talking about high school football. I am talking about eSports.
"State championship and eSports?" you might ask yourself. How do the two go hand-in-hand? Now, students at Seton Catholic Preparatory have the opportunity to play video games competitively and compete for state titles.
The start
In the fall of 2018, the Arizona Interscholastic Association (AIA) and its board members voted to approve eSports as an official, state-sanctioned activity for high schools around the state of Arizona to participate in starting in the fall of 2019. This was groundbreaking news for schools around Arizona, as eSports had never been a part of official high school athletics and activities.
Originally, the approved games were League of Legends and Rocket League. Since then, the AIA has added Super Smash Bros Ultimate, Splatoon 2, FIFA and Madden as competition games.
Following the addition of eSports to the AIA's list of approved activities, Seton wanted to gauge the students' interest in adding eSports as an activity of its own. To do so, the school sent out a survey asking the students for their opinions on the idea. The response was positive, and Seton went ahead with the idea.
Seton began participating in eSports competitions in the fall of 2021. With this being the Sentinels' first crack at competition, the school is focusing solely on Super Smash Bros Ultimate and Rocket League so far. Michael Ahearne, the Director of eSports at Seton, realizes that the program is just getting started.
"We're still in the planning stages because it's so new," Ahearne said.
Ahearne, who has a full-time marketing job outside of his Director of eSports status, is the leader of Seton's Rocket League team. He, along with the other coaches, is trying to take the Sentinel eSports program to new heights in its inaugural season and beyond.
"We want to give our players the best opportunity to compete," Ahearne said.
In all sports, players need to have the right equipment to be able to compete at their full potential. This is no different in eSports. Seton is doing its best to go all-in on this front in order to give its students the best opportunity for success.
The lab
After the school showed its intentions of creating an eSports program, Seton was quickly forced to decide how it was going to invest in it. The main way Seton chose to do this was in providing its students with the best equipment possible.
Plans to create an eSports lab equipped with six high-speed gaming computers were released by the school shortly after announcing the addition of the eSports program. Unfortunately, due to supply shortages, Seton has not been able to set up this space as it had hoped to do at the start of the fall 2021 semester.
Being in the same room as someone while playing video games is extremely different than doing so in an online environment. Ahearne has noticed a stark contrast between the two forms of practice.
"There's a huge difference between playing in person versus playing online," Ahearne said. Regarding Seton's plans to set aside a space with state-of-the-art equipment, Ahearne said, "It shows we're pretty serious about this."
Terry Licht, an assistant athletic director at Seton, has had an impactful hand in the implementation of the eSports program, including the construction of the lab. His enthusiasm for the program is unmatched.
"I get chills still thinking about it," Licht said of the program's potential. "Once it gets rolling, I really don't see how it can slow down."
Licht started his career at Seton in 2020, and before that he was at Mesa's Benedictine University working as the university's sports information director. He is involved in all sports at Seton, but he has a special interest in the school's new eSports program.
Licht is gung-ho on the eSports lab idea. He knows of the nice gaming consoles and computers that the majority of the students have access to at home and noted how important it is that Seton mirrors that in their own facilities.
"If we don't have something on campus that mirrors the experience that they're gonna get playing at home, there's no point in running an eSports program," Licht said. "If we're going to do it, let's do it right."
Although Seton's eSports lab is not yet up and running, the school is merely waiting for the supplies to become available. Despite the lack of a common space to practice, the Sentinels have been rather successful in their first year in AIA competition.
Coming to fruition
The Sentinel Super Smash Bros team advanced from the state semifinals (pictured above) to the state finals, which occured on Saturday Dec. 4. The team finished as runners-up (photo courtesy of Seton Athletics Instagram)
It is uncommon to see a school be so successful in its first year of competition in any sport or activity. Both of Seton's eSports teams — Rocket League and Super Smash Bros — had the opportunity to compete for a state championship in their first seasons.
"It is long overdue that there is an official eSports program at Seton," Super Smash Bros coach Evan Shewbridge said.
In the fall 2021 season, the Rocket League team was ranked as the No. 3 team in Arizona, while the Super Smash Bros team was the No. 4 in the state. One of Seton's talented eSports players is junior Jacob Damon, who plays for the Super Smash Bros team. At just 16 years old, Damon is a top-10 player in all of Arizona across all age groups.
Damon grew up with the hopes of playing baseball in high school, but his focus shifted following a foot injury a few years ago. He grew up playing video games for fun, but he certainly never imagined he would be playing competitively for his school like he is now.
"It's been cool, honestly," Damon said regarding the uniqueness of being on the eSports team. "Being able to share a passion and compete with other people around my age has been really fun."
Damon has been an integral part of the Super Smash Bros team this season. When it comes to individual and his team's success, he said it all boils down to the team being on the same page.
"I think it all comes down to me and my team all having the same goal in mind," Damon said. "We want to win, we want to do well, and we want to enjoy ourselves."
The success Seton has enjoyed in its first year is almost unheard of, especially considering the lack of facilities that Seton has in comparison to many other schools. Licht looks forward to the addition of the eSports lab and the future success of the program.
"We've had success even without the infrastructure," Licht said. "It'll be crazy to think what it's going to look like when we actually get the infrastructure in place."
Although the success of the two Sentinel eSports programs is commendable, Seton is looking even beyond the competitive side of eSports. The school believes it can reach a much broader audience and grow the program even more.
A look ahead
Seton has its sights set on the areas other than the competitive side of things. In order to grow the program, Ahearne sees the casual gamers as Seton's target demographic.
A very small percentage of gamers are considered competitive gamers, leaving the vast majority as more casual gamers. When asked if the casual or competitive sector was more important in growing the program at Seton, Shewbridge said he believed the casual sector was more important.
Winning state titles is just one of the many goals Seton has in mind with its eSports program.
"My vision is trying to incorporate health and wellness into the program," Ahearne said.
Many people who play video games speak highly of the gaming community. Especially with the condition of the world today with the COVID-19 pandemic, many have had to turn to virtual gatherings, and video games have played a large role in that. Damon noted the various relationships he has built through video games.
"Video games over my life have built so many relationships," Damon said. "It's kind of crazy. The fact that you can share so many memories and get to know people through the medium of a video game, whether that be in person or online with people from across the world, I think it's insanely huge."
Seton envisions gatherings such as the picture above where students can play video games of their choice as a big part of the program's future (photo courtesy of Seton Athletics Instagram)
These kinds of relationships are vital for high school students. For those who don't play sports, as many students at Seton do, video games can be an avenue for them to meet friends and connect with other students.
"Knowing that you can play video games with a friend I think is massive for a kid," Ahearne said.
The school foresees a future where it can host special events, support eSports clubs, and help motivate students to connect through the platform of video games. Doing so will help students connect with each other and feel attached to Seton.
"Being a small community you have to have those close ties," Licht said. "It's essential to the health of our school and the kids."
In order to fully promote the casual side of gaming, Seton feels like the school really needs their eSports lab. The addition of the lab will give the school a place on campus to host events, clubs and activities. Doing so on campus is crucial to Seton, as the main goal is to help students feel a part of the Sentinel community.
"Having the infrastructure and doing those cool things is so integral in making sure that these kids have something that attaches them to the school," Licht said.
Although the lab is not yet complete, Seton remains thoroughly committed to providing this experience for its students. This "all-in" mentality is what keeps more than 60 students who are in some way involved in the program engaged.
"It's really important for the students to have something solidified," Shewbridge said.
The Sentinel eSports program continues to grow in its inaugural year. Everyone involved in the program cannot wait to see what the future holds, both on the competitive side and the casual side. The program has already come so far — but in the eyes of Evan Shewbridge, this is merely the beginning.
"Things are just starting to get moving."