Buena over Pueblo 55-48
December 17, 2021 by Andy Morales, AZPreps365
---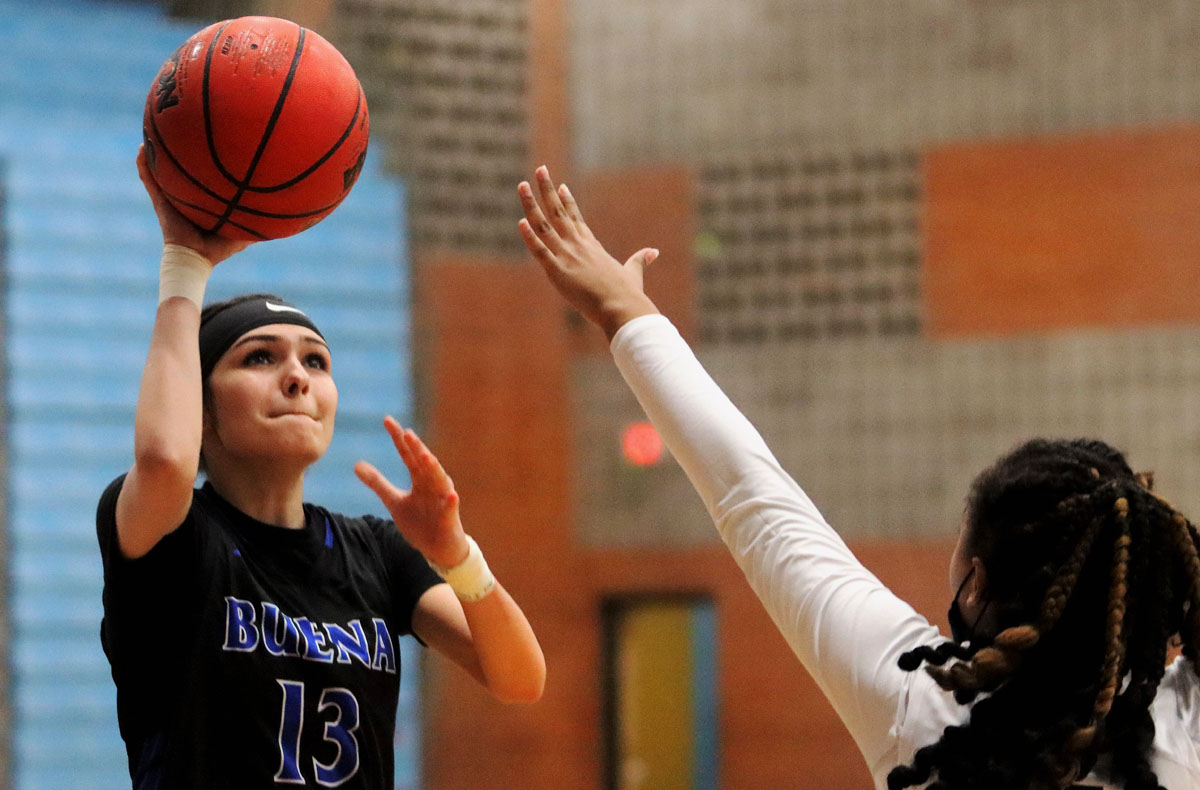 Pueblo junior Victoria Cazares scored 32 points against Buena at home Friday night but the Warriors still fell 55-48 in a game that showcased another standout guard in Colt senior Alani Encinas. Encinas made seven 3-pointers on the night and she finished with 35 points. The Portland State commit was almost unstoppable.
Cazares entered the contest only needing six points to reach 1,000 career points and she passed that milestone on a 3 of her own with 15.7 seconds left in the first quarter. Cazares became the fifth Warrior to reach that mark in the last five years (Alicia Reyes, Araceli Loya, Ilyssa Galindo and Summer Fox) and she now has a shot at over 1,500.
Pueblo (9-4) led 11-9 after the first quarter and 19-18 at the half and then Cazares put the Warriors up 24-22 on a 3 with 6:30 left in the third quarter but Jaden Walker made a 3 to start a 13-1 run for Buena (5-3) with Encinas scoring 11 of those points. Down 35-25 with 3:58 left in the quarter, the Warriors responded with a 10-0 run to tie the game up at 35-35 with 7:21 left.
The biggest shot of the night might not have come from Encinas or Cazares. Walker made another 3 with 6:03 left to give Buena a 42-37 lead and the Warriors had difficulty recovering from that bucket until Cazares scored seven straight points to cut the Colt lead down to 51-48 with 30.3 seconds left.
Encinas was fouled and she made both free throws to put Buena back up 53-48 with 20.4 seconds left. The Warriors were unable to score from there and Encinas made two more free throws to end the game 55-48.
Buena will play in the Flowing Wells Shootout over the winter break with a game against Kofa (1-5) scheduled for Dec. 28. Pueblo will spend the coming days at the Nike Tournament of Champions held at several schools in the Tempe area with a game against Pinole Valley, CA (5-3) slated for Saturday at 10:30 a.m.