Title IX: Flagstaff's Painter follows in footsteps of original trailblazers
December 23, 2021 by George Werner, AZPreps365
---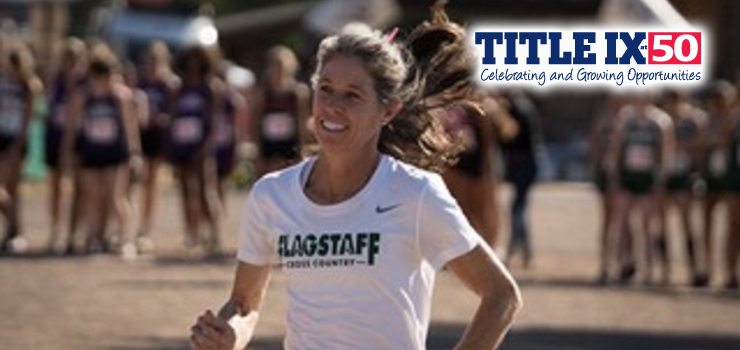 Trailblazing legislation known as Title IX was passed on June 23, 1972, which prohibits discrimination based on sex in educational programs or activities that receive federal financial assistance. It was the catalyst for bringing girls athletics in high schools to the forefront. As we celebrate the 50th anniversary of this momentous occasion, the AIA will produce a feature on the 23rd of every month on a female that paved the way for girls athletics in Arizona.
After winning, without any medalists, an unprecedented 16th state high school cross country title in 18 years as Flagstaff's head coach, Trina Painter, also after her sixth title with the boys, doesn't feel alone atop her profession anymore.
Thanks in large part to Title IX, the former Horizon High School runner believes. In its 50th fall, the legislation "continues to open doors" for female athletes and coaches.
"I have seen more women enter the field, and also more women head coaches for boys and girls teams alike," added Painter, who, with the exception of 2010, has coached one or both of the Eagles teams to first- or second-place Division II finishes every season of her tenure. "Which I think was a major barrier for many of us."
Although one of the foundational runners for her collegiate head coach, 1986 national champion Terry Crawford at the University of Texas, Painter also credits male coaches such as Phoenix club coach Fred Moore as "a huge influence on my coaching style and my life."
But it was her high school girls cross country coach who was "amazing" and who "set the path for my success as an athlete and a future coach," Painter said.
In the early 1980s, Huskies girls head coach Kathy Newsome "made running fun in addition to pushing me athletically," Painter explained, "and always had great insight into the mindset needed to be a strong person and believe in myself."
Heading into Painter's 2004 debut as Flagstaff's girls cross country head coach, the program had already won six Class 4A titles – including four straight under head coach Sharon Falor and her daughter Annie, who was a 2001 state champion.
But for the Eagles' nascent boys program, its ascension into the ranks of the state's elite wouldn't come for another decade.
Even as girls head coach, after a 33-point 4A state team title over Page her rookie season, Painter would spend four of her next five seasons in Division II in second place, usually behind the Sand Devils and 2006 state champion Katrina Lee.
But after sophomore Tatiana Gillick's first of three gold-medal performances in 2011, the Eagles had arrived for good, winning the next three state team titles.
"I love coaching the girls," Painter said, "and try to combine all of the great aspects I learned from my different coaches and pass it on to them."
The boys did not take long to follow. In 2015, as Division II girls gold medalist Courtney Lewis led the Eagles to their sixth team title under Painter, she would also guide the boys to their first Division II title with an astounding 33-point margin over second-place Gila Ridge.
Over the next two seasons – again, without any medalists – Flagstaff would dominate the state's Division II cross country championships, winning both boys and girls team titles by an average margin of 28 points.
In the last four years, the Hall sisters have lifted the Eagles back to the girls podium, with both Hana and younger sister Mia, a junior, each capturing two state gold medals to date. But even in 2020, when Gilbert would break the Eagles' team streak for the boys, senior Max Davis still led them to second place, mounting the medal podium for the second straight season as runner-up.
"It's great to see that some of the best athletes in the state and country are the women runners, and they have gained a respect and following that is impressive and their athletic performances are viewed as equal to the men," Painter said.
Previous Features: