Notes from the North: 12 Days of Christmas edition
December 25, 2021 by George Werner, AZPreps365
---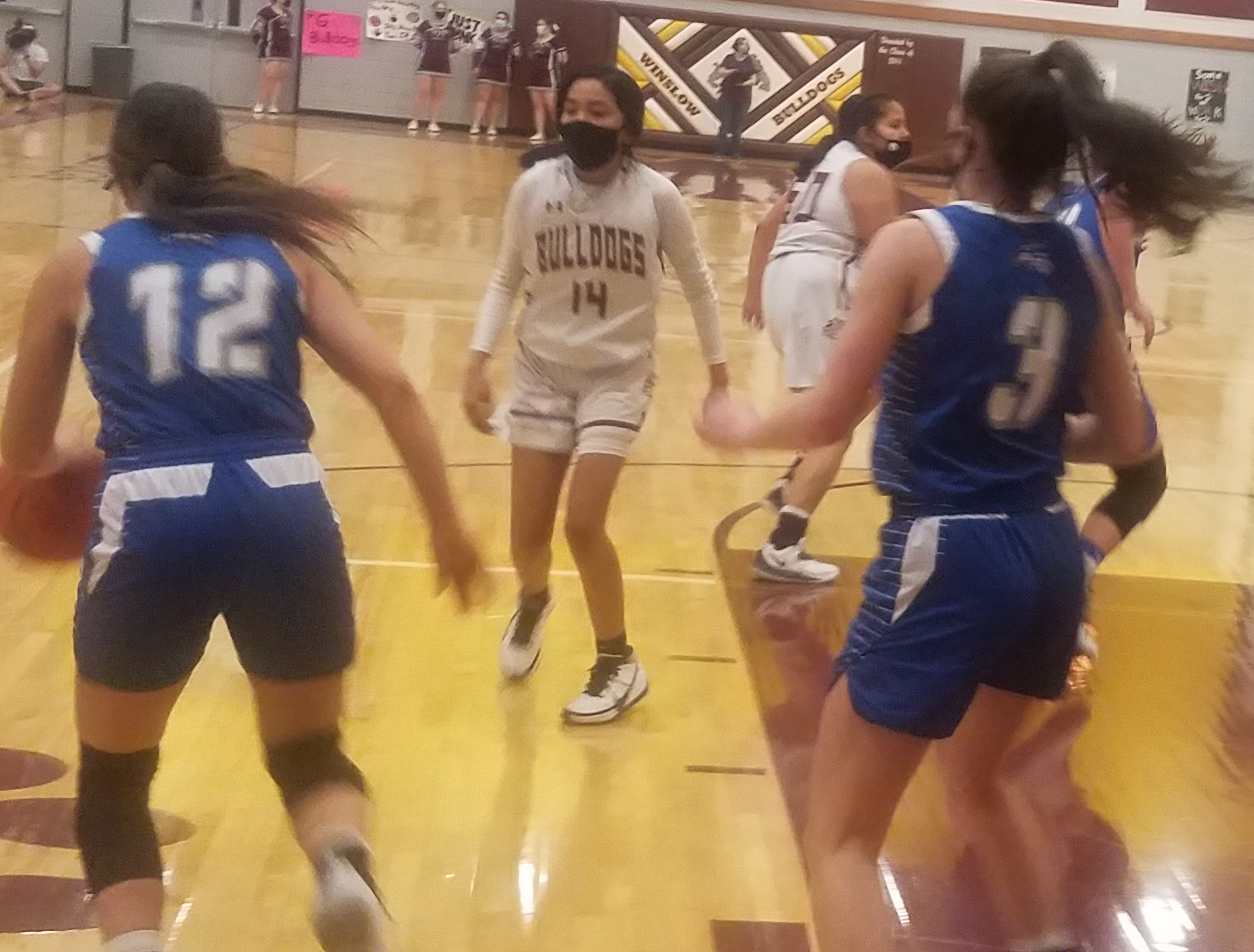 On the first day of Christmas, my North Notes gave to thee: The Choice Wireless Classic champs, Chinle.
The Wildcats' boys and girls programs each won all their games in their host tournament. The boys' wins, including over 1A North leader El Capitan and Newcomb, N.M., High School, were by at least 31 points. Only a 57-55 home loss to Holbrook has tarnished the first seven games of the season for the Wildcats' boys basketball program, led by Kylen Yazzie, sixth in the 3A Conference with 4.4 assists averaged a game and eighth in steals with over three per contest.
Head Coach Raul Mendoza's varsity has beaten all other opponents by double digits, but the competition gets tougher Tuesday through Thursday, Dec. 28 through 30, when his Wildcats open their second tournament at undefeated host Blue Ridge High School–with an unusually early 9:30 a.m. tip with the Yellowjackets.
On the second day of Christmas, my North Notes gave to thee: Double-doubles for Rebecca Arave. The Lee WIlliams junior forward already has seven of the feat, which occurs in any game in which a player records double figures in two statistical categories, more than any other player in the state except for Flowing Wells junior Navine Mallon, who also has seven. The Volunteers' captain, who is also third in the state in field goals and free throws made, has led her father Jerry's team to six wins, including Bradshaw Mountain High School's only loss to date.
On the third day of Christmas, my North Notes gave to thee: Three undefeated 3A East teams, led by Show Low, and Cougar Cooke.
The senior guard is 3A's sixth-leading scorer with more than 21 points per game. He has already hit 96 field goals, 34 of them three-pointers, which is third in the conference. At the Round Valley Roundball Shootout, the mascot-on-the-floor led the Cougars to a 6-1 record, including a win over Janet Rex's 5-0 Blue Ridge boys. Their only loss was to tourney champion Holbrook, whose boys and girls basketball programs are both a perfect 3-0 outside of tournament play.
On the fourth day of Christmas, my North Notes gave to thee: Four loss-free girls soccer teams.
Undefeated Prescott and Mohave, in fact, are a combined 8-0 in girls play, while their boys programs are 8-0-1 together so far. Thunderbirds senior forward Rhyah Jackson leads the state in goals with 22, while junior goalkeeper Kaylee Saldana shut out her first five opponents. With Flagstaff and Lee Williams also combining to go 9-0, the Grand Canyon Region is shaping up to be the toughest in 4A Conference girls soccer.
On the fifth day of Christmas, my North Notes gave to thee: Five Camp Verde wins!
After a 1-3 showing to open the season at Valley Christian's Thanksgiving Tournament, the Cowboys have gone undefeated since, all by double-digit margins, including an 83-73 win Dec. 14 at Payson. Senior guard Chino Salas-Zorrilla is one of 3A's top five all-around players, averaging more than three-and-a-half steals and 22-and-a-half points per game. He is also third in the conference in assists, with over five a night.
On the sixth day of Christmas, my North Notes gave to thee: 6-0 Kingman, and Joseph City, 5-1 Parker, with Alchesay, Winslow and Wickenburg, all in 3A girls hoops.
Winslow sophomore Jacie Gonnie's 20 three-pointers are tied for the 3A girls lead, as her 20.9 points per game are second in the conference. Kingman senior wing Shauntel Crozier's six double-doubles lead the conference, and her 6.2 assists per game rank third.
Meanwhile, Monument Valley's boys are also 6-0, led by Andrew Sheppard. The senior is seventh in 3A at 20.8 points per game.
On the seventh day of Christmas, my North Notes gave to thee: Seven wins in St. Johns…and Sedona, where both girls hoops teams are undefeated in 2A non-tournament play. The Redskins are tied with Ganado and Valley (Sanders) for the North Region lead, while Sedona Red Rock High School needs to do what Valley Lutheran did to Scottsdale Prep on Dec. 10 to keep pace in the Central Region.
Also 7-0 are the Mohave Accelerated Learning Center boys, led by senior Josh Neal, third in 1A in rebounds and seventh in the conference in scoring, averaging a double-double.
Salome also is enjoying a 7-0 start behind Kaniece Thomas, whose 9.2 blocks–each and every game–leads the state, while teammate Yareli Quiroz leads the state in steals with 7.3 per game. Salome, where Kevin Castillo and Ernesto Calderon's 188 field goals lead the 1A boys, can pull even with Bagdad–whose 190-pound senior wrestler, Elijah Aguilar, is 20-7 this season–when region play begins Jan. 4.
On the eighth day of Christmas, my North Notes gave to thee: Number 8 state scorer, Jason Parent of Prescott. The senior has the second-most field goals in the state already with 131, averaging nearly 25-and-a-half points per game.
El Capitan and Joseph City have also combined for eight wins in the 1A boys, losing only once each in non-tournament play so far. The Eagles and Wildcats both fell short of the Route 66 Invitational championship to host Williams.
On the ninth day of Christmas, my North Notes gave to thee: Nine ladies victories at St. Michael and Rock Point, who is 3-0 in non-tournament play in girls 1A play. The Cougars have lost only to Chinle, by five points Dec. 11 in their Choice Wireless Tournament Final.
On the 10th day of Christmas, my North Notes gave to thee: Roman Evans leaping, fifth in the state with three blocks a game, for the 1-1 Grand Canyon Phantoms. The junior averages nearly 24 points and 10 rebounds per game–fourth and fifth in 1A, respectively–and is also Top 10 in the conference in free throws, steals and double-doubles.
Evans is tied in blocks with Wickenburg center Jett Smith. The 6-foot, 6-inch sophomore is also second in 3A in steals, with 3.7 per game, and fifth in rebounds, with 9.4.
On the 11th day of Christmas, my North Notes gave to thee: Eleven wrestlers wrestling, like Cooper French, and Cael Porter, Malaki too–don't forget Fisher–Dakota McMains, Abraham Silva, Travis Christianson, Wesley Scarbrough, Matthew Davis, Payton Wayman, and Mountain View Dual champ James Thomas. French, a Coconino junior and defending 138-pound state champion, is 12-0 against largely 157-pound opponents this season, while Mogollon's triple threat of Porters have teamed up to win 49 of their first 50 matches. Malaki has been the only one to lose, and that was in a 3-2 decision Dec. 11 to Santa Cruz Valley Union's Diego Chavez in the 175-pound final of Show Low's Witt Duals. Wayman and Christianson, defending 160- and 182-pound Division III champions for Lee Williams and Payson, respectively, have won their first 23 matches wrestling up a weight class as seniors. Mcmains, the runner-up at 195 pounds March 19, has gone 40-3 at Chino Valley with Davis, the 160-pound second-place finisher at State. Silva is 11-2 for Parker at 285 pounds, and Scarbrough and Thomas have combined to go 35-2 at 144 and 165 pounds, respectively, in St. Johns.
On the 12th day of Christmas, my North Notes gave to thee: 12 wins for Bradshaw: 6-1 boys, 6-1 girls. The only reason both Bears teams don't hold the Grand Canyon Region lead is because the girls' one loss was Dec. 14 at rival Lee Williams, 32-28. The girls also won three of four games Monday and Tuesday, Dec. 20 and 21, at Prescott High School's Lady Badgers Winter Classic, while the Bears boys travel Monday, Dec. 27, to Cactus High School for the Winter Hoops Shootout.
Next Time
The first power rankings are out in basketball and soccer: How do my projections compare entering region play? Remember, your hot takes and feedback are always welcome! Follow me on Facebook and Twitter at @ProfGWerner, or email me at gwerner@azpreps365.com.