Sprouts fall sports 'Team of the Season' award finalists selected
January 10, 2022 by Seth Polansky, AZPreps365
---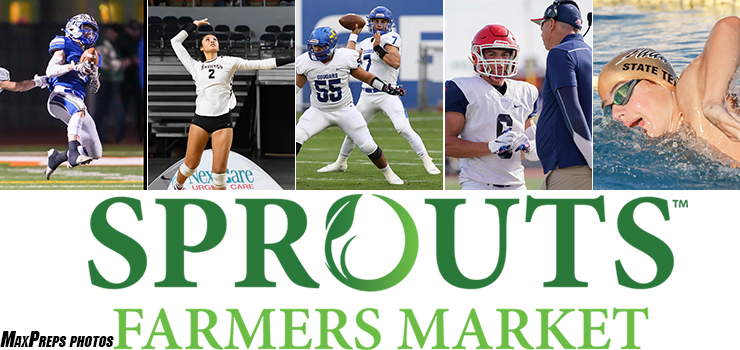 AIA partner Sprouts will once again be awarding a $500 gift card to its "Team of the Season" honoring the fall sports participants. Voting will take place Monday through Friday on this online survey.
The five finalists – Benson football, Casa Grande football, Desert Vista boys swimming & diving, Hamilton volleyball and Snowflake football – were selected by the AZPreps365 writers based on overall performance, overcoming obstacles, community involvement and other intangibles that made this a memorable season.
Voting will take place from Monday at 10 a.m. until Friday at 10 a.m. The winning team will be announced on the AZPreps365 Saturday morning show this Saturday, Jan. 15, between 8-10 a.m. The nominees are below.
Benson football
The Benson football community came together when it learned of the battle Chase Manzo was waging with the return of severe bone cancer known as Ewing Sarcoma. The cancer came back with such force that treatment was not available for the 13-year-old.
Chase was flown into Benson stadium via helicopter to deliver the game ball to officials prior to the game against Pima on Sept. 30. His name was painted at midfield, and his initials and his number (24) were painted in the two end zones. The team wore his number on their helmets the rest of the season.
Chase passed away during the night of Oct. 31.
"If you asked Chase what was your favorite … whatever ... he would usually shrug his shoulders and say he could not pick," his father, Ryan, shared at Chase's memorial. "He really did love everything and everyone for different reasons. The only thing Chase would always say was his favorite was football … not any team in particular, just football."
Chase was survived by his parents Ryan and Rachel and brothers Trent, Rostin and Ryan.
Benson would go on to earn the No. 3 seed in the 2A tournament, defeating Sequoia Pathway 49-7 and St. Johns 48-6 before bowing out to eventual champion, Arizona Lutheran, in the semifinals. The Bobcats finished 9-3 on the season with all nine of their wins by at least a 35-point margin.
Casa Grande Football
It's fourth-and-10 in the waning minutes of the 4A Conference championship game. Casa Grande is trailing 28-27. That's when Angel Flores dropped back and launched a pass that Demetrius Garrett somehow snared with one hand before gaining control to set up a first-and-goal, and the eventual game winning touchdown.
Only in Hollywood. But it actually happened in December at Arizona State's Sun Devil Stadium. The Flores to Garrett 57-yard pass play, one of the all-time clutch moments in the Arizona Interscholastic Association football championship history, helped secure Casa Grande's first AIA football title in the 90-year history of the school. The program won a mythical title prior to 1959, before the AIA began organizing state tournaments. The 33-28 4A title victory over runner-up Poston Butte also capped a 13-0 season for Casa Grande. The whole town of Casa Grande might have been at the final, as the lower half of its side of Sun Devil Stadium was filled with Casa Grande fans.
"This is so important to me," said Flores about bringing home the first football crown to his school. "The community had our back this whole way. I'm just so happy I get to give back."
Desert Vista Swim & Dive
COVID-19 kept Brophy, which had won every Arizona Interscholastic Association big school swim and dive title since 1987, from competing in last year's state meet. It was seeking to resume its dynasty this past fall, but Desert Vista's boys had other plans. Coach Shawn O'Connell and Desert Vista scripted a career- and season-ending chapter to remember.
O'Connell's team won the Division I swim and title meet in dramatic fashion when its 400 freestyle relay team won the final event of the meet. Tres Mungia, Jack Luken, Ryne Davenport and Caleb Stanley (50 free champ) clinched the title in that final race. The 400 victory allowed Desert Vista to edge the favorite, Chaparral, by a slim margin (313 to 311) for first place.
The University of Michigan-bound Luken helped Desert Vista pick up valuable points early in the meet with first place wins in the 200 and 500 free. This was the second consecutive year that Luken won the 500. Mungia also stepped up down the stretch at state, winning the individual 100 breast before swimming the third leg of the 400 relay.
Desert Vista came into this season motivated to improve on last year's state runner-up ending. O'Connell stepped down after the season to spend more time with his family, but the 18-year coach sure went out in style.
Hamilton girls volleyball
Hamilton girls volleyball has always been a contender for the big school state title, but it wasn't until last year the Huskies broke through and won the long-awaited title. Its chance to repeat this year was not an opportunity missed.
Hamilton earned the second seed in the 6A state tournament where it avenged a season-opening, five-set loss to top-seed Sandra Day O'Connor with a hard-fought, 26-24, 25-22, 25-27, 25-20 triumph at Arizona Veteran's Memorial Coliseum. The Huskies finished with a 34-5 record and competed in top tournaments in various venues around the country. This included hosting a high profile tournament in their own gym on ESPN against nationally ranked competition. And that included a victory over powerhouse Assumption (Ky.).
Hamilton's attack was in the title match was relentless and led by seniors Jordan Middleton and Micah Gryniewicz. Middleton produced 25 kills and Gryniewicz amassed 16 kills. They got ample help from junior Neomi Beach, who chimed in with 14 kills on another busy night for junior setter Melia Barlow (51 assists).
Hamilton coach Sharon Vanis said the Huskies were ready for the postseason this year after a year as champs behind them.
"The season was tough and we learned some lessons along the way when we lost to teams that we had beaten before," she said. "That prepared us for this. When we see an upset, we don't look past our opponents. You pay attention because there's so many things to learn. But this senior class is very mature, very talented, and chemistry is great. And they are intelligent girls. Celebrate, but then get visual and look across the net and see what's going on. And they did that. They can run themselves because they are at that high a level. "I don't see the panic in my kids. What was an advantage for us is that we were here last year. We knew what it would take, and we had that experience."
Snowflake football
Snowflake High School enjoyed a football season in which it did more than capture its eighth state championship, and fourth in repeat fashion.
After a two-touchdown road loss in their Aug. 27 season opener to Valley Christian, the Lobos went on to avenge that loss in their 3A Conference semifinal and dominate their other 12 opponents so thoroughly over the next three months, that following their second straight title victory Nov. 27, they were moved up to 4A competition for the 2022 season.
Head Coach Kay Solomon, 3A Coach of the Year in back-to-back seasons, has built a program eligible for Open Division play for the first time after its Class of 2022 lost to just five opponents in its four years, winning 41 games – all but two this fall – by at least 31 points.
In fact, Samuel Crockett's second-leading field-goal total in the nation notwithstanding, the Lobos' 10-3 title win over Yuma Catholic was their seniors' third lowest-scoring game. First-team all-3A performers Clayton Smith and Rhett Wengert – whose 41-yard run provided the night's longest offensive play and sole touchdown – led a defensive shutdown of the nation's fourth-best passing attack.
Junior first-team all-conference defenders Matthew Brimhall and Tony Munoz lent support in holding the Shamrocks to just 141 yards through the air…the first time since Sept. 20, 2019, that they had been held to less than 200 yards passing and under 300 yards of offense total.
But with 10 of Snowflake's 12 other wins by 31 points or more – four of those by shutout, with another three holding opponents to eight points or less – the Lobos have proved themselves ready for the brave new world of 4A Conference football.
Indeed, the whole of Solomon's 53-man roster, quarterbacked through back-to-back championship seasons by 3A's third-greatest collector of total yards and Offensive Player of the Year, senior Caden Cantrell, proved to be considerably greater than the sum of its interchangeable parts. Most other players can be two-way warriors – but don't have to.
Senior all-3A wide receiver Noah Baum, for instance, caught Cantrell's passes for more than 1,100 yards this fall playing the position exclusively, while another all-3A first-teamer, senior Camden Brimhall, matched Baum's 18 touchdowns and had nearly as many yards rushing to become the conference's third-leading running back despite just becoming Solomon's primary rusher this season.
Wengert was also tied with fellow senior Jace LeSueur for second in 3A in interceptions and was sixth in the conference in kickoff returns, averaging nearly 30 yards a runback. Senior lineman Jacob Wagner matched junior Jordan Mowers' 10.5 sacks, tying for third in the conference and combining for more than 160 other tackles in what was essentially each player's first varsity season.