Turning Point for Titans at Half Leads to Victory
January 15, 2022 by Caleb Gottry, Chandler Preparatory Academy
---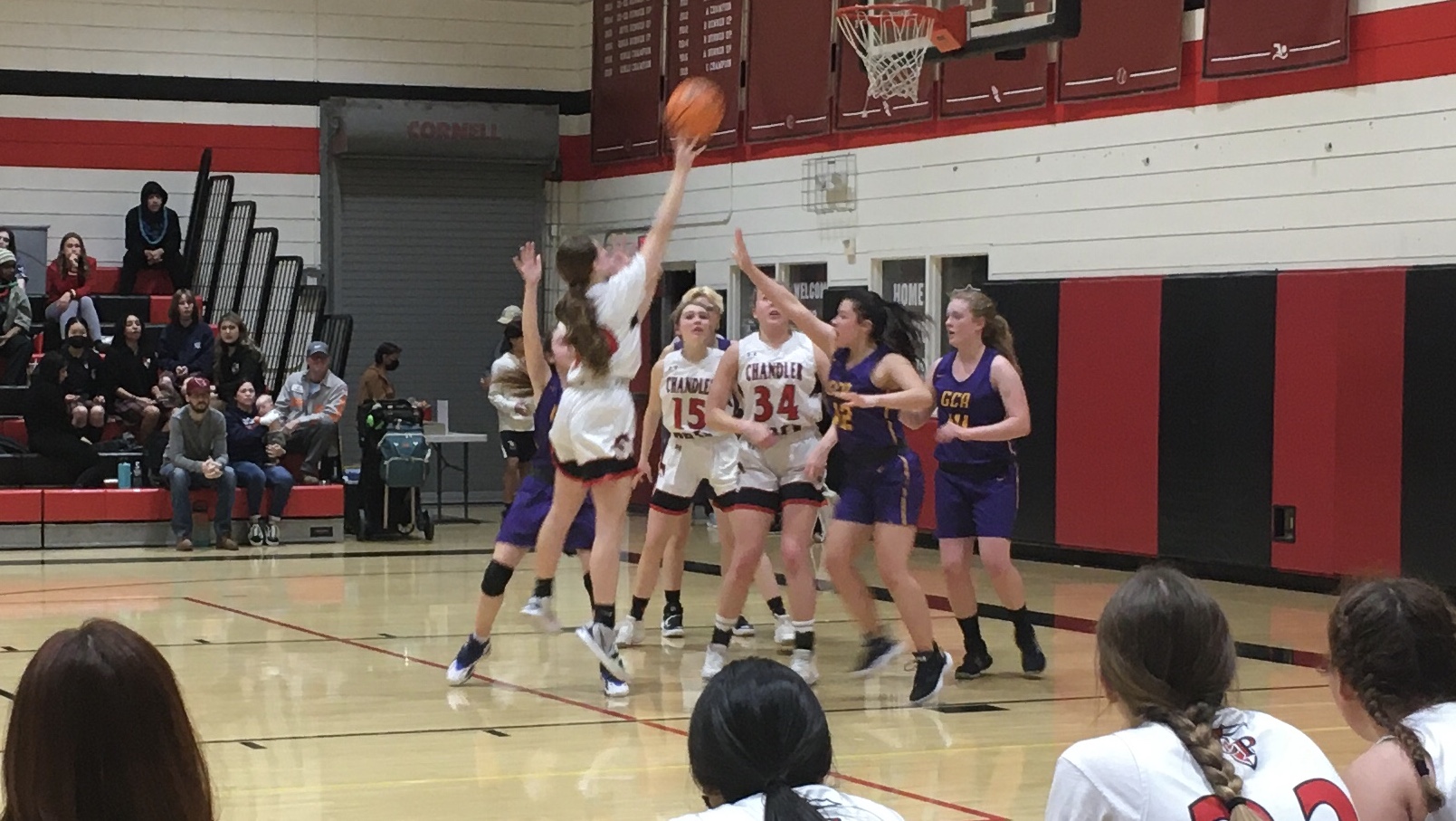 Caleb Gottry attends Chandler Preparatory Academy and is a member of the AIA's Student SID program.
The Chandler Prep Titans girls basketball team returned to their home court on Friday, January 14th after a 1-4 record on the road. They faced region competitors, #3 Gilbert Classical Spartans. Sitting at #5 in the 2A Valley rankings, the Titans were not favored and it showed offensively in the first half, but after an explosive third quarter, Chandler Prep defeated the Spartans 27-24.
The Titans were able to thrive defensively in the first half, keeping Gilbert Classical to only 10 points, largely due to several steals and deflections. The Spartans were also unable to get enough space to shoot from the outside, at which they later proved to be successful. Unfortunately, Chandler Prep was largely silent offensively in the first half with only three points. Senior forward Tatum McDonald was the leading scorer for the Titans with 12 points for the game, her layup and free throw being the only points on the board in the first half.
Both teams struggled to find the hoop on Friday, shooting less than 20% from the field for the game.
The third quarter started with a layup in the post and a fastbreak for the Titans and by the four-minute mark, the Titans had tied the game at 10, shutting out the Spartans during a 7-0 run. Near the end of the quarter, Chandler Prep was even able to convert a missed free-throw into a two-point jumper for sophomore Jill McDonald after a rebound by her sister, T. McDonald. The McDonald sisters led the Titans in rebounds, Tatum with 18 and Jill with 10. Chandler Prep outscored the Spartans 14-1 in the third quarter, putting the Titans ahead 17-11. Head Coach LeFebre attributed the shift at half to a shift in intensity:
"It was intensity. We had it in us, we just weren't intense enough. Once we put on the pressure, they couldn't get it past half court and we started getting layups instead of taking outside shots."
The Chandler Prep Titans kept the intensity up for the final quarter and despite a few outside threes from the Spartans, never lost their lead. With both teams being in the bonus, free-throws were essential to the scoreboard and the Titans were 24% more accurate than Gilbert Classical to that end. With half a minute remaining, it was a one-score game, but Chandler Prep continued to run the clock on offense to win 27-24. One of the leading scorers for the Titans, freshman guard Lailani Hall spoke personally about how she was able to focus and finish:
"I just mainly focused on hustling and making sure to communicate well with my teammates on the court."
The Chandler Prep Titans (now #3 in 2A Valley) play their next home game on January 19th at 5:30pm against the Rancho Solano Mustangs.Titan Up.