Chino, Chito keep Camp Verde cruising with 3A Conference championship contenders
January 17, 2022 by George Werner, AZPreps365
---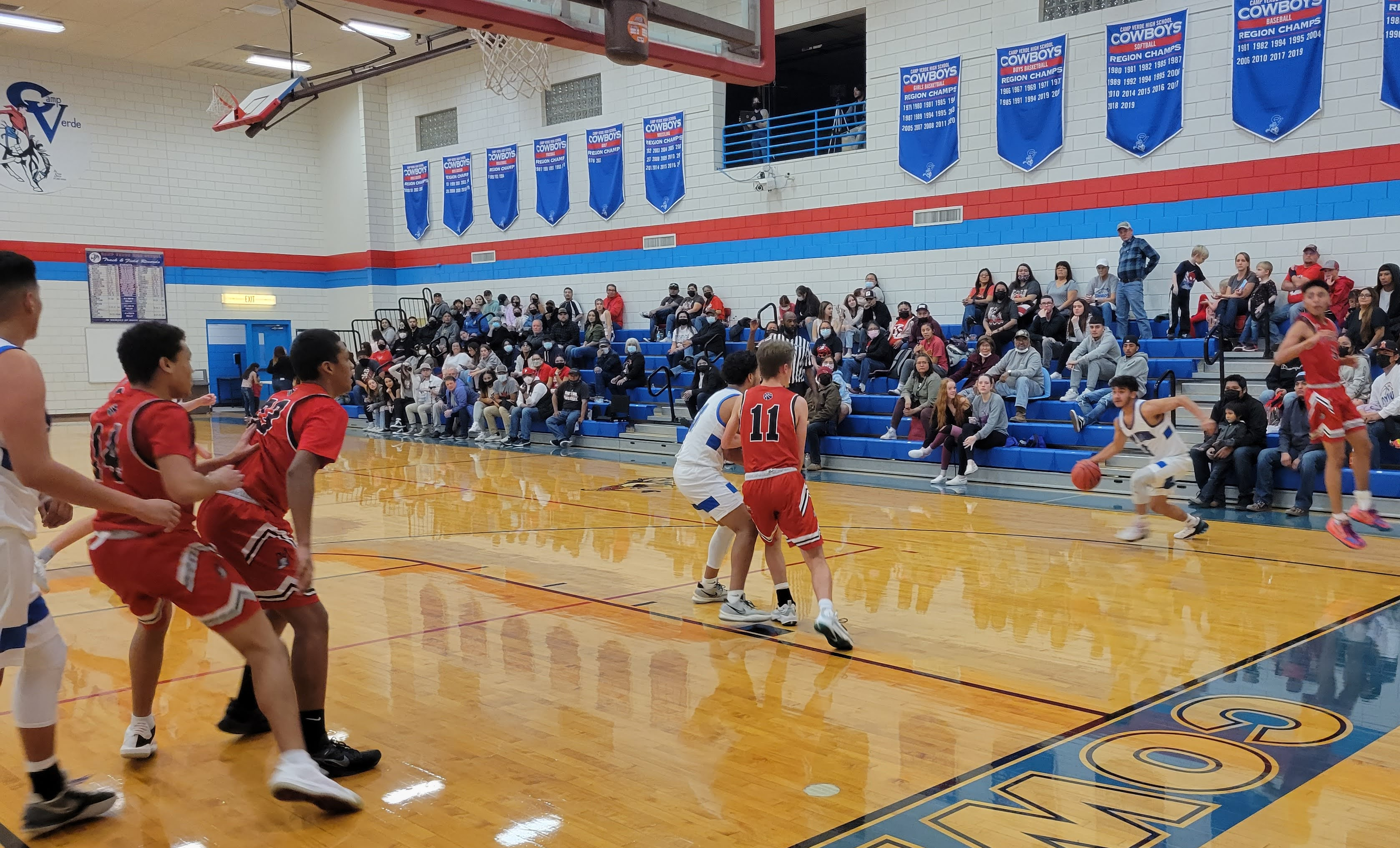 After closing out Page, 75-41, and the Freedom portion of Camp Verde's 3A Conference schedule undefeated Saturday, Jan. 15, Cowboys head coach and athletic director Dan Wall continues to await his team's true conference challenge.
"Northwest Christian is playing really well, and so is Fountain Hills," Wall said of the two other 2-0 teams alongside his fifth-ranked Cowboys in the North Central Region. "We played Valley Christian and other tough teams early, in tournaments. That was by design.
"When we're clicking on all cylinders, we can play with any of them."
Senior guard Chino Salas-Zorrilla and junior forward Chito Herrera each had 11 rebounds as part of their double-doubles that led the way for the Cowboys. Herrera scored 18 points, tying him with four other players for the second-most double-doubles in 3A, while Salas-Zorrilla, the conference leader in field goals made, led all scorers with 27.
"Really?" Wall exclaimed shortly after the end of the game, the final three minutes of which Herrera, Salas-Zorrilla and the other three Camp Verde starters sat out after building a 67-41 lead. "They're always such quiet points."
They announced themselves shortly after Wall took a time out with 1:46 in the first quarter, down 12-11. Salas-Zorrilla, who had already burned the Page defense on a back door inbound pass from Herrera and a pull-up three-point shot, got the lead back by quarter's end, 14-12, on the free-throw line.
"The start was kind of ugly," Wall said. "I don't know if we were a step slow or fumbling a lot of passes, but it was a slow start."
Herrera's point from the charity stripe set the stage for a 24-6 ownership of Page in the second quarter by the Cowboys, with Salas-Zorrilla contributing 15 of those flying to the rim in transition situations as well as points off steals.
"Chino's a little more subtle," Wall said, comparing the two players' contributions. "Some think a little more lazy, but he's not lazy. That's just how smooth his game is."
By the time new Page head coach Gerrald Begay could call timeout to adjust, Camp Verde had pulled away, 30-13 with less than three minutes to play before halftime. By then, Page was a foul away from falling into the deadly double bonus situation with 10 team fouls in the half, limiting the chances the defending 3A champion's defense could do.
"You have to be faster!" Begay exhorted his players during the first of two second-quarter times out he took as Camp Verde expanded its double-digit lead, which would reach 38-18 by halftime. "Box out!"
Rebounding is where Herrera inflicted his damage, particularly in the third quarter, when Sand Devils junior guard Orlandon Yazzie spearheaded a shutdown of Salas-Zorrilla. Yazzie, the only returning starter from last year's state champion that started its postseason run by edging the Cowboys at home by three, finished with 17 points on the night to lead all Page scorers.
But without the height or wingspan anymore of 6-foot, 11-inch Defensive Player of the Year Stuart Sandall in the post, Page had no one to counter the putbacks or superior post position of the 6-foot, 5-inch Herrera, who had nine points in the third–almost all off second chances or free-throw opportunities.
"He's really grown up from where he was last year," Wall said. "His game has matured a lot. He plays really hard underneath."
By the time Salas-Zorrilla swooped in untouched to rebound and put back, from two feet right at the rim, Herrera's free-throw miss attempting to cap a three-point play, Camp Verde had built back to the lead to 21 points three minutes into the fourth quarter–and Page would never score again.
A minute later, Wall would empty his bench. In a final surprise, his second unit outscored the defending 3A champions, 8-0.
"We did have some foul trouble tonight," Wall said. "But we've got some real depth."