Despite COVID cancellations, Holbrook hoopsters near top in Small School rankings
January 20, 2022 by George Werner, AZPreps365
---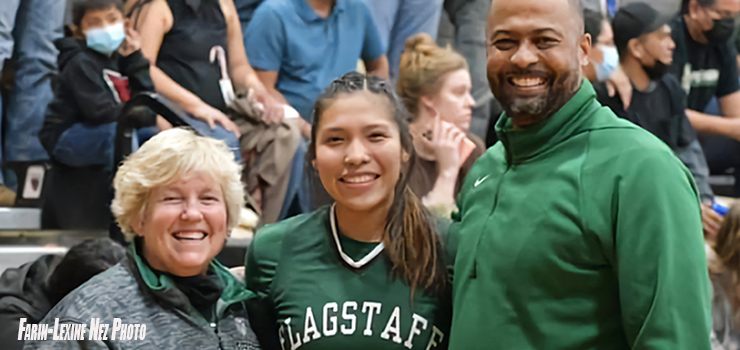 As an Arizona native, I expect nothing less in January than to stop talking Cardinals and make the new year all about hoops.
Except for that one crazy run through the month 12 years ago, the Changing of Subjects this month has become as much my tradition as the Airing of Grievances has become for the rest of us. (Trust me, if there was a Festivus for Cardinals fans, I'd be right there with you, venting anonymously, with caps lock on, "I got a lot of PROBLEMS with this franchise!")
But Northern Arizona high school basketball updates are so much more fun to share with you, patient readers–and, starting with this column, every week, now that the Arizona Interscholastic Association has started releasing basketball power rankings each Tuesday through Friday (remember, download the AZPreps365 Live! App to get those at 10 a.m., if you can't wait until lunch).
And hasn't it been a fun run so far in the 4A Conference for the Flagstaff girls? Since their opening four-point loss Nov. 29 at top-ranked Seton Catholic Preparatory Academy, in Chandler–one in which they were one more hoop-off-steal from sophomore Jazmine Dugi from leading the Sentinels with less than 50 seconds to play–the Eagles have won 18 straight games for long-time head coach Tyrone Johnson.
Not just eight, which is all the games that count in the power rankings. No, add a one to the beginning of that number. Eighteen straight victories.
First, the Eagles blazed through their Pepsi Holiday Tournament, with an average margin of victory of nearly 25 points through each of their five games in their home gymnasium, spanking 2A's top team, Pima, by 17 for the title. Then they did it again, in Las Vegas, the whole week before New Year's Eve.
"Lady Eagles are usually the class of N[orthern] Arizona 4A basketball throughout the years, and that's due to [Flagstaff] Hall of Fame coach Tyrone Johnson," said friend Kirk Westervelt, head coach of third-ranked 2A girls program Sedona Red Rock, the team that came the closest to Flagstaff in its tournament, losing Dec. 11 by 15. "He…has a legit post player in Gracelyn Nez who is skilled enough to play both volleyball and basketball at the next level."
While other Grand Canyon Region teams enjoyed the week's break, Johnson unleashed Nez and her four nearly-as-efficient fellow starters on the Gator Winter Classic in Henderson, Nev., advancing to the tournament championship for the first time in its nine-year history Dec. 30 by an average margin of nearly 33 points.
Six hours later that day, in their next-closest game so far this season, the Eagles took one of Nevada's Top 10 teams, Shadow Ridge, to overtime without injured sophomore starter Alyssa Harris or Nez, a senior forward who fouled out with four minutes to play.
Despite freshman Teagan Martin also fouling out, Flagstaff rode the team-high 31 points of junior Sage Begay, one of 4A's top three-point shooters, and another 18 from sophomore guard Morningrain Honani to an 88-80 victory in the extra period.
Nez, who is also among 4A's top six three-point shooters, double-double scorers and assist leaders, hit her 100th field goal of the season Tuesday, Jan. 18, at 12th-ranked Coconino High School to stay in the Top 10 in 4A in the category.
In a larger sense, Nez will leave Flagstaff as one of the top female athletes in the history of Arizona high school sports after just becoming the first high school girl in the state to score 1,000 points as well as record 1,000 kills as a volleyball player...
Below are the rankings for Pima, Red Rock and all other potential 1A through 3A Conference postseason boys and girls basketball seeds, from Nos. 1 to 16, with Northern Arizona teams in boldface. An asterisk (*) indicates an automatic bid, meaning the starred team is projected to win its region title. I am also not including candidates for 2A play-in berths, though you are welcome to send me your feedback on those Nos. 17 to 24 seeds.
Send me your top 16 entering the regional run with any comment you care to add. Let's see how close we are before next week's Notes from the North, so get your hot takes ready:
Holbrook, Salome, Sedona Red Rock ranked 1-2-3 in Small School girls hoops
Defending 3A girls champ Page isn't going anywhere after moving up to No. 2–and hopefully top-ranked Holbrook won't be either. Despite a devastating show Saturday, Jan. 15, in Camp Verde, the Sand Devils need sophomore guard Jade Reid back from concussion to have a chance at repeating their title run, with or without 3A Player of the Year Miquedah Taliman.
Like the third-ranked boys, the Roadrunner girls are undefeated atop the 3A rankings at 7-0 but, due to COVID-19 levels in the Holbrook Unified School District, can't play again until Friday, Jan. 21, versus third-ranked Winslow. Alchesay, Window Rock and Wickenburg also are holding onto host seeds in the 3A postseason…
Sedona Red Rock continues to keep the pressure on defending 2A champ Pima but is also missing a player: senior Central Region Defensive Player of the Year Stephanie Medel, quarantined this week under COVID-19 protocols. The third-ranked Scorpions beat ninth-ranked Scottsdale Christian Academy without her Jan. 15 but need every hand on deck to get over that final hump and win their first state girls basketball title.
Sixth-ranked regional rival Valley Lutheran should be a great barometer Jan. 21 of whether or not Westervelt's girls deserve to be ranked two spots ahead of 2A semifinalist St. Johns, which hopes to add to its 8-0 non-tournament record that day at fourth-ranked Phoenix Country Day School after COVID-19 canceled its last two home games.
But in 1A, while Mogollon, Rock Point and St. Michael high schools continue to make strong cases to host the first two rounds of the postseason, the real surprise has to be Salome–the high school that is all but a lock this season to live up to its town's Chamber of Commerce slogan, "Where She Danced."
Barring any kind of unprecedented collapse by the 11-0, second-ranked Frogs in their final five games or sectional tournament, they are on track to definitely be a school where head coach Bryan McCarty's girls will dance, at least in the Feb. 9 play-in game. Outside of two losses Dec. 3 and 4 at Phoenix Country Day's Desert Classic, no 1A opponent has come closer than eight points to the Frogs, with even 3A power Wickenburg falling five days later by three points.
That starts on defense, especially in the post, where 6-foot, 2-inch sophomore Kaniece Thomas leads America in blocks per game, averaging 8.3, as Salome has held five opponents to less than 10 points.
Below are Northern Arizona's other teams to beat in the Small School Preseason Hoops Rankings, where I pick the teams going to the postseason in boys and girls basketball from the 1A through 3A Conferences. Included in brackets are each team's overall and regional won-loss records as of Jan. 19, along with any change from my preseason ranking from Thanksgiving's Notes from the North. Capsules summarizing their weekly progress follow…
1A
1. Fort Thomas [9-1, 1-0 South; preseason No. 1]*
2. Salome [12-0, 5-0 West; preseason ranking- 14]*: McCarty also has a sophomore who is an accomplished on-ball thief, Yareli Quiroz, with nearly six steals a contest. Senior guard and scoring leader Hope Freedman also averages more than five thefts a night to go 1-2 with Quiroz in the category atop 1A. Senior Elly Huhtala supports Thomas in the post with two-and-a-half blocks of her own per game, making Salome a dangerous out through the semifinals in Prescott. Ironically, the new 14th-ranked team, Bagdad, is the only West Region team, at 4-0, with a shot at catching the Frogs. But the Sultans have already lost once to Salome, by 20 points at home.
3. Leading Edge Academy - Gilbert [8-2, 1-0 East; preseason No. 3]*
4. Joseph City [10-1, 8-1 Central; preseason ranking- 11]*: Since defeating host Williams in the pre-Christmas Route 66 Classic, the Wildcats have won 9 of their last 10 games. The strength of schedule has been a mixed bag for head coach Dan Bushman. While they beat Williams again by nine more points and just won by 17 at 14th-ranked Mayer and 48-9 at North Valley Christian, their only loss came Jan. 11 by six points at Central Region rival Mogollon–three weeks after defeating the sixth-ranked Mustangs at home by 22. Led by junior forward Kate Edwards, Joseph City has a solid seven-player rotation but will need to win at least six of its final seven games. Hosting top-ranked Fort Thomas should be a great teaching experience Jan. 21.
5. Rock Point [5-0, 1-0 North; preseason No. 2]*: The most high-profile of the Rez ball teams returning to play after a year in COVID-19 quarantine, the Cougars need competition. The only rival close to them in the North Region, seventh-ranked St. Michael, canceled their Saturday, Jan. 15, game at Rock Point. Outside of a five-point loss to Chinle in the Choice Wireless Classic championship five weeks ago, head coach Kyle Arthur and team have thrashed each of their opponents by at least 20 points. The Cougars are scheduled to visit St. Michael the next-to-last game of the regular season Feb. 1.
6. Mogollon [6-2, 3-1 Central; preseason ranking- 10]: After losing by 22 at fourth-ranked Joseph City three weeks earlier, new head coach Reese Parry made the first statement of her young career Jan. 11 with a six-point home win over the Wildcats. To catch them for the region title, the Mustangs will still need some outside help but have a rotation of six of the conference's most efficient players to catch them, led by senior post Paige Parry, third in 1A in field goals and free throws made as well points per game, with a 14.2 average. Junior forward Ellie Hancock is tied for the conference lead in assists, averaging nearly four per contest while also averaging more than three-and-a-half steals per game, while senior guard Kamryn Franco is the second-best three-point shooter in 1A.
7. St. Michael [10-2, 3-0 North; preseason No. 4]: Cardinals head coach Carl Adams has been money in close games this winter, going 7-0 in games decided by seven points or less. Without a regional tournament, however, his team will need to finish its final four games strong to have a chance at the North title and hanging on to that host seed through the postseason's first two rounds. So much swings on their Feb. 1 regular-season finale at home against region leader Rock Point.
8. St. David [7-5, 1-1 South; preseason No. 6]
9. Desert Christian [8-3, 1-0 Tucson; preseason ranking- 13th]*
10. Williams [6-2, 3-1 Central; preseason No. 9]: Since dropping their first two games of the Yvonne Johnson Memorial Shootout by a total of three points, the Vikings have gone 5-0 and remain perfect in 2022. Junior wing Shaelee Echeverria has developed into a dynamo for her dad and head coach, Phillip, collecting 78 field goals–16 of them three-pointers–34 free throws and five double-doubles as well as averaging over 12 points a game: all Top 10 marks in the conference. Sophomore Kai Mortensen actually has four more free throws, however, to lead the team, while another junior, Kadance Orozco, is right behind Echeverria with 76 field goals, averaging nearly three assists and over three-and-a-half steals a game at guard.
11. Baboquivari [5-4; preseason No. 7]
12. Bagdad [11-2, 4-0 West; previously unranked]: The Sultans, also a perfect 5-0 so far in 2022, bow only to Salome as the season's biggest surprise to date, having also won their first four West Region games. Head coach George Diehl's girls are not exactly up-tempo, having won just two games when scoring more than 40 points. Of their other 15 total wins, 14 have been scoring 39 points or less, and scoring just 12, 17, 19, 21, 22 and 24 points in December losses to St. David, Grand Canyon, Salome, Mayer, Mogollon and Fredonia, respectively, remain vexing signs for Diehl's offense.
13. Dishchii'bikoh [5-4, 1-1 South; previously unranked]
14. San Manuel [7-4, 3-0 East; preseason No. 12]*
15. Mayer [7-4, 4-3 Central; preseason No. 8]: What more can be said about Abigail Colquitt? Plenty. Mayer's senior forward and the state's leader in double-doubles as well as rebounds per game is on the verge of becoming the all-time rebound leader in 1A history. Colquitt, daughter of head coach Nick Colquitt, is on track to finish among the top three rebounders in Arizona high school history. Not to mention, she is among the state's Top 10 in field goals and blocked shots. Classmate Vanessa Morales is no slouch in the double-double, rebounding and assist departments either, and fellow senior Kylie McCann is among 1A's steals and free throw leaders as well. It is just unfortunate the Wildcats have split their first six region games in the new year and will likely have to open the state tournament on the road, as Colquitt deserves far more exposure.
16. Duncan [6-3, 1-0 South; previously unranked]
2A
1. Pima [9-0, 2-0 East; preseason No. 1]*
2. St. John Paul II Catholic [6-0, 1-0 West; preseason ranking- 10]*
3. Sedona Red Rock [9-0, 4-0 Central; preseason No. 2]*: It always seems to come down to the Scorpions against Valley Lutheran, an oversight in my preseason rankings, for the Central Region title. It likely will again on Jan. 21 and Feb. 7–the home-and-away dates the two teams meet, two weeks apart. Fortunately for Westervelt, he should have his top forward Medel, a senior, for at least her upcoming home tilt with the long-time regional rivals. She and 6-foot, 3-inch (and growing) sophomore post Rachel Roderick are a difficult matchup for even 3A and 4A teams that force a half-court game, as Pepsi Holiday Tournament victims Winslow, Coconino and Paradise Honors found out. Play transition and press, though, and opponents are playing Westervelt's game, as his daughter Helen has practiced year-round getting out on the dribble against the state's best point guards, feeding junior Annabelle Cook and seniors Hannah Lanchbery and Nyah Valdez, who woke up from the perimeter to knock Scottsdale Christian Academy out of the conference's Top 10. Circle this date on your calendar: Tuesday, Feb. 8. This is when an early-season Freedom game at defending 3A champion Page was rescheduled. As the second-to-last game of the year, it may be the ultimate Small School girls basketball tune-up for a program starving for a taste of what the Sand Devils have savored five of the last 10 years.
4. Phoenix Country Day School [7-0; preseason No. 7]
5. St. Johns [8-0, 5-0 North; ranking unchanged]*: A Jan. 21 road trip to Phoenix Country Day School should help forge the identity of the Lady Redskins, who have largely outclassed their competition so far in head coach Ray Davis' seventh season. Only four opponents–including their two tournament losses, 1A top dog Fort Thomas and Valley Lutheran–have finished within 12 points of St. Johns. The other two teams, sub-.500 regional rivals Round Valley and Valley (Sanders), are still the best competitors to St. Johns in a tepid North, even though they are clinging to the 15th and 16th seeds in the postseason. Senior guard Kinley Crosby and junior post Olivia Wiltbank, both second-team all-region players, continue to make St. Johns go, with help from senior forward Brooke Smith.
6. Valley Lutheran [7-1, 3-0 Central; previously unranked]
7. Miami [12-1, 3-1 South; previously unranked]
8. San Carlos [7-4, 3-0 South, ranking unchanged]*
9. Bisbee [5-1, 1-0 East; ranking unchanged]*
10. Arete Prep [8-2, 3-0 Valley; preseason ranking- 14]*
11. Scottsdale Christian [7-2, 1-0 Metro; preseason No. 4]*
12. Arizona Lutheran [7-1, 2-0 West; preseason No. 3]
13. Morenci [4-2, 0-1 East; previously unranked]
14. Madison Highland [8-1, 1-0 Independent; previously unranked]*
15. Valley (Sanders) [2-3, 1-1 North; preseason ranking- 11]: Sixth-year head coach Dorothy Mitchell has made runs to championship weekend with less depth than this year's 15-player roster–which started with just four returning players who had previously seen varsity action due to a 2020 lost to COVID-19. Seniors Kari Begay and Erin Mitchell and juniors Cheneil Spean and Madison Yazzie call to mind the 2016 state champion Pirates, but with games with Round Valley and at Ganado and Pinon already having to be postponed or canceled, the specter of the pandemic continues to haunt a program struggling to regain the momentum of its storied small-school past.
16. Round Valley [3-4, 2-1 North; preseason ranking- 13]: Considering that the Elks' regular-season opener was Dec. 1, they may now just be getting warmed up. For Cheryl Tysseling, dealing with a roster that has just one two returning seniors from last season, one returning all-region player–second-team guard Kayla Logan–and only two other returning players at all, owning a 16th seed with less than a month to play before a regional tournament should be a position of confidence for the second-year head coach. As for Round Valley's resume so far, it was last added to Thursday, Jan. 13–a 65-point wipeout of Many Farms. Otherwise, it has been either feast or famine, with losses at Show Low, Mogollon and St. Johns balanced out by wins over ranked San Carlos and Morenci as well as two close losses to the top-ranked 3A Roadrunners of Holbrook.
3A
1. Holbrook [7-0, 1-0 East; preseason No. 9]*: Even without COVID-19 protocols forcing a nine-day break for the top-ranked Roadrunners, they would be viewed as an underdog of sorts by unschooled opponents, as their statistical and emotional leader is guard, Talynn Spencer. The 4-foot, 11-inch guard is a huge package to handle on the court, tied for second in the conference in free throws. Averaging 5.4 assists a game as well as 4.2 steals to place top five in 3A in those categories as well, Spencer complements head coach Greg Perkins' deep perimeter threat of senior Abigayle Nez, one of the conference's top three-point shooters. The bulk of the 3A East schedule still lies ahead, however, so starting Jan. 21 versus Winslow, the Roadrunners will attempt to regain the momentum lost from their 2020 schedule.
2. Page [8-1, 5-0 North; ranking unchanged]*: A 12-point win Jan. 18 at Monument Valley, always a tough place to play, sent the signal that Boka Mania is no fluke. Kada Taliman is making a bid, under most scouts' radar, to be the first girls basketball player in Sand Devil history to repeat as Player of the Year, capitalizing off most turnovers in first-year head coach Celeste Claw's trapping press to fill up the scorebook for more than 13 points per game. The harassing hands of all-region forwards Arianna and Keira Jenkins have proved too fast for the rest of 3A to handle so far, but the health of first-team all-region point guard Jade Reid has become the team's biggest question mark for the postseason. Reid, who sustained a concussion during a second-quarter scrum for a Camp Verde loose ball Jan. 15, needed extra time and attention after the 63-40 road win–and will need judicious handling by Claw to hold off fifth-ranked North Region shadow Window Rock, the only team to take the Sand Devils to overtime before falling, 51-49, Dec. 18 at Page.
3. Thatcher [8-2, 3-0 South Central; preseason No. 5]*
4. Winslow [7-1, 1-0 East; ranking unchanged]: Tenth-year head coach Jerron Jordan's young talent from a year ago has matured into a strong-starting, constantly flowing threat unbeaten through its first three games of 2022. Although sophomore guard Jaci Gonnie is one of the conference's top four three-point scorers, fifth in the state in field goals averaging nearly 20 points per game, any conversation about the Bulldogs as top dog has to start with senior leader Kylie Begay. Jordan's only returning all-3A performer from last season, the guard averages more than 14 points per game in her own right and is also ninth in the conference in field goals and assists. But it doesn't stop there: Begay is the conference's second-best free-throw and three-point shooter, and is fourth in 3A in steals, averaging nearly four-and-a-half thefts a night. Play those stats off senior forward Jayleigh Meyrs' 9.7 rebound average and junior guard Shaelene Singer's 4.3 dimes dropped per game, and the Bulldogs are emerging as 3A's first team that checks all the championship boxes.
5. Window Rock [6-5, 4-1 North; previously unranked]: Well, well, well, Gabrielle Whitney–welcome to the North Notes. Not much was known about the first-year head coach's Fighting Scouts, struggling to emerge from under the pandemic's shadow, when I left them out of my Thanksgiving rankings. With two losses by forfeit and their season-opener with Ganado postponed, even if you were not the team's two lone returnees from before the pandemic–senior forwards Caitlin Belone and Robey Talkalai–things did not look any less bleak heading into their first tournament Dec. 2 through 4 in Gallup, N.M.
Then a strange thing happened: After another forfeit loss–or 14-point victory, depending on your source–versus local high school Tohatchi, the Fighting Scouts played host Gallup to a 67-52 defeat before traveling to 16th-ranked Blue Ridge…and nearly doubling up the Yellowjackets, 68-35. Returning to the Bee Holdzil Events Center in Fort Defiance, Window Rock went on to down two ranked teams in Valley (Sanders) and Monument Valley, taking both Page and Thatcher to overtime losses in road games before wrapping up the year winning three of four at Chandler Prep's Epic Tourneys New Years Classic. Outside of a non-conference rematch with Gallup, the Fighting Scouts have lived up to their name in 2022, going 3-0, including victories at Chinle and at home over seventh-ranked Alchesay and No. 15 Tuba City. There is no certainty if, or how long, this comeback can last, but no opponent should discount the heart of the Fighting Scouts.
6. Gilbert Christian [9-1, 3-0 Metro; preseason No. 3]*
7. Alchesay [8-4, 2-3 North; preseason ranking- 11]: Speaking of heart, never count out head coach Rick Sanchez's Falcons. Emerging from a three-game losing streak to get back to .500 in 2022 after a 57-48 home win over Chinle, Alchesay has four of its final seven games at home and the region tournament to look forward to. The Falcons, who have home wins over ranked teams San Carlos, Thatcher, Tuba City and Winslow to their credit, are fired by the dynamic duo of senior Brandy Edwards and sophomore Jazlyn Nosie. Edwards, averaging 14.3 points per game, is one of the top 10 scorers and top five free-throw shooters in the conference, while Nosie is top five in 3A field goals and tied for sixth in the conference with 4.3 assists per game.
8. Sabino [5-2, 1-1 South; preseason No. 7]*
9. Wickenburg [8-2, 2-1 North Central; preseason ranking- 13]: Wranglers head coach Rick Cushman and daughter Katie–a senior shooting guard tied for sixth in the conference in steals, averaging more than four per game–have nearly a week to prepare for their final six games of the season after the Wranglers' home game Jan. 20 against Fountain Hills was canceled. The break prior to the North Central stretch run comes at a good time for Wickenburg, which, following a three-game win streak, was unceremoniously handed its first conference loss of the season Jan. 18 at 13th-ranked Bourgade Catholic, which took the North Central Region lead with the 22-point blowout. It was the second night, along with a 33-30 loss at 1A Salome, the Wranglers would like to forget–and hopefully will with the Bourgade rematch coming at home and mixed in with five other winnable region games. The winner of that game will likely grab the final home seed in the 3A tournament.
10. Pusch Ridge [6-1, 2-0 South; previously unranked]
11. Eastmark [8-2, 2-1 Metro; previously unranked]
12. Parker [8-1, 2-0 West; previously unranked]*: Where did Parker come from? Tyra Robledo knows. The junior guard is the most visible reason behind the Broncs' perfect run through their three 2022 games, as she ranks second in 3A in assists and third in steals, averaging more than five per game in each category. Head coach Kyle Peta's Lady Broncs have beaten up on mostly local competition but need to stay sharp and scouting potential play-in opponents they might host, as Parker is poised to run away with the West Region.
13. Bourgade Catholic [6-3, 2-0 North Central; preseason No. 8]*
14. Monument Valley [5-5, 2-3 North; previously unranked]: Seniors Kayelana Maiava and Aiyanna Nash, Top 10 in 3A in blocks, continues to try to instill some consistency for head coach Jason Franklin's team in Kayenta. Juniors Kierra Johnson, Tierra Sandoval and Shyrai Shorty ensure the Mustangs are about more than just post defense, combining for more than 18 points per game. Shorty and senior Angel Holiday are also tied for the region lead with three-and-a-half steals per game, each. Senior Sheridan Curley adds seven-and-a-half points per night, so the potential is still there for the Mustangs, with eight games to play, to make a run for a higher seed or at least a regional tournament title. However, losses to Chinle and Valley (Sanders) hurt.
15. Tuba City [3-4, 0-3 North; ranking unchanged]: Despite still looking for their first region win, the Warriors are here because of six seniors and blowouts of Hopi, Snowflake and St. Michael. With the majority of their final seven region games at home, Gracee Curley, Tyra Engle, Fallon Hatathie, Kathleen Honahnie, LaShantay Poola and Thalia Susanyatame have the fans on their side to try and ensure a memorable final season. But if they don't make it happen in those games, it's Chinle or bust in the North Region tournament for head coach Kim Williams.
16. Blue Ridge [5-3, 1-1 East; previously unranked]: Speaking of second chances, 5-foot, 10-inch Ramona Gregg excels at not only providing them, but capitalizing on them for the
Yellowjackets. The freshman forward is tied for third in 3A with six double-doubles off nearly 10 rebounds per game, tying her for seventh in the conference in that category. Freshman guard Aniya Paxson's 2.3 steals per game provide Blue Ridge with a few more opportunities–ones which she, herself, often converts to a Top 10 clip in the region field goals, free throws and three-pointers. But this is raw, young talent–and senior Charese Dazen's 17 other three-point shots can only go so far.
Camp Verde, Holbrook among top four 3A undefeateds; MALC has best 1A record
OK, so my Snowflake preseason pick didn't quite pan out in 3A boys…much less girls. The 14th-ranked Lobos could make some noise in the play-in portion of the postseason tournament, but the girls will need more help. It was a great run athletically since December 2020 for a still-hot school preparing for its first 4A competition next fall, in football.
Faring better are undefeated Camp Verde and Holbrook, which had lossless regional company in the form of Blue Ridge before the Yellowjackets' 55-50 home loss Friday, Jan. 14, to Payson not only dropped them from the ranks of the undefeated but nearly out of 3A postseason contention altogether–from top five to a No. 20 seed.
The top preseason pick and last undefeated team in 1A, Mohave Accelerated Learning Center, keeps rolling along behind the consistency of their two all-1A first teamers, upperclassmen Josh Neal and Aden Honegger, two of the state's best rebounders and shooters, respectively. The Patriots just can't seem to break the hold of emergent Tempe Prep [13-1], whose only non-tournament loss was to independent Highland Prep, on the top spot. (Don't worry, Duncan fans: They're not a Northern Arizona team, but this poll the WildKats are in this time, at No. 11.)
Unfortunately, there are no surprises in the 2A Conference either, as, barring a huge run in the final month, 13th-ranked North Region leader Hopi and 14th-ranked Valley (Sanders) will be the only Northern Arizona teams eligible for the postseason. Although all three are fighting to secure a play-in berth, St. Johns, River Valley and Northland Prep have all seen their rankings plummet to about where their overnight low temperatures are right now–the upper 20s. Gone are the colorfully-named Little Colorado and San Juan regions, two more victims of the pandemic, along with the COVID-ravaged Alchesay program, an 0-12 shadow of its past self with only two Round Valley Roundball Shootout tournament wins Dec. 10 and 11–and its commendable determination to complete its final six regular-season games–to its credit. The Falcons, along with Greyhills Academy and Shonto Prep–each of which couldn't play past their season openers–are sorely missed.
1A
1. Tempe Prep [13-1, 3-0 East; previously unranked]*
2. Mohave Accelerated Learning Center [12-0, 4-0 West; preseason No. 1]*: With a home win Jan. 21 over third-place Antelope Union High School, the Patriots will have little to do to defend their West Region supremacy until their season finale Feb. 2 at home, when the time for vengeance at last arrives against fourth-ranked–and second place–North Valley Christian. In the meantime, Neal, conference co-leader in double-doubles with 13, needs to ensure his nearly 12 rebounds per game distribute the load more evenly and keep defenses honest. Honegger, ninth in 1A in assists and steals while remaining one of its best shooters with 123 field goals–26 of which are three-pointers–is doing his part. Juniors Tyson Banks and Lucas Leslie, a top-five distributor himself in the conference with 3.8 assists a game, need to continue to expand their involvement and make themselves more of a threat to score.
3. Hayden [7-1, 0-1 East; previously unranked]
4. North Valley Christian [9-2, 4-0 West; preseason No. 2]
5. St. David [10-2, 2-0 South; preseason No. 4]*
6. Mogollon [7-2, 5-0 Central; preseason No. 5]*: Lurking subtly in wait for its opportunity, like the program that has been there before that it is, the Mustangs have been able to handle virtually everything 1A has been able to throw at them, with the notable exceptions of third-ranked Hayden and, more surprisingly, 13th-ranked St. Michael at the Round Valley Roundball Shootout. Right behind Neal, senior forward Tyler Owens has 11 double-doubles, highlighted by his 14.3 rebounds per night that not only lead the state, but places him securely among America's Top 20 rebounders. Sophomore guard Kyson Owens is a top-five scorer in the conference with more than 21 points per game, on average, from the second-most free throws and field goals in the conference, 80 and 143–37 of which field goals are three-pointers. As the only player in 1A to also average five assists or more per contest, it makes him the ideal triple-threat with which to distribute three-pointers to the team's other major shooter, junior point Blayk Kelton.
7. Leading Edge Academy - Gilbert [8-3, 2-0 East; preseason No. 3]*
8. Desert Christian [10-2, 1-0 Tucson; previously unranked]*
9. El Capitan [9-2, 4-1 North; ranking unchanged]*: In retrospect, it took a special night from No. 19 Williams to handle head coach Derek Stransky's Eagles, even in the Vikings' own gym, for the championship of their Route 66 Classic. El Capitan proved that, in its gym, three nights later, thrashing Williams by 19 points. In the Eagles' conference, only Mohave Accelerated, in their final game of 2021, proved too much for them to handle Dec. 18. Senior Isaiah Bradshaw has proven to be the most dangerous shooter most teams don't know about, while three-point threat Nathan Barlow has become the primary beneficiary of junior Aydan Holm's drive-and-kick game. In this four-out, one-in offense, another junior, post Solomon Barlow, collects rebounds and physical points eating up space in the lane, driving out rebounders who would dare attempt boxing him out. The road trip to Colorado City is an exhausting one for the largest of programs, and if the Eagles win their region and secure a host seed, alert Admiral Ackbar, because that game's a trap.
10. Ray [10-1, 1-1 East; preseason ranking- 11]
11. Duncan [10-2, 2-0 South; previously unranked]
12. Joseph City [8-5, 8-2 Central; preseason ranking- 13]: If head coach Eric Miller's Wildcats are not a team of shooters, they at least have four players who aren't afraid of chucking it, and from deep. In fact, junior guard Jareon Miller leads all of 1A in three-pointers, with 51, while his counterpart at the position, senior Karter Lampsa, is tied for second in the category at 41 while ranking fifth in the conference in both free throws and overall field goals made. Nine field goals behind Lampsa is another junior guard, Bannon Johnstun, who also creates more shooting opportunities by being one of the top five in 1A in steals. Senior forward Tyler Penrod shares Johnstun's steal average with three-and-a-half per contest. Such prolificity has translated into wins at Mayer and Williams, but two losses to Central leader Mogollon by an average of 27 points shows just how large a gulf there is between the two teams this season.
13. St. Michael [7-5, 3-0 North; previously unranked]: Better known for its girls basketball program, the boys seem determined to right that imbalance in perception this winter by becoming the stealth saboteur of the small schools. Fourth-year head coach Joshua Thompson leads the North Region, currently, with his Cardinals after becoming the only team to win at rival El Capitan this season, 49-46, Jan. 7. Before that, St. Michael played spoiler of Round Valley's Roundball Shootout, beating both the host Elks and sixth-ranked Mogollon before them in consecutive days. An experienced, quick group of five seniors headline the St. Michael attack, including first-team all-region forward Dayshon Dalgai, second-team all-region guard Matthew Herrera and honorable mention point guard Trey Holgate.
14. Lincoln Prep [6-6, 2-1 East; previously unranked]
15. Basis Flagstaff [7-3, 5-3 Central; preseason ranking- 16]: The main reason the Yeti are here, in playoff contention, is their improvement against Williams. Dec. 3, the Vikings used them as a stepping stone to their Route 66 Classic championship, defeating Basis Flagstaff easily, by 25. In a near-complete 180-degree turnaround, the Yeti returned Jan. 15 to Williams, took an 18-8 first-quarter lead, and never looking back, winning by 13. The duo of senior forward Brady Spinti and sophomore guard Jack Engelthaler form the majority of reasons why. Engelthaler's 32 three-pointers have translated into a couple of double-double nights this winter, while Spinti is also Top 10 in 1A, but in two different categories: blocked shots and rebounds, where he averages 2.6 and 7.8 of each per game. Spinti is fourth in the conference in blocks, in fact.
16. Salome [10-5, 3-3 West; previously unranked]: The Frogs' basketball prowess are making people stand up and take notice. People like the eighth-ranked Desert Christian Eagles, whom head coach William Aaron stalled tempo on Dec. 3 to win in the Phoenix Country Day School Desert Classic, 22-18. Junior point guard Ernesto Calderon is tied for fifth in the conference with 116 field goals this season, but it is the other starting junior guard, Kevin Castillo, who makes the Frogs go. Of his 127 field goals–third in 1A–35 of them are three-pointers. Still, to lock up the final 1A tournament seed, Salome needs to beat Anthem Prep convincingly–not just by three, like it did on the road in its second game of the season Dec. 2.
2A
1. Highland Prep [8-0, 1-0 Independent; previously unranked]
2. Scottsdale Christian Academy [8-1, 1-0 Metro; preseason No. 1]*
3. Rancho Solano Prep [9-2, 4-0 Valley; preseason No. 2]*
4. Trivium Prep [7-2, 3-0 West; preseason No. 5]*
5. Arizona Lutheran Academy [8-1, 2-1 West; preseason No. 6]
6. Pima [8-2, 3-0 East; preseason No. 4]*
7. Phoenix Country Day [6-1; preseason No. 3]
8. Willcox [7-0, 1-1 East; previously unranked]
9. Phoenix Christian [7-2; previously unranked]
10. San Tan Charter [6-5, 4-1 Valley; preseason No. 7]
11. Bisbee [7-1, 3-0 East; previously unranked]
12. Glendale Prep [6-3, 5-0 Central; preseason No. 15]*
13. Hopi [3-1, 2-0 North; previously unranked]: Head coach Rick Baker is better-known for running marathons, but he has these Bruins starting fast, right out of the gate. Overlooked have these Bruins been, after a year in quarantine, but Baker has assembled a 15-player core with all-region pedigrees, including nine upperclassmen like guard Isaiah Pashano, center Brannon Lomayaktewa and forward Darryl Sahmea, Jr. So far, their two region wins Dec. 7 and Jan. 6 have been five- and six-point affairs, though, leaving the door for the title quite widely open through the regional tournament Feb. 8 through 12 in the Round Valley Dome.
14. Valley (Sanders) [North; preseason No. 10]*: Most likely to abscond with the North Region title, whether in the regular season or postseason–or both–are Sanders' Pirates of Valley High School. Leading the way with 77 field goals and the second-most free throws made in 1A is junior guard Joshua Begay, ably assisted at the charity stripe by senior wing Trajon Bizardi's 42 free throws. After losing five of their first six games, the Pirates at last found some momentum with a seven-point home victory Dec. 18 over 1A No. 13 St. Michael. From there, Valley responded to a disappointingly winless showing at Blue Ridge's Timber Mesa White Mountain Classic with a solid 15-point victory at St. Johns. Unfortunately, COVID creep has caught up with the Pirates, and they haven't played since. The hope is to host St. Johns on Tuesday, Jan. 25, but if the Omicron variant continues to spread, the Pirates' plans to take the North may be scuttled.
15. San Carlos [8-4, 3-1 South; preseason No. 14]
16. Miami [6-5, 4-0 South; preseason No. 9]
3A
1. Valley Christian [8-1, 2-1 Metro; ranking unchanged]*
2. Holbrook [7-0, 1-0 East; previously unranked]*: The Roadrunners will never awe any opponent statistically. Leading scorer Noah Brown is the only Holbrook player in the conference Top 10 in any category, and that is free throws--a top-three 3A ranking for the junior guard. But all they do is win, win, win, win in 2022, with five-point gut checks over American Leadership Academy - Gilbert North, then in overtime at Payson to start regional play off right. Following DJ Khaled's mantra further, every time they're in the building, everybody's hands go up (on defense)--and they stay there. Monday, Jan. 10, against the Longhorns, Holbrook had six steals and just 10 turnovers and nine team fouls through the extra session--not counting disqualified freshman Tyler Tapaha, who was 5 of 6 from the free-throw line, adding five rebounds before fouling out.
3. Fountain Hills [8-1, 2-0 North Central; preseason No. 7]
4. Yuma Catholic [9-0, 3-0 West; preseason No. 9]*
5. Camp Verde [11-0, 3-0 North Central; preseason No. 12]*: The Cowboys are riding this rodeo to head coach and athletic director Dan Wall's best season ever at the school, led by senior guard Chino Salas-Zorrilla and junior post Chito Herrera. They are in the 3A Top 10 in a number of categories, but more importantly for Camp Verde's postseason prospects, they are 1-2 in the state in the efficiency category "PER32": Player Efficiency Rating over a 32-minute high school game. Both players, in other words, score so efficiently during their minutes in the game that they rank in the top five nationally in this statistical rating. Chino's upperclass teammates, guards Christoph Castro and Alex Dale, are not far behind in this measure. But Salas-Zorrilla's 23.5 points, 4.7 assists and three steals per game are in a class by themselves, supported by Herrera's eight rebounds per contest. Wall uses these statistical juggernauts to his advantage by substituting a surprisingly-deep second team into the game early and often, like he did Jan. 15 in a 75-41 dismantling of defending 3A champ Page in which the Cowboys scored the final 13 points. This is a factor in a series of blowouts on Camp Verde's schedule in which no opponent got any closer than 10 points.
6. Coolidge [10-1, 3-0 South Central; preseason No. 3]*
7. American Leadership Academy - Gilbert North [7-4, 3-0 Metro; preseason ranking- 10]
8. Gilbert Christian [6-3, 1-1 Metro; preseason No. 5]
9. Monument Valley [9-1, 4-1 North; previously unranked]*: Barring a winning streak that continues through the end of the regular season, the Mustangs are going to be hard-pressed to crack the top eight home seeds. Head coach Randolph Gilmore opened the season with a devastating 83-8 win over Many Farms and just got stronger from there, defeating several 4A schools in three separate holiday tournaments. But a five-point home loss Jan. 8 to Chinle put a damper on the Mustangs' metoric rise from the ranks of the unranked. Senior guard Andrew Sheppard leads nearly all the major statistical categories, averaging nearly 21 points, four assists, 3.2 steals and seven-and-a-half rebounds per contest.
10. Tuba City [6-1, 3-0 North; previously unranked]: Like just one other assist man in Arizona, Warriors point guard Tayden Arizona leads his known region with 6.9 dishes per night. His 3.2 steals per game have also smoothed head coach Justin Smith's transition from defending champ Page to the Warriors' six-point road win Jan. 6 over the Sand Devils, paced by nearly 15 points per game from senior guard Papsiya Lomayestewa, along with 9.2 points and 9.2 rebounds per night from upperclassman forward Britton Hardy. These three athletes have led the Warriors from opening night, when they smashed 14th-ranked 2A program Hopi by 35 points. They haven't been able to schedule a rematch yet, however.
11. Arizona College Prep [6-4, 0-2 Metro; previously unranked]
12. American Leadership Academy - Ironwood [6-5, 2-1 South Central; preseason ranking- 15]
13. Florence [7-4, 1-2 South Central; preseason No. 8]
14. Snowflake [5-3, 2-0 East; preseason No. 2]: The Lobos' 20-point win over Tuba City righted a 3-4 start for the Lobos, who finished their participation in Flagstaff's Pepsi Holiday tournament by losing by three points to 2A power Pima. Another 1-4 stretch dropped head coach Andy Wood's team perilously close to out of playoff contention before winning its first four games in 2022. Six-foot, two-inch senior wings Kaiden Brewer and Noah Baum have worked together to stabilize the Lobos when 6-foot, 3-inch senior Max Boone and junior Tyler Clare, at the same height, work to establish a post presence. The sub-six-foot senior guards of juniors Matthew Brimhall, Easton Butler and Lance Christensen are looking for 6-2 junior Cooper Rapier to provide more of a wing presence to help them distribute the ball inside.
15. Northwest Christian [5-4, 2-1 North Central; previously unranked]
16. Thatcher [6-4, 1-2 South Central; preseason No. 14]
Next Time
The regional stretch run separates the men and women from the boys and girls in the power rankings. Will any Grand Canyon Region boys basketball team host a first-round 4A tournament game? This, the new rankings, COVID-19 cancellations and more in one week. Remember, your hot takes and feedback are always welcome! Follow me on Facebook and Twitter at @ProfGWerner, or email me at gwerner@azpreps365.com.