Third-ranked Red Rock runs No. 6 Valley Lutheran out of Sedona
January 23, 2022 by George Werner, AZPreps365
---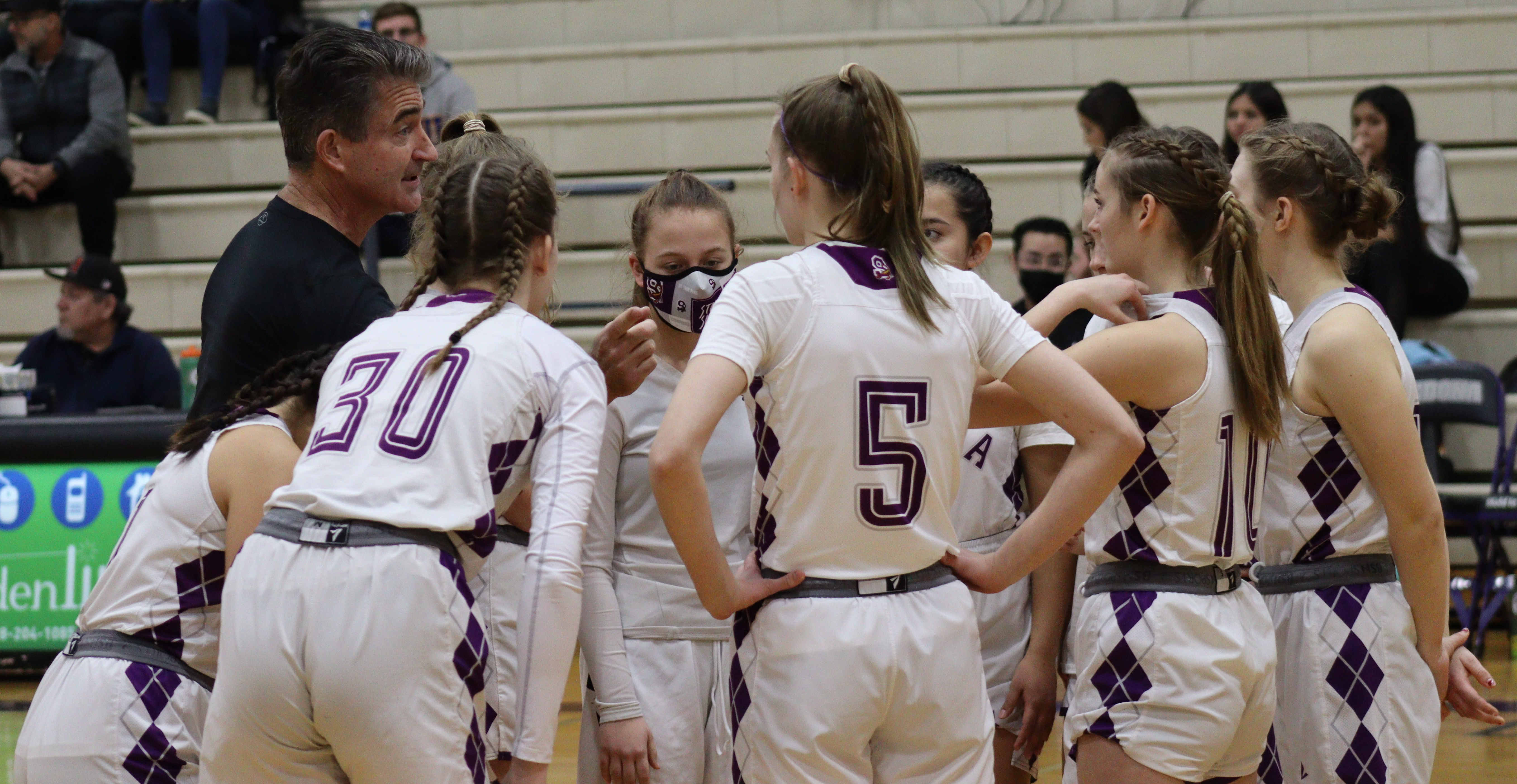 Time is running out on girls basketball games Sedona Red Rock High School can learn from.
The full-court, full-time press defense for which the third-ranked Scorpions are becoming notorious ran away with the 2A Conference's Central Region Friday, Jan. 21, forcing 23 turnovers to defeat sixth-ranked Valley Lutheran at home, 64-29.
"That is our identity," said Scorpions head coach Kirk Westervelt, 15-1 overall after winning his 11th straight. "They won [region] two years ago and we displaced them last year.
"My girls are for real."
Senior guard Nyah Valdez led all scorers with 18 points, including five first-half three point shots that Westervelt said "buried" the Flames, previously undefeated through their first three regional contests.
"My nickname for her is 'Clutch shot Valdez'," he said after her five fourth-quarter points also made the difference in a home win Saturday, Jan. 15, over Scottsdale Christian Academy. "It's critical going forward that I can count on her not being afraid to step up when needed in the upcoming state tournament."
Junior Annabelle Cook added 10 in the 46-41 victory over the No. 10 Eagles, who played a box-and-one defense on Westervelt's daughter, Helen, a junior guard, to force less-experienced players to handle the ball–and the load on offense.
"Annabelle is the "tip of the spear" on our press and standard [half]court defense and always sets the tone of the game early," Westervelt said of Cook, second-leading scorer against the Flames with 13. "She also played excellent defense on their all-state guard, Savannah Cardona, who scored 12 points–I'm sure below her season average."
Five-and-a-half below the season average, to be exact, of Cardona, one of the best scorers and three-point shooters in 2A. Cook's and Westervelt's defense held each Valley Lutheran guard to just four points, while Cook matched Valdez's two second-quarter three-pointers in a 23-7 period that built an 11-point first-quarter lead into an insurmountable 44-17 halftime deficit.
"[Valdez] and Helen are clutch shooters and step up when the lights are brightest," Westervelt added after his daughter's five fourth-quarter points helped hold off Scottsdale Christian despite being bottled up most of the game in a box-and-one defense. "She led the team in steals, deflections, and had some critical blocked shots in the fourth quarter.
"Also, her decision-making to pass out of the box-[and]-one double teams and not force up ill-advised shots kept SCA honest on defense."
The Scorpions' first-half post game was clicking too, as sophomore post Rachel Roderick and senior forward Stephanie Medel combined for 16 in the first 16 minutes.
"Rachel Roderick led us in scoring with 13" against Scottsdale Christian, Westervelt said, despite being limited by foul trouble and the Eagles defense to a lone second-half point. "Her defense was very critical the entire game with shot blocks, shot alterations, and steals of the long pass on our press."
Medel, Central Region Defensive Player of the Year, was absent from the wins over the Eagles and Northland Prep on Monday, Jan. 17, due to a mandatory five-day quarantine from close-contact COVID association, even though she tested negative twice for the virus.
"She played awesome," Westervelt said, "and answered the question, 'Is it rest or rust?' with a resounding 'Rest.'"
But the Scorpions' win wasn't a perfect one, as they committed 17 turnovers of their own–something Westervelt says they need to clean up before the Feb. 7 rematch at Valley Lutheran.
Especially since, the very next day, they face a five-hour, 300-mile bus ride up to Page for a showdown with the defending 3A champions on Senior Night for the second-ranked Sand Devils.
"We're only as good as our last game and take nobody for granted," he said. "We hardly ever scrimmage–just situational offensive and defensive plays.
"I tell the girls, 'Your scrimmage is on game day.' That way they are usually hungry and not complacent once tip-off comes."