Notes from the North: Camp Verde, Winslow take over top spots in 3A hoops
January 28, 2022 by George Werner, AZPreps365
---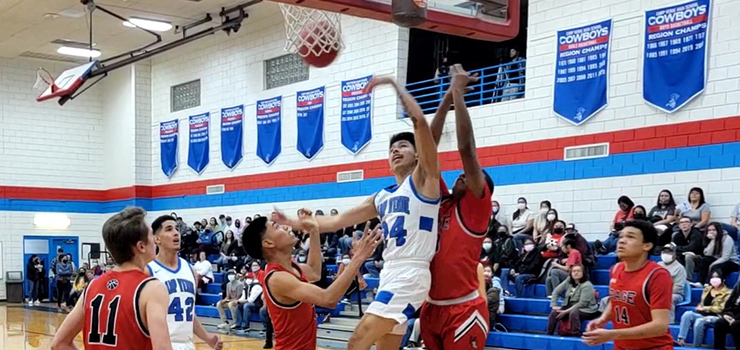 Welcome back, faithful readers! The AIA's new power rankings are in, and you know what? I'm kind of liking this new weekly update format.
Not only does the roundup make me feel like one of the "Saturday Night Live" Weekend Update anchors (Full disclosure: Norm Macdonald tops my list, followed closely by Dennis Miller), it helps us all celebrate how many Northern Arizona basketball teams are crushing it as playoff time approaches.
Head coach Tyrone Johnson, star senior Gracelyn Nez and the rest of the Flagstaff Eagles are still rolling through the 4A Conference, handling two of the Grand Canyon Region's non-qualifying teams for the postseason in the past seven days, Mingus Union and Mohave high schools, by 36 points apiece.
That is the only reason I can conceive of why, for those pains, the 11-1 Eagles dropped a spot in the rankings behind 10-1 Mesquite–and, for that matter, the 11-0 Sedona Red Rock girls dropped a spot to fourth in 2A behind 10-0 St. Johns. The power rankings each Tuesday through Friday (remember, download the AZPreps365 Live! App to get those at 10 a.m.) are, historically, known for an emphasis on Strength of Schedule.
This means that, if Johnson wants to host more than his first-round 4A tournament game, Flagstaff will likely need to win out. This includes winning three games over regional rivals fighting for their postseason lives–14th-ranked Coconino and 18th-ranked Bradshaw Mountain–as well as handing top-ranked Deer Valley its first loss in 4A play, on its home court, next Thursday, Feb. 3…
Speaking of the Eagles' crosstown rival, Coconino head boys coach Mike Moran just scored a big two-point victory over Prescott to overtake the Badgers for the region lead.
At No. 11, a spot ahead of Prescott at No. 12, this is not Moran's top-five Panthers of a year ago that made a run to the 4A semifinals. That one had six four-year seniors that rode first- and second-round wins over the Badgers and Mesquite, both at home.
Important components from that team have led the way back as upperclassmen, like guards Jordan Holloway and Mitchell Jacobson, forwards Matias Ortiz and Andy Ruiz and 6-foot, 5-inch center Mathew Reber.
But making the difference over the Badgers with his team's final four points, all from the free-throw line, was Moran's starting shooting guard, one even taller than Reber: Rufus Rusholme Cobb, a native of Wellington, New Zealand.
The 6-foot, 6-inch senior, with a wingspan at least three inches greater, is enjoying a unique one-off season in America, leading the Panthers with nearly 11-and-a-half points and three assists per game in his final year of high school.
Cobb had standout performances in October at the Arizona Top 250 Showcase in Gilbert and over the summer with fellow Kiwis under 17 years of age on the New Zealand National team–whose U19 team he will likely be invited to after he graduates from Coconino, where he currently holds a 3.8 grade-point average…
For Northern Arizona high schools, the news only gets brighter in the 3A Conference, where the Camp Verde boys and Winslow girls broke through to No. 1 with a bullet.
Head Coach Jerron Jordan's Bulldogs overcame four tournament losses and a Dec. 14 loss at fourth-ranked Alchesay to streak to a perfect record through their first four games of 2022 by an average margin of victory of 30.5 points–including a 58-37 road feast on former No. 1 Holbrook.
The first top ranking for Camp Verde athletic director Dan Wall in his 10 years as boys basketball head coach was earned much more gradually: from my preseason No. 12 ranking, to a No. 8 initial ranking in 2022, to pushing up through the top five the past three weeks, and finally to the last undefeated 3A boys team standing after the 63-62 buzzer-to-buzzer gut check at third-ranked Fountain Hills.…
Below are the updated rankings for all other potential 1A through 3A Conference postseason boys and girls basketball seeds, from Nos. 1 to 16, in Northern Arizona. An asterisk (*) indicates an automatic bid, meaning the starred team is projected to win its region title. I am also not including candidates for 2A play-in berths, though you are welcome to send me your feedback on those Nos. 17 to 24 seeds.
Keep the hot takes coming with any teams you feel are playoff-worthy entering the season's final month, with any comment you care to add. Let's see how close we are before next week's Notes from the North:
Salome, St. Johns continue to make cases to top 1A, 2A girls hoops rankings
Time for the North Notes to take their collective hat off to head coach Ray Davis and St. Johns High School, which became the fourth team to make a serious case for the 2A Conference top ranking after a 54-45 win at previously-undefeated Phoenix Country Day School. With the fifth-ranked Eagles suffering a second straight loss at second-ranked St. John Paul Catholic High School, the Lions and Redskins, along with Red Rock and defending state champ Pima, are beginning to form a Final Four three weeks before actually playing it…
Second-ranked Salome has not only matched some of St. Johns' less competitive victory margins, it surpassed them in its season opener. Two games after ambushing Mountainside, 53-4, Nov. 23, the Frogs went to Anthem Prep and won, 49-5.
At 14-0, Salome owns the best overall 1A record, as well as the only unbeaten mark next to fifth-ranked, 8-0 Rock Point–which closes out its regular season with five straight home games. The Notes will be ready with playoff projections for the Cougars, Frogs and all 14 other 1A tournament teams after they conclude their schedules Tuesday, Feb. 1.
Although top-ranked Fort Thomas proved no challenge for Pima in the Apaches' only non-tournament loss Nov. 30, all the Frogs can do, through the teams' final three games prior to their regional tournaments, which get under way next Friday, Feb. 4, is keep winning.
Below are Northern Arizona's other teams to beat in the Small School Preseason Hoops Rankings, where I pick the teams going to the postseason in boys and girls basketball from the 1A through 3A Conferences. Included in brackets are each team's overall and regional won-loss records as of Jan. 26, along with any change in their Small School power rankings. Capsules summarizing their weekly progress follow…
1A
2. Salome [14-0, 6-0 West; ranking unchanged]*: After his Frogs were held to just 32 points and their only West Region margin of victory under 10 points–or 20, or nearly 30, for that matter–Jan. 7 at Mohave Accelerated Learning Center, head coach Bryan McCarty may have to wait to face another such challenge until the Feb. 4 and 5 regional tournament back at MALC. Although she will need to improve by then on her 5-of-12 mark from the free-throw line at Ash Fork, senior guard Hope Freedman continues to lead the Frogs in points, outscoring all of the Spartans by herself, 17-16, in a 28-point road win Wednesday, Jan. 19. Sophomore center Kaniece Thomas blocked 11 shots to add to her nation-leading 8.6 blocks per game while also, along with senior forward Elly Huhtala, grabbing 10 rebounds. Huhtala, Freedman, freshman Grecia Leon and junior Bryanda Navarro each added three steals.
4. Joseph City [12-2, 10-1 Central; ranking unchanged]*: Despite losing by 18 points Friday, Jan. 21, at top-ranked Fort Thomas, head coach Dan Bushman's Wildcats remain rock solid at No. 4. A 53-37 home victory Saturday, Jan. 22, over Williams bore this out, showing virtually no dropoff from the Wildcats' 47-29 rout of the Vikings to win the Route 66 Classic on their court. Junior forward Kate Edwards, freshman flash Samantha Jesmer and senior backup Arami Miller led a defensive effort that forced 24 Williams turnovers. Three of Joseph City's final four games are against unranked teams at home, which should ensure a Central Region title. After a first-round game at home, though, will be uncharted territory for the Wildcats, whose young talent would make anything beyond two postseason victories gravy.
5. Rock Point [8-0, 3-0 North; ranking unchanged]*: After some COVID-19 downtime, head coach Kyle Arthur's Cougars have had a busy week, going 2-0 heading into a return game Thursday, Jan. 27, at home against Fredonia. The Cougars should have no problem with the Lynx, who they held to 13 points in a 36-point road win Jan. 21. Two days prior, they had a 110-mile bus ride, round trip, to the small Utah town of Montezuma Creek to take on Whitehorse High School. A 21-7 fourth quarter sealed a 28-point win over the Raiders. Standing in the way of a perfect regular season, then, is seventh-ranked St. Michael, which has actually won two more North Region games and only plays one game after its home-and-away with the Cougars.
6. Mogollon [10-2, 7-1 Central; ranking unchanged]: Winners of their past seven, the Mustangs haven't lost since Rock Point schooled them, 47-27, on their home court Dec. 18. Head coach Reese Parry's girls have been particularly untouchable the past week, winning its past three games, including over 13th-ranked Mayer, by an average of nearly 34 points. Daughter Paige, a senior forward, is fourth in 1A with 14 points a game and tied for third with 122 field goals made. Junior forward Ellie Hancock's four steals per night ranks fifth in the conference, while her 4.2 assists puts her in second place in 1A in the category. Senior guard Kamryn Franco continues to be the second-best three-point shooter in 1A with 28. Being 11th-ranked Williams' Senior Night will be the final challenge Wednesday, Feb. 2, to Mogollon's postseason Top 8 seed.
7. St. Michael [10-2, 3-0 North; ranking unchanged]: The Cardinals have had such difficulty scheduling enough teams this winter that they played two different opponents at home Saturday, Jan. 22, in the span of three hours. Head coach Carl Adams had to game-plan for respective noon and 3 p.m. tips that day with Arizona Strip high schools El Capitan and Fredonia. The result, in the second game against the Lynx, was the lowest single-game point total by both combined teams since Adams' third played game of the year Dec. 4, a 33-30 travel-lagged win over San Carlos at St. Johns. Having to rely on quickness over height–only two of Adams' 12 players are taller than 5 feet, 7 inches–could come back to haunt St. Michael in such slower-tempo games. Then, guards Jenna Ross and Kalynn Smith will need to work an inside-out game with fellow seniors Gabriella Simpson and Jessica Terry, or the Cardinals will be susceptible to an early exit from the postseason.
11. Williams [9-4, 6-3 Central; previous ranking- 10th]: Head coach Phillip Echeverria has taken his girls on the road for three games out of four in the past week. To their credit, they won three out of four, including a 10-point win at 13th-ranked Mayer. Still, the Vikings are searching for a statement win over a higher-ranked opponent that could vault them into first-round host status. Beating Mogollon on Senior Night, Feb. 2, could be that win and a great postseason boon for the Vikings. ince dropping their first two games of the Yvonne Johnson Memorial Shootout by a total of three points, the Vikings have gone 5-0 and remain perfect in 2022. Junior wing Shaelee Echeverria has developed into a dynamo for her dad and head coach, Phillip, collecting 78 field goals–16 of them three-pointers–34 free throws and five double-doubles as well as averaging over 12 points a game: all Top 10 marks in the conference. Sophomore Kai Mortensen actually has four more free throws, however, to lead the team, while another junior, Kadance Orozco, is right behind Echeverria with 76 field goals, averaging nearly three assists and over three-and-a-half steals a game at guard.
13. Mayer [9-6, 6-5 Central; previous ranking- 15th]: It was a rocky week for the Wildcats' playoff chances, as Mayer took three out of four home games and split them down the middle. While a 17-point loss at sixth-ranked Mogollon was not altogether unexpected, a 64-54 home setback to Williams did not help head coach Nick Colquitt's sense of tournament security. Daughter Abbigail, a senior, rampaged Jan. 21 through Seligman and Jan. 24 through Grand Canyon. She scored 19 points, grabbed 18 rebounds and dished out three assists Jan. 21 before scoring another 19, adding another 15 boards in the 50-32 latter win over the Phantoms. What all those rebounds also meant, is that Colquitt broke the 1A record for rebounds in a career, smashing through the previous mark of 1,459. She is also expected to score her 1,000th point by Senior Night against Ash Fork on Feb. 2. Another senior, Vanessa Morales, is becoming her sidekick, adding 14 points and 10 rebounds over Grand Canyon.
16. Bagdad [12-3, 5-1 West; previous ranking- 12th]: A postseason bid looks to be out of the Sultans' control as they cling to the final seed heading into second-ranked Salome on Friday, Jan. 28. Their perfect 2022 ground to a halt Thursday, Jan. 20, at San Pasqual Valley, as the problems afflicting their offense came back to haunt the Sultans in a 50-38 loss. When head coach George Diehl's defense can shut down an opponent, as it did Monday, Jan. 24, wins come impressively: Bagdad gave up just 12 points to Phoenix Day School for the Deaf in a 57-point blowout. A loss at Salome wouldn't necessarily lock the Sultans out of the 1A tournament, but surprising the Frogs would definitely lock the Sultans into the postseason, as a Senior Night win Wednesday, Feb. 2, over Mountainside, would be expected heading into the West regional tournament at Mohave Accelerated Learning Center.
2A
3. St. Johns [11-0, 7-0 North; previous ranking- fifth]*: Tuesday, Jan. 25, the Redskins turned a one-point home edging of Valley (Sanders) into a 23-point road win over the Pirates three weeks later. With seven regular-season games–and, in the Redskins' case, a North Region tournament–to play, St. Johns is joining the other three 2A unbeatens in not only putting an increasing amount of distance from the rest of the conference field but doing it by some ridiculous scores. Nine days after Pima embarrassed Trivium Prep, 85-5, on its home court Jan. 6, the Redskins allowed the same amount of points at Many Farms, winning 48-5. Senior guard Kinley Crosby, junior post Olivia Wiltbank and senior forward Brooke Smith continue to ensure that, with Round Valley out of the Top 16 and Valley (Sanders) hanging on by a thread, the North is St. Johns' region to lose.
4. Sedona Red Rock [9-0, 4-0 Central; previous ranking- third]*: All the Scorpions can do to regain their top three ranking and keep the pressure on the Valley schools is what they have been doing. But until Friday, Jan. 28, they are enjoying a week off following a 35-point home blowout of their closest Central Region competitor, sixth-ranked Valley Lutheran. They visit the Flames for the region title Feb. 7. In the meantime, they must try not to lose focus against five other Central teams whose highest ranking is 21st. One hidden motivator: The 2A All-Conference first team, devoid of Red Rock players last season despite their state tournament runner-up finish. Head coach Kirk Westervelt is making it no secret that this oversight has become a chip on his players' shoulders they will continue to ride.
16. Valley (Sanders) [2-4, 1-2 North; previous ranking- 15th]: Before the Pirates' 55-32 home loss Jan. 25 to St. Johns, they hadn't played for three weeks–and it showed. They had played the Redskins to within a point on their court in their previous game. To avoid a Feb. 9 play-in nightmare prior to a random first-round road trip, head coach Dee Mitchell needs to find that team and get it back on the court. A Friday, Jan. 27, date under the Round Valley Dome awaits her squad before it closes out the regular season with three doubleheaders: at Ganado, at Hopi and a home-and-away with Many Farms. With 22nd-ranked Blue Ridge canceling its Freedom game Feb. 3 at Valley, the Pirates better get used to their bus if they want postseason life.
3A
1. Winslow [9-1, 3-0 East; previous ranking- fourth]*: The Bulldogs didn't just knock off former No. 1 Holbrook on its home court Jan. 21; they led the Roadrunners from the opening tip. The 3A Conference's second-leading scorer, sophomore Jaci Gonnie, led all scorers with 13 points, while her counterpart at guard, junior Shaelene Singer, added 11 as both drained three-point shots. Senior forward Jayleigh Meyrs rebounded to her team-leading average, helping to offset senior Kylie Begay, who still blocked four shots and had seven rebounds, being limited offensively to half her scoring average. The real infusion, though, came from another guard, Anysa Tso. The junior went 5 of 10 from the field and hit two of three free throws to go with five rebounds, three steals and three assists against just one turnover while shutting down one of 3A' s top three-point shooters, Abigayle Nez. Tso helped hold Nez to a lone two-point field goal. Four days later, Tso added 10 to go with three rebounds and three assists as one of four Winslow players in double figures in a 74-40 win at Payson, right behind junior Kylah Kaye's 11. That sort of guard depth is why the Bulldogs have moved to the top spot and will be a terror to stop in the tournament.
3. Page [9-2, 6-1 North; previous ranking- second]*: Thatcher dropped the Sand Devils one spot after they walked into a trap Saturday, Jan. 22, at fourth-ranked Alchesay, falling 55-37. Whiteriver has been a graveyard for the dreams of many programs smaller than Page, though, and first-year head coach Celeste Claw, to her credit, rallied her players to a 17-point win three days later at Chinle. The 64-47 rolling of the Wildcats was a 15-point improvement from their Jan. 5 squeaker at home, in which 17 turnovers made most of the difference a slow-starting, struggling offense could not, 39-37. Long-time Chinle head coach Francine McCurtain is likely to be headed to a play-in game at No. 20, so progress has indeed been made by the Sand Devils. Two of their three upcoming regional opponents will also likely be postseason-eligible, so defending 3A Player of the Year Miquedah Taliman has time to recover and lead her team into the North Region tournament, Feb. 10 through 12, with three COVID-rescheduled Freedom games, including at 14th-ranked Snowflake, followed by Senior Night against Sedona Red Rock.
4. Alchesay [10-4, 4-3 North; previous ranking- seventh]: The Falcons' momentum from their third straight victory at home, spanking the Sand Devils, was stalled by a COVID-induced cancellation of their Jan. 27 game at Hopi. Before that, head coach Rick Sanchez had won a Jan. 18 tilt with Chinle and, two days later, avenged a four-point loss at Window Rock with a 50-43 home win. Senior Brandy Edwards continues to lead the team with more than 14 points per game and is also Top 10 in the conference in free throws made. Feeding her continues to be another 5-foot, 5-inch athletic guard, sophomore Jazlyn Nosie, sixth in 3A in assists. The Falcons travel to Chinle and Tuba City for winnable road games before Senior Night against 15th-ranked Monument Valley should ensure the town will shut down for the Falcons from that night forward.
6. Window Rock [7-7, 5-3 North; previous ranking- fifth]: The Fighting Scouts were a single point Jan. 22 from being swept through three North Region games this past week. Even though the results came all against postseason-eligible teams, no doubt Blessingway served Window Rock well in Fort Defiance to keep head coach Gabrielle Whitney's team from falling further than one spot. Senior wing Mikaela Roanhorse ensured the Fighting Scouts' 9-2 start was just enough to edge Monument Valley on its home court. But in order for the 3A tournament to be hosted at the Bee Holdzil Events Center for at least one round this season, the Fighting Scouts will need to at least win at Tuba City in their regular-season finale as well as a win at home over either Page or Holbrook.
7. Holbrook [8-2, 2-2 East; previous ranking- first]: Head coach Greg Perkins deserves praise for engineering an eight-point win Jan. 26 at Blue Ridge a day after the Roadrunners had fallen six spots out of first with their second straight East Region loss–especially when the losses were by a combined 35 points. To lose at home to Winslow by 21 is an understandable fluke. But coming back to their home court and scoring just 31 points against a 14th-ranked Snowflake team just one game over .500 coming in could have given way to a much more serious skid for the Roadrunners. Without leader Talynn Spencer against Winslow, nobody along the Holbrook guard line scored more than a bucket other than sophomore Raelle Yazzie, who had seven points. The 4-foot, 11-inch Spencer leads the Roadrunners in free throws, assists and steals, and her absence turned Holbrook into a virtually different team for (Perkins, teammates and fans hope that it was just) two games.
11. Wickenburg [9-2, 3-1 North Central; previous ranking- ninth]: Chino Valley couldn't have come along at a better time than Tuesday, Jan. 25, for the Wranglers, still saddlesore from their 22-point loss at Bourgade Catholic a week earlier. When the three-point shots are falling for head coach Rick Cushman, Wickenburg wins–and they were falling in the 44-34 victory over the Cougars. Although his daughter, Katie, began the rain of threes in a 12-5 start, the wealth was spread to seniors Shayla Dailey and Clare Peterson, junior Shayna Wimberly and sophomore Emma Wayas to extend a second-half lead to as many as 13 points. Bourgade visits Wickenburg for the Feb. 4 rematch, and the Wranglers' five other regular-season games are against sub-.500 regional opponents. With an upset of the Golden Eagles, and if the Wranglers win out, a Top 8 seed is not outside the realm of possibility.
13. Show Low [6-5, 2-1 East; previously unranked]: After smashing former No. 16 Blue Ridge, Payson and Chinle–all on their home courts–by an average of more than 23 points, Show Low is this week's "Where did this team come from?" Sophomore Mikenzie Kulish seemed to know that answer, as she helped hold Payson to a single third-quarter point and exploited the Longhorns for 18 points, including four three-pointers, off six steals and five assists in a 53-24 blowout. Sophomore Kenzie Brogan led the team in rebounds with 11, adding nine points–correlative with her game high two days later to defeat Chinle, 41-27. Her father, head coach Mike Brogan, has six games to make his move after facing 14th-ranked Snowflake. But with four of them against Winslow and Holbrook, Brogan's girls have a tall challenge to rise to and secure a postseason bid.
14. Snowflake [6-4, 4-0 North; previously unranked]: Here come head coach Joe Clare's Lobos of old, perfect through their first four regional games after shutting down Blue Ridge, 53-13, and owning Holbrook by 14 points. It was Kamri Ballard and Austin Stratton, both seniors, who led the way in the win over the Yellowjackets with 12 points each. The two combined for 12 rebounds, with Ballard adding six assists and six steals for a Snowflake defense that held Blue Ridge to a bucket for two of the game's four quarters. To rebuild his interior defense and post play in the absence of forwards Macee LeSueur and Emily Davis, Clare has looked to sophomores like Natalie Carlisle and Livi Schneider, and his patience with their growth is beginning to pay off. Schneider led the team with eight rebounds, scoring seven despite four fouls, while Carlisle added seven boards to raise hope for an eight-game home stretch for Snowflake featuring all but two opponents ranked–and Blue Ridge was No. 16 just last week. Even with their youth, the Lobos are a threat to any opponent at this point late in the season.
15. Monument Valley [7-6, 3-4 North; previous ranking- 14th]: The Mustangs have the depth and athleticism to surprise the championship contenders, as they showed Jan. 17 in a seven-point win over Alchesay. But head coach Jason Franklin is running out of time to string such performances together into a run through the North Region. Monument Valley is just 1-2 in games decided by three points or less, and 3-6 in conference games in which the Mustangs score 54 points or less. That doesn't bode well for the postseason, in which scores in general come down. A 32-8 first half of a Jan. 25 win by 16 at Tuba City lends hope to Mustangs that they are learning how to win lower-scoring games. But a solid rotation of seven of the 3A North's high scorers, shot blockers and steal leaders being held to nine points in each of that same game's third and fourth quarters isn't reassuring.
16. Parker [9-2, 3-1 West; previous ranking- 12th]*: No ranked team had more of a bipolar week than the Lady Broncs, clinging to the last play-in host seed despite Kingman handing them their first regional loss on their own court Jan. 25, holding them to just 35 in the process. Sisters Adryana and Tallia Robledo continue to split the team scoring lead, combining for more than 23 points per night, with a third sister, Tyra, adding more than nine ppg of her own while joining 3A's best steal thieves and assist dishers. Five days before the Kingman loss, Parker flattened Tonopah Valley, 70-25. Nevertheless, in its losses and too-close-for-comfort wins, Parker has struggled to find scoring, as the three Robledos are shouldering far too much of the on-ball burden, particularly on offense as they have also combined for more than 21 of the team's 22-and-a-half average rebounds per game. If head coach Kyle Peta wants to avoid a long bus ride for the Feb. 16 play-in round of the 2A postseason, the next three games will tell the tale in his most important stretch of the season–road rematches with Kingman and Yuma Catholic, the latter of which Parker squeaked by Jan. 7, 39-37, and a Freedom game hosting No. 18 Coolidge. Sweep this stretch, and Peta's girls control their own playoff destiny.
Like 13-0 Camp Verde, second-ranked MALC is conference's last unbeaten team
It would be intriguing to contemplate a (purely hypothetical) matchup between the last two unbeatens in 1A and 3A boys basketball, Mohave Accelerated Learning Center and Camp Verde High School. Senior guard Aden Honegger and senior forward Josh Neal are, in many aspects, the Patriots' mirror of Cowboys upperclassman Chino Salas-Zorrilla and junior post Chito Herrera.
Honegger's 132 field goals are fourth in 1A; Salas-Zorrilla's 177 rank seventh in the state. Neal ranks ninth in Arizona with 11.2 rebounds per game; Herrera's 8.2 rebound average ranks him ninth in 3A. Salas-Zorrilla's 61 free throws are 11 more than Neal, who is eighth in 1A in the category, while Chino ranks sixth in the conference. Neal and Herrera both rank third in their conferences in double-doubles. Honegger teams up with Neal and senior forward Lucas Leslie for 9.7 assists per game–all are in the 1A top 10 in the category, individually–while members of the 3A top 10 in assists, Salas-Zorrilla and senior forward Devon James, dropped 8.5 dimes a contest.
While the Patriots still trail Tempe Prep in the 1A power rankings, Camp Verde rose to No. 1 behind "another great game" from Salas-Zorrilla, head coach Dan Wall said, at third-ranked Fountain Hills–the two teams' common opponent. Dec. 30, the Falcons downed the Patriots at Higley High School's Epic Tourneys Classic, 53-48.
"Very clutch," Wall added after his senior guard's free-throw heroics with seven seconds to play. "He got a rebound off a missed free throw, [the defender] tried to cut him off on the sideline and bumped him. Not too glamorous."
Although Chino and Chito combined for 32 points, 10 rebounds, four steals and three assists against the Falcons, the Cowboys are more than just a two-player team: senior forward Devon James was the team's second-leading scorer on the night with 15, leading the Cowboys in rebounds as well, while senior guard Christoph Castro added two steals and seven points on a perfect three-of-three from the field.
"We were up six to eight [points] several times, and they battled back well," Wall added. "Close the whole way."
With former top 3A dog Valley Christian still very much in play at No. 2, and top 10 teams Coolidge, Northwest Christian and American Leadership Academy - Gilbert North "looking tough also," Wall said, this race to the top seed is by no means over yet. Fountain Hills travels to Camp Verde for the rematch in their season finale Feb. 11…
1A
2. Mohave Accelerated Learning Center [14-0, 6-0 West; ranking unchanged]*: The Patriots continue to take care of business in blowout fashion against West Region foes, burning like fuel through their three opponents since Jan. 18. Beating Bagdad at home on that day, 90-7, was a result dangerously close to embarrassing for the winless, last-place Sultans, as the Patriots had 24 steals as a team. Neal wasn't even needed, scoring just three points. In MALC's closest game of 2022, an 11-point home win Jan. 13 over North Phoenix Preparatory Academy, he didn't even play. Honegger's four three-pointers and five other field goals accounted for more than a third of the Patriots' 61 points, their second-lowest total of the new year. Junior forward Tyson Banks' 14 points and 12 rebounds accounted for the majority of the rest. Bottom line: If Mohave Accelerated wants to take home more than a runner-up trophy this time around, it needs a good, close test prior to the playoffs. Perhaps fourth-ranked North Valley Christian will provide it Wednesday, Feb. 2–Senior Night.
6. Mogollon [11-2, 9-0 Central; ranking unchanged]*: The Mustangs have steadily thrummed their way to double-digit victories over four regional opponents in six days over the past week, scoring 76, 74, 72 and 72 points since Jan. 19. In those victories, as it has been much of the season, three players have accounted for more than 70 percent of the Mogollon offense: senior post Tyler Owens, sophomore point guard Kyson Owens and junior shooting guard Blayk Kelton. Kyson Owens, in fact, lit up Grand Canyon for 30 points, with Tyler Owens leading the team with 14 rebounds. After a Jan. 27 home rematch with the Phantoms, the Mustangs host a doubleheader with Ash Fork before ending the regular season on the road–at Seligman, then at Williams, fighting for its postseason life at No. 20. Head coach Mckay Slade will need to perform a master motivation of his team during this stretch to keep the Mustangs focused on the final goal of a state title.
8. El Capitan [11-2, 6-1 North; previous ranking- ninth]*: With just five games left on their schedule against four opponents, this group of Eagles is proving to be the best team in school history. Since trickling out its second-lowest point total of the season in a 49-46 home loss to St. Michael, the Colorado City high school has won six straight games, and by anywhere from 20 to 53 points. El Capitan has three guaranteed games remaining at Grand Canyon, Red Mesa and Hilldale, Utah's Water Canyon high schools. However, head coach Derek Stransky hopefully hasn't held off honoring his three seniors, including leading scorer Isaiah Bradshaw, until a prospective home doubleheader Feb. 1 with Shonto Prep. Due to ongoing COVID-19 issues, the Grizzlies have played just three games all season–and haven't followed through on a scheduled contest since Jan. 24. It will be interesting to see if El Capitan wins its other three games and keeps the 1A tournament's final first-round host seed anyway. It would present a potential postseason Senior Night at the end of a huge bus ride for ninth-ranked Duncan.
11. Joseph City [11-5, 9-2 Central; previous ranking- 12th]: Head coach Eric Miller's Wildcats continue to climb the rankings, one week and one spot at a time. In fact, since scoring a season-low 17 in an 11-point loss at Williams' Route 66 pre-Christmas tournament to Needles, Calif., head coach Eric Miller has posted a 15-4 record–including wins by one and nine points over potential play-in opponents Basis Flagstaff and Williams. Junior guard Jareon Miller continues to be the major culprit, scoring 35 in the two victories–half that total from behind the three-point arc. Senior Karter Lampsa isn't far behind, combining for 29 against the Yeti and Vikings, while the third guard in Miller's starting lineup, junior steal leader Bannon Johnstun, filled the stat sheet against the two schools: 18 points, 13 rebounds, nine assists and five steals. Turnovers and foul trouble have been the downside of this hard play, however, as Johnstun and Miller combined for 21 of the former no-nos against the two schools. To make matters worse, in a tight seven-player rotation, the Yeti fouled out both Johnstun and senior Tyler Penrod, who also joined Lampsa with four fouls against the Vikings. In order to advance in the postseason, then, the Wildcats have to take better care of both the basketball and themselves.
14. St. Michael [8-6, 4-1 North; previous ranking- 14th]: The Cardinals are here, down a rank, after losing by 20 to El Capitan–revenge for a three-point road win over the Eagles– in the first game of the Cardinals' home doubleheader Jan. 22 against the Arizona Strip high schools. Head coach Joshua Thompson has engineered a devastating display of complete basketball against his four other 2022 opponents, however, winning by a combined 272-114. Both Fredonia and Red Mesa were held to 26 points on their home courts, while Ganado was limited to 28 in its arena. Following a Feb. 1 doubleheader at Rock Point, the Cardinals return home Feb. 3 for Senior Night against Red Mesa, ending the regular season with another doubleheader–at Shonto Prep. Although the pair of early-evening games is the regular-season finale for both schools, if the Notes were on the 1A tournament seeding committee, they wouldn't hold their breath waiting on those scores.
15. BASIS Flagstaff [8-4, 6-4 Central; ranking unchanged]: The Yeti have held their ground here despite losing Jan. 24, 72-47, at sixth-ranked Mogollon. Holding Grand Canyon to two points less on the Phantoms' home court Jan. 18, then holding Ash Fork to 28 at home four days later, evens things out. Basis hung a 16-1 third quarter Jan. 22 on the Spartans, with junior guard Evan Hofstetter leading the way with a game-high 17 points, including four threes, and nine steals. Senior forward Brady Spinti added to his Top 10 conference averages in rebounds and blocked shots, closing off the Ash Fork lane with 16 boards and four blocked shots. Another upperclassman, Marcus Dufek, added a double-double against Grand Canyon with 13 points and 10 rebounds, while sophomore Jack Engelthaler's 12 and 12 boards supported Hofstetter's triple-double bid of 13 points, eight steals, seven rebounds and four assists in the road victory. Self-discipline is one more reason the Yeti remain a favorite for a home play-in seed: They don't foul much, committing under 11 personals a game.
16. Salome [11-5, 4-3 West; ranking unchanged]: Support for Ernesto Calderon fired the Frogs' three-game winning streak, which started Jan. 18 at Antelope Union, 54-41. Fellow junior Kevin Castillo supplemented Calderon's 13 points with 12 in the road win, as the two guards got to the free-throw line 16 times. But the big game to win by double-digits at Ash Fork came from yet another junior, Francisco Armenta. The Frogs' starting post had a double-double against the Spartans with 12 points and a whopping 19 rebounds, adding four steals to the mix. Plus, the call went out for the Frogs to beat Anthem Prep convincingly, and they responded Jan. 24, 57-48 at home over the Eagles. Look out, final regular-season opponents Bagdad and San Pasqual Valley: Salome is starting to dance.
2A
12. Hopi [3-1, 2-0 North; previous ranking- 13th]: Let's just put this out there, so it's clear: 2A North Region teams are struggling to play. It's not their fault, as even a casual observer of the standings would deduce. COVID-19 has wreaked havoc here, shutting down Greyhills Academy after one game, postponing games in Ganado, Round Valley and St. Johns, leaving Many Farms 0-for-the season with two gaps of three weeks total between games and forcing three other teams in the region to scramble just to put together enough contests against ranked opponents to qualify for a power ranking. All of the Notes' fingers are crossed that the Bruins will even make it into the 2A Conference tournament, much less be competitive against their first-round opponent Feb. 18 in Prescott. Keams Canyon has been too quiet of late, as rising Omicron and other variants of COVID-19 have hibernated Hopi since Jan. 6. The team's Jan. 27 home game with Alchesay has been canceled, and a Jan. 13 home game with Tuba City is still up in the air. Hopeful news, though: games at Ganado and at home against Valley (Sanders) have been paired off into doubleheaders Feb. 5 and 8, respectively. So the new month brings new belief that head coach Rick Baker's bunch will awaken and represent the Rez in the postseason.
13. Valley (Sanders) [3-3, 2-1 North; previous ranking- 14th]*: If Hopi can't make it, it falls to the Pirates, who have endured their own three-week shutdown this month, to represent Northern Arizona in the 2A tournament and host the Feb. 16 play-in round. But first, they have to capture the automatic regional bid over their last two opponents, Round Valley and St. Johns. The results have been mixed: a 63-62 home win Jan. 25 over the Redskins was followed, two days later, with a 59-54 loss in the Round Valley Dome. Valley certainly can make opponents pay at the charity stripe, as junior guard Makai Yazzie made every point count Jan. 25, hitting a perfect six of six free throws. Additionally, senior wing Trajon Bizardi and junior guard Joshua Begay, who scored 16 and 17 points against St. Johns, respectively, to lead all scorers, have combined for over 100 made free throws overall, both top five in the conference. But the facts that these players are three of the team's tallest, and that only two other Pirates made it into the book Jan. 25 spotlight another challenge for the Pirates: competitive height. Junior center Taylor Walker is the only Valley player who makes it to six feet tall, and he was not one of those two other contributors Jan. 25. The Notes are still optimistic the Pirates can overcome the Elks and Redskins and take the North by the last possible day of the regular season Saturday, Feb. 5. But if they can't, whosoever of those other two teams get the automatic bid will be consigned to play-in road games, as neither are among the top 24 teams in the conference at this juncture.
3A
1. Camp Verde [13-0, 5-0 North Central; previous ranking- fifth]*: Salas-Zorrilla has become one of the toughest scorers in the state to stop, hitting for 19 points, including the two final free throws and two fourth-quarter threes Wall also termed "huge" to overcome a one-point deficit at Fountain Hills. That was actually almost five points below his average, as Chino's 177 field goals, nearly one-third of them threes, are 30 ahead of anybody else in the conference–but just 42 ahead of Herrera, a top-five 3A converter, not to mention top 10 rebounder and double-double scorer, in his own right. Salas-Zorrilla is also Top 10 in the conference in assists, with over four-and-a-half on average per game, and steals, with more than three per contest. Combine that with another aggressive guard, Christoph Castro, three-of-three with three steals against the Falcons, and wings like senior Devon James who can step out and put up 15 points–three twos and three threes–and eight rebounds in a tough road environment, and the result is a team only Valley Christian has figured out how to defend. Granted, it was Dec. 28 at Greenway High School's Judy Dixon Tournament, but future 3A opponents should start scouting the Cowboys from that 82-56 loss, if possible.
6. Holbrook [9-1, 3-1 East; previous ranking- second]*: Despite a 57-46 home loss Jan. 25 to Snowflake to fall out of first place in the East Region, those wolves aren't at Holbrook's door yet. Not with the emergence of wing Brandon Tapaha, whose 23 points on seven three-pointers slammed that door at Blue Ridge High School. Another junior, Noah Brown, continues to posts extended stat lines for the Roadrunners: 13 points on 4-of-5 free throw shooting, eight assists, four steals, two rebounds and a blocked shot. But it can't be a lonely bench next to head coach Delmar Johnson. More than six players must contribute trademark Roadrunner defense with more than fouls. Holbrook has six region games to play, including a Feb. 11 rematch at Snowflake on Senior Night. Handle the rest of the East and 20th-ranked Window Rock in Fort Defiance on Wednesday, Feb. 2, and the regional title race will take care of itself.
9. Snowflake [6-3, 3-0 East; previous ranking- 14th]: Almost as if on cue, the Lobos are showing they can never be counted out. Head coach Andy Wood won his fifth straight to stay perfect in region play and the new year, toppling Holbrook on the road by double digits and shooting up five spots to challenge for a 3A home seed. Down six at the end of the first quarter, the Lobos rolled to a 24-10 second quarter, going up by 14 to establish a lead heading into the final quarter the Roadrunners could never recover from. Freedom games at home against Monument Valley and Page can further bolster the Lobos' postseason prospects, and with seven regional games still to play, six-foot senior forwards Noah Baum, Max Boone and Kaiden Brewer are leading a late charge to help junior guards Matthew Brimhall, Easton Butler and Lance Christensen show they're back.
12. Monument Valley [11-2, 6-2 North; previous ranking- ninth]*: That Freedom game at Snowflake is next on the schedule Saturday, Jan. 29, for the Mustangs, hoofing hard to make up ground lost a week earlier in a three-point loss at Window Rock. Only scoring five points and being outscored by 10 by the Fighting Scouts in the opening quarter spelled doom for head coach Randolph Gilmore's team, who had double-digit turnovers at Bee Holdzil. The 20th-ranked Fighting Scouts forced 10 steals, with just three seniors accounting for 40 of their 54 points, outscoring the Mustangs by four in the final quarter to seal the game. Fortunately, some of that lost ground was regained Jan. 25 in a double-digit victory at Tuba City. Senior guard Andrew Sheppard led an 18-9 second-quarter stampede to pull within a half-game of the Warriors, who fell three spots in the rankings with the loss. Junior Albrandon Byjoe's 11 points, three rebounds and three-and-a-half steals per game have Sheppard's back heading into Monument Valley's final three region games, including its Senior Night rematch Wednesday, Feb. 2, with the Warriors.
13. Tuba City [8-2, 5-1 North; previous ranking- 10th]: Losing the fourth quarter, on his home court, to his closest rival was not what first-year head coach Justin Smith signed up for. Taking over Tuba City after leading Page to multiple boys and girls basketball state titles, including last season's 3A boys championship, Smith had been perfect through his first four 2022 games before falling at home to Monument Valley. Although the Warriors would rebound Jan. 27 to travel to Page and crush Smith's former program by 26, that one loss dropped the Warriors to 13th, making his final four games must-wins to secure the North Region. Center Desean Butler couldn't miss against the Mustangs, scoring 26 points on 13-of-16 from the field to go with 13 rebounds, but it wasn't enough. Fellow senior Britton Hardy added 10 points and eight boards, while junior point Tayden Arizona had 12, dropping a dime above his seven-assist-per-game average. Three other upperclassmen, however, combined for just 10 points, three rebounds and three steals. Smith needs more from them, on one end of the floor or another, to not just win Feb. 2 in Kayenta but honor home court in any potential play-in game.
16. Chinle [9-5, 4-3 North; previously unranked]: Head coach Raul Mendoza makes his first appearance in the Notes after a season of strong wins, competitive losses and the Choice Wireless Classic title Dec. 11. In fact, take away a 15-point Freedom loss Jan. 12 at Holbrook, and the Wildcats' five non-tournament losses have been by two possessions: 6.5 points. The kicker? An 81-49 annihilation of Window Rock on the road, revenge for an eight-point home loss Jan. 4, an unceremonious start to 2022. Senior Tristan James was The Man in a 26-point win Jan. 25 at Page, contributing 18 on two threes and 6-of-6 from the line to go with five assists and three steals. Junior wing Delaney Bahe added 11 points, five steals and four assists. Senior Trevor Benally's 12 points didn't hurt, although an eight-point loss Jan. 20 at region leader Tuba City might.
Next Time
Playoffs! Playoffs! Get your 1A Conference playoff projections here! We take a run at 2A probabilities as well and set the stage for who will make it to the 3A quarterfinals in Prescott. Which Northern Arizona teams could make a run? Tell me on Facebook and Twitter at @ProfGWerner, or email me at gwerner@azpreps365.com.