Mesa wrestling says goodbye to seniors and coach David DiDomenico in 58-6 win over Amphitheater
February 3, 2022 by Reece Andrews, Arizona State University
---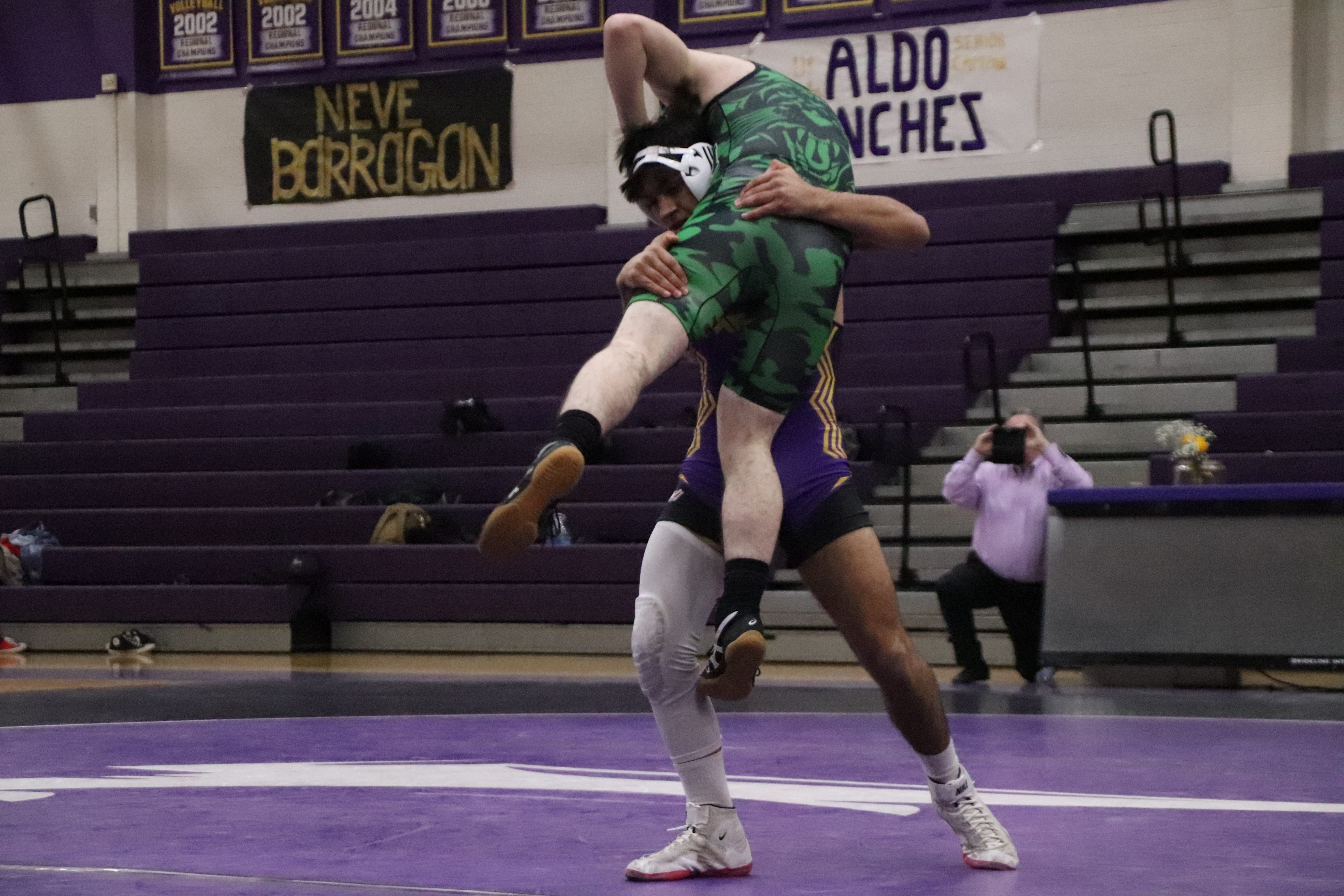 Reece Andrews is an ASU Cronkite School of Journalism student assigned to cover Mesa High School for AZPreps365.com
Mesa senior captain Aldo Sanchez had the highlight of the night with a pinfall win over Amphitheter's Vincent Holcolmb at 134 pounds and a vicious mat return that temporarily stopped the match.
When it continued, Mesa dominated. Tha Jackrabbits went on to beat Amphitheater in convincing fashion, 58-6, on the same night it honored its seniors and retiring coach David "Coach D" DiDomenico.
"I feel an honor to be part of the last team you know? I'm the captain of the last team. It feels great. He's put on a legacy and I get to be the last walking, talking, breathing captain of that legacy and I feel an honor. It feels amazing. He felt like the father I never had," Sanchez said.
The meet started off with a tribute to DiDomenico and a highlight of all his accomplishments. He's coached seven state title wrestling programs, he's been named a four-time Arizona Coach of the Year, 2008 East Valley Tribune Coach of the Year and 292 career dual meet wins.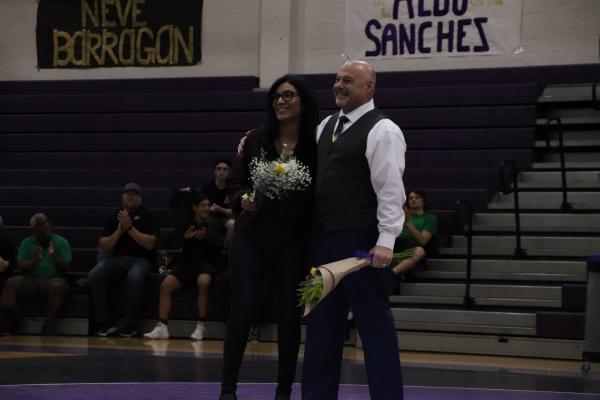 Mesa wrestling coach David "Coach D" DiDomenico was honored ahead of his team's final home dual of the season against Amphitheater. (Reece Andrews photo/AZPreps365)
With the tribute out of the way things kicked off at 122-pounds with senior Francisico "Pancho" Rivera vs Amphitheater's Humberto Hidalgo. Rivera came out with a quick two-point takedown and a "TWO!" chant came out of the crowd. Rivera would get two more takedowns and a two-point nearfall leading to an 8-0 major decision after three periods and the team an overall 4-0 lead.
Next up was captain Sanchez against Holcolmb, which proved to be a quick bout after Sanchez got the pin after toying with Holcolm a little bit. Mesa's 138-pounder Sammy Harrison made quick work of Paulino Sanchez with a pin at the 1:10 mark.
Amphitheater got its only win of the night at 144 pounds after Ashton Hayes pinned Emiliano Lagpacan bringing the dual score to 22-6 after five bouts.
Mitch Houston was the next man up at 150 pounds and went up against Steven Anaya. Houston started strong with a quick takedown and a three-point near fall and then let Anaya up for a one-point escape. Houston reset and got another quick take down and this time the pin.
Rowan Gneiting and Max Munoz then took the mat at 157-pounds. Gneiting took down Munoz right away and got four three-point nearfalls after finally securing the win with a pin 2:30 into the first period.
Academic All-Arizona senior Porter Arnett took on Ismael Hinojoso, Amphi's wrestler with the best record at 13-8, at 165. Arnett, boasting a 19-6 record himself had Hinojoso flat on his back in the dying seconds of the first period but couldn't secure the pin. Right away in the second period he got a takedown and went back to the same hold to finally secure the pin quickly into the second period.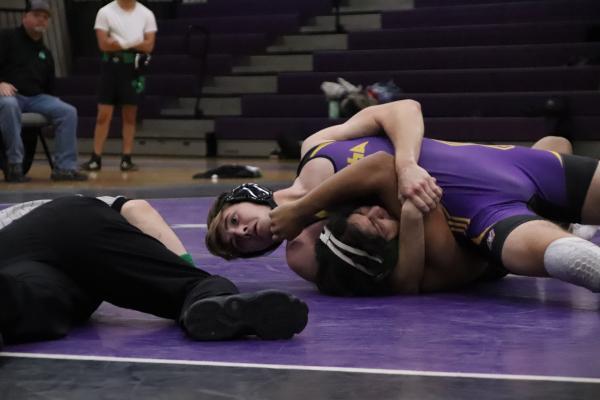 Mesa wrestler Porter Arnett pinned Amphitheater's Ismael Hinojoso Thursday night in a dual between the two teams. (Reece Andrews photo/AZPreps365)
"I learned wrestling is a place where I can be myself and where I can improve myself so honestly it's really sad seeing this is my last home meet," Arnett said after the event.
Kaiden Cisneros and Mason Ennen got fast pins in their weight classes against Damian Morgan Goetz and William Tubac respectively and the night ended off with the heavyweight bout of Wyatt Baier and Xavier Cuevas. Baier had the second longest match of the night and for good reason. It was DiDomenico's last and he wanted to savor the moment.
"I looked up at the clock and thought, well I guess it's kind of over. We tried to have Wyatt wrestle longer so it could last a little longer," DiDomenico said.
When it was all said and done the team took a moment and friends, family, and former wrestlers alike came down to congratulate DiDomenico on an incredible 31 year career. Pauline and Amber, his wife and daughter, greeted DiDomenico with flowers and that was it.
DiDomenico impacted so many lives and everyone spoke so highly of him every turn they had. It was a great send off to a great career and he will certainly be missed by the Mesa High community.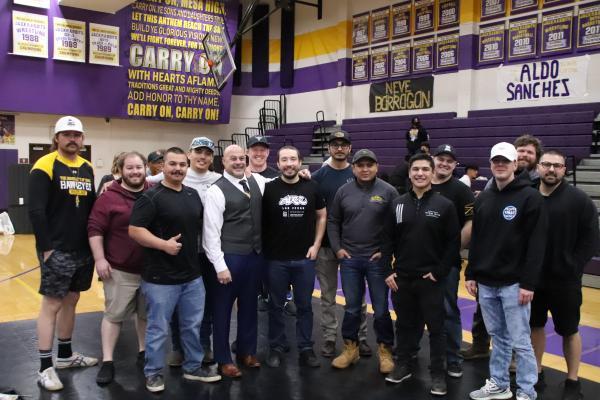 Several former wrestlers who were coached by DiDomenico attended the match Thursday night to honor his career. (Reece Andrews photo/AZPreps365)