Notes from the North: Forecasting February's Frenzy, Part I
February 5, 2022 by George Werner, AZPreps365
---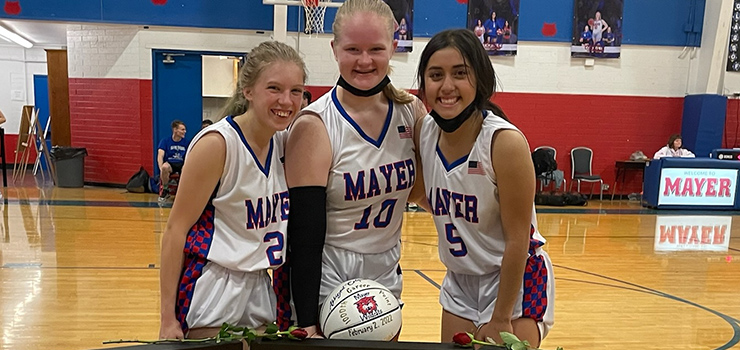 February is here, faithful readers, so I can be the first to say it: The Frenzy is two weeks away!
For the uninitiated with how the AIA's Small School basketball programs will meet to determine a champion at the end of this month, February Frenzy is nearly a week of 1A through 3A boys and girls basketball tournament games played in the Findlay Toyota Center, Yavapai College gymnasium and other arenas in Prescott and Prescott Valley.
Up until the pandemic pooh-poohed these sorts of mass gatherings, the 1A and 2A schools would bus into Prescott on a Tuesday and get comfortable right up through the Saturday boys and girls state championship games Saturday. In between, the 3A quarterfinalists would square off for two straight days before heading down to Gila River Arena for championship weekend.
After a two-year absence, I am happy to announce the return of the Frenzy to Findlay–in slightly abbreviated form.
Oh, 3A will still have its two straight days of quarterfinals Monday and Tuesday, Feb. 21 and 22, at Findlay.
But only the 1A championships are staying in Prescott. At least this year. Fans of 2A tournament tete-a-tetes should be ready to live out of their car beginning Friday, Feb. 18. That is the first day for boys and girls first-round games for the conference, which will alternate at Findlay and other sites with 1A boys and girls semifinals.
Don't look to the brackets for game times or other, more specific information, yet. "Prescott area" will have to be enough, at least until seedings are finalized beginning Saturday, Feb. 5.
By that evening, all 1A schools will have concluded play in regular-season and regional tournament games. Seedings and brackets should be subsequently, quietly, released Monday, Feb. 7, prior to a larger Selection Show announcing the rest of the seeds and brackets in 2A-6A on Saturday, Feb. 12.
But you, faithful reader, can't wait that long, right? You want playoff projections now? Then fire up my forecaster, because it's time to start Forecasting February Frenzy with the 1A schools.
Below are not just the updated rankings for all 1A Conference postseason boys and girls basketball seeds, from Nos. 1 to 16, in Northern Arizona but their regular-season regional finish as well. Those teams are in boldface, with an asterisk (*) indicating an automatic bid as winners of the regular-season region title.
What do you think of these matchups? Keep the hot takes coming with any teams you feel are playoff-worthy entering the season's final month, with any comment you care to add. Let's see how close we are before next week's Notes from the North:
Undefeated Rock Point moving in on Salome for top 1A girls seeds
The Cougars of Rock Point are back from COVID-19 hiatus, and in a big way. In four of their final six regular-season contests–doubleheaders with Fredonia, Red Mesa and St. Michael–head coach Andrew Reed's Cougars have won by more than 22 points. They blazed through the North Region and are 16-1 overall.
That was enough for them to surpass Salome for the second seed. The Frogs weren't helped by their final win of the regular season, nor by their canceled final matchup at San Pasqual Valley. But, unlike the Cougars, head coach Bryan McCarty's girls still have a West Region tournament Friday and Saturday, Feb. 4 and 5–opening at host Mohave Accelerated Learning Center–in which they can improve on their No. 3 seed prior to their 7 p.m. play-in games Wednesday, Feb. 9.
Although Fort Thomas should hold onto its top seed, having not yet lost in 2022 and not looking to start at its regional tournament, the Apaches overlook Joseph City, St. Michael, Mogollon, Williams and even potential first-round spoilers like Bagdad and Mayer at their own peril.
Included in brackets are each team's overall and regional won-loss records as of season's end Feb. 2. Capsules summarizing their projected first-round matchups follow. Remember, these are projections: Some teams still have regional tournaments to play, and their performances in those tourneys may affect their seeding…
1A Conference Girls Basketball Tournament- First Round
16. Mayer [10-8, 7-7 Central, fifth] at 1. Fort Thomas [17-1, 6-0 South, first]*: Comparing their regular-season scores and schedules, this appears to be a huge first-round mismatch between the Wildcats and defending 1A champions, who have lost as many games overall this season–all to 2A and 3A opponents–as head coach Nick Colquitt's girls did in their final week of play. But that's not taking into account Colquitt's daughter, Abbigail, who has become the leading career rebounder in conference history and also broke the 1,000-point barrier in a 48-26 win over Ash Fork on Senior Night, one that halted a three-game skid that nearly dashed Mayer postseason hopes. That and a two-inch height advantage will give Colquitt, an all-conference second-team performer last season, the edge inside, much less head-to-head with junior forward Alleenna Gilbert, third-leading scorer in the Apaches' 30-point Senior Night win over No. 11 seed Dishchii'bikoh. How much of an edge that will be will depend on how well senior Mayer guards Kylie McCann and Vanessa Morales can protect the basketball and establish tempo against head coach Lee Haws' brutal full-court press, led by sophomore Jas Olivar–1A Player of the Year as a freshman in 2021. Olivar, the Apaches' leading scorer and third in the conference at just under 16 points per game, gets to the line a lot as well. In fact, she is just three behind Colquitt and McCann for the 1A lead in free throws. Mayer will need to keep the Apaches from getting hot from the perimeter, or the game may get out of hand. Seniors Hailey Hinton and Chase Stanley join Olivar as three of 1A's top three-point shooters. If Olivar can achieve her 1A top-five assist average, it could be lights out for the McCanns, the Colquitts and the Wildcats for good.
15. Duncan [8-7, 2-3 South, fourth] at 2. Rock Point* [13-0, 8-0 North, first]*: Head coach Eric Bejarano's Wildkats bus six-and-a-half hours up to the Rez on a two-game losing streak. Those losses, to be fair, were to ninth-seeded Desert Christian and at No. 11 Dishchii'bikoh. Still, losing five of his last eight games, especially scoring just 17 points in the Freedom loss on Senior Night to the Eagles, is a concern for any coach entering the postseason–whether they had to subsequently travel 750 miles, round-trip, to play an undefeated Rez ball press or not. Hopefully Reed was kind enough to send Bejarano some game film, because the Cougars, coming off a 2020-21 season canceled by COVID-19, do not even have scorebook information available from their three victories over Ash Fork and Seligman in which they held the opponents to less than 10 points. But they continue to start with Tamira John, the forward who led the Cougars to their first state title in school history. To her, as well as to her four remaining teammates who hoisted the hardware with her in 2020–fellow seniors Shelby Chee and Danielle Johnson and juniors Arianne Begay and Tiffany Tallboy–they are still defending state champions until someone takes the title away. That is the challenge for the Wildkats, who will need Feb. 9 to really be Sadie Hawkins Day to have a shot at the upset. The guard is one of two 5-foot, 3-inch seniors for Bejarano, who looks to 5-6 forward Kylie McGrath to hold down the post.
14. Bagdad [13-4, 6-2 West, second] at 3. Salome [15-0, 7-0 West, first]* : "We did not play well…they played well," head coach Bryan McCarty admitted Jan. 28 after his Frogs scored just 21 points but still managed to beat Bagdad by four–in what turned out to be Salome's Senior Night, after San Pasqual Valley canceled its subsequent home-and-away pair of games to end the regular season. Ten days later, the Sultans return for their third matchup–possibly even the fourth, if the two teams meet Saturday, Feb. 5, in the finals of the West Region tournament. No other 1A opponent has come close to the undefeated Frogs, led by senior guard Hope Freedman, who shares the conference's second best steals average with sophomore teammate Yareli Quiroz. Sophomore center Kaniece Thomas continues to lead the nation in blocked shots, with more than eight-and-a-half per game, to go with senior forward Elly Huhtala's 2.3 blocks–third in the conference. Freshman Grecia Leon and junior Bryanda Navarro round out a solid six-player rotation that cannot afford to stagnate against the team that knows it the best: Bagdad, whose defense held Mountainside to 17 points also over their past two games. The Sultans can go nine deep, matching Salome's inside height with 5-foot, 11-inch freshman post Shelby Hunt and 5-9 forward Reanna Pierce–the team's lone senior. Diehl's guard line, by comparison, is smaller and less experienced.
12. San Manuel [10-5,.6-1 East, second] at 5. Joseph City [16-2, 13-1 Central, first]*: The Wildcats enter the postseason on an impressive roll, having won their last games by an average of nearly 20 points. Their seven-player rotation has been sustained all season by junior forward Kate Edwards, freshman flash Samantha Jesmer and her first replacement off the bench, senior guard Arami Miller. Jesmer, seventh in 1A with 33 three-pointers, is also tied for the conference steals lead with 5.8 per night. The player she is tied with? Miners senior wing Natalye Pinedo, who also leads San Manuel in blocks–and the rest of the state in assists, as Arizona's only player to drop seven or more dimes a night. The other half of a dangerous duo for head coach Rome Porras-Romero is senior post Aubrey Encinas, the state's leading rebounder with 16.3 a game–more than two more per contest than even Mayer's Colquitt. If Encinas, who is also fourth in Arizona in scoring at nearly 23 points per game, gets her 16th double-double to join the top three in the state, she and Pinedo could stage a first-round shocker, especially if complementary scorers like Wildcats freshmen Gabrielle Jesmer and junior Kadence Armstrong can't get untracked.
11. Dischii'bikoh [9-5, 4-2 South, third] at 6. St. Michael [13-4, 6-2 North, second]: After getting swept handily Feb. 1 in a doubleheader at Rock Point, the Cardinals barely rebounded two days later, 46-42, Senior Night over Red Mesa. Outscoring the Redskins in the second quarter, 18-2, was key. Such a spurt will likely again be needed against the Wildcats, who have made quite the comeback, winning 9 of their last 11 games–including two double-digit victories over No. 15 Duncan–after an 0-7 start to the season coming off a 2020-21 season in quarantine. The two top scorers from the Wildcats' pre-pandemic era, senior Fantasia Sanchez and junior Amani Jones-Embry, force an up-tempo, higher-scoring approach that should play well with head coach Carl Adams' experienced, small-but-quick top four of guards Jenna Ross and Kalynn Smith and fellow seniors Gabriella Simpson and Jessica Terry at forward.
10. St. David [11-7, 5-1 South, second] at 7. Mogollon [14-3, 11-2 Central, second]: Old rivals on the football field, the Tigers and Mustangs face off on the girls basketball court for the first time in more than a decade. Five-foot, 10-inch post Anissa Jacquez is one of the state's top four double-double scorers, going for 12 with 11 rebounds and three blocks Jan. 31 in a 47-26 win at Valley Union. Another sophomore, Mayla Trejo, had 10 on two threes against the Blue Devils–but also four fouls, a danger point against deeper Mogollon, which has a trio of Top 10 conference performers in senior forward Paige Parry, senior guard Kamryn Franco and junior forward Ellie Hancock owned 2022 with an 11-1 record in the new year. Head coach Reese Parry's daughter is one of 1A's top five scorers, field goal and free-throw shooters, while Franco's 37 three-pointers ties her for second in the conference with Trejo and St. David junior Taylee Jacquez. Combined, however, Hancock averages more than eight steals and assists per game, ranking in the conference Top 10. The Mustangs will still have their questions to answer after getting outscored by 15 in the fourth quarter Feb. 2 at No. 8 seed Williams for their only loss of 2022, 62-56, in their most recent outing.
9. Desert Christian [14-4, 3-0 Tucson, first] at 8. Williams [14-4, 11-3 Central, third]: Speaking of the Vikings, their win over Mogollon capped a seven-game win streak that conveyed them quite unexpectedly into the conference's final host seed. Although head coach Phillip Echeverria's daughter, wing Shaelee Echeverria, carried the team early with 12 double-doubles, it was another junior, Kadance Orozco, whose nearly seven combined steals and assists per night have borne up the Vikings' perimeter game. Nobody stepped up more against Mogollon, though, than sophomore guard Kai Mortensen. The top-five free-throw shooter in the conference hit 8 of 8 against the Mustangs to lead all scorers with 19 points. To protect home court, Mortensen and the rest of the Vikings will need to protect the ball from Desert Christian junior guard Dayna Han. Her 3.9 steals per game rank seventh in the 1A Conference, spurring the Eagles' five-game winning streak entering their regional tournament.
Top seed Mohave Accelerated avenges title game loss to earn top 1A boys seed
Senior Night, head coach Scott Neal's Mohave Accelerated Learning Center boys team fulfilled a long-awaited victory. Last February, the Patriots had lost just once leading up to their 1A championship game against another one-loss program, North Valley Christian Academy. The Lions' 65-48 defeat of the Patriots, in a game that was not that close, roused the voices of skeptics doubting MALC's quality.
The program silenced those skeptics going away Feb. 2, 81-55, capturing the regular-season West Region title over the Lions and wrapping up the top 1A seed as the conference's only remaining undefeated team at 18-0. Although all-conference seniors Aden Honegger and Josh Neal have been the standout contributors to the team statistically–combining to average 28 points per game–the Mohave Accelerated attack is more balanced this season. Assist leader Lucas Leslie also continues to score more than 10-and-a-half points per game, while 6-foot, 6-inch fellow junior Tyson Banks adds eight-and-a-half to go with six boards a night to pull his weight in the post.
Add senior forwards Owen Davis and Steven Lopez to a nine-player rotation in which nobody plays more than three quarters a night, and it amounts to a fresh, hungry team that may be just a win over second-ranked, 17-1 Tempe Prep away from its first state title in program history…
The Patriots' success did come at a cost–to Salome, which was slotted in the 1A tournament as the 16th and final seed even after the Frogs' three-game January losing streak. This included an 18-point blowout at home to the Patriots prior to a 57-39 loss in the Lions' den five days later.
Still, with Mogollon and El Capitan guaranteed a first-round home game Tuesday, Feb. 8, and Joseph City still in the running for a host seed, Northern Arizona will have at least three powerful home courts in the Frenzy's first round. Add, after its first four years of futility, BASIS Flagstaff to the mix for the second straight season as a No. 12 seed, and St. Michael taking Rez ball on the road with nothing to lose at Tempe Prep, and the North is poised to make some first-round noise…
1A Conference Boys Basketball Tournament- First Round
16. Ray [13-5, 2-5 East, sixth] at 1. Mohave Accelerated Learning Center [18-0, 9-0 West, first]*: The Patriots can rub North Valley Christian's nose in its loss by handing the defending 1A champs a second straight one on their home court Saturday, Feb. 5, with another win over the Lions in the West Region tournament. It would be a flex of sorts for the Patriots over the conference after having lost five times to 2A through 4A opponents in two earlier holiday tournaments. It would certainly be a more convincing statement than the Feb. 8 bloodbath imminent against likely first-round opponent Ray, which needs to avoid the infinite trajectory of its geometric namesake and keep the game close by feeding Tracon Naranjo. The senior wing is 1A's sixth-leading scorer with a 20.7 points-per-game average. After 20 games against conference opponents, though, Neal's Patriots are still searching for that close test. Ray, with just three other seniors and nine other players total on its roster, is doubtful to provide it.
15. St. Michael [13-6, 9-1 North, first]* at 2. Tempe Prep [17-1, 7-0 East, first]*: COVID-plagued Shonto Prep surprised the Notes by returning, after nearly a week off, for just its fifth and sixth games of the season at St. Michael in the Grizzlies' season-ending doubleheader Friday, Feb. 4. The Cardinals spared them little in the first game, 69-25, and even less in the nightcap. Shonto Prep capped a winless season by falling, 117-10. An experienced, quick group of five seniors engineered this devastation, led by first-team all-region forward Dayshon Dalgai, second-team all-region guard Matthew Herrera and honorable mention point guard Trey Holgate. Head coach Joshua Thompson hopefully is enjoying the moment, however, as Tempe Prep is looking to send a statement of its own against his team in the first round. After the Knights' lone non-tournament loss Jan. 18, 73-51 at home to independent Highland Prep, they have reeled off seven straight wins behind senior all-region first-team wing Gabriel Huerta-McWhirter. Another upperclassman just an inch shorter, shooting guard James Philipps, is looking to graduate from his second-team all-region status, while junior honorable mention forward Nolan Bailey and senior guard Tyrone Jordan round out a top four and that has devastated 13 of its 16 opponents in January and December from 16 to 60 points. The Knights' lone loss was in its gym, though–so the Cardinals do have hope, if not surprise, on their side.
13. Cicero Prep [9-9, 4-3 East, fourth] at 4. Mogollon [15-2, 13-0 Central, first]*: Remember Cicero a year ago? The Centurions, in overtime in their home gym, toppled Mohave Accelerated Learning Center for the Patriots' only loss Feb. 20 on their way to the 1A championship game. Since then, though, Cicero Prep has gone just 14-16, squeaking by Mogollon in its last first round, only to see karma come back around on itself in a 13-point quarterfinal loss to the Patriots. Perhaps first-year head coach Rafik Henderson can make the first-round magic strike twice against the Mustangs, who haven't lost in 2022, coming back from an eight-point fourth-quarter deficit to survive a squeaker of their own Feb. 2 in Williams. Senior post Tyler Owens had 11 rebounds, seven points and two blocked shots to supplement a game-high 28 by sophomore point guard Kyson Owens, who hit 3 of 6 three-point tries and 5 of 6 from the free-throw line. But the two 1A assist leaders needed another 10 from junior shooting guard Blayk Kelton to seal the deal, which means anything could happen–in a neutral environment. On first-year head coach Mckay Slade's home court, he has lost to just three 3A teams this season. Two of those were in his home tournament. Plus, the Centurions are scarcely a trace of the team they were a year ago, having to win 5 of their last 7 to pull out of a January nosedive in which they lost 5 of 7 previous games by double digits. They will need their best game of the year, or at least a repeat performance of their 58-38 win Thursday, Feb. 3, at No. 8 seed Hayden, to pull off the first-round road upset.
12. BASIS Flagstaff [12-4, 10-4 Central, third] at 5. North Valley Christian [14-4, 8-1 West, second]: With seven double-doubles already, senior all-conference Honorable Mention Marcus Dufek has led the Yeti to wins in their past four games–including a seven-point win Feb. 1 at Williams, in which he led all scorers with 20. Dufek's eight rebounds and four steals complemented fellow upperclassman Brady Spinti, whose eight boards added to his Top 10 conference average in rebounds, to go with nine assists. Junior Evan Hofstetter's six steals added to his 3.7 nightly average, ninth in 1A, and yet for their pains, Basis will open its postseason Feb. 8 at the defending 1A champions. Coach of the Year Randy Walker no longer has all-conference son Josh or Player of the Year Braeden Roberts to fall back on. Who he does have is a trio of tall juniors, including forwards Riley Mergerner and Eli Savoury, who combine for eight-and-a-half points and nearly five rebounds a game. An inch taller than any of those three, however, is 6-foot, 5-inch sophomore Cameron Rice, who averages over 11 points a night along with nearly four rebounds. Another six-foot-plus sophomore, guard Austin Kraemer leads the team in boards with 6.4 per game, adding eight points to supplement Jethro Maerina's nearly three steals and nine points per game, helping keep perimeter defenses honest. The X factor for the Lions in the postseason, though, will be freshman guard Bobby Rodriguez. After an amazingly consistent debut season in which he averaged nine-and-a-half points per contest along with three assists, three-and-a-half rebounds and nearly three steals, if he can push through that freshman wall, the Lions will be dangerous again in the tournament.
10. Desert Christian [15-3, 3-0 Tucson, first] at 7. El Capitan [14-2, 7-1 North, second]: This first-round matchup is almost too much. If anybody can find a longer in-state road trip a team has undertaken this season than the Eagles will go through to reach El Capitan, let me know and I'll shout you out specifically in my next column. Perhaps even a t-shirt that starts with, "I drove from Tucson to Colorado City and all I got was this…". Either way, I don't think you're going to find it, as the Eagles could probably fly faster than the 16-hour, 1,000-mile round trip portends. If head coach Iram Alday's team, featuring 1A top 10 rebounder and shot blocker Tyrel Lasater, overcomes that lag enough to gut out the upset, it can do anything in this tournament. Especially when this game comes barely a week after Lasater, a 6-foot, 4-inch, senior center, and his teammates needed two overtimes to win by four points Tuesday, Feb. 1, at 14th-ranked Duncan. El Capitan junior leading rebounder Solomon Barlow will have his hands full with Lasater, while senior Luke Holm will have the primary defensive assignment on five-and-a-half-foot tall guard Adam Vavala. The Desert Christian sophomore is the fourth-best assist man in the conference, averaging four per game–mostly to senior guard Rielly Joyal at a 13.8 point clip. The trio spark the kind of team never seen before by head coach Derek Stransky, whose best team in school history can continue its season after returning Saturday, Feb. 5, from its finale at Red Mesa with another high scoring game from prolific senior guard Isaiah Bradshaw.
9. Joseph City [16-5, 12-2 Central, second] at 8. Hayden [10-5, 3-4 East, fourth]: Winners of seven straight, head coach Eric Miller's Wildcats are on a roll, outscoring their last four opponents by an average of more than 36 points. Son Jareon, a junior guard, and senior Karter Lampsa aren't afraid to chuck it from deep, combining for 118 three-pointers to rank third and fourth in 1A, respectively. With junior Bannon Johnstun also scoring in bunches, sharing a top place in the conference in steals per game with senior Tyler Penrod, host Hayden may be hard-pressed to halt the hail of hoops. Unless, of course, someone were to take over the interior. Someone like 6-foot, 3-inch post Isaac Castillo, who leads the team with an 18.2-point scoring average. The junior, with eight double-doubles this season, is fourth in 1A in rebounds with 10.7 per game. Sophomore guard Deondre Collier's steal-per-game average can outdo even Johnstun and Penrod. The Lobos are looking to remove a bad taste from their mouths after their Senior Night blowout loss to Cicero Prep. If junior forward Brandon Garner can get to the line for more than his average, they can.
Next Time
Northern Arizona's 2A, 3A and 4A postseason players are projected in my early take on the Selection Show, Forecasting the Frenzy: Part II. Will 3A's No. 2 girls seed Page have enough on its Senior Night, Tuesday, Feb. 8, to handle hungry 2A top seed contender Sedona Red Rock and vault into the conference top spot? Will the Camp Verde boys finish their season as 3A's only undefeated team after consecutive games at No. 11 Northwest Christian and against fifth-ranked Fountain Hills? The Grand Canyon Region girls race belongs to Flagstaff, but can the Eagles take over the top 4A seed with a win at Deer Valley? Just how good is their runner-up in the Grand Canyon Region, Lee Williams? Who emerged the best from the three-team boys Thunderdome between the Eagles, Coconino and Prescott? Badgers senior Jason Parent is the state's top field-goal shooter and fifth-leading scorer. Flagstaff counters with 4A's second-leading rebounder, 6-foot, 8-inch, 250-pound upperclassman Nick Morrow. Their cross-town rival, the Panthers, have one of the top international 17-year-olds in 6-6 New Zealand shooting guard Rufus Rusholme Cobb. Each team is 2-1 against the other two. Something's got to give by their Tuesday, Feb. 8, regular-season finales. Tell me how you think it will go down on Facebook and Twitter at @ProfGWerner, or email me at gwerner@azpreps365.com.