Girls Wrestling Sectional Results
February 5, 2022 by Andy Morales, AZPreps365
---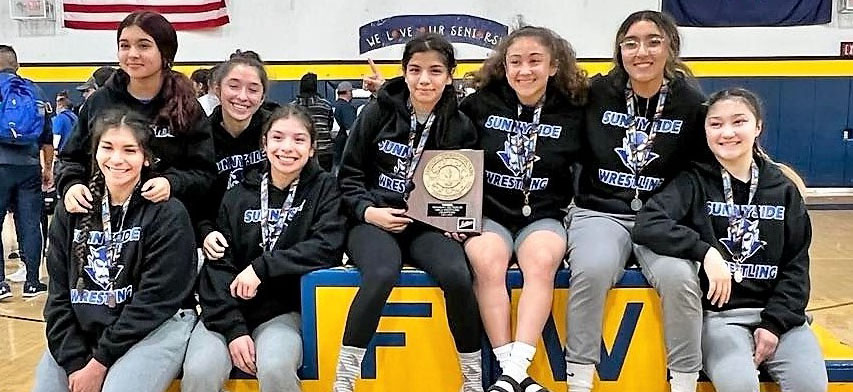 192 athletes from Arizona qualified for the 2022 Girls Wrestling State Championships on Saturday after finishing in the top two in their respective weight classes at the various sectionals held in the state.
The state tournament is scheduled to take place at the Arizona Veterans Memorial Coliseum starting on Friday, Feb. 18 and the finals are scheduled for Saturday, Feb. 19 at 5 p.m. The brackets will be completed on Sunday, Feb. 6.
The eight sectionals held "True Second" matches to determine the second state qualifier. In all, this rule resulted 14 qualifiers.
WE PRESENT TO YOU!
2022 Sectional Champions!
Led by 6 Sectional Champions
Bella Bocanegra
Lola Hunt
Lily Hunt
Taylor Colangelo
Bridgette Sotomayor
Claire Avery pic.twitter.com/x3AuxBmj4H

— LIBERTY WRESTLING (@LWC_Program) February 6, 2022
TWO-TIME STATE CHAMPIONS
Sierrah Thrun, Corona del Sol (2019, 2020)
Carolina Moreno, Kofa (2019, 2020)
Mia Didur, Centennial (2019, 2020)
Bree Garcia, Goldwater (2020, 2021) - Active
Naomi Norton, Arizona Lutheran (2020, 2021)
RETURNING STATE CHAMPIONS
100: Bella Bocenagra (Liberty) 36-0
107: Audrey Jimenez (Sunnyside) 9-0
120: Trinity Howard (Hamilton) 18-1
120: Adacelli Noriega (Bisbee) 14-1
126: Bree Garcia (Goldwater) 24-1
132: Isabelle Munoz (Casteel) 34-0
138: Camry Carter (Casteel) 20-2
165: Nina Sandoval (Campo Verde) 12-0
185: Stefany Valencia (Westwood) 33-1
235: Charry Benecke (Winslow) 25-1
2022 TOP QUALIFIERS
6: Liberty
5: Casteel, Westwood, Sunnyside, Winslow and Basha
4: Chavez, Hamilton, Mesa and Poston Butte
TEAM CHAMPIONS
2021: Basha (191)
2021 TOP TEN TEAM RESULTS
Basha 191
Liberty 108
Winslow 108
Casteel 107.5
Westwood 107
Centennial 91
Willow Canyon 73
Peoria 53
Canyon View 45
Canyon Del Oro 41.5
2021 INDIVIDUAL STATE CHAMPIONS
106: Bella Bocenagra, Liberty
113: Audrey Jimenez, Sunnyside
120: Trinity Howard, Basha
126: Isabelle Munoz, Casteel
132: Bree Garcia, Goldwater
138: Camry Carter, Casteel
145: Amber R. Rodriguez, Basha
152: Courtney Cardoza, Millennium
160: Nina Sandoval, Campo Verde
170: Trinity Bouchal, Basha
182: Leia Kalk, Winslow
195: Stefany Valencia, Westwood
220: Charry Benecke, Winslow
285: Naomi Norton, Arizona Lutheran
2020 INDIVIDUAL STATE CHAMPIONS
101: Emily Porras of Ironwood
110: Sierrah Thrun of Corona del Sol
118: Adacelli Noriega of Bisbee
125: Carolina Moreno of Kofa
130: Bree Garcia of Goldwater
135: Genesis Higuera of Odessey Institute
145: Taliyah Armstrong of Westwood
160: Angie Ochoa of Maryvale
185: Mia Didur of Centennial
225: Naomi Norton of Arizona Lutheran
2019 INDIVIDUAL STATE CHAMPIONS
101: Lexi Borunda of Shadow Ridge
110: Sierrah Thrun of Corona del Sol
118: Stefana Jelacic of Chandler
125: Julia Chambers of Skyline
130: Carolina Moreno of Kofa
135: Julia Lundberg of North Canyon
145: Jessie McCurry of Deer Valley
160: Jennifer Curry of Hamilton
185: Mia Didur of Centennial
225: Danni Schulz of Mingus Union
SECTION I AT WESTWOOD
TEAM SCORES
1 Westwood 128
2 Casteel 127
TOP TWO INDIVIDUAL QUALIFIERS
100: Arianna Sarrett (Morenci) 10-2, Jr. over Mia Espalin (Casteel) 24-11, Fr. (Fall 0:24)
107: 1: Opal Jarman of Mesa. 2: Maggie Marsh of Casteel
114: Darwin Dewitt (Red Mountain) 32-4, Sr. over Kailey Cisneros (Mesa) 24-10, Fr. (Fall 2:34)
120: Andie Donahue (Valley Christian) 9-0, So. over Wiseon Hwang (Desert Vista) 23-10, Jr. (Fall 2:33)
126: Anneliese Kisting (Casteel) 30-4, Jr. over Neve Barragan (Mesa) 25-4, Sr. (Fall 2:47)
132: Isabelle Munoz (Casteel) 34-0, Jr. over Haille Hernandez (Marcos De Niza) 16-5, Jr. (Fall 1:00)
138: Camry Carter (Casteel) 20-2, Sr. over Aaliayah Bonds (Mesa) 8-2, Sr. (Fall 1:59)
145: Taliyah Armstrong (Westwood) 32-0, Sr. over Ana Jovanovic (Corona Del Sol) 4-3, Jr. (Fall 2:13)
152: Vanessa Paredes (Westwood) 22-5, Fr. over Aishiauna Logan (Red Mountain) 4-16, Jr. (Fall 2:14)
165: Hannah Kelter (Westwood) 27-3, Sr. over Amanda Yu-Ramirez (Desert Vista) 17-12, So. (Fall 3:29)
185: Stefany Valencia (Westwood) 33-1, Sr. over Taina Uasike (Skyline) 17-7, Fr. (Fall 1:30)
235: Reina Dailey (Dobson) 9-4, Jr. over Desiree Hall (Westwood) 17-9, So. (Fall 0:43)
SECTION II AT MOON VALLEY
TEAM SCORES
1 Cesar Chavez 127
2 North 82
TOP TWO INDIVIDUAL QUALIFIERS
100: Akshaya Lord (North) 24-5, Jr. over Amy Ramirez (Arizona Lutheran) 11-2, Fr. (Fall 5:52)
107: Llesenia Ochoa (Westview) 20-3, Fr. over Kayla McNatt (North) 20-10, Fr. (Dec 11-7)
114: Nayeli Hernandez Cruz (Copper Canyon) 5-1, Jr. over Alaine Dodson (OIAIS) 8-9, Fr. (Fall 1:23)
120: 1: Nalley Hernandez Quijada of Copper Canyon. 2: Nataly Atilano of The Odyssey Institute for Advanced and International Studies
126: Alena Garcia (Cesar Chavez) 1-2, Fr. over Samantha Tynan (OIAIS) 5-7, Fr. (Fall 0:44)
132: Jamie Laswell (Cesar Chavez) 7-0, So. over Karina Martinez (Maryvale) 2-1, Sr. (MD 9-0)
138: 1: Julie Acuna of Tolleson. 2: Averie Miller of Cesar Chavez
145: Allison Chavez (Westview) 16-10, Fr. over Karen Garcia (Copper Canyon) 2-5, Sr. (Fall 2:27)
152: Genesis Higuera (OIAIS) 21-0, Sr. over Valeria Gonzalez Campos (Westview) 18-4, Sr. (Fall 3:43)
165: April Sanchez (Tolleson) 33-6, Sr. over Aime Perez (Central) 14-2, Jr. (Fall 3:28)
185: 1: Amya Estrada of Cesar Chavez. 2: Fernanda Villanueva of Trevor Browne
235: Alexzandria Morales (North) 22-1, Sr. over Alexis Garcia (Sierra Linda) 11-3, Sr. (Fall 1:19)
SECTION III AT FLOWING WELLS
TEAM SCORES
1 Sunnyside 105
2 Pueblo 70
TOP TWO INDIVIDUAL QUALIFIERS
100: Tatiana Hernandez (Sunnyside) 14-1, Sr. over Luciana Chavez (CDO) 27-5 (Fall 1:37)
107: Audrey Jimenez (Sunnyside) 9-0, So. over Destiny Pogue (Pueblo) 23-3, Sr. (Fall 0:48)
114: Sophia Gilbert (CDO) 26-3 over Miyah Palacios (Sahuarita) 18-3, So. (Dec 4-3)
120: Adacelli Noriega (Bisbee) 14-1, Jr. over Aysha General (Buena) 16-6, So. (Fall 2:47)
126: Jade Armstrong (Sunnyside) 11-4, Fr. over Anika Rodriguez (Pueblo) 8-4, Sr. (SV-1 14-12)
132: Mylei Seigla (Canyon Del Oro) 31-0 over Soleil Ponce (Sunnyside) 13-5, Fr. (Fall 5:56)
138: 1: Dalien Duarte (Pueblo) 2: Lahtahjah Cooper (Tucson)
145: Lillian Gradillas-Flores (Mtn View) 24-1, So. over Jenell Rodriguez (SS) 10-5, So. (Fall 2:40)
152: Ysela Gradillas-Flores (Mtn View) 22-1, Sr. over Makayla Roebuck (Marana) 14-5, Jr. (Fall 2:46)
165: Roxana Martinez (Buena) 16-3, Jr. over Ally Bonura (Cienega) 9-7, Sr. (Fall 4:44)
185: Davia Henry (Marana) 20-5, Jr. over Alexus Beans (Mica Mountain) 7-2, Sr. (Fall 0:45)
235: Ariselma Alvarez (Flowing Wells) 12-5, So. over Arianissa Guitard-Arvizu (Rincon) 0-1, Jr. (Fall 3:51)
SECTION IV AT WINSLOW
TEAM SCORES
1 Winslow 135
2 Round Valley 105
TOP TWO INDIVIDUAL QUALIFIERS
100: Jennifer Alcott (Monument Valley) 27-1, Sr. over Haley Heath (Show Low) 11-14, Jr. (Fall 2:00)
107: 1: Esperanza Day of Window Rock. 2: Reagan Jaramillo of Round Valley
114: Riley Davila (Winslow) 26-0, Sr. over Jiiniibah Redhorse (Window Rock) 12-8, Sr. (Fall 3:40)
120: Tatum Estrada (Winslow) 26-6, Fr. over Becynthia Bryant (Shonto Prep) 8-10, Fr. (Fall 0:24)
126: Lyndsay Thomas (Ganado) 23-15, So. over Leah Reed (Page) 9-7, Sr. (Fall 3:41)
132: Aleana Cricks (Mingus Union) 9-1, Sr. over Ty Kescoli (Pinon) 21-5, Sr. (MD 12-1)
138: Sierra Aho (Holbrook) 27-6, Jr. over Riley Quetel (Round Valley) 17-7, So. (Fall 0:47)
145: Lorilee Begay (Monument Valley) 25-2, Sr. over Sonora Harper (Round Valley) 17-5, So. (Fall 2:50)
152: Elyna Lopez (Winslow) 28-1, Sr. over Ciana Jones (Page) 7-3 (Fall 3:09)
165: Nova Ragnoli (Winslow) 15-2, Sr. over Angel Clark (Page) 5-3, Jr. (Fall 0:02)
185: 1: Sidney Finch of Round Valley. 2: Melaine Kescoli of Monument Valley
235: Charry Benecke (Winslow) 25-1, Jr. over Nikayla Wagner (Chinle) 14-2, Sr. (Fall 1:17)
SECTION V AT AZ COLLEGE PREP
TEAM SCORES
1 Basha 132
2 Poston Butte 103.5
TOP TWO INDIVIDUAL QUALIFIERS
100: Anika Barker (Hamilton) 20-3, Sr. over Kairi Kutyba (Poston Butte) 21-13, Fr. (Fall 4:43)
107: Adriana A. Gomez (Basha) 43-4, Jr. over Jade Hackett (Hamilton) 18-6, Jr. (Fall 1:32)
114: Liliana Voakes (Poston Butte) 24-7, Jr. over Bella Terrian (Campo Verde) 16-5, Fr. (Fall 1:20)
120: Andee Anderson (Basha) 33-3, So. over Trinity Howard (Hamilton) 18-1, Sr. (Fall 3:04)
126: Kathryn Sims (Campo Verde) 13-5, Jr. over Amiya Hernandez (Perry) 15-6, So. (Dec 6-2)
132: Piper Cadden (Gilbert) 17-1, Jr. over Alexis Gaitan (Poston Butte) 27-8, Sr. (Dec 13-6)
138: Kylee Wright (Poston Butte) 23-9, Jr. over Briana Quiroz (Casa Grande) 11-7, Jr. (Fall 3:57)
145: Gabriella Majewsky (Hamilton) 30-5, Sr. over Sienna Whitington (Arizona College Prep) 23-10, Fr. (Fall 2:21)
152: Arianna Mauch (Perry) 13-3, So. over Vida O`Brien (Basha) 16-9, Sr. (Fall 1:01)
165: Nina Sandoval (Campo Verde) 12-0, Sr. over Tylee Payne (Benjamin Franklin) 11-10, Sr. (Fall 0:09)
185: Christina Chavez (Arizona College Prep) 26-5, Jr. over Hannah Gertis (Basha) 21-5, Sr. (Fall 2:00)
235: Gwen Nestoff (Basha) 17-11, Sr. over Navarro Barrera (Mesquite) 5-5, So. (Fall 3:34)
SECTION VI AT MOON VALLEY
TEAM SCORES
1 Moon Valley 124
2 Washington 84
TOP TWO INDIVIDUAL QUALIFIERS
100: Emily Porras (Ironwood) 12-1, Sr. over Raquel Nowakowski (Kellis) 19-4, Jr. (Fall 0:23)
107: Adriana Barron (Washington) 20-0, Sr. over Adilynn Stewart (Cactus) 16-7, So. (Fall 4:55)
114: Jussiah Bamba (Peoria) 20-0, Fr. over Alyssa Dillion (Centennial) 23-13, So. (Fall 0:46)
120: Janessa Porras (Ironwood) 23-1, Fr. over Tawni Gomez (Moon Valley) 9-2, Sr. (Fall 1:36)
126: 1: Adrianna Lloyd of Centennial. 2: Samantha Lucero of Washington
132: Isis France (Sunnyslope) 33-0, Fr. over Shayla Nguyen (Apollo) 13-12, Jr. (Fall 0:39)
138: Shi`anna Bamba (Peoria) 22-0, Jr. over Luna Gabow (Washington) 16-2, Sr. (Fall 3:31)
145: Taylor McManus-Sanchez (Sunnyslope) 25-2, Jr. over Katy Madril (Greenway) 9-5, Fr. (Fall 3:57)
152: Maya Washburn (Moon Valley) 10-2, So. over Melissa Hernandez (Kellis) 16-8, So. (Fall 1:04)
165: Melina Cruz-Perez (Greenway) 6-1, Sr. over Charleigh Harder (Cactus) 13-6, Jr. (Fall 3:10)
185: Nylease Yzagere (Peoria) 20-2, So. over Taylor Phillips (Centennial) 28-10, Jr. (Fall 0:57)
235: Elina Quesada (Sunrise Mountain) 6-4, So. over Alani Warr (Moon Valley) 5-4, Jr. (Fall 4:00)
SECTION VII AT SHADOW RIDGE
TEAM SCORES
1 Liberty 150.5
2 Barry Goldwater 74
2 Willow Canyon 74
TOP TWO INDIVIDUAL QUALIFIERS
100: Bella Bocenagra (Liberty) 36-0, Jr. over Amethyst Baek (Goldwater) 23-4, Sr. (Dec 9-2)
107: Lola Hunt (Liberty) 27-6, Fr. over Jazmine Rivera (Willow Canyon) 28-7, Jr. (Fall 4:24)
114: Alannah Rogers (Willow Canyon) 20-5, Sr. over Ashley Gaccion (Pinnacle) 27-11, So. (Fall 2:59)
120: Brianna Reyes (Valley Vista) 20-1, So. over Rachel Green (Goldwater) 12-5, So. (Fall 0:10)
126: Taylor Colangelo (Liberty) 42-2, So. over Bree Garcia (Goldwater) 24-1, Sr. (Dec 5-4)
132: Bridgette Sotomayor (Liberty) 26-7, Jr. over Angelina Quintero (Shadow Ridge) 24-4, Jr. (MD 13-5)
138: Lily Hunt (Liberty) 43-4, So. over Danica Smith (Mountain Ridge) 17-8, Fr. (Fall 3:42)
145: 1: Syria Smith of Goldwater. 2: Angie Ramos of Wickenburg
152: Claire Avery (Liberty) 39-4, So. over Kaitlin Simmons (Mountain Ridge) 14-5, So. (Fall 1:29)
165: 1: Honey Cabrera of Paradise Valley. 2: Katelyn Capper of Deer Valley
185: Jessie McCurry (Deer Valley) 19-1, Sr. over Hayley Brown (Valley Vista) 7-12, Fr. (Fall 1:49)
235: Nyurka Hardeman of North Canyon
SECTION VIII AT BUCKEYE
TEAM SCORES
1 Gila Ridge 123
2 Buckeye Union 100
TOP TWO INDIVIDUAL QUALIFIERS
100: Kennedy Farrar (Gila Ridge) 19-2, Fr. over Divina Diaz (Yuma) 11-3, So. (Fall 3:17)
107: 1: Kristina Flores of Canyon View. 2: Adianna Ponce of Parker
114: Taytum Stuhr (Buckeye Union) 11-4, So. over Sevanna Aguirre (Youngker) 16-4, Fr. (Fall 2:59)
120: 1: Skylar Moreno of Verrado. 2: Audrey Hernandez of Canyon View
126: 1: Vanessa Aguirre of Youngker. 2: Nevaen Flemmons of Lee Williams
132: Jana Hernandez (Canyon View) 15-5, Jr. over Clarice Pavon (Gila Ridge) 11-6, Sr. (Fall 1:32)
138: Jaymi Baker (Gila Ridge) 16-3, Sr. over Abigail Atibagos (Kingman) 6-2, Jr. (Fall 3:38)
145: Issis Stevens (Kofa) 22-0, Jr. over Eden Gilliland (Buckeye Union) 13-4, Jr. (Fall 0:58)
152: Ravine Nerva (Kofa) 13-4, Sr. over Quetzali Zacaria (Agua Fria) 7-7, So. (Fall 2:49)
165: 1: Payton Kessler of Gila Ridge. 2: Alisah Smith of Agua Fria
185: Lauren LaBrew (Verrado) 14-3, Fr. over Yohena Silva (Gila Ridge) 0-4, Sr. (Fall 3:44)
235: Payton Welt (Mohave) 12-5, So. over Marianna Reyes (Cibola) 10-3, Sr. (Fall 4:00)