Notes from the North: Forecasting the Frenzy, Part II
February 12, 2022 by George Werner, AZPreps365
---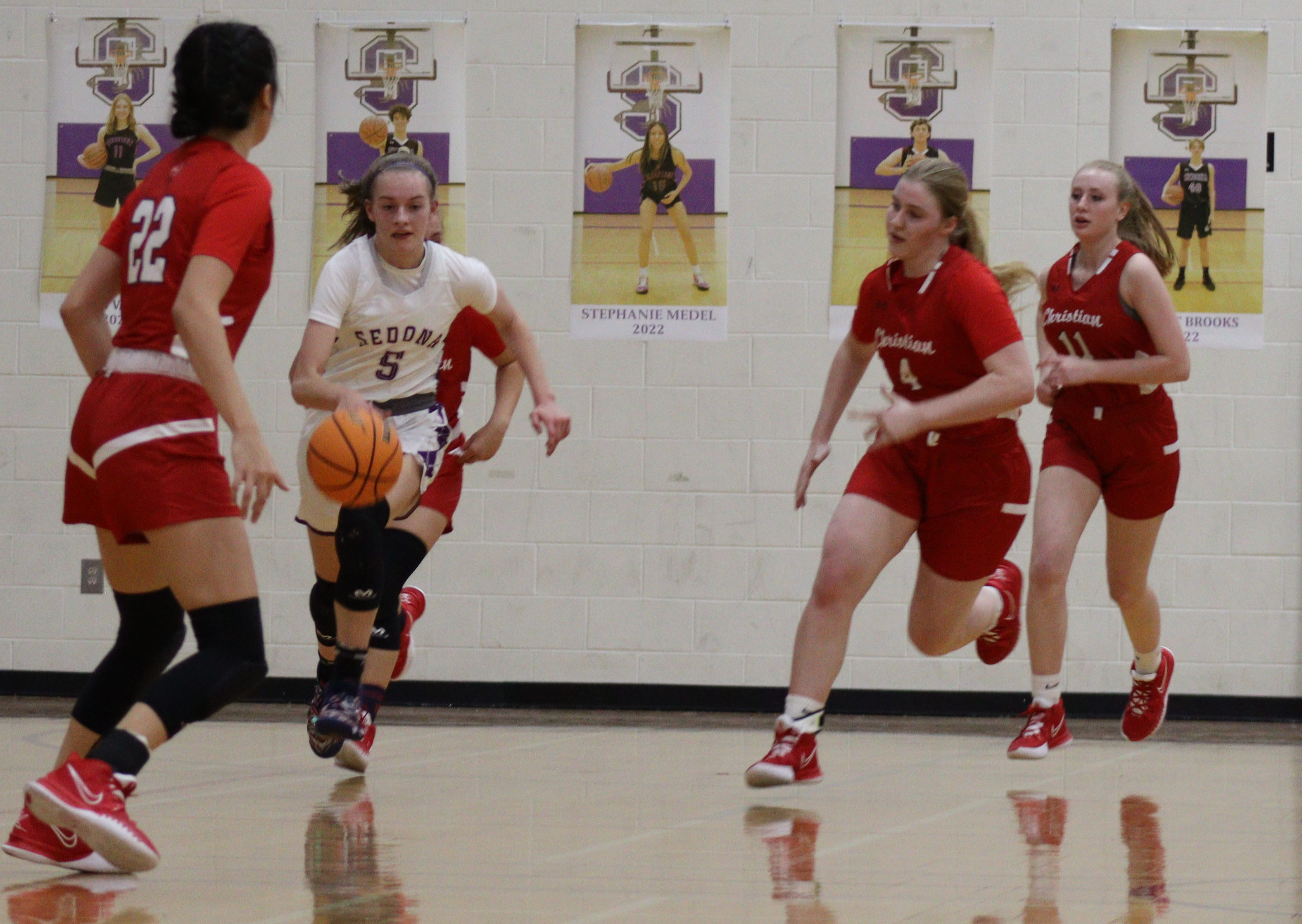 Welcome to the Frenzy: Hope your playoff seeds are secured.
They certainly are in Flagstaff, where the Eagles are the only 4A Conference team in Northern Arizona to open the postseason hosting both boys and girls tournament games. The No. 14 boys already are scouting potential third seeds to travel to for their second-round matchup–the Notes are leaning toward two-loss Deer Valley, whose girls team handed the top-8 seed Eagles just their second regular-season setback–after a solid 80-71 opening win over 19th seed Buckeye Union.
It was a prolific bounce-back victory for head coach Nick Walton and his seven-player rotation, six of whom are upperclassmen, following a 67-54 loss Tuesday, Feb. 8, to No. 10 seed Coconino in the de facto Grand Canyon Region championship game.
Senior guards Mitchell Jacobson and Rufus Rusholme Cobb led four players in double figures with 13 points apiece against their in-city rivals, who saw starting guards Max Fritsch and Nick Sneezy combine for 36 against the Panthers.
The rest of the team, however, shot barely 30 percent from the floor and got outrebounded by 15, sparking concern for the source of playoff points.
Fortunately, Fritsch and Sneezy proved to be anything but allergic to tournament production, combining for 16 of the Eagles' 18 fourth-quarter points Thursday, Feb. 10, to put away the Hawks.
Coconino, for its part, won its 21st game overall and 14th out of its last 15 games in the new year, 66-56 over No. 23 Mica Mountain. The Panthers join 1A schools El Capitan, Joseph City, Mohave Accelerated Learning Center, Rock Point, Salome, St. Michael and dual play-in winner Mogollon as programs to make it out of a largely successful opening week of the postseason so far for Northern Arizona, with a championship game entrant from the region already guaranteed from the 1A girls bracket.
In fact, of the region's host seeds, only the eighth-ranked Bagdad girls have been eliminated thus far as Heber's Mustangs held the Sultans to just 13 points, their second-lowest total of the season, in a 16-point loss Feb. 9.
Expect that to continue against Rio Rico High School with Lee Williams, featuring one of 4A's top rebounders and free-throw shooters in head coach Jerry Arave's daughter Rebecca. The junior power forward practically averages a double-double, even when her team is held well below its scoring average, like it was Friday, Feb. 4, in the Volunteers' only region loss not to Flagstaff, 32-29 at 15th-ranked Bradshaw Mountain High School.
Junior guard Ellie Bennett's 15 points lifted the Bears, who likely must travel to Salpointe Catholic in Tucson even with a home win Feb. 11 over Peoria.
Flagstaff High School and rival Coconino were just the top pair of five first-round hosts from Northern Arizona in the 4A playoffs, with up to 20 automatic and at-large bids from the 2A and 3A top 16 expected to join them beginning at 8 a.m. Saturday, Feb. 12, in Banner Sports Medicine's live Bracket Release Show.
Expect Camp Verde to top the 3A boys seeds with a win over fifth-ranked Fountain Hills--and get the second seed with a loss. Also, the Winslow and Sedona Red Rock girls should securely anchor the 3A and 2A second seeds, respectively. Postseason play in these conferences begins with opening-round matchups at the higher seeds Tuesday, Feb. 16.
Keep the hot takes coming with any teams you feel are playoff-worthy entering the season's final month, with any comment you care to add. Let's see how close we are before Saturday's Selection Show.
Red Rock revs up on the road; Valley (Sanders) hangs on
After Sedona Red Rock High School's first-ever victory at state girls basketball defending champion Page, head coach Kirk Westervelt couldn't help but rave to the Notes about his undefeated, second-ranked Scorpions.
"I'm extremely proud of the entire team," he said after the 40-35 victory, one achieved in spite of 6-foot, 2-inch starting center Rachel Roderick fouling out. "Hard work pays off."
A 7-0 start and a first half in which Page's 3A Player of the Year, Miquedah Taliman, was held to just one field goal, proved to be enough to hold off the Sand Devils, who must look to their regional tournament to halt a three-game losing streak. Westervelt lauded the fourth-quarter play of Defensive Player of the Year Stephanie Medel as well as the clutch shooting of guards Annabelle Cook and Nyah Valdez.
But St. Johns isn't going anywhere. The fourth-ranked Redskins only have their one Freedom loss to Chinle holding them back from joining the Scorpions, top seed Pima and fellow undefeated St. John Paul II Catholic in Veterans Memorial Coliseum for the 2A Final Four on Friday, Feb. 25.
Nobody else comes close in 2A until 14th-ranked Valley (Sanders), winners of its final eight regular-season games but who also has 17th-ranked Ganado and 18th-ranked host Round Valley to overcome at its North Region tournament in order to host a play-in game. Senior guard Erin Mitchell had 15 points and 10 rebounds against St. Johns and will likely be relied upon for those continued numbers every game in order for the Pirates to survive and advance.
The Pirates have been gamely hanging on to a No. 15 seed in the 2A boys rankings as well, losing only in the Dome to the 18th-ranked Elks in 2022. They will likely face off for the championship of the regionals, with a play-in host seed at stake.
Seniors Trajon Bizardi and Kyler Tabaha, along with junior Joshua Begay, pace Valley's offensive attack. Bizardi has had 30-point nights, which he may need at Round Valley to counter the Elks' leading scorer, junior Trey Merrill.
Snowflake on backs of Alchesay, Holbrook, Page and other 3A top five seeds
There is no other way to say it: The Snowflake Lobos smell blood. Both boys and girls programs, after a lackluster 2021, have caught fire in the new year, winning 23 of their 26 games to garner top eight seeds–and the first-round byes and 3A home tournament opening games that come with them.
The girls knocked off second-ranked Winslow at home Feb. 9, 44-42, to represent the Bulldogs' only two losses of 2022. Senior guards Kamri Ballard and Austin Stratton are two of the conference's top three players in terms of efficiency, while two of their fellow starters are right behind them.
That doesn't make Holbrook any less dangerous, though, and the sixth-seeded boys proved it. The former 3A top seed spoiled the Lobos' Senior Night in a big way Friday, Feb. 11, earning a share of the East Region title with the 58-57 road win.
Alchesay, the sixth seed on the girls side, can move up and make more noise by continuing to win in the North Region tournament, especially with Window Rock plummeting out of a protected seed after losing to Chinle in the first game of the North regionals. But with fourth-ranked Page fading fast and top-ranked Thatcher notwithstanding, the 3A state girls tournament may belong to the Lobos until another team can cool them off in a one-and-done situation.
On the boys side, Camp Verde remains the North Central Region's best chance at a state title, despite the Cowboys' first loss Senior Night by 15 to fifth-ranked Fountain Hills. Senior guard Chino Salas-Zorrilla and junior post Chito Herrera continue to be 3A's most unstoppable duo, combining for nearly 370 field goals–far and away the most of any two-player combo in the state. But whether the Cowboys would be enough to overtake preseason title favorite Valley Christian, at 17-1 behind top scorer Caleb Shaw, for the top tournament seed is something only the Bracket Show could begin to decide.
3A Conference Girls Basketball Tournament- First Round
24. Camp Verde [8-10, 4-6 North Central, fourth] at 9. Eastmark [15-3, 8-2 Metro, second]; winner to play at 8. Holbrook [12-5, 6-4 East, third]: This seems like a legacy pick, but if it is, it's a well-deserved one. Cowboys head coach and high school principal Mark Showers, after missing his girls' loss to Page due to illness, couldn't be contained and was back on the sidelines Jan. 18–the team's very next game, an eight-point home win over Chino Valley. With the win, Showers attained his 500th victory as a girls basketball head coach and has his team in position to overtake the 23rd and 26th seeds, East Region trailers Blue Ridge and Payson, who have only gone 1-8 against East opponents this season. One of three seniors for Showers, Top 10 conference assist dropper Addy Caballero will lead a rebuilding Camp Verde into a tough Eastmark environment in east Mesa. The Firebirds' first graduating class features 5-foot, 10-inch post Mylie Stones, shooting guard Amelia Barton and dynamic wings Jasmine and Jazzy Jackson. The Cowboys have nothing to lose and everything to gain in this play-in: in this case, a trip to former top-ranked Holbrook to play some Rez ball.
23. Kingman [11-5, 4-4 West, fourth] at 10. Sabino [13-3, 7-1 South, second]: These are two opponents that will be quite unfamiliar with each other. That's probably the way Bulldogs head coach Shirley Gooch likes it. They are paced by a trio of seniors: glass-cleaner Shauntel Crozier, scorer Melody Jackson and dime-dropper Kassidy Strawbuck. They know Kingman Academy and have rocked the cross-town 2A rival by 20-plus points in two meetings. They split region play down the middle this season, including two meetings with 20th-ranked Parker which were decided by less than 10 points total. But they may not be ready for the defense of Sabino head coach James Jackson, which just held South Region champion Pusch Ridge Christian Academy to a single first-quarter point en route to a 45-31 win.
20. Parker [14-4, 6-2 West, second] at 13. Monument Valley [10-7, 6-4 North, second]; winner to play at 4. Snowflake [14-4, 10-0 East, first]*: A first-round exit by the Mustangs in their regionals may send them packing to 18th-seeded Wickenburg, but more likely similar regular-season finishes will determine the play-in match-up here. And these teams do have similar styles, if not competition. Senior Tallia Robledo is a double-double monster in the paint who also had seven steals in a Tuesday, Feb. 8, blowout at the Odyssey Institute. Younger sister Tyra can fill it up from the perimeter, while senior Cassie Sandoval guides the offense. Monument Valley, however, has a seven-player rotation who can do those things, led by senior forward Aiyanna Nash. What is lacking in Kayenta is consistency, winning Feb. 5 in Alchesay by three, only to lose to the sixth-ranked Falcons six days later in regionals by 21. That's what Snowflake has in spades after a slow start. The Lobos have found scoring from Kloah Ulberg and rebounding from fellow sophomore Livi Schneider to take off some of the load assumed in December by seniors Kamri Ballard and Austin Stratton and junior Kadee Penrod.
22. Northwest Christian [9-9, 5-5 North Central, third at 11. Chinle [8-10, 5-5 North, fifth]; winner to play at 6. Alchesay [11-6, 5-5 North, fifth]: One of the more intriguing play-in games could happen when the Crusaders visit the Wildcats. As for Alchesay, a great run in its regional redeemed its top 8 seed after a disappointing fifth-place finish in the regular season. The Falcons run hot and cold, making this tournament a possibly wild ride for head coach Rick Sanchez. When they are on, they've beaten Page, Snowflake, Winslow and even Thatcher in their opener. When they're not, they could be easily taken by Chinle, who split region tilts with the Falcons, home and away, this season. The inside game of senior Aisha Ashley makes the Wildcats go, but she will have her hands full with six-foot, two-inch Crusaders post Katelyn Best and four seniors.
21. Tuba City [4-10, 1-9 North, sixth] at 12. Pusch Ridge Christian Academy [16-2, 9-1, first]*; winner to play at 5. Page [11-5, 8-2 North, first]*: The AIA seeding committee could definitely make the Notes look foolish here after sliding Bagdad up to an eight seed and a first-round home game after the girls won their regional, but I'm sticking with this. Pusch Ridge is the lowest-seeded regional champion for a primary reason: the Lions are untested. Sure, there were two tournament games against Valley Christian and losses to 5A North Canyon and 6A North Canyon. But these don't factor into the power rankings, which document zero conference games against any other top 16 seeds. Tuba City, for all its woes in the new year, has wins over Window Rock, 1A power St. Michael and, the clincher, a 20-point home blowout of Snowflake in December. Any team capable of that is capable of beating anybody in the postseason. Including Page, which needs as many wins in its regional tournament just to bolster its own confidence, if not to feel worthy of a host bye seed despite being led by the conference's Player of the Year, Kada Taliman.
14. Coolidge [13-4, 8-2 South Central, second] at 3. Winslow [14-3, 8-2 East, second]: This is the time to appreciate Winslow's home court, which is cavernous, yet booming, with unique dead spots in its 20th-century wooden floor. And it will prove quite remote and inhospitable to innocent opening-round opponents like the Bears, who may not have seen anything like it outside of their blowout losses at No. 1 Thatcher and Eastmark, where the lone bright spot was senior wing Brooklyn Pablo's double-double. But the Bulldogs overwhelm a star player with defense and too many weapons, led by sophomore shooter Jaci Gonnie, with senior Jayleigh Meyrs and juniors Shaelene Singer and Anysa Tso leading the first wave to the glass. This second season will prove to be a young, talented Winslow team's time to shine.
17. Wickenburg [13-4, 7-3 North Central, second] at 16. Show Low [8-10, 4-6 East, fourth]: In Show Low, it's all about the Brogans. Head coach Mike Brogan has two daughters, senior Kyra and sophomore Kenzie, who have taken care of scoring and rebounding en route to building a solid postseason resume, with wins at Chinle, Eastmark and two over Payson. But Wickenburg's wins may be better, edging Parker, sweeping Camp Verde and whomping on Kingman and Northwest Christian. Plus, head coach Kevin Cushman's daughter Katie, a senior shooting guard, hasn't been so shabby among the 3A statistical leaders herself this season. Plus, the lineup is rounded out by more support along the guard line from seniors Shayla Dailey and Clare Peterson. Unless Brogan can own the paint against the Wranglers, then, this one could go either way.
3A Conference Boys Basketball Tournament- First Round
22. Window Rock [9-8, 5-5 North, fifth] at 11. Thatcher [12-5, 6-3 South Central, second]; winner to play at 6. Holbrook [15-2, 8-2 East, first]*: Hats off to Roadrunners head coach Delmar Johnson, who went into hot Snowflake and cooled off the Lobos, engineering his sixth straight win, 58-57. Junior shooting guard and leading scorer Quentin Thomas led a fourth-quarter comeback down four, with steady support from junior assist man Noah Brown and double-double guys, the Tapahas–Brandon, a junior wing, and Tyler, a freshman forward. They will await either tough out Thatcher or inconsistent Window Rock, with wins at Alchesay, Chinle, Monument Valley and Tuba City but ugly home losses to most of those same teams–and others. Thatcher, for instance, dropped the Fighting Scouts by 36 at home Dec. 16. So there is that.
21. Arizona College Prep [6-12, 0-10 Metro, sixth] at 12. Chinle [13-5, 7-3 North, first]: It seems out of joint to even be discussing a winless regional cellar-dweller making the postseason, much less opening with a play-in at one of the meccas of Rez ball in Canyon de Chelly. But that's the probability here for the Knights, December winners over playoff teams Payson and Coolidge. The Wildcats, who boast their usual quickness which has led to championships of the North Region and their Choice Wireless Classic, should honestly run circles around an Arizona College Prep team happy to be invited.
20. Payson [8-10, 5-5 East, fourth] at 13. American Leadership Academy - Ironwood [9-9, 5-5 South Central, third]: Props to Longhorns head coach Robert Mavis, whose team enters the 3A tournament with confidence after pounding Winslow by 26 to halt a two-game losing streak. The trip to Queen Creek will be something his seven seniors can tell their future families about–if they can pull off the upset of the Warriors, led by 6-foot, 6-inch matchup nightmare Corey Wood. Problem is that Payson is in the postseason on the strength of its regional performance. Upsets haven't really been its thing this year. Still, head coach Ryan McCurdy, who just lost a favored Feb. 11 game by six at San Tan Foothills despite beating the Sabercats a couple weeks earlier, has a team that is vulnerable.
19. Tuba City [9-5, 6-4 North, third] at 14. Northwest Christian [10-8, 6-4 North Central, third]: Despite losing the second round of his regional tournament, Warriors head coach Justin Smith knows how to win. He proved that at Page last season, winning a state title, and he's proven that this season with wins over his former school and Chinle, sweeping Alchesay and Window Rock. There is no player in the conference and only two in the whole state who drop dimes better than junior guard Tayden Arizona, who averages six-and-a-half assists per game.
18. Florence [9-9, 3-7 South Central, fourth] at 15. Show Low [12-6, 7-3 East, third]; winner to play at 2. Camp Verde [17-1, 9-1 North Central, first]*: The word is out on Salas-Zorrilla, but Show Low's 6-foot, 3-inch senior guard Cougar Cooke may be just a shade below him and hungry for more. Cooke, at seventh in the state in three-point shooting, is just two total behind Salas-Zorrilla. But first, he and four other seniors, like Riane De La Cruz and Andre Henderson, must take care of Florence at home, led by junior Brandon Farley, who is just two behind Cooke in the three-point department as well.
17. Benjamin Franklin [7-11, 3-7 Metro, fifth] at 16. Monument Valley [13-4, 7-3 North, second]: You can't teach height, and four of head coach Jonny Magnus' Chargers are walking tall this season–at least six feet or more, to be more specific. But they can't afford to get into an up-and-down game with the Mustangs, or they will slice right through their defense. Senior guard Andrew Sheppard leads this death by a thousand cuts, administered this season at Alchesay, Chinle and Winslow and even at December tournaments to the likes of 4A's Seton Catholic Prep and 5A teams Agua Fria and Mountain View, Marana. Which force will be the stronger to win here will depend on tempo, and the Notes have confidence in the Mustangs to push tempo more.
9. Gilbert Christian [11-7, 5-5 Metro, third] at 8. Snowflake [13-5, 8-2 East, second]: The Lobos had won seven in a row before their Senior Night disappointment against Holbrook, matched only by a two-point loss Jan. 27 at Show Low in which the Lobos had 17 turnovers by steal alone. Gilbert Christian's tournament resume is solid, despite dropping three of their last four regular-season games. The Knights have also beaten Eastmark, Florence, Northwest Christian and Thatcher. Six-foot, six-inch junior forward Max Lightfoot is a national recruiting target for every statistical reason in the book, starting with points and rebounds, where he averages 11-and-a-half and eight a game, respectively. If the Lobos are still licking their wounds from their season finale, Lightfoot has the potential to take over, even at Snowflake.
Next Time
Northern Arizona's second-round winners, losers and survivors are reviewed heading into 1A finals weekend in Prescott. Is this at last the year for the Flagstaff or Sedona Red Rock girls, if not the Camp Verde boys? Tell me how you think it will go down on Facebook and Twitter at @ProfGWerner, or email me at gwerner@azpreps365.com.