Averaging 37.5 points, Arizona high school scoring leader lifts NFL Yet over Desert Heights
February 12, 2022 by Stos Zafiropoulos, Arizona State University
---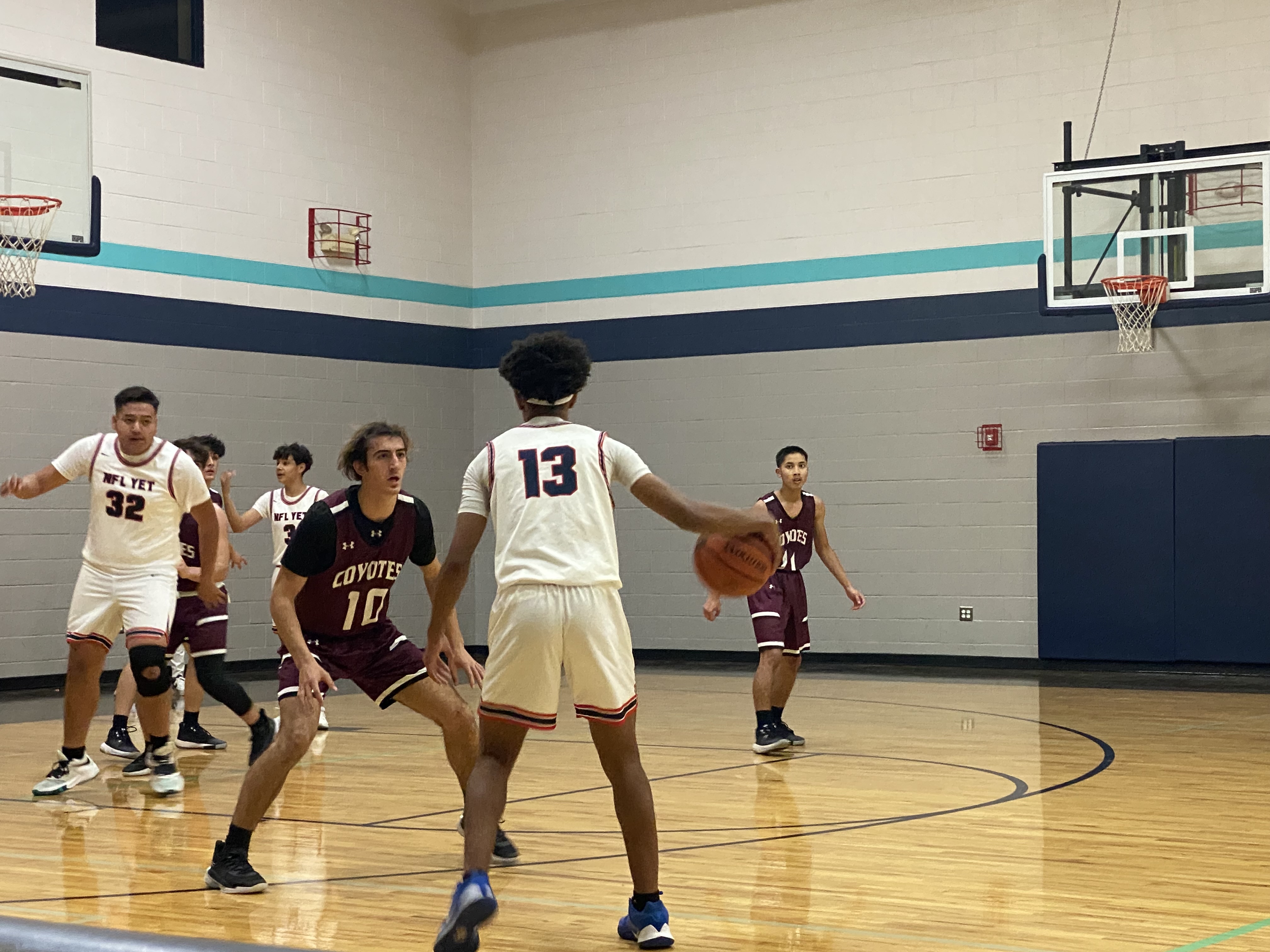 Stos Zafiropoulos is an ASU Cronkite School of Journalism student assigned to cover Desert Heights High School for AZpreps365.com.
The pregame energy between Desert Heights High School and NFL Yet was intense. Speakers shook the inside of the gym. In the hope of a home win after their previous loss to Scottsdale Christian Academy, the Eagles followed Arizona leading scorer Kris Floyd into battle. In the first quarter, Floyd finished with 12 points as the Eagles led Desert Heights 28-18.
"Everybody knows that I'm gonna score a lot. I get double teamed a lot," Floyd said. "Which means [my teammates] are going to be open."
By the end of the first half, four Eagles had scored eight or more points.
"It takes a team to win, so we have to share the ball. That way everyone's morale stays up," said Eagles head coach Humberto Ramirez. "We try to get everybody to touch it."
The Coyotes were down 44-35, slightly narrowing the score thanks to a strong performance from Jacob Hanback. Hanback had 16 points in the first half and finished with 33, the most in the game.
Desert Heights head coach Percy Kincaid praised Hanback after the game. "Hanback is a great kid, man, a good athlete. He's a football player too. He broke his collar bone three consecutive years in a row in football. His first three years were always a struggle and this is his senior year, so he is finally actually getting a chance to play a full season and being healthy."
Unfortunately for the Coyotes, the Eagles heated up and outscored them by 10 points in the second half, soaring to a 19-point victory. Floyd scored 25 in the game and remained the Arizona leading scorer, averaging 37.5 points per game. Abel Ruiz scored 18, while Zeph Cox and Nafis Jacobs ended with 15 each.
As the Eagles build off this win, they want to improve a number of things including, "teamwork, sharing the ball a bit more, and staying defensively locked in," Ramirez said.
Kincaid said his team is young and has some growing to do.
"They play way faster in their head than the actual game is moving," he said. "This is their first time being in this system, so they are learning."
The 85-66 Eagles' win drops the Coyotes to 1-11, while the Eagles jump to 9-8.