Dobson ends Mountain Ridge's season in a 4-3 penalty kick shootout
February 13, 2022 by Ashley Madrigal, Arizona State University
---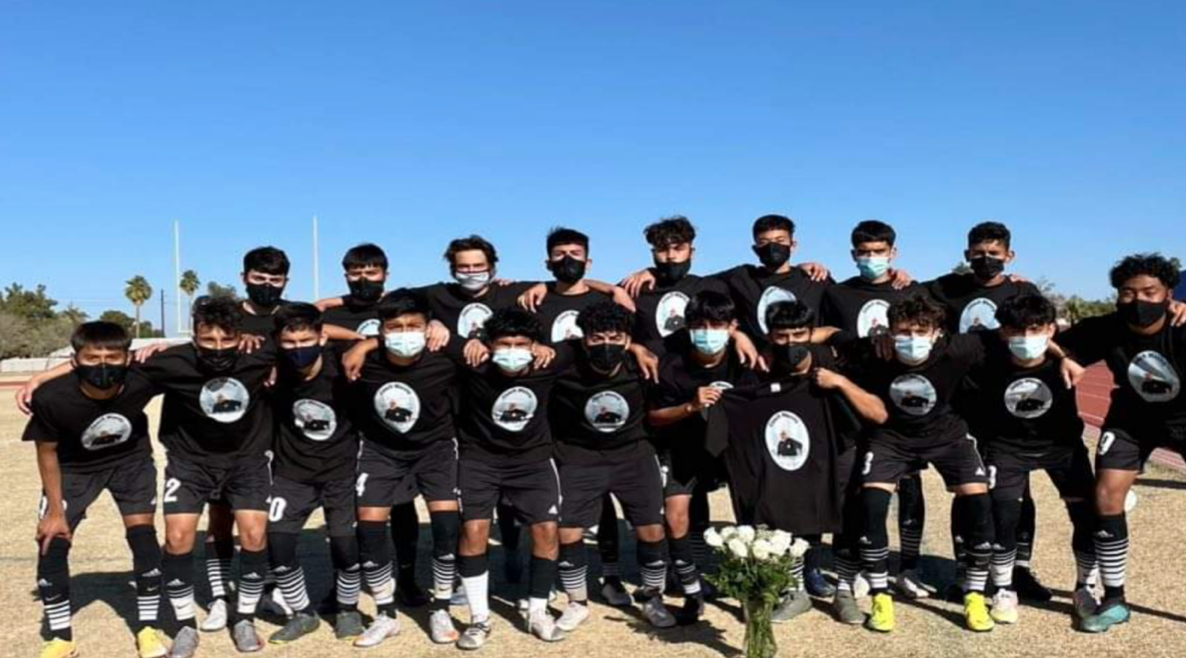 Ashley Madrigal is an ASU Cronkite School of Journalism student assigned to cover Dobson High School for AZPreps365.com.
Last Wednesday, the Dobson Mustangs faced the Mountain Ridge Jaguars ending the game 2-2 in regulation, which led the teams into 20 minutes of overtime play and a close penalty kick matchup. The Mustangs outscored the Jaguars in this double-overtime shootout 4-3 to advance to the second round of playoffs.
Dobson senior Alex Rios explained that their former coach Manny Arias passed away last year due to the Coronavirus, and the team played every game in his honor.
"Coach Manny was special to us. We play for him every time we step on the field. We always will," said Rios. "Every time we step on the field, it is for him."
The Mustangs captured an early lead and scored twice in the first half. Goals were scored by seniors Joseph Perez and Brayan Chaparro. However, the Jaguars fought back in the second half and tied the game with goals scored by junior Daniel Contreras and senior Dallin Marble, which led the teams into overtime.
The Jaguars took the lead first in the extra period when senior Tyler Richins scored by sliding through the Mustang's defense and taking his shot from inside the penalty box making it 3-2.
During the break in the overtime period, Mustang's coach Mike Sobek watched top division goalleader, senior Ramon Contreras, take charge of the team.
"He reached them on a personal level and got them motivated to keep going," Sobek said of the talk Contreras gave to his teammates.
"For the seniors, we know that we need to give it our all, or we are done," said Contreras. "We have been busting our butts off for this moment. Words can't explain it."
Going back onto the field for their last half of overtime play, the Jaguars defense remained strong until Contreras scored, with two minutes left, tying the score once more at 3-3. With the game still tied at the end of the first overtime, the teams moved into the penalty-kick tiebreaker.
The suspense grew as the two teams battled it out. Once the final penalty kick shot was scored by the Mustangs and Dobson knew they were guaranteed their win, the boys ran together and cheered as a team.
"We get emotional because we are not a playoff team. It hits us so hard that we get the chance to go to the next round. We do it for coach," said Contreras after the win.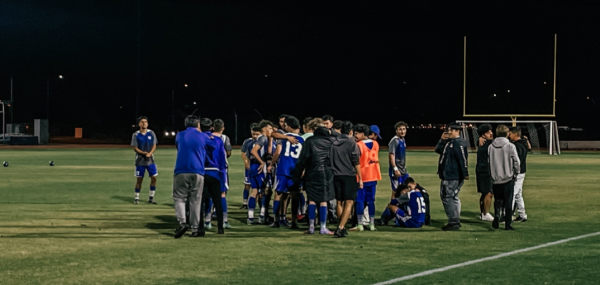 Dobson players celebrate moments after they won the penalty-kick shootout against Mountain Ridge Wednesday night. (Ashley Madrigal/AZPreps365.com)