Casteel Colts nearly complete comeback against Higley Knights, 72-60
February 16, 2022 by Grant Leveque, Arizona State University
---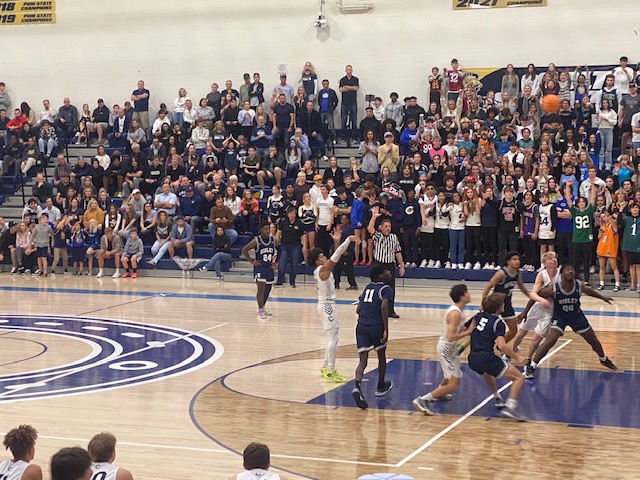 Grant Leveque is an ASU Cronkite School of Journalism student assigned to cover Casteel High School for AZPreps365.com
The eighth-seeded Casteel boys' basketball played their final game of the year Wednesday night, as they lost to the No. 9 seed Higley, 72-60.
Both teams came out on the court looking for a win, but it was Higley who showed it scoring 10 straight points right from the tip. This hot start, followed by a barrage of 3s, is what gave the Knights a confident lead the rest of the game.
"We just weren't making any shots," head coach Aaron Windler, the second-year coach for Casteel, said. "We didn't shoot our best as a team and if we did we wouldn't be down twenty-something at the half."
Coming out of the locker room for the second half, Casteel ran a full-court press on Higley, working very well in its favor.
The defense is what ultimately brought the Colts back into the game, cutting the huge deficit to just 15 before the start of the fourth quarter.
Casteel's Nate Ko had a huge impact on and off the ball for his team most of the game, executing great defensive plays that turned into simple fastbreak points.
"Play till the end, every time," Ko said. "Hustle on every play and just don't give up."
It was looking promising for the Colts to complete a comeback, but Yarell Greer for Higley put up 19 points, most of them coming in bunches in the first half.
Only being outscored in the third quarter, Higley was in the driver's seat the whole game, even when Casteel had given its final run stamina and hope.
"We are going to focus on next year and we gotta remember this for next year as motivation," said Colts' point guard Jeremiah Newcombe.
Being Windler's second season coaching at Casteel, he is looking forward to the next season as well.
"I love his coaching (Windler), I love how he's hard on us, wanting us to be better," Ko said. Even when he is yelling at us with tears in our eyes we know it is just love and that he wants us to be the best we can possibly be."
An upsetting end to the season for the seniors left the Colts devasted, but a group of juniors returning next year are motivated and already preparing for next season's revenge.