Hamilton's size and strength outlast Mesa in a low-scoring affair, 45-37
February 17, 2022 by Reece Andrews, Arizona State University
---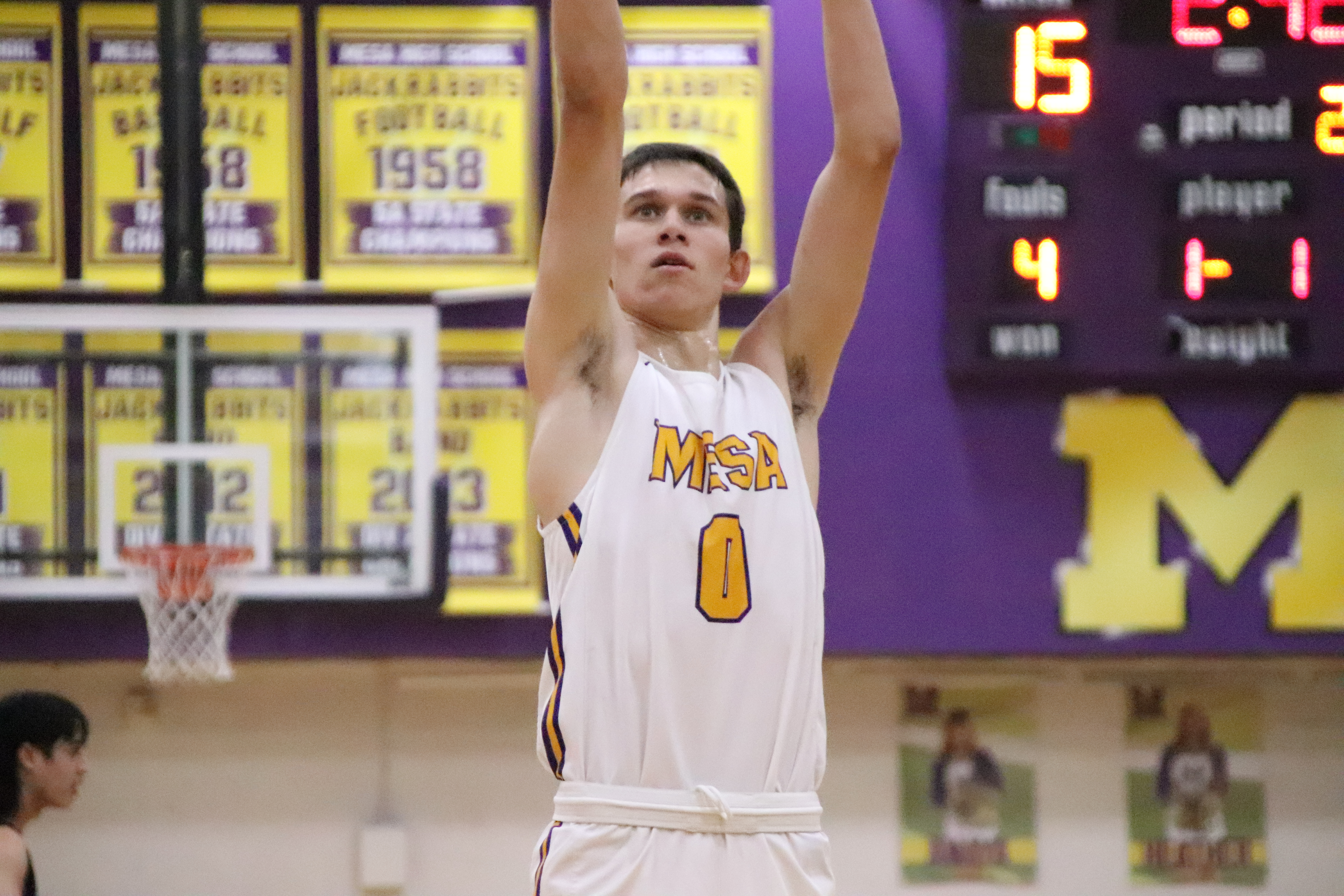 Reece Andrews is an ASU Cronkite School of Journalism student assigned to cover Mesa High School for AZPreps365.com
Mesa's senior captain and first-team all region wing Talbot Cummard had the highlight of the night with back-to-back three-pointers to bring the game within two at 33-32, Hamilton advantage, in the fourth quarter.
Cummard led Mesa in points with 14 including four made free throws and two big blocks.
Mesa senior captian forward Josh Irish reciving the play call. (Reece Andrews/AZPreps365)"We're prepared. We've really come together as a team and we've come together, it's exciting," senior guard Josh Irish said before the game.
The No. 9 seed Hamilton Huskies came to Mesa High to take on the No. 8 seed Jackrabbits Thursday night and came out with a narrow win 45-37 after taking advantage of the running clock in the dying minutes.
It was a tight battle all the way through with multiple lead changes but the storylines of the game were fouls and three point shooting. 16 fouls called on Mesa alone which led to 14 out of Hamilton's 45.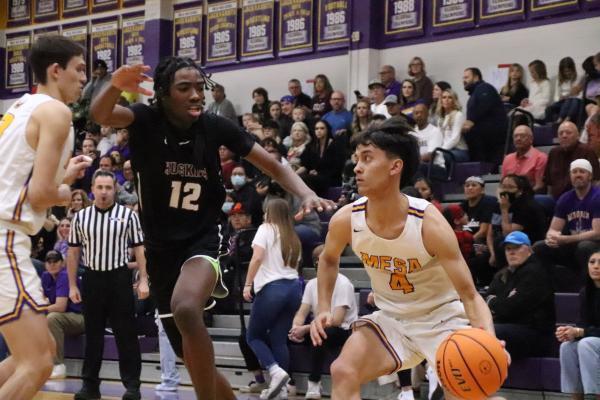 Mesa junior point guard Kota Benson blowing past Hamilton's Mikey DeHorney (Reece Andrews/AZPreps365)
Hamilton's lack of three point shooting kept it close, only hitting two throughout the entire game while Mesa hit seven including three from region player of the year, junior point guard Kota Benson.
Hamilton's junior forward Mikey DeHorney led the game with 13 points thanks to his 6'6 frame out reaching Cummard, Hamilton's tallest player, for multiple offensive rebounds.
"I always tell them, play this game like it's your last and we kind of have that mentality going into every game," head coach Scott Stansberry said.
Unfortunately for the Mesa seniors it was. The Mesa student section and players all came together to sing the school's fight song "Carry On," after the game, a time-honored tradition after every Mesa sporting event no matter the sport, no matter the outcome, the song is sung.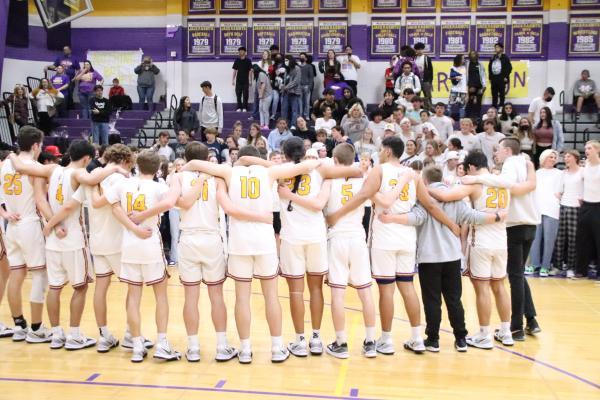 Mesa players and students joining arms to sing "Carry On." (Reece Andrews photo/AZPreps365)Afterwards the team had a long and emotional post game talk and when it was done the seniors all came out to take the court one last time in their Jackrabbit jerseys and reminisced on the past four years of basketball.
"This is an amazing place man. It's super emotional, it's a family and it just sucks how we ended it," Cummard said.