Casteel cheerfully christened Central
February 19, 2022 by Jose Garcia, AZPreps365
---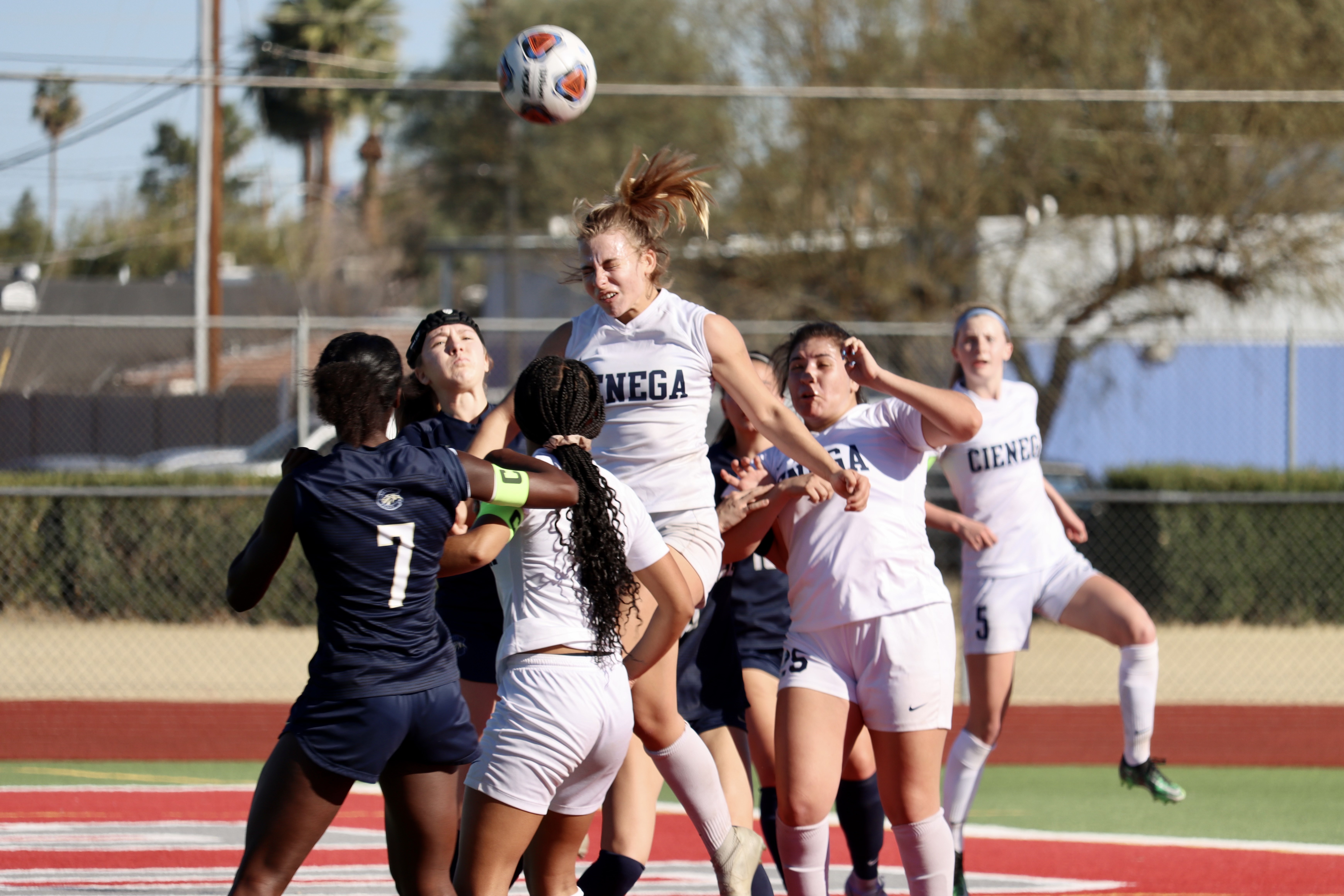 The marquee said Central High.
After Saturday it might change to Casteel High.
Casteel's soccer teams felt right at home at Central while clinching 5A Conference state championship berths. Casteel's girls kicked it off by defeating Cienega 3-2 on a new turf field at a school that was used for the first time for the soccer semifinals.
As he walked off the field, Casteel girl's coach Jason Hammonds told his school's boy's coach, Greg Lanman, that it was his team's turn to advance. Hammonds' boys obliged, defeating Carl Hayden 2-0.
Cienega and Carl Hayden didn't make it easy, but Casteel's soccer programs kept staying on the offensive. Casteel's girls took command during a three goal spurt in less than six minutes during the first 15 minutes of the second half.
An own goal, Nathalie Lewis' speed and Morgan Feidler's accuracy led to the other two goals. During a 50-50 challenge, Lewis directed the ball just enough to Lewis, who took care of the rest from inside the 18-yard box.
A mere twenty seconds later, Lewis' cross from the right wing found Feidler, who once again took care of business quickly.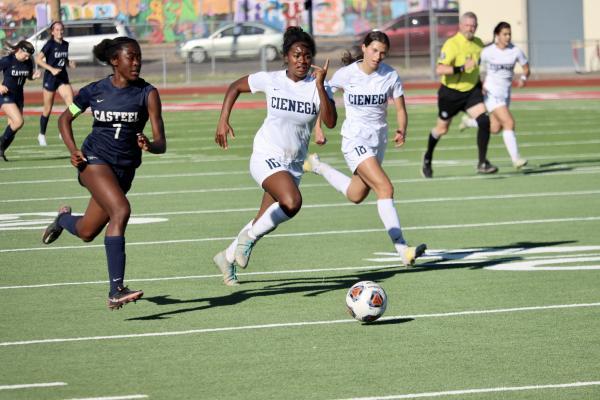 Casteel's No. 7, Nathalie Lewis, had two assists in the 5A semifinals. Photo by Jose Garcia/azpreps365.com.
"It just comes down to us playing our game," Hammonds said, "and letting Morgan Fiedler, Nathalie Lewis and Tori Brown do their thing. That was it from that point. We knew we were in the driver's seat from then on."
But Cienega (14-4), the No. 3 seed, made it interesting late in the game when Kaylin White barged in to knock in a rebound off a free kick.
But second seeded Casteel (13-1-3) held on in the end to advance to its third consecutive state title game. Cienega scored its first goal in the 5th minute when junior Kenna Kiefer turned, fired and converted.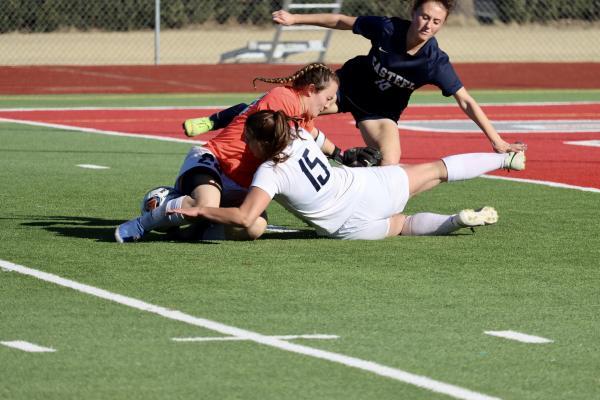 Cienega's goalkeeper made a save during this scramble Saturday. Photo by Jose Garcia/azpreps365
Two first half goals held up for Casteel's boys. The first goal was a first class strike from right back Rylan Ibach.
After a corner kick bounced around, Ibach gathered himself and whipped a side volley to the upper shelf from about 15-yards or so in the ninth minute. But that woke up Carl Hayden's offense, as the 13th seed then started peppering Casteel's goal from long distance.
"That team we played right there is so fast and dangerous," said Lanman about Carl Hayden. "Their 1-2 touches to create. The switch of attack and their work rate. They never gave up. Freaking amazing."
But Casteel's defense kept Carl Hayden from getting too close.
Casteel netted its second goal after a right-footed shot by Casey Nicksic from inside the 18-yard box in the 37th minute.
"The defense, they are the ones that are stepping up," Lanman said.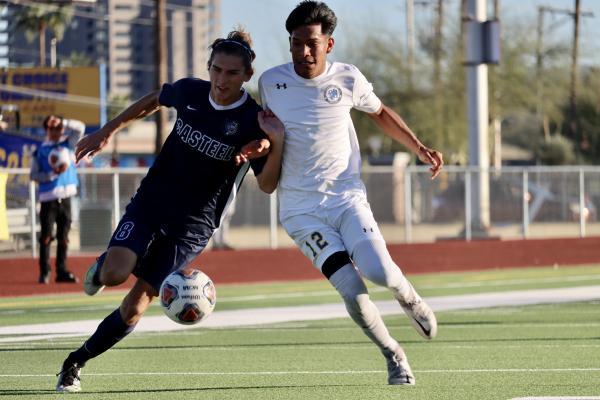 Casteel's Mike Spasojevic and a Carl Hayden player jostle for the ball during a 50-50 challenge. Photo by Jose Garcia/azpreps365.com.
No. 1 seed Casteel (16-3-2) hasn't lost a match since a late December tournament game.
It'll head to the 5A final on a 13 game win streak. Its defense has conceded just six goals during that stretch.
Last season, Lanman knew he had a state title contender when it scored 94 goals en route to the school's first title. This year, he didn't know what the heck he had.
Casteel started the season with only 13 players due to injuries and other issues, returned only three starters and lost his team's top-4 scorers from last year. But it did return Lanman, who eventually molded a cohesive unit.
"These boys, it's unbelievable how they've come together and where we are right now," he said. "I would have really never guessed it.
"There's something about this team that I have this year. It's exciting. We got one more. Let's see if we can do one more."
Casteel's boys and girls won't be the only teams representing the same school in the 5A championship round.
That's because Sunrise Mountain's soccer teams also won their semifinal matches. The 5A finals are slated for Tuesday at the second home, it turns out, for Casteel as well as for Sunrise Mountain: Central High.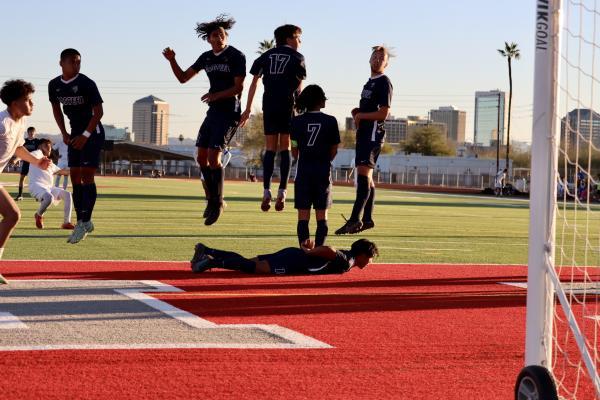 A group of Casteel's players attempted to block a Carl Hayden free kick that eventually missed its mark. The player on the ground was also trying to do his part to block the free kick just in case it went low. Photo by Jose Garcia/azpreps365.