Wrestling came down to one big night in the Madhouse on McDowell
February 20, 2022 by Andy Morales, AZPreps365
---

The Arizona Veterans Memorial Coliseum is commonly called the "Madhouse on McDowell" and for good reason. Sometime around 5 p.m. Saturday night, 408 of the best from Arizona entered the arena floor in a Parade of Champions of all the medalists from each of the five divisions of competition with special attention given to the 136 standouts waiting to decide the 68 individual state champions for 2022.
The boys compete in four divisions of 14 weight classes and the division for the girls is broken down into 12.
ALL THE MEDALISTS ARE ON THIS TWITTER THREAD:
Girls 100: 1st Place - Isabella Bocanegra of Liberty
2nd Place - Tatiana Hernandez of Sunnyside H.S.
3rd Place - Arianna Sarrett of Morenci Jr./Sr.
4th Place - Emily Porras of Ironwood
5th Place - Jennifer Alcott of Monument Valley
6th Place - Kennedy Farrar of Gila Ridge https://t.co/cLulZHXFSi pic.twitter.com/MFgLBQkUoH

— Andy Morales (@AZPreps365Andy) February 20, 2022
In Boys Division I action, Sunnyside picked up state championship number 35 after another dominating performance due to 14 state qualifiers, 8 individual champions (113: Sergio Vega, 120: James Armstrong, 126: Carlos Stanton, 132: Cristian Rivera, 150: Jaime Rivera, 157: Job Lee, 165: Michael Avelar and 190: Rene Fragoso) and 11 medalists.
Sunnyside scored 263 points to hold off Liberty (173) and Desert Ridge (144). Sunnyside beat Liberty last year in D-I competition after Liberty won back-to-back titles in 2019 and 2020. The Blue Devils won D-I in 2018 and D-II in 2019 and 2020 before moving back up to the top division last year again. This is the sixth state title for Sunnyside head coach Anthony Leon.
Repeat state champions in D-I included Damien Moreno of Kofa (106), Armstrong, Gunnar Luke of Mesa Mountain View (175) and Fragoso. Seven senior champions will leave those spots open next year.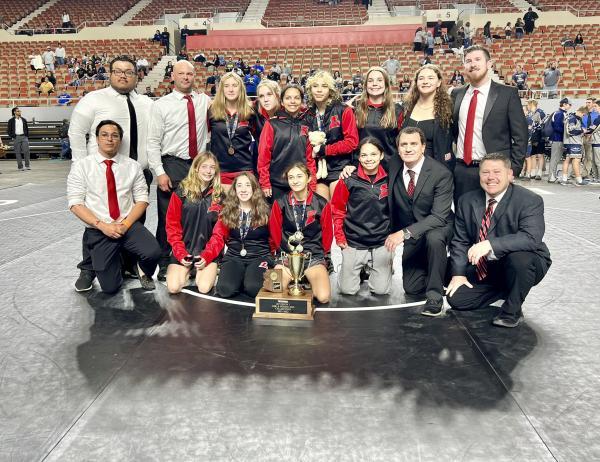 Liberty. (Andy Morales/AZPreps365)
The girls also wrestle in Division I and Liberty came away with a team championship by holding off Westwood 93.5 to 87. Casteel came in third place with 82 points. This was the second time a team championship for the girls has been awarded in Arizona. Basha won the inaugural team championship last year.
Goldwater standout Bree Garcia became the first girl in Arizona to win three state championships. Garcia is a senior so the possibility of a wrestler holding four individual titles falls to the next generation of standouts, more specifically Sunnyside sophomore Audrey Jimenez.
Liberty junior Isabella Bocanegra (100) picked up her second championship, Hamilton senior Trinity Howard (120) won her second title and she became the first to win with two different teams, Casteel junior Isabelle Munoz (132) earned her second championship, Casteel senior Camry Carter (138) picked up title number two, Westwood senior Taliyah Armstrong (145) earned her seocnd title, Campo Verde senior Nina Sandoval (165) collected championship number two, and Westwood senior Stefany Valencia (185) also picked up her second title.
Jimenez (107) collected her second title for the Blue Devils and she is the top-ranked wrestler in the country in her weight class. She has a shot to tie Garcia with three state titles next year and then pick up number four as a senior. There were no freshman champions this year and eight seniors will vacate their positions in the 12 weight classes.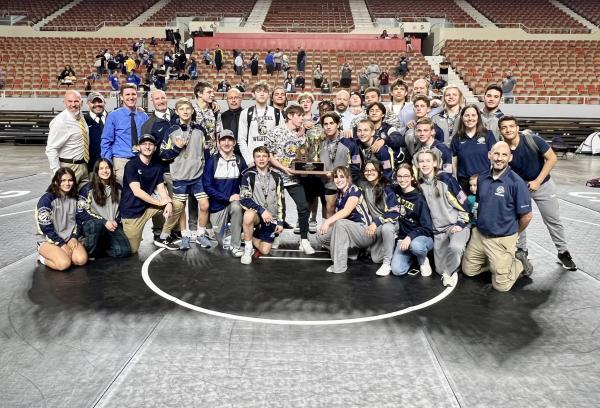 Casteel. (Andy Morales/AZPreps365)
In Division II, Casteel scored 267.5 points to win the second state championship in program history with Canyon View (160.5) taking second and Ironwood (122) taking third. Casteel won the first title last year under Bob Callison with 219 points.
Casteel individual champions include Jackson Rustad (120), Sergio Ramos (132), Brennan Callison (165), and Raychon Cardona (285). Repeat D-II champions include Ramos, Austin Scott of Mountain View Marana (157) and Markell Rivera of Ironwood (175). Six senior champions will move on leaving those spots open next year.
Sahuarita. (Andy Morales/AZPreps365)
In Division III, Paul Vasquez led Sahuarita to the first state title in program history by holding off his school district rival Walden Grove 160.5 to 144. ALA Gilbert North took third place with 122.5 points. Sahuarita took second place in 2020 and 2021 and Walden Grove won in 2019.
Sahuarita individual champions include Sergio Pena (126), Gabriel Gallardo (144) and Julain Prieto (157). Repeat state champions include Brody Townsend of Mingus (106), Cooper French of Coconino (150) and Payton Wayman of Lee Williams (165). In all, six senior champions will graduate in D-III.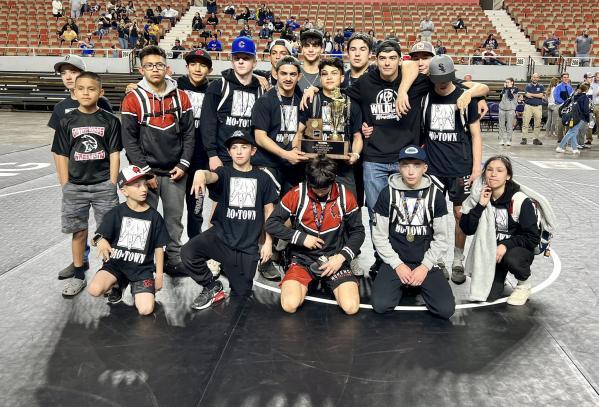 Morenci. (Andy Morales/AZPreps365)
In Division IV, Morenci won with 201.5 points after scoring 301 points to win in 2021. Yuma Catholic scored 175.5 to take second place for the second year in a row and Mogollon took third with 148 points. It was the highest finish for Mogollon since the program won it all in 2011. This was the ninth title for Morenci.
Individual champions from Morenci include Breck Williams (113), Noah Torres (126), John Provencio (138), CodyTorres (157) and Jericho Sanchez (285). Repeat champions include Williams, Gabe Gonzales of Globe (120), Cael Porter of Mogollon (150), Torres, Malaki Porter of Mogollon (165), Diego Chavez of Santa Cruz (175) and Fisher Porter (190). Chavez picked up his fourth state championship. There are eight senior champions in D-IV.
NOTES
Former Amphitheater and Mesa head coach David DiDomenico retired after 32 years of coaching.
Former San Manuel state champion and head coach at Empire and Mountain View Marana PJ Ponce retired after earning 400 wins, a state championship in 2017 and four runner-up finishes.