Notes from the North: Flagstaff to play for second girls hoops title, first in 30 years
February 25, 2022 by George Werner, AZPreps365
---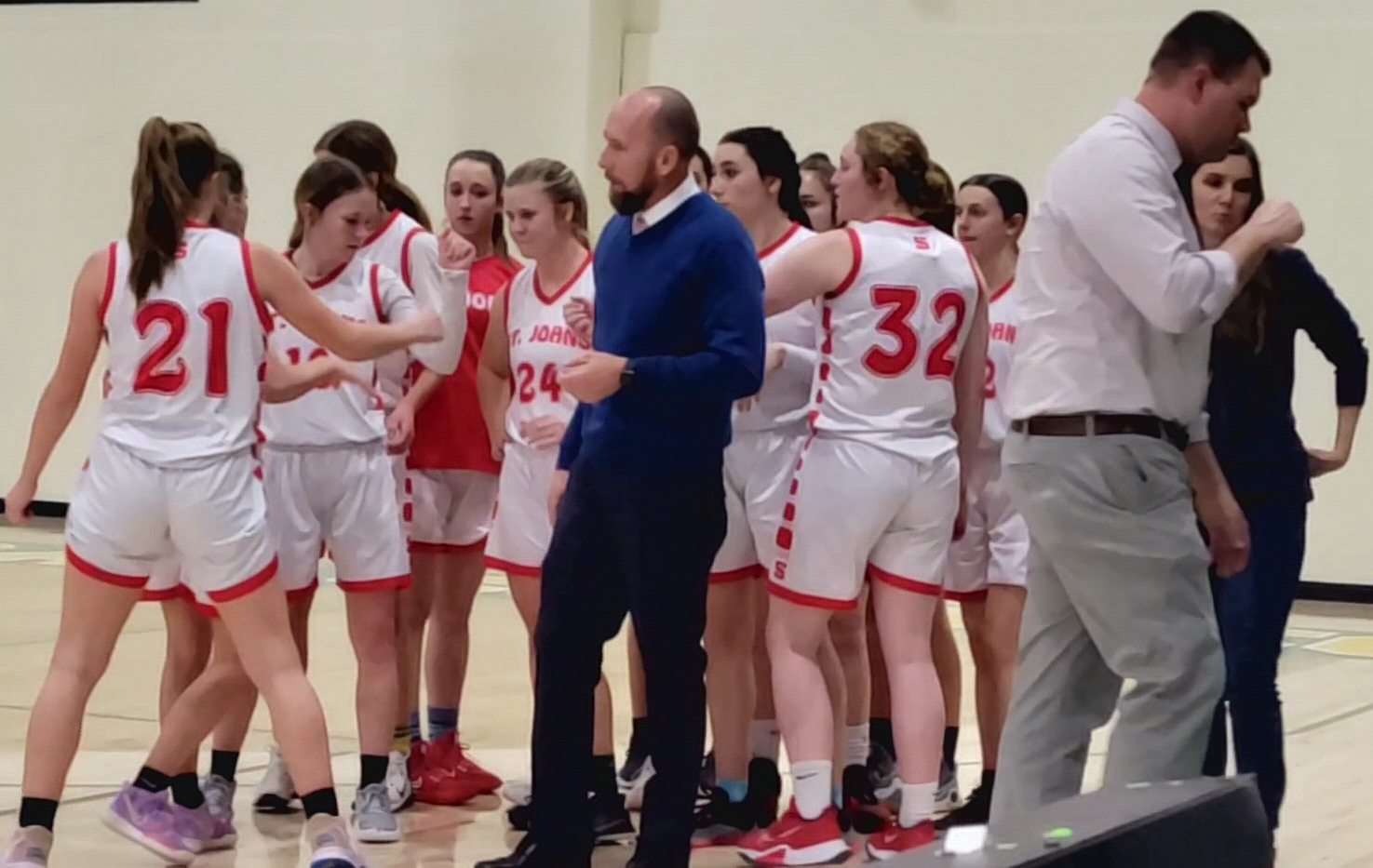 The Madhouse on McDowell will be filled with Northern Arizona girls basketball teams beginning Friday, Feb. 25.
Veterans Memorial Coliseum, is where six 2A-4A Conference girls basketball programs from Northern Arizona will do battle for the state championship starting at 10:30 a.m.
In a final home game for leading scorer Gracelyn Nez and five other seniors, Flagstaff opened up an 18-4 lead and never looked back against 4A ninth seed Shadow Mountain, joining Alchesay, Chinle, Holbrook, Sedona Red Rock and St. Johns at the Phoenix Suns' old home with the 56-34 victory.
"We wanted to try to make it over before it started, if you will," said Tyrone Johnson, head coach of the Eagles in what will be their first state championship game in three decades–just the second overall in program history. "We didn't want to give up a bunch of easy looks in transition because of their speed and athleticism."
They didn't. What the home fans got from their team instead in the runaway semifinal was a full-court, full-time press that bottled up, from the beginning, the Matadors' dangerous trio of seniors: guard Syrene Sanders, forward Kishyah Anderson and center Sarah Maker.
"The hot start was just a credit to our girls really being ready," Johnson said. "We really wanted to take advantage of one more home game: We wanted to be consistent with our pressure; we wanted everything to be contested."
Anderson, one of the conference's top 10 scorers, field goal shooters and double-double scorers, scored a game-high 13 points, but that was seven below her season average thanks to junior guard Sage Begay, the Eagles' second-leading scorer with 10.
Sanders, third in the state in assists and seventh in the conference in steals, was Shadow Mountain's second-leading scorer with 8, but was successful in distributing only four other times in the face of Nez, who scored as many points on the night as the Matadors could muster as a team in the first half: 12.
Meanwhile, Nez and sophomore Morningrain Honani were combining to precipitate four three-pointers. In fact, in addition to Begay, Nez and Honani, who teamed up for 16 overall with sophomore Alyssa Harris, three other Eagles hit at least one perimeter shot from beyond the three-point arc, as their scoring load was distributed among 10 players. All of them took turns stepping in the passing lanes to hold Maker, a 6-foot, 2-inch post and the second-leading shot blocker in the state, scoreless.
"We've worked hard; we've beat some quality teams throughout the season: We deserve to be" in the 8 p.m. 4A championship game Monday, Feb. 28, Johnson added. "This is a great group of girls that get to actually play for the state championship.
"There's only been one other team in school history to make it to the championship, and none of these girls were even born yet."
Under head coach Doug Baker, whom Johnson just surpassed for career wins in January, the 1992 Flagstaff girls team beat Page for the 4A title, its first and the second for the Arizona Hall of Fame head coach, who won the boys' lone 4A title 17 years earlier.
The Eagles will try to win their 30th game and do what no Arizona opponent has done this season: defeat Salpointe Catholic High School, led by top 10 passer and shooter Kylee Callahan and 5-foot, 11-inch fellow senior and co-captain Tessa Hastings.
"They came up this summer and played in our tournament, so Joe will have them ready," Johnson said of third-year Lancers head coach Joseph Luevano, last year's 4A runner-up to semifinal victim Seton Catholic. "They've obviously been playing the best in the state. They've got a lot of athletes, size and skilled basketball players: We've definitely got our hands full."
"We'll just try to have two great practices, then hopefully just go down there and leave it all on the floor."...
Redskins, Red Rock face undefeated top, third 2A seeds
The 2A Conference basketball tournaments were mostly predictable their first two days in Prescott.
Mostly. Boys second seed Scottsdale Christian Academy and third seed Pima dominated their first two opponents by 32.5 and 13 points, respectively. Even fifth seed Rancho Solano Prep's 50-30 quarterfinal domination of fourth seed Arizona Lutheran Academy wasn't too eyebrow-raising, considering how intensely the defense traveled for the Mustangs.
But then there is their semifinal opponent. Not tournament top seed Highland Prep, but the No. 9 seed that knocked it out, 63-57, in the quarterfinals Saturday, Feb. 19.
After stunning the previously-undefeated Honey Badgers and bumping off No. 8 seed Phoenix Country Day School in overtime, Phoenix Christian's confidence may reign supreme among all other state tournament teams. Particularly in junior center Colin Cajthaml and sophomore guard Tommy Randolph, whose respective shooting range and quickness spelled doom for their first two postseason opponents…
Intense defense has also been the name of the game in the 2A tournaments. Just ask three-time state champ St. Johns, which held 12th seed Arizona Lutheran to 25 points in its quarterfinal win after edging 13th seed Bisbee by four points in the first round.
Although seniors Brooke Smith and Kinley Crosby combined for 15 to lead the Redskins, it was junior guard Hannah Burt, who led the late charge over Bisbee with 13, who pulled away from the Coyotes, who trailed by just five entering the fourth quarter.
Burt followed up her first three-pointer of the game with under 2:30 to play with an old-fashioned version that drew the fourth personal foul on Arizona Lutheran starting point guard Krista Wiechmann.
The Redskins allowed the Coyotes just nine first-half points but must face the top seed and defending champ Pima in the semifinal. The Roughriders continue to await their first challenge, having won their first two postseason games 77-15 and 71-39…
On a mission to meet them is Sedona Red Rock, which won its first two games by an average of nearly 25 points and was actually up on opening opponent Round Valley entering the fourth quarter, 47-12, behind primary three-point threat, senior guard Nyah Valdez.
Six-foot, two-inch sophomore center Rachel Roderick continues to be the main wrecking ball, though, scoring 17 to lead a third win of the season over Central Region rival and seventh seed Valley Lutheran in the quarterfinal.
Before facing down the Roughriders, however, the Scorpions must incapacitate undefeated third seed St. John Paul II Catholic, no slouch in the margin of victory department its first two rounds. No. 14 seed Valley (Sanders) and 11th seed Arete Prep fell to the Lions by an average of 21 points.
Neither team has really played a complete game yet, with Red Rock actually getting outscored in the fourth quarters of their postseason, 18-4, as starters largely sat with huge leads. With the memory of Red Rock's late lead on Pima in last year's state championship game slipping away, a wire-to-wire battle could do both teams good…
Next Time
The Notes conclude the winter sports season and preview baseball, softball and other spring sports in Northern Arizona. Tell me how you think it will go down on Facebook and Twitter at @ProfGWerner, or email me at gwerner@azpreps365.com.