Shaw's 31 sends Valley Christian to second title in four years
February 27, 2022 by George Werner, AZPreps365
---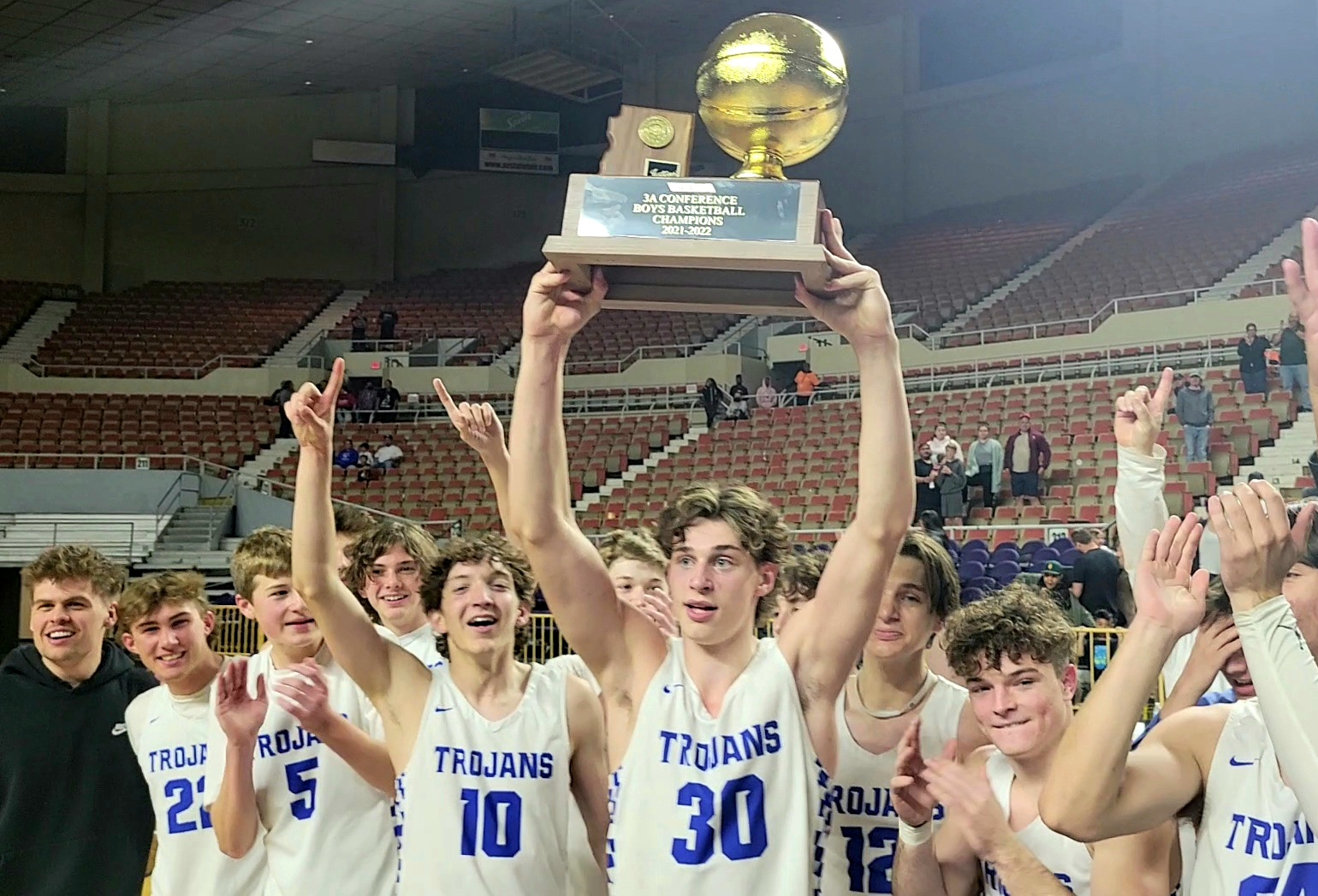 Since the original city of Troy was re-discovered in 1870, archaeologists found the Trojans had successfully rebuilt their 74-acre city nine times.
Just over 150 years later, on Valley Christian High School's 17-acre campus, athletic director and boys basketball head coach Greg Haagsma has his Trojans two state championships away from matching that accomplishment–and in a fraction of the time.
"It's been a while," Haagsma deadpanned after Valley Christian rallied from a 14-point halftime deficit to down second-ranked Coolidge, 61-56, for their seventh state championship. "Oh, that was hard work! This is a special group."
Saturday, Feb. 26, 6-foot, 5-inch shooting guard Caleb Shaw at times carried the Trojans to their second 3A championship in four years, scoring 31 points and grabbing 10 rebounds while playing all 32 minutes of his final game.
"A year ago, I was just getting back to the floor," said the conference's leading scorer and the high school's record-holder for most points in a single game. "A year later, when thinking about all I've done, this [title] is super-special to me."
The more so because the second-ranked Bears, in their first state championship appearance since head coach Dave Glasgow won the last of his three titles with them 20 years ago, came out of hibernation hungry in the first half.
Coolidge's 41-27 halftime lead represented Shaw's toughest hill to climb of his lone Trojan season, as juniors Brayden Gant and Belclem Namegabe combined to outscore and outshoot Shaw from the field.
Although Shaw led all scorers with 19 at the half, the 6-foot, 5-inch Gant had nine points and five rebounds of his own to help neutralize Shaw's height advantage on the perimeter, while his slightly shorter counterpart at guard, Mark Clegg, Jr., was successfully finding Namegabe down low–to the tune of a team-leading 16 points and seven rebounds in the first half.
Shaw's soaring slam dunk over Namegabe 1:10 into the second quarter served only to stem the tide of a Coolidge lead expanding from three, at the end of the first quarter, to as many as 15 points. The rest of the Trojans hit just four shots–from the free-throw line or the field–while supporting members of the Bears rotation were coming alive, as senior Mark Pratt and junior Dru Madrid combined for 11 points of their own.
"We had a rough first half," Shaw added. "Their defense was tough."
Coming off a knee injury at the end of his sophomore year that sidelined him for 15 months, including all of last season, Shaw had packed a career's worth of scoring into his lone season in Chandler after moving with father Casey, an assistant to Grand Canyon University head coach Bryce Drew, from Tennessee to Chandler.
In the past month alone, the University of Northern Colorado commit had beaten two opponents virtually by himself: His 36 points Tuesday, Feb. 22, had held off ninth-seeded Thatcher, 59-53, in the 3A quarterfinals, two-and-a-half weeks after he had broken the school single-game record with 53 in a 75-59 win Feb. 4 over Eastmark.
"Caleb Shaw's a special player," Haagsma said. "You don't get very many of those. We needed someone like him to step up and carry us a little bit. We're really, really young without him."
Nevertheless, although freshman forward Kyle Grier chipped in a couple of first-half buckets, he and Shaw's counterpart at guard, Austin Wallace, were done at halftime with the lack of support from themselves and the three other freshmen and sophomores in Haagsma's rotation.
"They were the ones who were saying, 'We have 16 more minutes,'" Haagsma said. "Austin Wallace said, 'We can control three things for the next 16 minutes: We can control our effort, we can control our attitude, and we can control our intensity.'"
After Wallace followed a baseline three-pointer with a layin two minutes into the third quarter, he and the rest of the Trojans showed those three intangibles, particularly on defense. Valley Christian forced nine turnovers in the third quarter alone, including a block of a Clegg baseline dunk attempt and a 10-second backcourt violation.
By the end of the next six minutes, Coolidge had lost the lead, its legs, and its first-half poise to the Trojans in the midst of a 28-8 run.
"Best second-half defense we played all year long," Haagsma said. "That was phenomenal. We really got after it."
The defense frustrated Coolidge into foul trouble, before it wore down the Bears into submission. Shaw's little brother Luke got untracked with a straightaway three 15 seconds into the final quarter, and after Wallace found Grier, who finished with 12, on the block 90 seconds later to put the Trojans up, 53-49, Glasgow called time out.
It wouldn't matter. Starting guard Carlos Coronado, riding Luke Shaw's hip on his drive out of the time out, became the first of three Bears to foul out less than a minute later. Gant and Madrid had contributions down low and from the free-throw line to keep it close, as Shaw's tired legs of his own led to 8 fourth-quarter misses in 10 attempts from the charity stripe.
But after Gant converted a three-point play for his 18th point, tagging Wallace with his fourth foul, to close the gap to 58-56 at 1:44, the Bears would never score again. Namegabe, held scoreless in the second half, would foul out 28 seconds later, followed by Gant with 19 seconds to play, as each of the Shaws would ice the game with free throws.
All in all, Valley Christian fans took Caleb Shaw off the Veterans Memorial Coliseum floor well past 10 p.m. Feb. 26. For they knew they shall not look upon his like again.