Millennium boys volleyball ready for new season
March 1, 2022 by Joey Mascaro, Arizona State University
---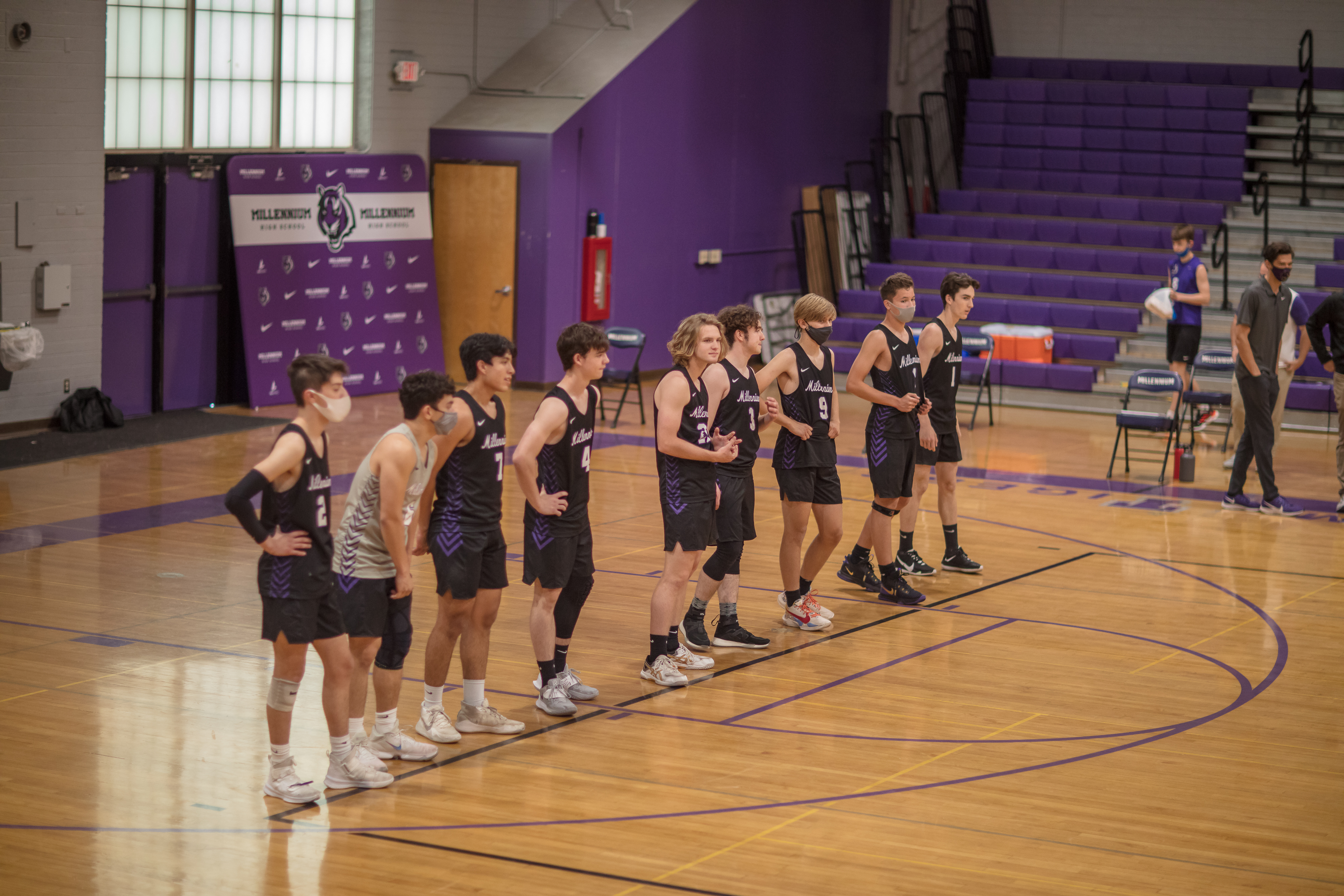 Joey Mascaro is an ASU Cronkite School of Journalism student assigned to cover Millennium High School for AZPreps365.com.
Eight months into a school year is a long time to wait for a sports season to start. For varsity volleyball coach Shawn Brannick and the Millennium boys volleyball team, the tigers are ready to prowl.
Coming off of a 15-4 record, including an undefeated 8-0 record in the 5A Desert West Conference, the Tigers are looking to follow up that season with an even better one.
Graduating five key contributors last season, the challenge for coach Brannick is taking a younger team and getting them ready to compete to the standard that he set last season.
"This group will be young and looking to continue developing the basics while having a lot of fun along the way," Brannick said.
The leadership Brannick provides doesn't go unnoticed by the players, and there's a clear message spread throughout the program. This message all revolves around embracing the youth in the program while having the seniors lead the way.
"The seniors always play a pivotal role," Brannick said. "(Andrew) Lee, (Nelson) Luu, and (Davis) Rubel have been a part of the program's success in the past.
The coaching staff leans on them to create a positive rapport with the younger groups and continue to pass along those key attributes that make a program successful."
Getting prepared to lead by example, as senior Andrew Lee pointed out, was how the Tigers ran a smaller team than normal last season. Only having ten active players available per game.
Of those ten players, five of them were seniors. Lee echoed coach Brannick's philosophy on how important building team chemistry and ultimately trust will be the key for success and development going into the upcoming season.
"We have 14 players on this year's team. Everyone has to know their role and go out and play their best game at all times," Lee said.
Lee also pointed out how in volleyball, one person can't carry a team. Because of this, every player not only has to memorize every position on the court, but also needs to be willing and eager to step into new roles.
Lee also embraces the challenge he and his fellow seniors face in getting the younger team ready to go and instilling those philosophies he himself has bought into.
Another senior, Davis Rubel, shared with Lee that an important hurdle the Tigers would need to jump over to be successful this season comes down to the team bonding and embracing change.
"Many players, including me, are playing brand new positions. Fortunately, volleyball is a sport that allows fairly seamless transitions between a lot of positions on the court," Rubel said. "A lot of hard work is being put in during practice so that once we take the court, we'll look like we've been playing those spots our whole lives,"
It could be very easy for the Tigers to make excuses as to why the team might not be as good as they have been in previous seasons, but that's not what the team aims to do.
Despite putting a young team on the court, along with players from all levels needing to transition to new positions, the team is ready to accept the challenge.
Not having an abundance of senior leadership to rely on won't phase the team, and the expectations are as high as ever.
"I'm expecting a very productive season this year. We're already looking promising, and based on our schedule, we're gunning for a home playoff game in our near future," Rubel beamed with pride.
"This group may be young but they are hungry to compete and win. We will have a lot of early tests playing some very solid west valley programs. We are excited to get out on the court and see what happens," Brannick said.
The Tigers are looking to prowl their way onto the scene and show the rest of the 5A Desert West Conference they need to take cover when they hear the Tiger's mighty roar.
The Tigers' home opener is March first at Millennium High school against the Centennial Coyotes.