Marana beat McClintock 5-0 to win the first home match in program history
March 3, 2022 by Andy Morales, AZPreps365
---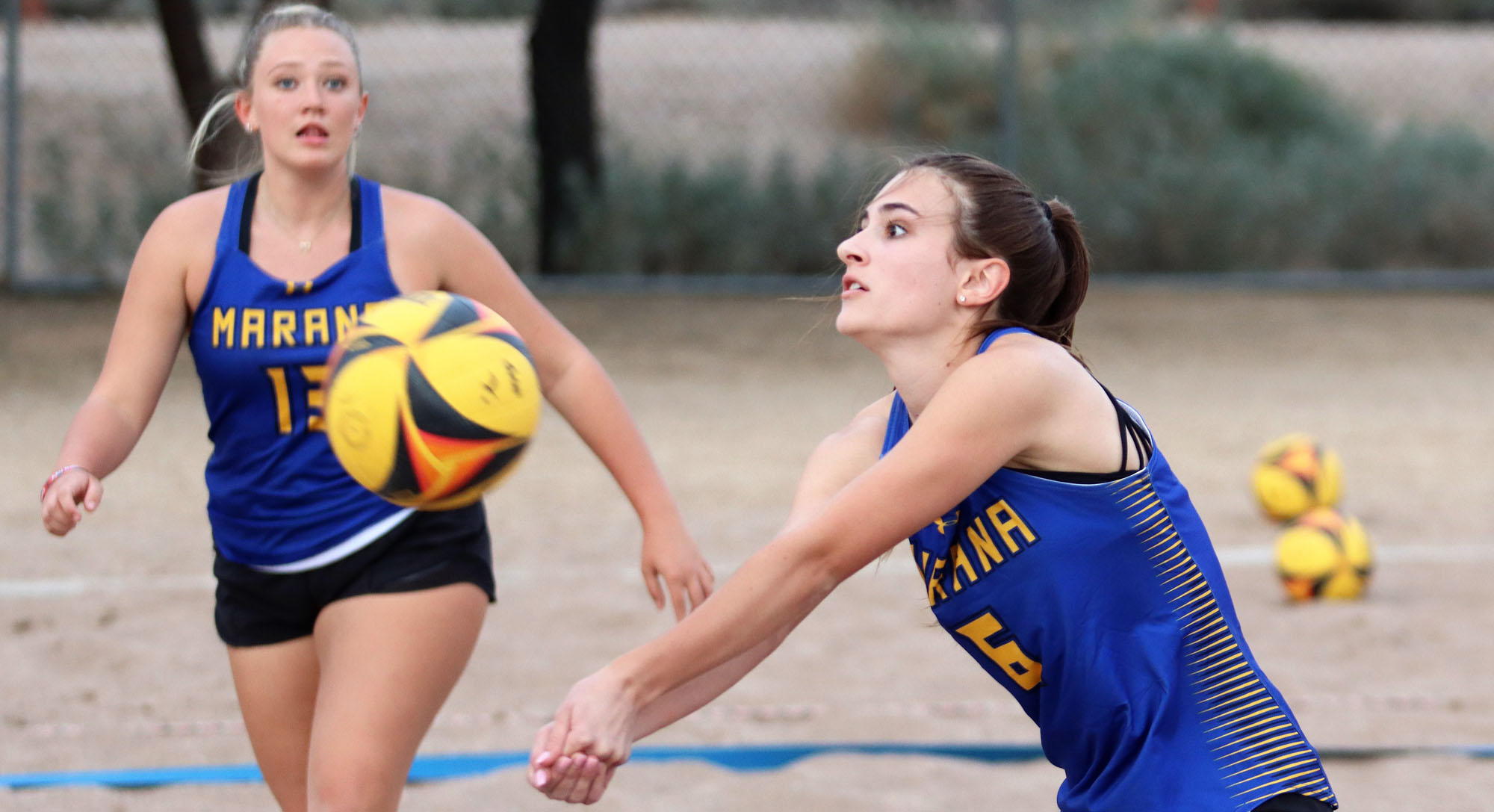 The Arizona Interscholastic Association (AIA) became the first entity in the country to offer Beach Volleyball as a high school sport in 2012 and Hawaii followed in 2013. Initially called "Sand Volleyball" in Arizona, the sport started out with a handful of programs in one division to the 80 teams playing in two divisions we have now. Marana started competing in 2019 and McClintock is opening up its inaugural season this spring and the two programs met Thursday at Crossroads Park in Marana.
Marana beat McClintock 5-0 in move to 1-0 on the year and the Chargers are now 1-3 with the first victory in program history coming over Mountain Pointe last week. Marana went 2-10 in 2019, 0-2 in 2020 and 5-6 last year but none of those 25 matches were played on a "home" court until McClintock made a visit on Thursday.
Allie Mitchell and Marin Patton opened up the match for Marana with a comeback victory over Jaida Cabantoy and Jariah Cabantoy. Jaida and Jariah took the first set 21-19 but Mitchell and Patton tied things up 21-18 and then took the third set 15-10 for the win. Jaida Cabantoy is the only senior on the Charger roster and having a young team is one of the challenges for first-year head coach Whitney Geraty.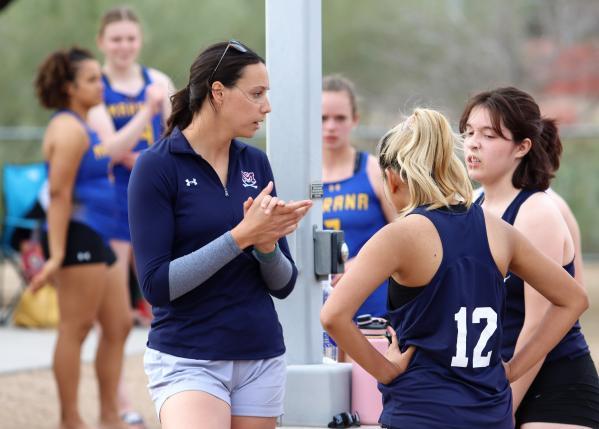 McClintcok head coach Whitney Geraty. (Andy Morales/AZPreps365)
"My goal this year is to make the girls love beach volleyball," Geraty said. "Just learn it and love it and then we can start building with some core group of girls and we only have one senior with five sophomores and five juniors that are doing really well right now and are learning fast."
Geraty (Follette) is a former All-Pac-12 selection playing for Arizona State and her accomplishments places her near the top of almost every statistical category with the Sun Devils and she then spent some time coaching in the program before coaching beach at McClintock where she is also on the indoor staff.
'We're hitting the mark right now where we should be," Geraty added. "I don't know if we should be winning a lot of games right now, which is fine because we're learning and we're playing against schools who've had programs for four or five years at this point. So I think they're holding their own right now and learning each game, each set."
Like Geraty, Marana head coach Carolina Pett only has one senior on her roster in Liliana Valenzuela but the Brazil native has had sometime with the program and the expectations are slowly rising to the point where the Marana District is considering building a Beach Volleyball complex for Marana and Mountain View so the two programs can avoid hosting in public parks.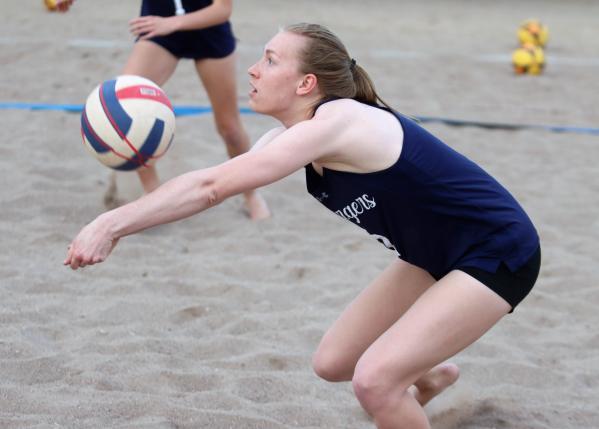 Sophia Franz. (Andy Morales/AZPreps365)
Natalie Davis and Raquel Mills put Marana up 2-0 with a 21-8, 21-16 win over Ayanna Douglas and Nin Htet and Makayla Roebuck and Giana Biazo made it 3-0 with a 21-17, 21-15 win over Anessa Delgado and Shalae Clemens.
The 3-0 mark meant a victory for the Tigers and the team needs five more wins in the ten remaining matches to finish with a winning record for the first time in program history and Pett is going to need her top two pairs down the stretch.
"Riley Adams is in her second year playing number one, but she has been getting a lot of training," Pett said on the makeup of her top pair. "She has been best with between the ball and Katie Stueck, she's just very competitive and ready to take on the challenge and it showed today how willing they are to connect with each other to be successful."
Hannah Dotson and Takaia Hicks beat Jade Laikona and Ayanna Estrada 21-6, 21-13 to put the Tigers up 4-0 and then Adams and Stueck overcame a difficult final match over Sophia Franz and Lauren Swanson 21-18, 23-21 for the 5-0 sweep.
"I'm originally from Brazil and I teach the game every weekend," Pett added. "Now beach is just getting so popular with high school here, I'm just very excited to get back into it and then get the girls involved."
Marana (1-0) will travel to play Desert Mountain (2-0) on Monday and McClintock (1-3) will take a bit of a break before heading out to play Eastmark (0-2) on March 15.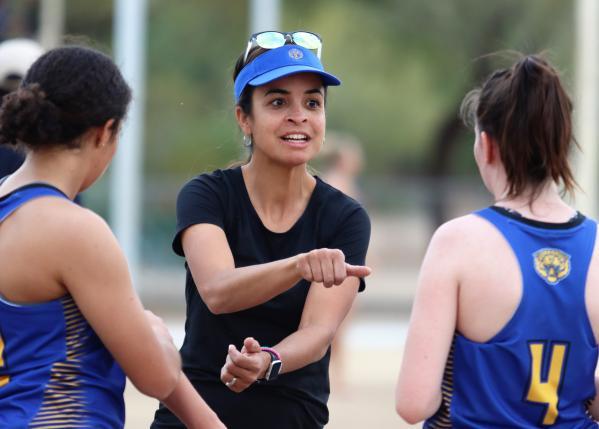 Carolina Pett. (Andy Morales/AZPreps365)