Mountain View Toros sophomore tennis star Brayden Wagstaff is a special talent
March 3, 2022 by Aaron Healy, Arizona State University
---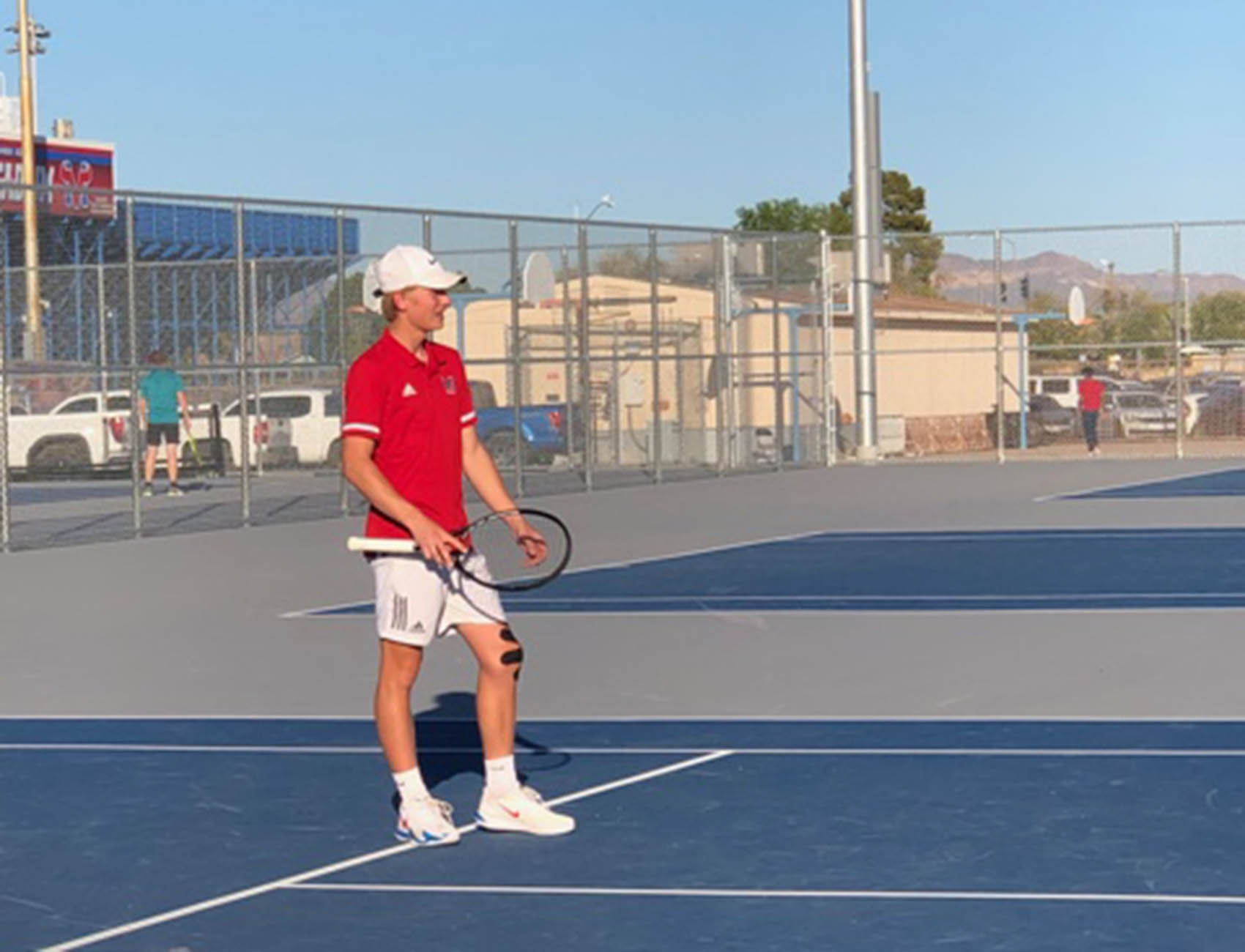 Aaron Healy is an ASU Cronkite School of Journalism student assigned to cover Mountain View High School for AZPreps365.com
The potential in sophomore tennis star Brayden Wagstaff comes from a long line of talented family members. Brayden's dad, Steve, has played tennis his whole life, as well as Brayden's grandparents, Abby and Terry Wagstaff.
"We're just happy to be here to watch him play," Abby said.
The Wagstaff family has always acknowledged Brayden's talents. One of his talents is being ambidextrous which is the ability to use his left and right hands equally well. Brayden has always embraced his ability rather than seeing it as a disadvantage.
"Growing up ambidextrous was always a special thing to me. I was able to do things such as throw a ball similar distances with each hand, write with each hand, and when I was younger I could definitely impress my friends, Brayden said."
Brayden originally started playing tennis right-handed, but then converted to left-handed as he got more comfortable playing tennis. His dad always knew it was a big decision for him to choose which hand to use.
"He threw a baseball right-handed, he batted right-handed, but he writes left-handed and he plays tennis left-handed. When he was a little kid he could actually color with both hands at the same time, he's always been an extraordinary kid," Steve said.
After playing soccer for nine years, things suddenly took a turn when Brayden injured one of his knees. Brayden and his family came to the conclusion that he should pursue playing tennis.
Brayden,16 years old, started playing tennis at the age of 13. He has come a long way in those three years by putting in numerous hours of practice to get to where he's at today.
"He did some clinics, he was very passionate, and started playing five to six days a week," Steve said.
"I knew I wanted to play tennis when I put in a lot of hard work and started to see the results show in matches and tournaments," Brayden added.
Even though he has been playing tennis for a short period of time, the sky's the limit for Brayden. Brayden's earliest memories of playing tennis take him back to junior high school.
"In the junior high state tournament I went in with no hopes of winning. I thought I would get destroyed, I ended up making it to the finals," Brayden said.
Building confidence at such a young age is so important, and that's what has helped Brayden play tennis to this day.
Brayden's motivation has helped him improve his tennis game. His parents feel that his commitment to excellence is why he is such a skilled tennis player.
"It's always been his motivation, he's been the motivator behind it, he's been the one pushing for lessons, pushing for tournaments, pushing for all that stuff. It wasn't us dragging him to do it," Steve said.
Brayden's passion for the game of tennis has developed throughout his high school career. His freshman season at Mountain View High School started out very successful and led him to be the No. 2 player on the tennis team that season. Something he and his family are very proud of.
"Being a freshman varsity player, a kid going into ninth grade, that was a pretty big accomplishment for him to do that. He didn't think he'd get on the team and he originally started off No. 5 and worked his way all the way up to No. 2, so he worked really hard to get to No. 2, " Steve said.
Last season the Mountain View Toros made it all the way to the second round of the state tournament behind No. 1 player JD Manning and No. 2 Brayden Wagstaff.
Losing to Brophy in last year's state invitational was a heartbreaker for the Toros.
Steve always has good advice for Brayden when it comes to winning and losing. "He really likes to win, but he understands losing that it's just a part of it, that's something we explained from the very beginning, in tennis you lose a lot," Steve said.
Family means everything to Brayden, especially his parents and grandparents, who he believes are his biggest influencers on why he loves playing tennis so much. Tennis is a big part of Brayden's life and he always has his family supporting him.
"I tell him strive for excellence, do your best you can and as long as you're doing your best, and working your hardest then it doesn't matter whether you win or lose, the effort you put in is what matters," Steve said.
Brayden showed excellence in his first match this year cruising to an easy 6-0, 6-1 win against Highland high school.
Brayden and his parents believe he has unlimited possibilities with his tennis career. He has to believe in his talents and pursue them.