Salpointe over Notre Dame 4-1
March 7, 2022 by Andy Morales, AZPreps365
---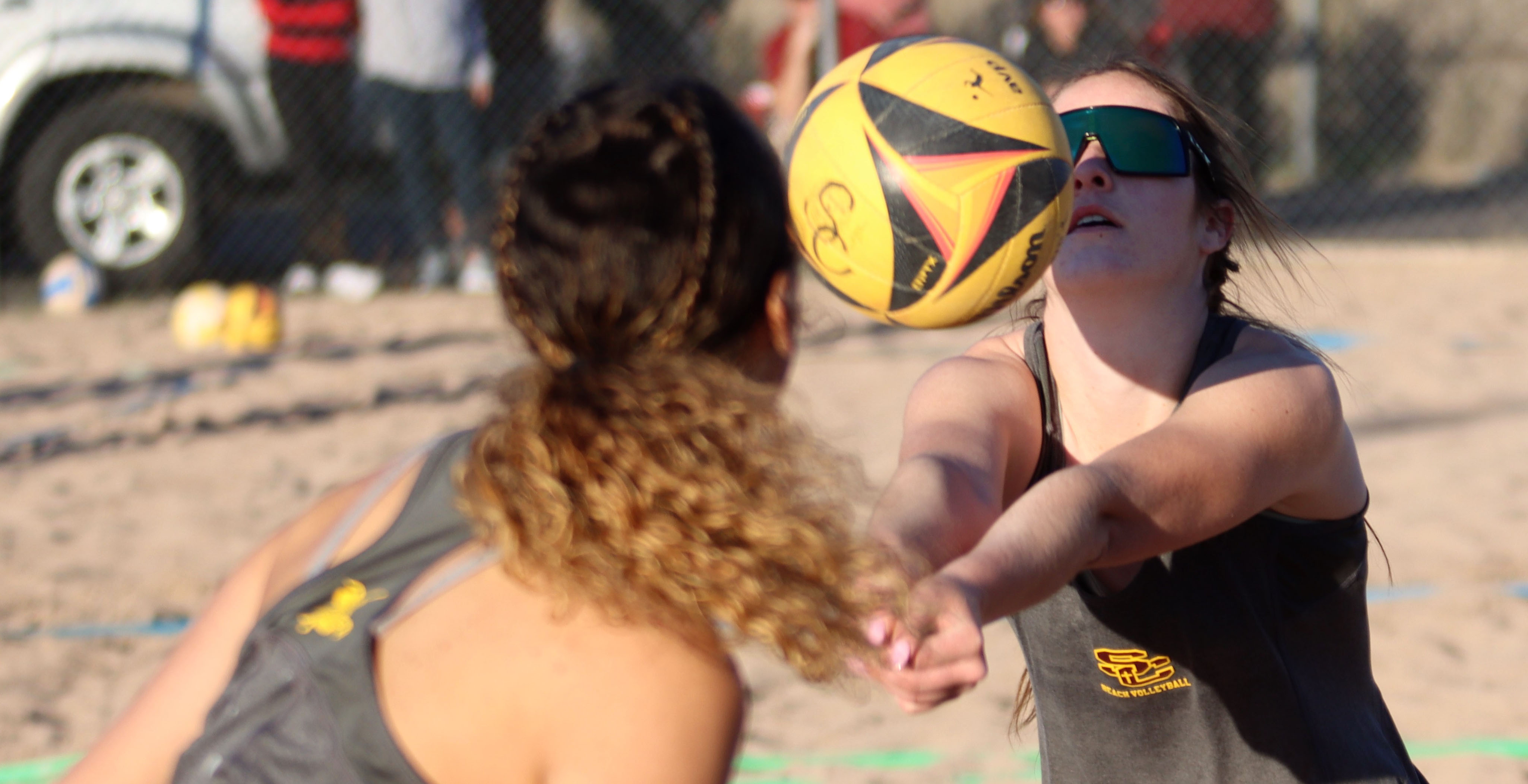 Salpointe Catholic beat Notre Dame Prep 4-1 Monday at the Tucson Racquet Club to improve to 2-1 on the year while the Saints moved to 3-2. The Lancers are coming off the program's first Beach Volleyball state championship and Notre Dame is off to the best start in program history.
Salpointe went 15-0 last year to win the Division II title with the championship victory coming over Valley Christian by a score of 4-1 and the two teams were scheduled to meet again on March 1 but the Lancers had to forfeit another 4-1 victory due to an error in the substitution rule thus the one loss on the Salpointe ledger this spring. Forfeits count as victories and losses but they have no bearing on power rankings. The first set of AIA power-rankings for Beach Volleyball will be released on March 22.
Notre Dame went 5-8 last year under Jamie Walsh after starting out 0-3, Walsh, a former standout with Grand Canyon, was in her first year last season and the five victories were the most ever in Saint history dating back to the program's inaugural 2014 campaign. In fact, the Saints only had 11 total victories in program history until Walsh showed up on the beach last spring.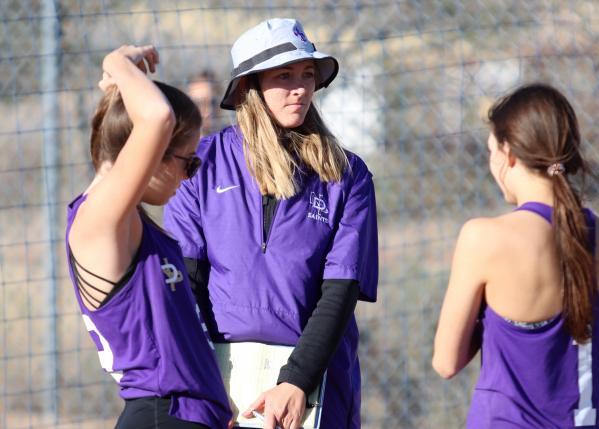 Jamie Walsh. (Andy Morales/AZPreps365)
"I'm just really proud of our program as a whole," Walsh said. "I think last year we were struggling to get a varsity team together. I think we had 15 girls or 16 girls total in the whole signup and tryout process and this year we had a 42 signed up and we kept 25. We have a full varsity roster. I just think everybody from the bottom up has bought into Notre Dame beach volleyball and they trusted me, our athletic department and our school and it's really exciting to be a part of it."
The 4-1 loss to Salpointe gave Walsh some hope for this season with her players forcing the issue in three of the points including a 2-1 win in the top pairs. Juniors Gracey Lambrecht and Lindsay Ritz outlasted seniors Emma Hugeback and Jalynn Ransom 2-1 (21-15, 8-21, 15-13) for the win. Lambrecht and Ritz led 9-5 in the deciding set but Hugeback and Ransom battled back to tie the set up 13-13 but the Saints prevailed.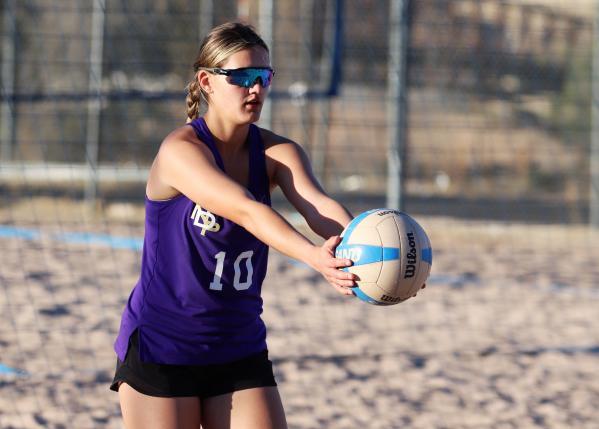 Lindsay Ritz. (Andy Morales/AZPreps365)
Hugeback and Ransom are part of a development process that Salpointe head coach Heather Moore-Martin is very familiar with after taking some of the top pairs in the state to the top in Peyton Lewis, Abby Russell, Alex Parkhurst, Brandy Kishbaugh and Andrea Owens. That group of athletes has one state pairs championship (Parkhurst and Russell) and two state runner-up finishes.
"I think that they're (Hugeback and Ransom) in a tough position," Moore-Martin explained." I think everybody's best team is in the ones so I think they're going to be challenged each match, but they're also getting better each match."
The number two pairs for Salpointe (Sophia Hernandez and Francesca Peroni) had an easier time with a 2-0 (21-11, 21-10) win over Ashleigh Bolton and Claudia Bocanegra but the 3's were pushed to the limit with Salpointe's Gabriella Monge and Scarlett Isaacson beating Lauren Linse and Alexa Backlund 21-18 and 22-20.
Rylen Bourguet and Jordan Faircloth beat Sami Harrod and Claudia Husvar 21-16 and 21-10 in the 4's but the final Lancers pair of Alyssa Robles and Minda Preideux needed three sets to defeat Reagan Roberts and Julia Preston 21-13, 18-21 and 15-9.
"Our lineup was completely switched today because our one defender, Emma McSorley, is in Salt Lake City for indoor club so I had to move Gracie up from the twos and then everybody else with a new partner for the most part," Walsh explained. "So I'm really proud of how we performed all things considered. Obviously you want to have the lineup that you start but things come up and people can't play. Gracie is one of our veterans and same thing with Lindsey. They just have good leadership skills and never give up. Obviously 15-13 in the third is as close as you could get but they just trusted each other and trusted the process."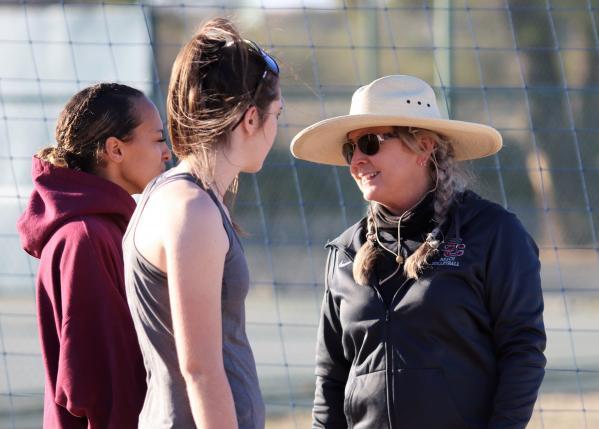 Heather Moore-Martin. (Andy Morales/AZPreps365)
For Moore-Martin, each year appears to be different in some way but a winning philosophy is always present.
"This team just so different from last year but it's still a great group," Moore-Martin added. "I think we're even a little bit better than we were last year in terms of our knowledge of beach volleyball. I define this year as a work in progress, that we're just all trying to get here every day and get a little bit better and stay healthy and get everybody paired up the correct way and to make that push for the end of the season."
Notre Dame plays right away with a trip to play at Chandler Prep (3-2) on Wednesday but Salpointe will take a bit of a break before hosting Mountain View Marana (3-0) on March 23.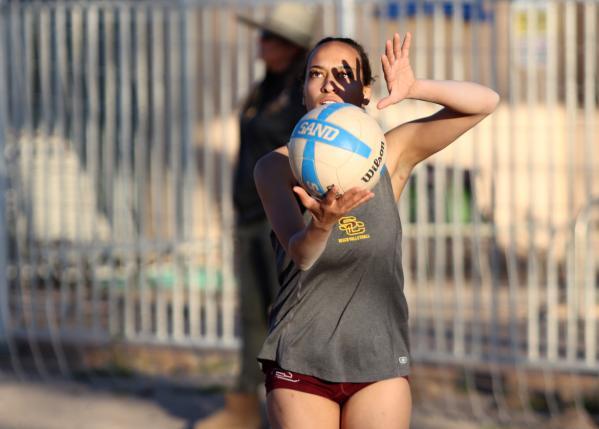 Jalynn Ransom. (Andy Morales/AZPreps365)