Millennium girls' basketball: All good things must come to an end … right?
March 15, 2022 by Joey Mascaro, Arizona State University
---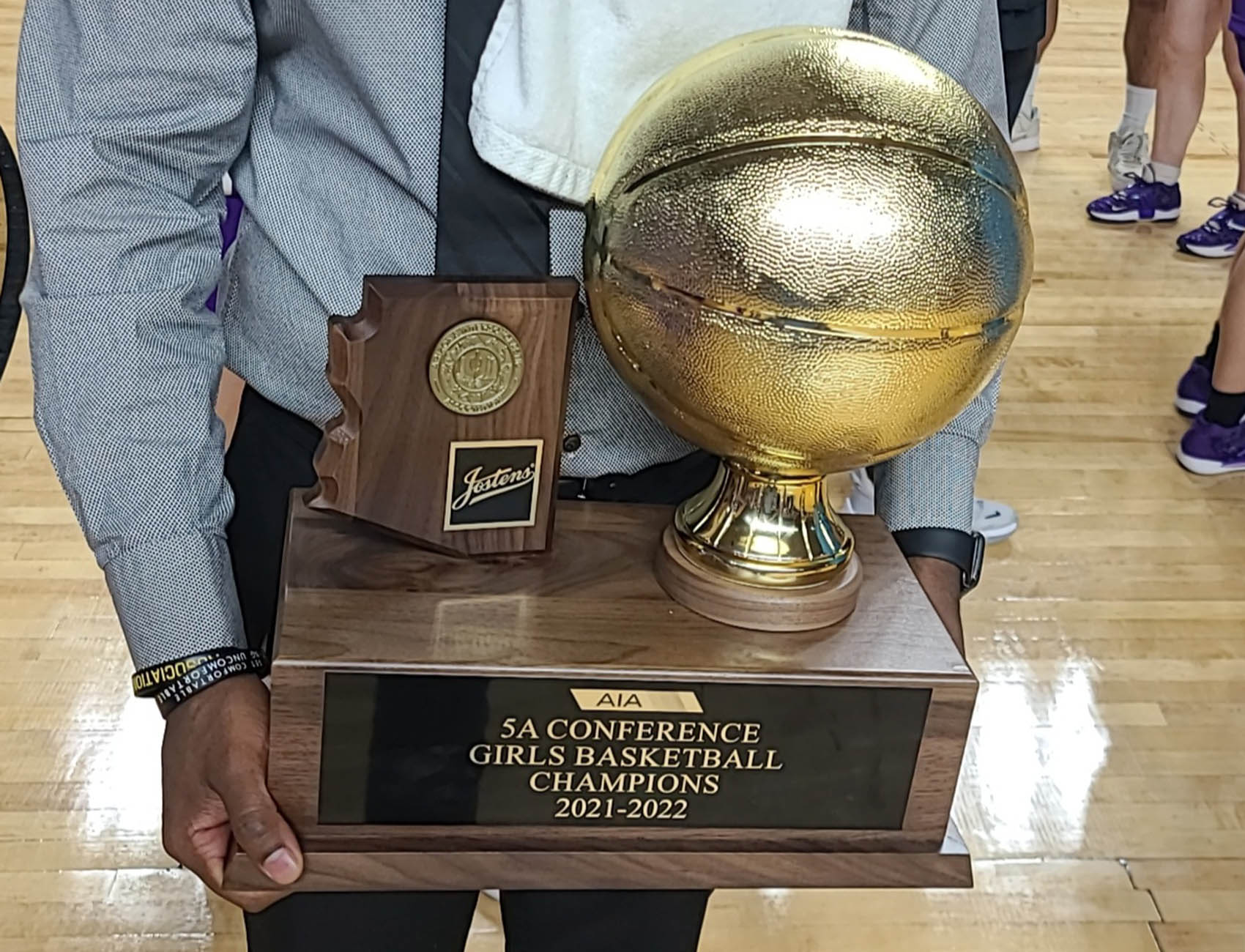 Joey Mascaro is an ASU Cronkite School of Journalism student assigned to cover Millennium High School for AZPreps365.com
The goal of any sports team is to win a trophy, hang a banner, get a ring.
Whichever way you'd prefer to say winning a championship, they all imply the same thing.
Your team worked hard, competed well, didn't flinch in the face of adversity, grew together to become more than a collective of individuals with a common goal in sight, but a family bonded by one objective… to be crowned and known as the best team that season.
This has happened not once, not twice, not thrice, but four straight times, for a girls basketball program based out of Goodyear, Arizona.
Having 15 total seniors leave the program, a coaching switch, and playing through the Covid-19 pandemic are all obstacles the Millennium Tigers had to overcome in their journey to go back-to-back-to-back-to-back as state champs in the 5A conference.
The only player on the team who will now leave high school with four rings is senior guard/forward Reagan Grimsley. Grimsley may very well be the only player in the history of 5A Arizona girls' basketball to win four straight rings.
"It's a crazy feeling. Every year has been a different team and there's been different challenges every year," Grimsley said. "Two coaches, covid, quarantine, and we just worked so hard and very proud of every single one of all the players on our team and all of us who have come over all this adversity and come out with four wins,"
Grimsley never thought she would leave high school a four-time champ, although she did have a strong feeling that she was going to win at least one ring. She also spoke about what advice she would give to her freshmen self if she had the chance to, and the advice revolved around trusting the process.
"Not everything is guaranteed. I didn't think that in my junior year I would go through having no offers and an ACL injury. It's always been God's plan and trusting yourself," Grimsley said
Grimsley will continue playing basketball next season for Simpson College, where she will attempt to compete for her fifth straight ring.
Another senior, Trayanna Crisp, put together a remarkable high school career. Leaving with over 1,000 total points scored as a Lady Tiger. Crisp spoke on how she wouldn't be the player she is now without the Lady Tigers
"It's done a lot for me, its created me, who I am today. Especially the coaches, they been there, worked me. It's been a huge help," Crisp said.
Crisp also continued how the Tigers have a lot of great young talent in the program and how they're going to be just fine when she's gone. That's high praise coming from the division one Arizona State Sun Devils commit.
The Tigers won back-to-back titles before head coach Kevin Thomas took the job going into the 2020-21 season. Now two years under his guidance, the Lady Tigers seem better than ever, with four straight championship wins under two different coaches.
"The plan was to have the program in equal to, or better shape then when I got here. I think so far so good," Thomas said.
Despite only graduating three seniors, those three provided a lot to the program. To fill those shoes will take the full program to embrace the change going into next season, and coach Thomas sees a talented future for his program.
"I think we're very spoiled to have such a large and talented junior class. Our sophomore class is full of talent, our freshmen class is full of talent, its program wide," Thomas said. "We're fortunate to have a large group of girls coming up. We had four freshmen on varsity towards the end of the season and that's not by accident,"
Thomas went on to say how he doesn't expect much turnover to take place. As scheme stays the same, the focus will remain on being a defensive minded team while playing fast and transitions will always be a big part of who the Tigers will be under coach Thomas.
The only negative to winning four straight rings is pressure and expectations. Both are now so high it's almost impossible to consider anything less than a fifth straight ring a failure of a season. But that isn't how Thomas sees things at all.
In fact, winning a ring doesn't completely determine if a season is a failure or a success to Thomas and his program.
"The girls own that pressure and want that expectation and if we don't win it it's not a failure. It's a matter of did we give everything that we had, and if the girls play as hard as they can and they follow the game plan and we lose that's not a failure," Thomas said. "Losing doesn't define failure, failure would be an underprepared coaching staff, failure would be a lack of effort, failure would be imploding because of not being together. As long as we don't do those things, wins and losses take care of the rest,"
It's clear that the message is spread throughout the program. One of the cornerstones of the team, guard Elli Guiney, echoed what coach Thomas said about failure.
"I'm not really worried about losing. I feel like as a team if we work hard the wins will come. That's what coach Thomas always says. Win or lose if we're getting better that's what it takes," Guiney said.
Guiney joined the Lady Tigers last season as a freshman and started on varsity. Now two years into her high school career, it's apparent that Guiney is a force to be reckoned with and one of the key pieces to the Tiger's future moving forward.
Growing up around Millennium, it was always a done deal Guiney was going to be a Lady Tiger, and Millennium is lucky to have her. Averaging 14.6 points per game, 2.6 assists per game, and leading the team with 6.8 rebounds per game in her second season, the sky's the limit for Guiney.
Guiney and the rest of the team will need to take another step forward going into next season, as basketball playoffs will feature the Open Division for the first time ever.
The open division is where the best teams in the state of Arizona get to compete under one bracket for a championship ring, regardless of conference.
Guiney knows the challenges that are to come if the Lady Tigers want a fifth straight title, and she and the team are excited to get back to work in preparation for next season.
"Honestly that's the goal, I know next year with the open division, that'd be really cool to get a ring. I know it's just gonna push us to another level of working hard and putting in extra work," Guiney said. "We go hard in the offseason, but this is gonna take us to another level that we need to go to win and I'm really excited to see where we can go,"
While the chapter is closed on the 2021-22 season, all signs point towards the Lady Tiger's dynasty not going away any time soon.
The Tigers will return several key players next season, including Guiney going into her junior season. One of if not the best defender on the team in Grace McBride, lights out shooter Mia Amundsen, and the dominating front court presence of Kayda Pierce who are all going into their senior season.
Millennium will also have an influx of young talent ready to start competing for next season as well, with the Tigers freshman and junior varsity squads having both finished with undefeated records under the guidance of assistant coach Charles Wilson.
Thomas and the Lady Tigers will celebrate the success of this past season; they worked hard to get to where they are now. Thomas and the Lady Tigers will remember the history of the program, and that history helps motivate them to keep pushing. Coach Thomas and the Lady Tigers can be happy with the progress they've made, but they aren't satisfied with their story ending here.
All good things must come to an end. The Millennium Tigers have defied that saying for the past four seasons, and they aren't looking to slow down any time soon. The future is as bright as ever for the program based out of Goodyear.
As of March 4, Kevin Thomas resigned. While the who at the top may still be an unknown, the Lady Tigers are primed and ready to chase their fifth championship season in a row and ready to work.