Ellison Guiney: Millennium's next star basketball player
March 22, 2022 by Joey Mascaro, Arizona State University
---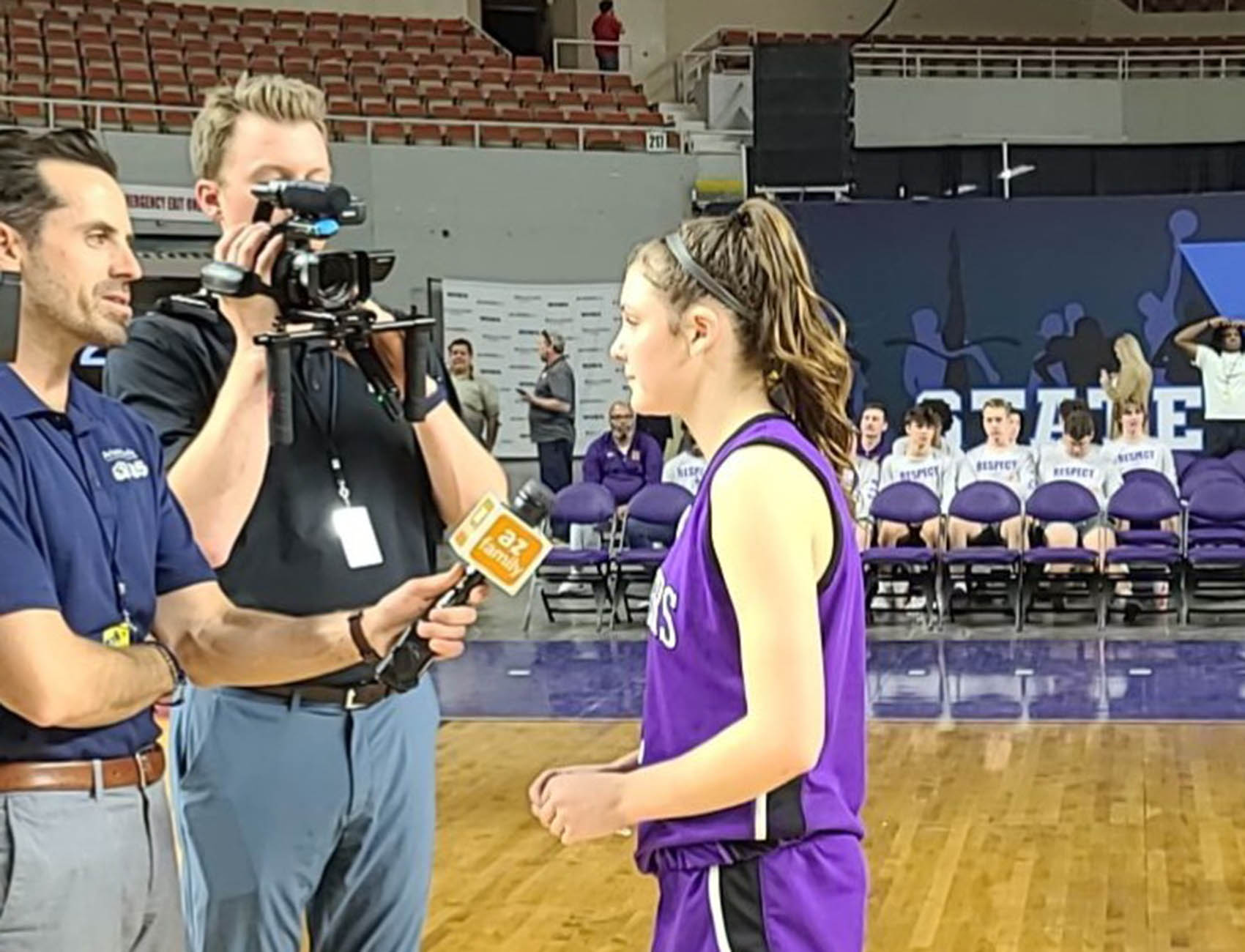 Starting on varsity is a common goal amongst all high school athletes, even though it's rarely reached by most student-athletes, starting on varsity as a freshman is even more of a rare occurrence.
That's the case for guard Ellison 'Elli' Guiney of the Millennium Tigers based out of Goodyear.
Guiney's goal? It's rather straightforward in her mind.
"I wanna have a really good high school season, then play Division I basketball somewhere," Guiney said. "If I can play professionally after that overseas that would be awesome, cause I wanna see the world and travel. Hopefully I can keep riding this sports thing as my job."
Growing up, Guiney described herself as a child who liked to move around a lot, while having a goofy personality which she said followed her into her teenage years.
Guiney started playing basketball at age 6, thanks in part to her mother who coached basketball while pregnant with Guiney. Describing herself as a people person, she enjoyed meeting new people while only playing basketball for fun.
"I started playing basketball when I was pretty young.When I was a baby I was a little bit of a gym rat. I just grew up playing basketball," Guiney said. "Once fourth grade came around I started loving it more and more and just having more fun. Once high school and junior high hit, I got more competitive and just became obsessed with it."
She found 'the what' in basketball, but the where may have been an even easier decision.
Being introduced to Millennium's culture from an early age by her father, Guiney always knew she was going to end up a Lady Tiger.
"My dad has taught at Millennium since it opened, and it's close to my house. It's probably where I was gonna go for forever, and once their basketball team got good I was worried I wasn't going to make the team," Guiney said. "I got there and it was a perfect situation. The basketball team being good was a total plus, but they also have really good academics."
Joining the team in 2020, Guiney didn't wait long to prove that she's a force to be reckoned with.
She did that by competing and earning a starting varsity spot coming in as a freshman.
Her coach for her freshman season, Kevin Thomas, realized early into the summer workouts that Guiney could be very special, and all he had to do was give her an opportunity to succeed.
"She played like an upperclassman as a freshman. She could post. She could shoot. She could play the point. Really good player," Thomas said. "Most competitive kid in the gym most days. Hard to keep her off the floor."
Thomas went on to say that she had absolutely no doubts in his mind that she was not only ready to play on varsity as a freshmen, but more than able to compete at a very high level.
Being named a starter was something Guiney had hoped for, but didn't know how realistic it was. She went on and described how she felt when she found out she was named a starter.
"I was really excited, throughout the summer I was given a lot of opportunities to prove myself. And then I kinda grew into the role with my teammates and coaches being encouraging and just tried to take advantage of it," Guiney said.
Guiney started her first ever career high school game in the 2020-21 home opener against Cactus Shadows. Knowing the culture around Millennium is all about winning games, Guiney had to try and treat it as any other game.
Going into the game, Guiney explained how she was a little nervous at first before really settling in. She also commented how practicing and competing every day against the talented guards Millennium had really prepared her for when the games counted.
As a freshman, Guiney was one of the key reasons why Millennium won a championship in the 2020-21 season, and that outcome was something she and the team were striving for early on.
"I like to win, I don't like to lose. Watching Millennium win those two championships when I was younger was crazy and I wanted to experience that," Guiney said. "Once we had our first team meeting over zoom, we wrote all of our team goals down together. The one that was just the main goal that we worked towards through the hard days and the early morning practices was getting the ring and winning state."
Building off the momentum of an all-around successful first season, Guiney put together an impressive second campaign for the Lady Tigers.
Being listed as a point guard is a disservice to Guiney's skillset, as she averaged 14.6 points, 7.0 rebounds, 2.5 assists, 1.4 steals, and 0.6 blocks per game in her sophomore season.
Those numbers were good enough to lead the team in rebounds, and second in points, assists, steals and blocks.
While she was aware that she was around the top two for all the major stats last season for the Tigers, Guiney isn't a big fan of keeping track of or being told the stats she put up not just last season but overall. She's more focused on putting in the work to keep improving.
"I'm not super focused on numbers, this summer we have a very good club team and we've been practicing really hard. I've been lifting more and getting into the weight room. I've been staying focused and putting in even more work than last summer, just taking it to another level," Guiney said. "I think stats and points and stuff will follow."
Guiney also gave a lot of credit to not only to the scheme but to her teammates, saying that the team plays really unselfish ball.
She also stated how grateful she is that her teammates look her way as often as they do and that she always loves to repay the favor during the game.
"When we play super together as a team everyone gets those looks, it's not just me," Guiney said.
Just like her freshman season, Guiney ended her sophomore season as a two time champion. Going into her junior season, the goal is rather simple: win her third championship in as many seasons.
"State championships is always what we're working towards, at the end that's what we need to end with. I think it would be really cool to be that first class to win the Open Division. That's one of my goals for the team," Guiney said.
The future is truly bright for the young star in the making, what may be even more impressive than how she carries herself on the court is the way she acts off.
Assistant coach Charles Wilson noticed early on how Guiney not only holds herself to a high standard, but her teammates as well
"Similar to on the court Elli is a fierce competitor, holds herself and everyone around her to a certain standard," Wilson said. "Always paying attention to the little details in film sessions and practices. All translates to her school work as well. All around amazing kid."
Guiney has the drive to be great, and that passion carries off the court. Being a first-in-last-out kind of player. Whether it's in the film room, practice sessions, or in the classroom, Guiney applies herself in all aspects of her life. Not just as a basketball player.
While she's halfway through her high school career, Guiney believes that she still has room to grow, but knows with the work she puts in this off-season that the best version Guiney is yet to come.
"I definitely don't think I'm the best I can be right now. Obviously there's a lot of things I need to work on, and I want to get better at everything. This off-season I'm going to take my game to another level," Guiney said.
Guiney isn't just playing for herself either, whether it's her goal of traveling the world while playing professionally overseas, receiving a Division I scholarship, or even winning another ring in high school, Guiney knows she has a great supporting group around her to rely on day in and day out.
"Well my family is so supportive. Good game, bad game, no matter what they're always there being super positive. They don't put too much pressure on me because basketball is a game you play for fun," Guiney said. "Obviously it gets competitive out there on the court, and they're always there to keep me grounded and mellow out. They don't put pressure on me, it's a very positive thing."
Everybody plays for someone. Regardless of who you are, there was someone who showed you the way or pointed you in the right direction or even helped you take the first step on your journey.
The saying is it takes a village to raise a child, and Guiney remembers all the people in her village who gave a helping hand to get her to where she is today.
And she won't forget anytime soon.
"Who do I play for? That's a hard question … I do it for all the people around me and that have supported me all these years. I think once I get on the court I just go, I don't think," Guiney beamed. "Just really all the people who've supported me, little Elli who wanted to dream big. I just want to go out there and make them proud."