Title IX: Colquitt head of the class on the court and in school
March 23, 2022 by George Werner, AZPreps365
---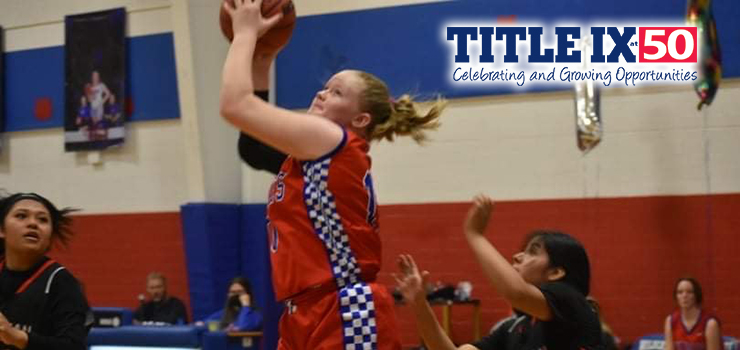 Trailblazing legislation known as Title IX was passed on June 23, 1972, which prohibits discrimination based on sex in educational programs or activities that receive federal financial assistance. It was the catalyst for bringing girls athletics in high schools to the forefront. As we celebrate the 50th anniversary of this momentous occasion, the AIA will produce a feature on the 23rd of every month on a female that paved the way for girls athletics in Arizona.
The classroom is not just the break before Abbigail Colquitt's next step – it is her next step.
"I want to become a teacher," the soft-spoken Mayer High School senior said. "At the elementary school, to start out."
So that is what Colquitt, after a record-setting career rebounding and scoring the basketball, is doing instead of a third year of softball this spring – taking a break before college comes calling.
"At the 1A level, she's been lucky enough to start all four years," said her father and Wildcats head girls basketball coach, Nick Colquitt. "If you don't start all four years, you don't set those sort of records."
The record Colquitt refers to, in this case, is the decade-old all-time career rebounding mark in the 1A Conference. Set in 2012 by Green Fields' Maya Holzman, Abbigail broke it Jan. 21 in a 38-17 home victory over Seligman.
Arizona's fourth-leading rebounder this season, Colquitt grabbed 18 rebounds to set the new record with 1,459 for her career. By the end of her season Feb. 2, the 5-foot, 8-inch forward would finish as the third leading rebounder in state history, with 1,547 total.
She would also record her 1,000th career point and rack up her 20th double-double of the season – tying for second in the state – with 15 points and 11 rebounds in the 48-26 win over Ash Fork in the last game of the season.
"She finally came around to it, but was quickly tired of all the attention," Colquitt said. After the Senior Night win, just the Wildcats' second win in their final six games, Abby was "just done with everything and ready for state."
Colquitt's favorite Mayer memory actually originates from her freshman year, playing for the first time at the Choice Wireless Classic in Chinle – where the Wildcats didn't win a single game. But she averaged double figures in rebounding each game, a statistic that has never slipped since.
Neither have her blocked shots, which have improved this season to three per game: a No. 2 average in the conference.
"It just kind of happens, I don't know," she said. "I just try to go up and get [the ball]."
Unfortunately, despite a 10-8 overall record, a No. 16 final ranking and having made it to the postseason as a sophomore and a junior, Colquitt's goal to "make the state playoffs, then finish," was not to be.
The Wildcats' Central Region, unlike other 1A regions, discontinued its postseason tournament after Colquitt's freshman season – ironically, the last time Mayer missed State.
Due to rising COVID-19 numbers on the Navajo Reservation, the Central could not arrange a super regional with the North Region. Therefore, with just two wins in their final six games, the Wildcats were displaced in the postseason by East Region tournament runner-up Lincoln Prep.
Suddenly, three years after returning Mayer to the girls basketball postseason for the first time in over 30 years, Colquitt's basketball career – at least on the high school level – was over.
"At a small school like this, when you're only nine people deep and missing that starting point guard, that's good for a couple of turnovers, and a couple of missed buckets," her disappointed father and head coach reflected. "Not all regions have the same rules and qualifiers, so it makes it tough."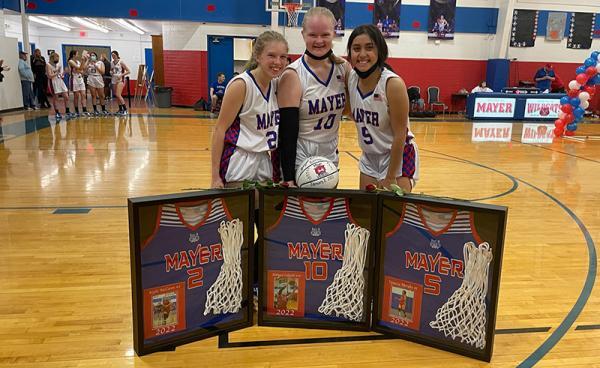 Abbigail (center) and teammates Kylie McCann (No. 2) and Vanessa Morales (No. 5) are honored on senior night.As for Abby, after a life of playing year-round basketball since starting as a 5-foot-5 sixth-grader, she is left to consider an immediate future playing basketball at Yavapai College or an NAIA school in Chandler versus a year studying abroad in Japan or elsewhere along the Pacific Rim.
"She wants to stay close – doesn't want to get too far away from home, which is fine," said Nick Colquitt, who coached an older sibling, Gabby, to a college career at Mesa's Benedictine University, from which she graduated in 2021. Then, they all go home to what he describes as a "large, blended, eight-child family" – including three older foster sisters and Colquitt's nieces.
"The twins and [Abby's] older sister were taken away from their mom in the state of Texas – Abby was, like, four at the time," the 12th-year Wildcats head coach added. "The other two, Mom just kind of dropped them off, out of left field. We were the only family with kids, so we raised them."
Other siblings are more focused on cross country – or no athletics at all. Although Colquitt says he tries to coach all of his athletes to get out of their comfort zone as communicators, as a father, he acknowledges Abbigail has been pushed harder than most of them.
Finding that balance between parent and coach has been a challenge.
"It seems like yesterday that she was in sixth grade and couldn't dribble a ball," he added. "There have been good days and bad, but she's always been pretty easy…[while] also allowed to make her decisions on how much to play, when to play.
"She's quiet and has a big heart and [is] always willing to help out no matter what or where it is. Always had to remind myself that, no matter what, at the end of the day I am a father first, and to tell her I was proud of her and I loved her."
Previous Features: