Scottsdale Prep golf looks to defend state title in 2022
March 31, 2022 by Aidan Richmond, Arizona State University
---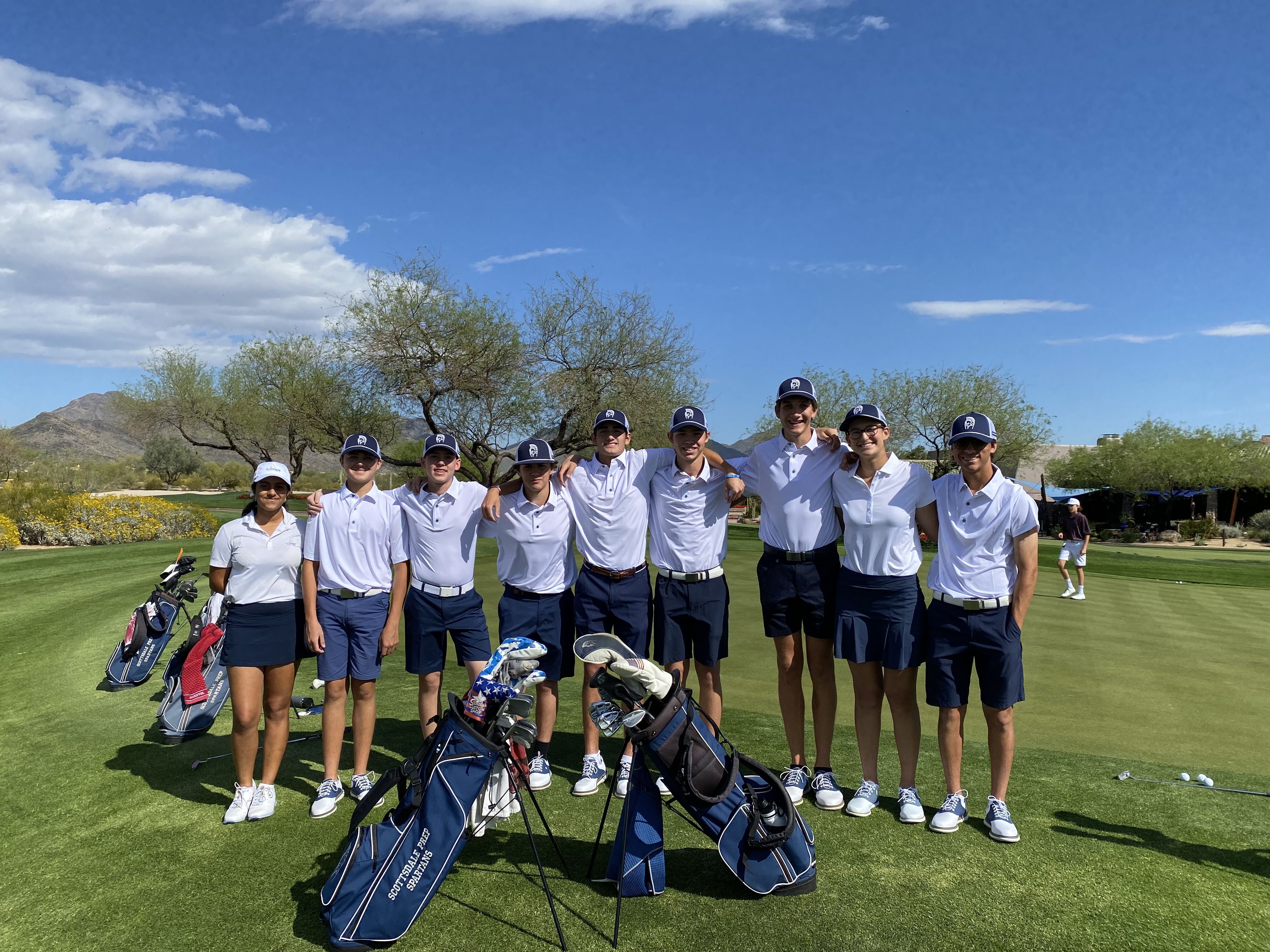 Aiden Richmond is an ASU Cronkite School of Journalism student assigned to cover Scottsdale Prep for AZPreps365.com.
With a young team that only lost one senior to graduation, the Scottsdale Prep Spartans are looking to repeat as state golf champions.
The Spartans found success accruing both individual and team accolades in the 2021 season, having both the first and second place individual golfers en route to a team state championship banner.
Adam Miller took first place in the 2021 state championship as a sophomore and has already committed to play golf at the University of New Mexico.
Miller called the commitment to UNM a relief, rather than adding any additional pressure or expectations. The scholarship offer is a culmination of Miller's work in golf that began when he was four years old. Miller said golf became the number-one thing in his life by the time he was 13.
Despite individually successful players, high school golf is a team sport and the Scottsdale Prep golfers made it clear that success as a team was their highest priority.
Senior Talia Gutman highlighted how competing as a team was something that she enjoyed more than focusing on just herself and how if someone was struggling, the team would work to cheer them up and that 'someone else would be able to step up.'
Gutman placed second in the 2021 state championship behind her own teammate Miller and is confident that she and the team can be a dominant force once again.
Coach Brian Miller also shared that he sees his team's dedication to the game of golf as a major factor in their success.
"Sometimes I get kids that just play high school golf and then they put their clubs away and play other sports throughout the year, but with this group of kids that I have now it's like a very serious group of golfers that basically play year-round golf–year-round competitive golf," Miller said.
Each golfer shared the same sentiment, focusing on how the game of golf is more than just a game to them, but something that is the driving force in their lives.
Gutman mentioned that golf was something brought to her by her father and how she wishes to share the game with her family and compete more as she moves on to play collegiate golf.
For the 2022 season, the Spartans will look to find a stride in their back-loaded schedule that features eight matches in April alone after only two in February and March combined. Four of those matches will come between April 19 and April 27.
The spacing is deliberate, as coach Miller had noticed a loss of energy in previous, more front-loaded years when the end of the season came around.
"The end of the season is really where you want to hit your stride because that's where all the invitationals are at … where we'll travel out of town and play at away golf courses and the state tournament," Miller said.
Before their busy final stretch, the Spartans look to focus on consistency and practicing as often as possible.
"The more golf they can play, the more comfortable they get playing. The more I can get them on the golf course … the more we play, the more stuff I put on the end of the schedule at the end of the season, it seemed like the more consistent and quality golf we played," Miller said.