Sprouts winter sports 'Team of the Season' award finalists selected
April 2, 2022 by Seth Polansky, AZPreps365
---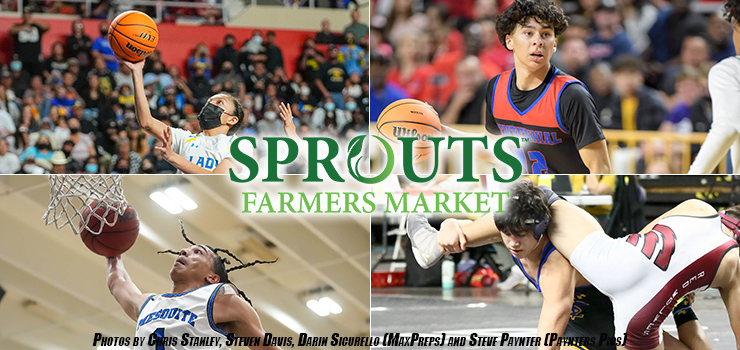 AIA partner Sprouts will once again be awarding a $500 gift card to its "Team of the Season" honoring the winter sports participants. Voting will take place Monday through Friday on the AZPreps365 Live mobile app. It's a free download in the Apple App and Google Play stores, and fans must register their app in order to vote.
The four finalists – Alchesay girls basketball, Centennial boys basketball, Mesquite boys basketball, and Sahuarita boys wrestling – were selected by the AZPreps365 writers based on overall performance, overcoming obstacles, community involvement and other intangibles that made this a memorable season.
Voting will take place from Monday at 10 a.m. until Friday at 10 a.m. The winning team will be announced on the AZPreps365 Saturday morning show on Saturday, April 9, between 8-10 a.m. The nominees are below.
Alchesay Girls Basketball
When COVID-19 historians document the greatest adversity the virus made any Arizona organization overcome, they can look first to 2022 state girls basketball champion Alchesay High School – specifically, to head coach Rick Sanchez, the Coach of the Year in the 3A Conference. His stewardship of the program not only steered them to 25 wins after losing the entire pandemic year of 2020-21, he took the Falcons all the way to the 3A title after winning the 2A championship just three years before.
As for Sanchez's girls, only three were back. Eight had graduated with the pandemic year claiming the eligibility of another four juniors from his final 2A season in 2019-20. Coming off a full year of shutdown in Whiteriver he called "awful" and "terrible," where social distancing meant neither girls nor boys could even gather to informally practice the sport the town regards as its lifeblood, Sanchez relied on a trio of returning forwards for leadership.
After a two-point win over Tuba City in the opening round of the 3A North tournament, they would never lose again, garnering the regional bid, 50-44, over tournament host Chinle, before smoking their first three 3A tournament opponents by an average of 21 points.
Although their nemesis the Wildcats saved their toughest challenge for last, forcing overtime in the 3A championship, it was the smallest player on the team, five-foot junior Jaylyn Nashio, who responded with 13 points to support Nosie's 16. With 22 points on 10-of-15 free throws, however, it was Brandy Edwards and her trips to the charity stripe that finished off the Wildcats, 66-64. In front of their entire Whiteriver community Feb. 26 in a packed Veterans Memorial Coliseum, the Falcons could at last exchange the masks they were forced to play in the entire season for their first 3A Conference banner.
Centennial Boys Basketball
Randy Lavender didn't give up, and neither did his boys.
In March, Lavender appeared headed toward a third state championship hoops loss as a head coach. Centennial trailed by 10 in the final six minutes or so of the 5A Conference championship game. But a stellar 18-1 game-ending run against Gilbert allowed Centennial to win 46-39 and clinch its first boys basketball gold ball.
The 2022 underdog Coyotes did need some luck in March to pocket the trophy. With 54 seconds left in the championship game, Emory Young converted a three off the glass to give Centennial its first lead, 40-39, since the second quarter. From there, Centennial's leader, Jake Lifgren, confidently made each of his late-game free throws, scoring 10 of his game-high 17 points in the fourth quarter.
Throughout the regular season and playoffs, Lavender's team was energized by its large fan base. A strong contingent made the 3-plus hour drive to Sierra Vista to see Centennial beat the top seed, Buena, in the semifinals. Decked in red, Centennial's fans showed up in full force, as well in the final at Arizona Veterans Memorial Coliseum. Lavender also got to share his first championship with his son, Trent, a Centennial basketball player who has battled through injuries late in his high school career. But Trent got on the court in the final and made a basket to help his team finish 26-5.
Mesquite boys basketball
Mesquite caught fire in late December and never let up as it capped its 4A championship season with the school's first-ever boys hoops title. Coach Shawn Lynch, in his second year at Mesquite after leaving coaching for administration at Williams Field and Westwood high schools in the 2010 decade, guided the Wildcats' fortunes.
Mesquite posted a 27-3 record and won its last 18 games in a row to earn the No. 6 seed heading into the postseason. It secured the Desert Sky Region title in perfect fashion (8-0) and did not lose to a 4A school during the season. It's only losses were to Hamilton, Brophy and Gilbert - the 6A runner-up, 6A semifinalist and 5A runner-up, respectively.
At the 4A state tournament its conquests, in order, were Prescott, Peoria, Saint Mary's and Salpointe Catholic. Peoria and Saint Mary's were the two most talked about schools as preseason title favorites. Its title run did require some luck in its semifinal victory over the Knights, 74-73. Standout guard Nate Calmese sank a desperation shot from about two-thirds the length down the court as time expired for the win.
Mesquite went toe-to-toe with top-ranked Salpointe in the championship game and didn't back down. Close throughout, the Wildcats hit their shots when they needed to down the stretch for the 64-58 win at Arizona Veterans Memorial Coliseum.
Sahuarita boys wrestling
Sahuarita went from 0 points in 2019 to 160.5 this past winter, and the jump from last place to a state championship wasn't measured in just three years and a lot of points. It was measured with hard work and dedication under the leadership of head coach Paul Vasquez.
The Mustangs only had one wrestler qualify for state in 2019, but that number jumped to eight in 2020 with a runner-up finish and an individual state champion in Gabriel Howard.
Sahuarita qualified 11 in 2021 and that resulted in another runner-up finish, but no individual state champions. That changed again in 2022 when the team sent 12 wrestlers to state finals, and three individuals (Sergio Pena, Gabriel Gallardo and Julian Prieto) went on to win state championships to help lead the Mustangs to the first team title in program history after four previous runner-up finishes dating back to 1977.