Notes from the North: March in review uncovers Bagdad's Watson
April 5, 2022 by George Werner, AZPreps365
---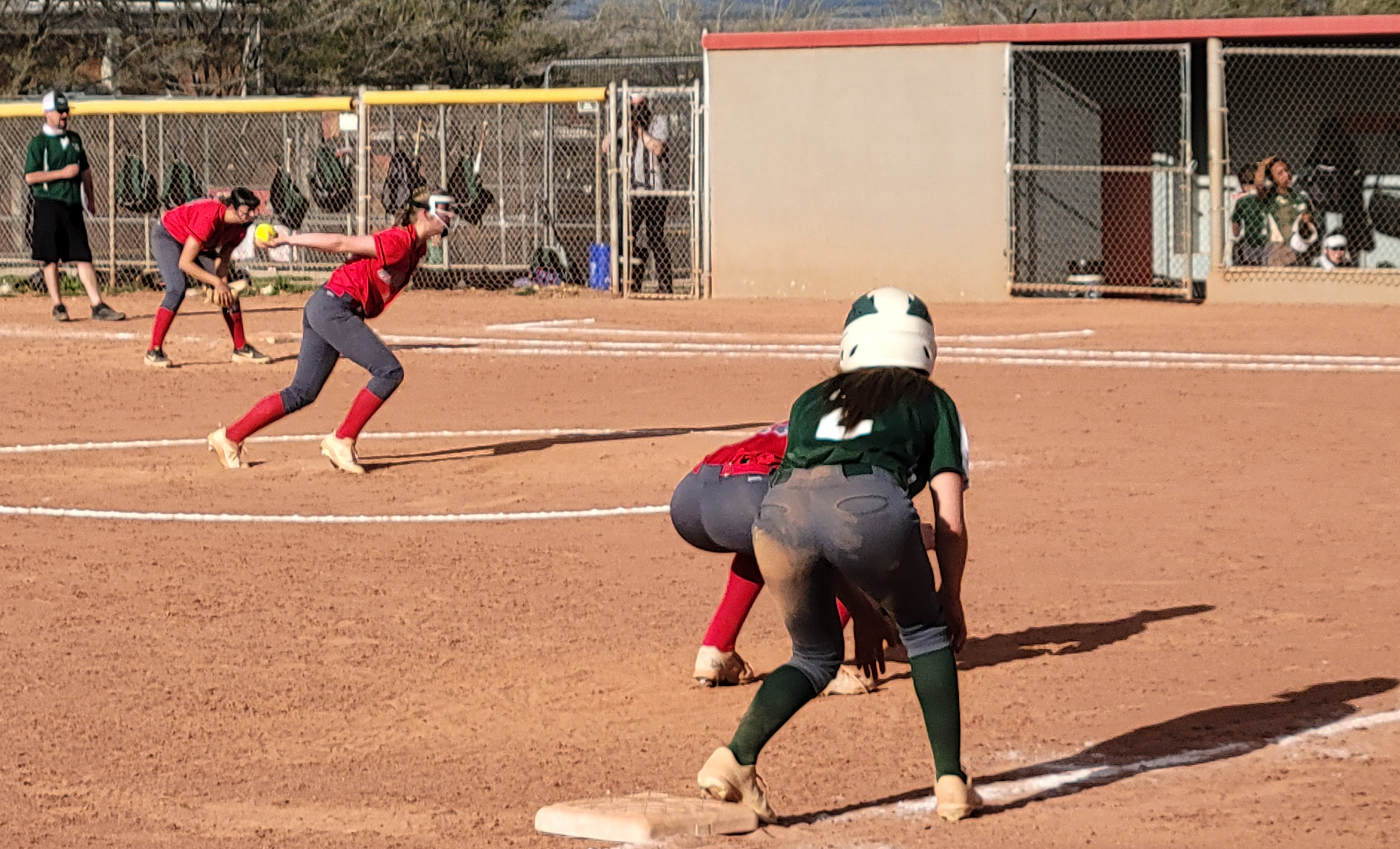 It has truly been a mad March, readers. But after all the February Frenzy, I am still here.
The end of the month was not easy. Two broken ankles hit me harder than a Will Smith right cross. But with your help, I can make a full recovery by the state softball championships May 13.
Yes, I am learning to walk again, but fortunately, I don't have to learn how to write all over again. Which is good news for the teams wearing red and black in Page and at Bradshaw Mountain, where their high school baseball and softball teams have yet to cool off after virtually undefeated starts.
At 9-0, Page High School is alone atop the 3A Conference softball rankings, with the Sand Devil baseball team ranked fifth at 7-0…
Not to be outdone, Bradshaw's teams have gone 18-0 on the diamond through the first 29 days of March, with both still ranked among the top seven in the 4A Conference.
A pair of upperclassmen, Elias Avila and Vance Sartor, have led the way at the plate and in the field, respectively, for head coach Brian Bundrick's Bears. Avila, in fact, is tied for third in Arizona in home runs, going over the fence six times already.
Junior first-team all-region infielders Brianna Baca and Ashley Lisiecki head a loaded returning Bear softball roster, supported by senior returning second-teamers Brina Lankford and Kyla McDermott...
But if there is a natural law the Bears can count on to keep them grounded, it's that no Grand Canyon Region team can be called truly great until they win at altitude. Although the Bear baseballers survived the Panthers in 10 innings at home, 11-10, March 31, they were overwhelmed at Coconino, 16-13, April 2 to begin leveling part of the regional playing field Bradshaw had rendered so uneven.
On the final two days of March, head coach Dave Capka's softballers also put that theorem to the test with a home-and-away doubleheader against fourth-ranked Coconino.
The Panthers, putting the ball in the right hand of new star pitcher Kaitlyn Tso both games, upheld the law. Knowing first-team all-region sophomore Alyssa Fockler had her back in the infield, Coconino's freshman ace won her 11th and 12th games of the season–one off the state lead.
Tso struck out 15 to hand Bradshaw its first home loss March 30, 5-2, then turned around and mowing down another 10 Bears in Flagstaff the very next afternoon to take two, 14-6, and keep pace among the state leaders not only in total wins, but also Ks, ranking seventh in Arizona…
There remains one region right-handed pitcher ahead of her in both categories, though: Mingus Union High School senior Alexis Ayersman. With three no-hitters as the cherry on top of a stat-rich sundae for head coach John Brown's ace, the defending region champion Marauders are a 4-3 loss to Flagstaff away from joining Coconino atop the region, which can also count on its first- and second-team honorees from Prescott–junior slugger Ava Hlavacek and sophomore earned-run average leader Eliza Legge–to keep it toe-to-toe with the Kino and any other in 4A as the toughest to win in this spring…
It would be interesting to see how Mingus would stack up against a team like Lake Havasu, the second-ranked team in the 5A Conference at 9-1 despite playing in a Desert West Region in which every other team is in West Phoenix. The Knights already hung those numbers up on Flagstaff in their Wrangler Invitational opener March 4 in Wickenburg, outscoring local competition the rest of the month by a magnitude of eight, 104-13, in just seven games.
Large credit for that belongs to senior 12-game winner Alysen Rieth, who has junior Alexis Martin closing for her to the tune of a 0.93 ERA. They are both top eight in the state in those respective categories, which is a lot easier when they have seniors Aubrie Carver and Natalie Ramirez crossing home plate at such a high clip, they have tied each other for second in Arizona with 40 runs scored each.
Pair that dominance with the fourth-ranked girls tennis program and seventh-ranked boys tennis team–themselves a combined 16-0 in team play with just five matches to go in the regular season–and it is easy to see why the smiles around Knight athletics are, for once, as bright as the glaring sunlight in the Colorado River town….
Fear not, Eagles fans: their boys and girls tennis teams are a combined 13-1, and Flagstaff volleyball guru Beth Haglin currently has them challenging for a state beach volleyball championship as one of just three undefeated teams in Division II, at 7-0, with five matches to play in the regular season.
Top those performances with the fact that half the 1A baseball and softball Top 10 rankings are composed of teams from the North and East regions, and it has been a stout start on the diamond for Northern Arizona's softball and baseball programs–both stalwart and upstart alike. The region's top playoff contenders in the two sports after the first week of power rankings are profiled below, with region leaders starred and region and overall records in brackets:
Imperial 1A powers Mogollon, Williams battle Bagdad in top 4
The 1A Conference is perennially the young Luke Skywalker of the Arizona Interscholastic Association, as you'll find it's full of surprises. This spring, it is Bagdad, impressive at 8-1 in baseball with its only non-tournament loss March 18, 10-6 to top-ranked Mogollon in a Freedom doubleheader at Benjamin Franklin High School, as senior pitcher Connor Watson is streaking into his second no-hit month. Just as impressive the Sultans' softball program has been, though, ranked third at 7-1 while testing the Arizona Interscholastic Association's mercy rule, which kicks in after five complete innings and a margin of victory of 10 runs or more. Bagdad prefers its victories to come more by scores of 27-2, 23-0, 31-0 and 40-0. But first, a champion returns to No. 2 in the state, with a bullet:
2. Williams [6-2, 3-1 North]: Don't underestimate the defending 1A champions. The domination of Mohave Accelerated on their field would not come as a surprise to head coach Raul Hatch or his players. In fact, their run-ruling of the Patriots, home and away, in four and six innings to end their regular season last spring served as catalysts for a dominating postseason run in which they outscored their four opponents–including this season's top two, San Manuel and Superior–at Peoria's Rose Mofford Sports Complex, 69-14. The Vikings may trail Joseph City in the North Region standings after dropping the latter half of their two games, 12-9, on the road. But they're still getting warmed up. Sophomore ace Kai Mortensen is picking up where her older sister Sydnee left off on the mound from last season, winning eight games–including two no-hitters–with a 2.33 ERA and .965 fielding percentage. Battery mate Cheznie Carter throws out half the runners who try to steal bases on her, but her batting average is even higher, and she gets on base more than 65 percent of her at-bats. Fellow junior Jessica Zabala fields 99 percent of everything around first base, while two other junior infielders, Shaelee Echeverria and Kadance Orozco, have combined for 45 RBIs. A Saturday, April 9 game at 2A top 10 team Northland Prep will provide a needed benchmark in the Vikings' title defense.
4. Bagdad [7-1, 6-0 West]*: So the 1A Conference seems to be all too easy for the Sultans, whose only non-tournament loss came at home to Wickenburg despite a two-run rally in the fifth inning. Head coach Sarah Morris' team even shut out 3A Parker, 28-0, over two games. Credit for such romps begins with center fielder Briah Williams, one of the top sluggers in Arizona and the top home-run hitter in 1A with a .717 batting average and 18 stolen bases. One homer behind Williams is sophomore Nuvia Jauregui with seven–and a 1A-leading 36 runs batted in–followed directly by junior catcher Lindi Langston, who adds 30 RBIs. Almost every girl in the batting order is in one of these 1A top 10 statistical categories, as junior third baseman Jocelynn Rodriguez adds four home runs and 23 RBIs, while her freshman counterpart at first, Sarah Blanton, bats for a .611 average. Even freshman outfielder Kiah Morris gets on base two-thirds of the time, as her .667 average is sixth in the conference. Senior ace Holli Myers keeps the opponent firing blanks, as she has no-hit three teams in her eight wins on the mound, striking out 96 with an earned-run average just over two runs per outing. It will be interesting to see if, not who, can be a challenge for Bagdad in the postseason.
6. Joseph City [5-3, 4-1 North]*: After a slow start, the Wildcats have won five straight and streaked to the top of the 1A North pile. Their turnaround came March 25 in the 12-9 home win over Williams–three days after the Vikings had unceremoniously run-ruled them on the road. Sophomore pitcher Kayle James' confidence spiked in this game, as she got her first in what has very quickly become three wins despite allowing 16 Vikings hits and nine earned runs, including two in their final rally. But head coach Daniel Hutchens stuck with her, and the improvement, in her subsequent wins, has been immediate: a three-hit shutout of 13th-ranked Fredonia, followed by nine strikeouts at 12th-ranked Mogollon, to the point she is now top 10 in conference ERA at 6.38. Junior Kassidy Juarez hit the second of her three homers, and sophomore Aja Tagler went yard as well to highlight a 4-for-4 day with two RBIs and two runs scored. Freshman Staisha Murdock went 3-for-4 with a triple and three RBIs to round out the Wildcats' big day. They have outscored their opponents ever since, 64-19.
8. Mohave Accelerated Learning Center [6-2, 3-1 West]: As the Sultans rise, the Patriots from the Mohave Valley mysteriously fade. Mohave Accelerated shot itself out of a cannon in March, taking two games from Parker as well before turning Salome back into tadpoles, 17-2, then beating Antelope Union in a home doubleheader with ease. Junior Kaylene Burright was shaping up to be one of 1A's top sluggers, batting .600 with a .655 on-base percentage. Freshman pitcher Alyssa Laing had four early wins and was limiting opponents to a sub-4.00 ERA with junior Sonoma Deal having her back behind the plate. Then, however, a road trip March 29 to Bagdad happened, and the Patriots have been in a two-game losing streak ever since. It was not a confidence-shaking loss, as the Patriots were tied with the Sultans until a four-run fifth. Junior infielder Jezika Kalaitzian is still with Burright and two other juniors, Jordin Bernard and Nancy Keeley, as four of 1A's best hitters. Nevertheless, they followed that 11-2 loss by being taken apart at home by seventh-ranked Williams, 18-5. A Friday, April 8 doubleheader with Anthem Prep is the next hope to end the skid for head coach Shanda Weiler's team.
9. St. Michael [5-1, 3-1 North]: Although the Cardinals run-ruled Chinle in a road doubleheader March 5–in the minimum five innings, both games–they still have plenty of room to grow. They just don't have the field on which to do it this spring, being forced to host teams at the softball complex in Gallup, N.M. Second-team all-1A utility player Gabriella Simpson has slid into a starting pitcher role as a senior, improving on a 1.57 ERA she had in four wins as a junior. Simpson forms one-third of the triad of senior leaders that will carry head coach Karen Tom's team as far as their talent will take them. Second-team all-North senior Santana Dalgai rotates between the infield and outfield and carries a batting average near .600 at the plate. She is an equally important piece to the Cardinals' 1A title mission. Another second-team all-North senior, Kalynn Smith, can also play infield or outfield. But her real value comes at the plate, as she can get on base more than 71 percent of the time, and whose batting average is nearly as high. Two home runs in a 22-0 opening win over Seligman/Ash Fork show the Cardinals can hit for power, and win with the long ball. The major question mark for the Cardinals in getting past the first round, where they lost to Superior last season, is depth, as just one bench player returned from last season.
12. Fredonia [3-2, 2-1 North]: A season ago, the Lynx lost every one of their games until the last, a 17-16 comeback victory over Mohave Accelerated in the second game of a home doubleheader on a two-run rally in the bottom of the seventh inning. Head coach Mike Waters needed every one of the five RBIs and three runs scored by Mckenna Grover–plus two more RBIs and four more runs scored on four hits by daughter Mikelle, who is also a junior this season. Nevertheless, due to COVID dropouts, 1-9 Fredonia got a play-in seed against Bagdad and a trip to Peoria. They were shut out in a five-inning run-ruling, but the experience was what counted, as this season, Fredonia has won three regional games already–two in five innings by 10 runs each. Mikelle Waters is developing into one of the top sluggers in 1A who gets on base nearly 75 percent of her plate appearances. Grover's slugging percentage is right behind hers–and ahead of her in stolen bases. She sports a .538 batting average and .571 on-base percentage. Junior pitcher Braxton Henderson has struck out 27 batters already. What a difference one trip to the state tournament makes.
13. Mogollon [1-3, 0-2 North]: This ranking will likely drop further, as it has been some time since a Mustang team has lost its first two region games–let alone at home, where Mogollon was edged by 13th-ranked Fredonia before getting hammered by resurgent Joseph City. It was a decen enough start under head coach Taralee Porter, as her Mustangs took three of four games at the Phoenix Country Day School's Desert Classic before returning home March 9 and beating 2A postseason candidate St. Johns for a second time. Junior Ellie Hancock went 3 for 4 with a triple, three RBIs and two runs scored as part of a five-run first inning in their second meeting with the Redskins. Senior pitcher Brooke Valdez managed to keep her ERA at 3.82 in the 11-10 win, her third despite the Redskins scoring a run in every inning from the third on. Senior Emma Cochran is one of the top fielders in 1A, but it wouldn't be enough to stop a five-inning, 22-2 run-ruling March 23 at Round Valley. Although the Mustangs rebounded for a 22-0 win at the Epic Tourneys Softball Classic, they were drummed out of it, 14-1, by Pima. They need wins urgently, starting Tuesday, April 5, in the first of two home-and-away games this week with Williams...
Tuesday, April 5, top-ranked Mogollon hosts second-ranked Williams to decide who will be the last undefeated baseball team left standing in the 1A Conference. Prior to this first of two meetings between the North Region leaders, the 9-0 Mustangs hung double-digit runs on all of its non-tournament opponents except for a seeming April Fool's win, 4-1, over rival Joseph City. The defending 1A champs, for their part, already blasted the Wildcats two weeks ago, home and away, by a combined 28-6 tally. The Vikings have not lost at all since March 5 in the Kingman Invitational but have not yet faced fourth-ranked Bagdad or No. 9 Fredonia:
1. Mogollon [9-0, 4-0 North]: Outside of two losses in a preseason McClintock High School tournament to 18th-ranked 3A program Benjamin Franklin, the Mustangs have not yet faced a challenge like the one Williams poses. They have, in fact, only been taken to the seventh inning four times this spring. As one of Arizona's best sluggers with a .564 batting average, 23 runs scored, 21 RBIs and three home runs–which shares 1A leadership with cousin and fellow upperclassman Fisher, one ahead of senior RBI leader Braxton Owens–pitcher Malaki Porter also can apply 36 strikeouts and a team-leading 1.73 ERA as finishing touches on one of the most accomplished athletic careers in school history. Twin brother Cael actually leads the team with 40 strikeouts on the mound, but it helps both of them to know they are pitching to a reliable catcher. With a .971 fielding percentage and 23 runs scored, sophomore Adrian Suarez is definitely that.
2. Williams [7-0, 4-0 North]: The Vikings celebrated the day before April Fool's Day by smashing the playoff hopes of the combined forces of Ash Fork and Seligman high schools, 23-2. North Region Offensive Player of the Year Tyler Jensen was a clean single away from hitting for the cycle, smashing two doubles, a triple and a home run to knock in seven RBIs and improve his batting average to a team-leading .538. Another sophomore, infielder Raymond Gonzalez, also went yard and added two doubles for 5 RBIs, essentially ensuring he and Jensen could run-rule the Spartans by themselves. As for the upperclassmen, second-team all-region outfielder Preston Ford, one of the conference's top fielders but just second on the Vikings defensively to Jensen, added a double and two RBIs and was perfect in relief of starter Oryn Orozco, giving team ERA leader Jacob Giles a rest.
4. Bagdad [8-1, 3-0 West]*: The only serious challenge to Mogollon this spring besides the April 1 home win over Joseph City came two weeks earlier from 1A West leader Bagdad, a 10-6 decision March 18. The central reason why? The respect accorded Arizona Christian University commit Connor Watson, who has a .471 average and batted in a run to add to his team-leading total of 18. But, moreover, the Mustangs did not want to face Bagdad's staff ace in Watson, first-team all-1A pitcher who has not given up a hit in a month. After giving up five earned runs in just four innings in a 10-9 state semifinal loss to 1A runner-up Ray last season, Watson picked up right where he left off Feb. 25, striking out another seven Anthem Prep batters in just two and two-thirds innings of an 18-3 win. After owning three Parker runs but giving up no hits in two innings of relief for sophomore starter Shane Hooper, Watson allowed Kingman two hits in two-and-one-thirds innings of its home tournament game March 3–and hasn't given up a hit to a team since. Sending Gila Ridge packing from the Kingman Invitational, 5-1, with a walk in a four-inning win, Watson returned home March 10 to strike out all but two of the Mayer batters he faced in a 31-0 run-ruling. After giving up two walks and one less strikeout in another five-inning win–this time 10-0 over Oregon high school Santiam Christian–Watson struck out another 14 of the 15 Mohave Accelerated batters in yet another five-inning run-ruled shutout, 13-0. Now head coach Dalton Mills enjoys the support of other 1A leaders like Hooper, who has as many wins on 41 strikeouts and an ERA one-hundredth of a percentage point over two. Infielder/outfielder Keiland Lucero is one of the most reliable fielders in the state, while another senior, center fielder Cooper Williams, is one of the state's fastest on the basepaths. He leads the Sultans in runs scored with 22–two ahead of sophomore second baseman Joe Gonzalez. The three have combined for 52 stolen bases this season, with Williams' 27 tied for second in the state. But all eyes will be on Watson, who can lead the nation in no-hitters when he takes the mound Thursday morning, April 7, in the Epic Tourneys Baseball Classic at Chandler Prep.
5. Joseph City [4-3, 2-3 North]: After the 4-1 loss at Mogollon ended the Wildcats' three-game winning streak, they hope to hang onto their first-round host seed and start a new win streak against Freedom opponents Northland Prep and Hayden beginning Wednesday, April 6. There is time to make one more run at Mogollon and secure at least second place in the North Region. There is also certainly experience and talent, with no less than five all-region selections contributing–including all-1A Honorable Mention third baseman Karter Lampsa and junior pitcher Brody Penrod. Six-foot, three-inch senior first baseman Tyler Penrod, junior shortstop Bannon Johnstun and catcher/pitcher Owen Beatty can also make the difference between playing at home and staying at home for the postseason. However, the Wildcats no longer fully control their own destiny after losing both at home and on the road to Williams.
9. Fredonia [3-3, 2-2 North]: If Lynx head coach Derran Tait thinks this is the year his team can take the next step and make a move on the big boys in the North Region, he'll need to build on his doubleheader sweep of Ash Fork/Seligman starting Friday, April 8, at home against Utah high school Water Canyon. He'll need every single player on his 13-man roster to do it, too–starting with a staff ace on the mound, as Fredonia's .500 record has been won in slugfests so far. Upperclassmen like Joe Blaylock and Wyatt Grover should be looked to for leadership, as they are the only two seniors back from the 0-10 nightmare that was 2021. Junior Kaden Lathim can be key as well, shepherding along the younger sophomores like Tra'Shawn Ford, Treyston Jones and Jayden Mackelprang looking to kick the team's performance into the next gear.
River Valley, Round Valley lone NAZ teams in 2A baseball & softball playoff contention
Last spring, it was a late rally that lifted River Valley over 2A softball favorite Benson for the state championship, the Dust Devils' first in any sport. This spring, the defending champs find themselves in third in the AIA rankings behind not only the 7-0 Bobcats but 10-1 North leader Round Valley. The Elks, who were outscored, 18-7, by the Dust Devils in a four-inning consolation final of the Wrangler Softball Classic in Wickenburg, have, as their only non-tournament loss to date, a 4-1 decision on March 14 to Benson. That latter score matches new head coach John Glenn's record through five non-tournament games, as River Valley is just settling down into West Region play after getting dominated by Lake Havasu and Snowflake–but beating Page–in their other notable tourney games in Kingman and Wickenburg:
2. Round Valley [10-1, 4-0 North]*: Junior 12-game winner Allyson Muth owes a portion of her success as Elks ace to one of the state's best sophomore catchers, Liliana Arreola. Not only is Arreola fifth in the state in runs batted in with 39, but her .833 percentage is tops among Arizona high schoolers–meaning she has caught 10 of the 12 baserunners who have tried to steal a base on her. She also is tied with senior teammate Taylor Walker atop the 3A homer leader board with six round-trippers on the season. If Arreola keeps up this pace, she will be the toughest catcher in America to steal on by the end of the season. Older sister Emily Muth and fellow senior Shiloh McCall are two of the state's top 10 run scorers as well, having crossed the plate a combined 75 times.
3. River Valley [4-1, 3-0 West]*: Following an 18-0 crushing of No. 10 Trivium Prep the final day of March, only Laveen's eighth-ranked Heritage Academy remains an unknown test on new head coach John Glenn's schedule. Thursday, April 7, at home against the Heroes will begin to tell whether the Dust Devils have the right stuff to successfully defend their first state title. Junior catcher Karina Pulu, who caught the final out of the state championship May 15, certainly has proven she does, crushing two two-run home runs to surpass senior teammate Rusti Glenn's four in the five-inning win over Trivium. Sophomore Trinity Williams, whose freshman speed beat out an infield single that allowed the title-winning run to score, added an RBI double in support of her March 31 one-hitter of the Crimson Knights, her seventh victory as a pitcher. But the team's heaviest hitters are senior Talynn WIlliams and sophomore Aaliyah Rodriguez, two of the conference's top five with batting averages well into the .600s.
5. Kingman Academy [6-3, 3-2 West]: The Tigers are one of those teams that can handle everyone on their schedule except the defending state champions, the team they happen to look up to in the West Region. The proof has been shown as recently as April 1, when Kingman Academy took an April 1 doubleheader from Heritage Academy, 12-8 and 8-0. The Tigers had even drubbed 24th-ranked St. John Paul II, 33-0, in between losses to the Dust Devils. After taking all four of their games in the Joseph City Invitational, they were 7-1 headed into their first matchup with River Valley at home March 22. A week and two losses to the Dust Devils by a combined 23-2 score later, the Tigers were licking their wounds at 11-5. Catcher Ammerisa Benson went yard in each road win over the Heroes, but it is his her battery mate and fellow senior Abbie Bean who has proven to be Kingman Academy's ace–in the hole. In winning her sixth and seventh games, Bean struck out 20 to improve her total to a state-best 127. The Tigers will go as far as Abbie Bean can take them.
8. Northland Prep [6-1, 2-0 Central]*: After dropping their Feb. 24 opener to Bean at Kingman Academy, 10-7, the Spartans reeled off eight wins in their next 10, with only a tie and a shutout by 4A Poston Butte in Mingus' new Faith Moore Memorial Tournament blemishing Northland Prep's perfect recovery heading into a home showdown April 5 with 3A top dog Page. A 7-5 tournament win Feb. 25 over Show Low excepted, the Spartans have exploded offensively, scoring at least 10 runs in each of their wins while allowing just over one from their opponents. As in so many other situations where the Spartans needed a spark, senior shortstop Maggie Auza has answered the call. Her batting average and on-base percentage are both fifth in the state and nearly equal to each other, at .744 and .792, respectively. On this roll, however, Auza has had the pressure to pitch taken off her by four-game winner Reannan Butler. The junior's sub-1.00 ERA is also top 10 in Arizona for region Coach of the Year Betty Dean.
13. St. Johns [6-4, 2-1 North]: Getting all-region second-team catcher Brooke Bastress back has been instrumental in the Redskins showing signs of life the past two games in their fight to host a play-in seed. The junior has long experience and rapport with senior starting pitcher Ashtyn Crosby. When they and first-team all-region shortstop Shantel Perry head to the mound for a conference, none other need enter. The infield is locked down. Which certainly didn't hurt head coach Christopher Ervin in a 16-3 run-ruling of Hopi in five innings April 4; the significant question remains, though, is this second win in a two-game win streak indicative of an upward, lasting trend? Or will the Redskins, after an eight-day break, revert April 12 against top-ranked Page to the team that lost by 11 runs at home to Holbrook and Round Valley the last week of March? St. Johns has 10 games left to decide which identity it wishes to take.
16. Ganado [4-2, 1-0 North]: As for the second-place team in the region, four games in the two seasons prior to this spring are better than just one. Head coach Sylvia Edgewater has led her otherwise similarly inexperienced team to doubleheader sweeps of Hopi and Monument Valley, Ganado's opener on the road March 8. In between these romps, however, were a cameo appearance at a tournament in Joseph City–a one-run loss to Kingman Academy–followed by two even more precipitous losses by double digits in a doubleheader at Chinle. So the pressure is all on Ganado, who was a competitor in the 3A Conference's East Region prior to the pandemic.
17. Sedona Red Rock [3-4, 2-3 Central]: It is only because of 13-3 and 16-7 wins over mid-20 seeds Desert Heights and Glendale Preps that the Scorpions are this high. Losses by scores of 29-0 at Chino Valley, 24-2 to Northland Prep in their home opener and 24-13 at home to No. 16 North Pointe Prep are strong indicators that, especially with six freshmen, Red Rock is at least a year away from serious postseason contention. For the past five years, pandemic and personnel problems have translated into struggles for the Scorpions to even complete a season. Making it in the 2A tournament as a play-in seed last season was a step in the right direction, but the specter of run-ruled blowouts needs to stop rearing its ugly head like it did four times last season, by an average of nearly 16 runs. It doesn't help that the Scorpions are breaking in a new catcher, freshman Hope Calandra. Central Region Defensive Player of the Year Annabelle Cook is the bright spot at shortstop. The 5-foot, 1-inch junior compensates for size with speed, covering a ton of infield for sophomore pitcher Alyla Brooks.
24 (+ one). Piñon [2-3, 1-1 North]: Having played just six games this year–and just a solitary game against Greyhills Academy in the two years prior–the Eagles are the team facing a crisis of even having an identity under head coach Verna Benally. They haven't played since April Fool's Day, mustering just one hit while getting run-ruled practically out of the gate at Round Valley. The Elks scored 12 runs in the bottom of the first, adding another run in the fourth before the AIA's mercy rule kicked in after five. The Eagles play again Saturday, April 9, opening the Hopi Softball Invitational with the team they demolished in a season-opening doubleheader, Many Farms. They then take on Valley (Sanders) before closing the same day with the team they will play at in an April 13 doubleheader, 18th-ranked Ganado. Too much adversity playing the Hornets three times in a row could cause the raw, inexperienced Eagles to fold–or rise to the opportunity, especially knowing they close their regular season with winnable doubleheaders at Valley and against Hopi. Piñon's desire to play in the postseason after two years of virtually no competition at all will reveal itself during this stretch.
The wasteland that pervaded Northern Arizona boys basketball in the 2A Conference has persisted in baseball, with ninth-ranked River Valley the highest-ranked team north of…well, THE Valley, as the 2A top 10 consists of six Phoenix-area teams along with Benson, Miami and Pima trailing top-ranked Tombstone. The West Region-leading Dust Devils, whose two non-tournament losses have been to 3A and 5A teams, are looking for closer competition than 23rd-ranked Piñon. The Eagles started strong but have dropped their last two and don't play again until April 9 in a tournament at Hopi High School. They, No. 17 Round Valley and No. 21 Ganado will all be beating up on each other in the North Region, barring a major turnaround in the next month:
9. River Valley [6-2, 3-0 West]*: Including the Dust Devils' own Route 66 Tournament and the Kingman Invitational two weeks before, head coach William Fregozo's team has won 15 of its last 17 games after an 0-2 February. There may be no team in Arizona baseball hotter, by that metric, than River Valley, who has won its last six in a row by a grand total of 50 runs while allowing just 24. Propelled on the mound by sophomore five-game winner Dreyton Gleason and junior shutdown reliever Hayden Goveia, the Dust Devils are throttling playoff-worthy teams like 22nd-ranked Phoenix Christian. After going into the top of the third inning March 24 at home up, 2-0, the Cougars were run-ruled in nine outs on the strength of 11 stolen bases–as Goveia and sophomore C.J. Hunter bunched multiple thefts with 2A leaders Zach Hammett and Gage Solano to send River Valley into beast mode in a six-run fourth. Mix those in with junior outfielder Gavin Hogencamp's three wins as a pitcher and 23 runs scored, as well as timely hitting from all of the above players, and the recipe for a run to a first-round host seed is set.
17. Round Valley [6-5, 4-0 North]*: Including a March 25 forfeit at Valley, the Elks have won five of their last seven games. In the five-inning April 1 victory over Piñon, senior outfielder Rowdy Rivera had a solo home run and scored twice more, while fellow outfielder Ryker Marble added a double and triple, plating three times himself to help deliver the win for fellow sophomore Noah Dana, who struck out eight Eagles in four innings on the mound. After Round Valley travels to Chandler Prep for the Epic Tourneys Baseball Classic on Thursday through Saturday, April 7 through 9, the regional leaders will likely determine the regular-season North title Friday, April 15, when Ganado, also undefeated in the region, visits for their first and only matchup.
21. Ganado [5-2, 3-0 North]: Right behind Round Valley are the Hornets, anticipating a sting of the Elks upon their first slip-up. Much of this hope rides on junior pitcher and infielder Tanner Guy. One of 3A's top three hitters with a .682 average, Guy also boasts an on-base percentage of over .700 and has also stolen 17 bases. And when Guy, senior outfielders Jayden Smith and Zach Thomas, or any other Hornet runner, get on, they look to steal bases every chance they get. No April Fool: In two five-inning wins April 1 over Hopi High School, the Hornets stole an astounding 52 bases, never once getting thrown out or picked off. they have an April game against 1A St. Michael in Gallup, N.M., before they play Piñon twice Saturday, April 9, at the Hopi Invitational.
23. Piñon [4-2, 1-1 North]: No telling how much longer the Eagles will enjoy a seed for the 2A tournament play-in game April 30 after losing their last two, scoring just one run each, but there's not much further head coach Myron McLaughlin's team can drop. All looked great after the first game of a March 22 doubleheader, in which the Eagles stole an incredible 32 bases, led by junior outfielder Terrance White, who went 5 for 5 with four runs scored, three RBIs and three doubles in a 15-7 win. Even dropping the second game, 3-1, was understandable, as it was a mid-week road trip. But giving up 13 runs on 13 hits in five innings at 21st-ranked Round Valley, while mustering only a single run in response, seemed like an April 1 joke–then a shock, when proved serious. Sophomore Cory Ben must show more of his 100-pitch dominance of Tuba City in doubleheaders at Hopi, St. Johns, Valley (Sanders) and 23rd-ranked Ganado. Otherwise, an April 19 visit from 28th-ranked St. Johns looms as a likely win-or-go-home game for both teams.
Page, Snowflake, Window Rock, Winslow class of North, East regions
Snowflake is an eight-inning, 1-0 loss March 24 at second-ranked Winslow from flipping the script in not just the East Region, but the entire 3A Conference. Junior pitcher Maren Berger had one-hit the second-ranked Bulldogs through the first seven frames and had put herself into scoring position with a double–becoming the only player to hit safely twice off the Bulldogs' senior ace Mykenzie Flores. But, as the way the ball would bounce that day, Berger was left stranded, sophomore infielder Brinleigh Arredondo connected for Winslow's first extra-base hit in the bottom of the eighth, then Flores drove her in from second to lift the Bulldogs, due some late-inning luck after suffering their only loss, 7-6, in nine innings March 8 at Page. So, despite the Lobos blowing out Page, 13-1, March 4 at the Wickenburg Wrangler Softball Classic, it is Page that is atop the conference, Winslow that leads the East and Snowflake that is left looking to bolster Berger's 1.17 ERA, second-lowest in 3A, until it can exact revenge Tuesday, April 12, at home against Winslow:
1. Page [9-0, 7-0 North]*: Junior Calena Miller can play just about anywhere–and hit anywhere, too, with a conference-leading .714 batting average, eighth in the state. Her 3A-leading on-base percentage is augmented by 24 stolen bases, also tied for third in Arizona. And Miller is not even the most dangerous baserunner on the Page roster. That is junior Tessa Cummings, who has four more stolen bases, second in the state. That combination alone could be enough to carry a team to a title in some Arizona regions, but Miller has two junior teammates who are top-four 3A hitters as well in catcher Miakoda Whitehorse–a top 10 fielder in Arizona–and battery mate Grace Jump. Jump, the staff ace with a 1.83 ERA, also has 89 strikeouts to her credit for Region Coach of the Year Sunni Crank, placing Page in positively lethal territory.
2. Winslow [7-1, 2-0 East]*: In the loss at Page, it wasn't hitting that did the Bulldogs in. They had jumped on the Sand Devils for three runs in each of the first two innings, led by junior shortstop Jaylynn Sharp, who went three for five on the day with two doubles and four RBIs. Infielder Brynlee Barris went three for five as well, joining Sharp and fellow junior Alexis Smith, who scored twice, with RBIs as well. Eight strikeouts, however, prevented more offense, and five fielding errors led to a five-run collapse in the sixth and seventh innings that tied the score and forced a nine-inning contest.
4. Snowflake [7-1, 2-1 East]: Berger's battery mate, junior catcher Lillieann Hollom, has kept virtually everything in front of her this season–including the score. She not only has thrown out more than half of the 24 baserunners who have attempted to steal a base on her, she has also batted in 30 runs, including four home runs. Her placement with the glove has also helped Berger to 128 strikeouts, which not only leads 3A but is ninth in the state. Outside of the Winslow anomaly, run support for Berger has not been a problem, as the Lobos have scored less than eight runs just one other time in March–scoring over 100 runs in their seven other wins.
7. Wickenburg [7-2, 2-1 North Central]: The Wrangler Softball Classic was a building experience for many teams, including its host and head coach Keith Peterson. Before an April Fool's walk-off loss on an unearned run at Bourgade Catholic, the Wranglers had spurted to an 8-3 record since their tournament. A big part of that is senior catcher Clare Peterson, one of 3A's top hitters and a conference leader in on-base percentage. Pitching to her is sophomore ace Daisy Smith, fourth in 3A in both ERA and strikeouts with over 100 already. But to get to that next level where the Wranglers lock in a host seed, juniors Molly Johnson and Kimberly Hernandez need more offensive support, and need to step up their offense themselves.
8. Show Low [5-3, 2-1 East]: The Cougars have won road games at Holbrook and Payson on grit and spunk, but they will struggle in state tournament situations against teams like they look up to in the region unless senior pitcher Nicole Roten gets some more support. The first-team all-3A selection and East Region Offensive Player of the Year has the home runs to show she can win playing the long ball, with enough returning experience around her. Junior Hanna Buchholz has handled save situations well, but it is the defense that has struggled, as the Cougars have won the bulk of their games despite having given up sizable early leads. A six-run third inning, for example, wasn't enough at Payson, with junior Kynlee Nikolaus and others needing to contribute three more in the sixth to put away the Longhorns.
11. Chino Valley [7-4, 2-1 North Central]: Seventh-year head coach Matt Dunn has the Cougars again in position for another postseason bid, thanks to an offense that just won't quit. A crazy sixth-run sixth March 11 almost got Chino over the top of Snowflake, but giving up three runs in four previous innings proved to be too overwhelming in a 15-13 home loss. Subsequent losses in slugfests with two more East Region teams, Payson and Winslow, had the Cougars in a three-game tailspin, but they have responded well since, scoring 57 runs to win four of their last five contests. Senior Alyssa Hamm leads the way offensively, but freshman Kassidy Oberan's top-10 slugging percentage in the conference has shown an emergence as a hitter to be reckoned with as well. Sophomore ace Breanne Petty has plenty of support from not just them and junior Marae Hooper, but other all-region selections like catcher Hanna Sears and fellow juniors Audrey Hoey and Talia Stuller, making the Cougars a challenging out.
15. Kingman [6-3, 4-0 West]*: Streaky is the nature of these Bulldogs, whose March stat column in that respect has gone L2, W4, L2 and W4 again after a 1-2 start. Pitcher Maddy Chamberlain always swings for the fences in that spirit, and with eight homers, 35 RBIs, a .714 on-base percentage and one of the top five batting and slugging averages in the conference as well, she usually connects. But Chamberlain is helping herself at the plate, as the senior is also the staff ace with 109 strikeouts and 10 wins on the mound. Her battery mate, sophomore catcher Brooke Carter, adds another 26 RBIs to the mix, and junior infielder Amber Lopez's 31 runs of support supplements her impeccable fielding percentage to make Kingman a team to watch.
17. Payson [7-4, 2-1 East]: Unlike the pitching-strong Longhorns of old, this year's version advances runners and scores to win. In fact, with the exception of a 6-4 bounce-back win over rival Blue Ridge at its Gracie Haught tournament March 19, Payson hasn't won a game this season without scoring at least eight runs. That's no knock against pitcher Ivy Woolwine, who pitches to a solid-fielding catcher in fellow junior Hailey Bramlet: Woolwine and has helped herself quite handily at the plate to win herself games on the mound, thank you very much. Her .615 batting average is killing it against the rest of the conference, and junior infielder Bree Hall has knocked the ball out of the park six teams already this season.
18. Holbrook [5-6, 1-3]: Belying their mascot, the Roadrunners are hitting the ball out of the park so much and so hard this season it would make Wile E. Coyote jealous. Sophomore catcher Sarah Slim, junior shortstop Macy Moore and freshman utility player Tamryn Baldonado are three of 3A's top 10 home-run hitters. Slim and senior Ashley Speers at first base anchor the Holbrook defense, which has impelled head coach Scott Baker's team to three wins in its last four outings after a 2-5 start. But Baker could show so much more and greatly solidify his postseason seed with a Tuesday, April 5, upset of Snowflake.
19. Window Rock [10-2, 7-0 North]: That regional record will continue to send the Fighting Scouts into the top 16 of new power rankings--if they can continue their six-game winning streak. Six routs of Chinle, Valley (Sanders) and Tuba City by a grand total of 102-16 show they have enough offensive firepower to cause plenty of trouble to any play-in opponent if they can stabilize and win the majority of their four remaining doubleheaders. Long-time head coach Cynthia Smiley's girls have lost virtually two years to the COVID-19 pandemic, though, and have no one with previous varsity experience still on the roster, making Window Rock a candle Smiley needs to try to avoid burning out too quickly.
24. Camp Verde [3-6, 0-3 North Central]: The Cowboys have work to do in a tough region to keep from falling out of mention here entirely, having lost their last four games–two by shutout, the other two by run rule. Sophomores Erin Collon and Maysea Dupuy followed junior Kendra Hardy's lead with multiple RBIs in a 12-1 five-inning win March 22 over Phoenix Christian, but that seems like ancient history with fifth-ranked Northwest Christian visiting the Cowboys in the midst of a four-game losing streak. Head coach Clint Teague may want to consult his state title-winning predecessor Henry Smith on pitching, because it must be found, and soon, if Camp Verde is going to reverse a disturbing trend of being outscored, 88-8, in its losses...
Page head baseball coach Ty Bennett will enjoy reading the recap of his team's rise to No. 8 in 3A after getting swept out of an early-season tournament. His team certainly has the time to soak it in, as unlike their tournament-playing, top-ranked softball counterparts, they are on break until Thursday, April 14, after sweeping Chinle in a March 26 doubleheader. In fact, up to their doubleheader battles with the Wildcats, both Page and Window Rock were undefeated and on a collision course for the North lead as top 10 teams in 3A. But for the Fighting Scouts to give up 13 runs in each of the two games April 1 in Fort Defiance was no April Fool, but a serious wake-up call for a team that had been blowing out virtually all its other opponents in doubleheaders all season:
8. Page [7-0, 7-0 North]*: The Sand Devils will enter the postseason in the unique position of never having played a Freedom game this season. In fact, outside of six games at the Kingman Invitational, Bennett's team hasn't played anybody outside the North Region. No question, mind you, that Page has earned its top five ranking in its 83-26 outscoring of region teams. Juniors Chad Wood and Collin Joe are solid pitchers, with Wood a top-three base stealer in the conference with 27 to boot. Another junior, second baseman Ashton Penrod, had three RBIs to make the difference in the doubleheader sweep of Chinle. But a 1-5 showing in Kingman, including a split with the 27th-ranked host , has to be a splinter in the mind of Bennett when preparing for a first-round home game against an unknown–but likely non-region–play-in opponent.
9. Window Rock [8-2, 5-2 North]: Right behind the Sand Devils in the North Region are the Fighting Scouts, whose dismal lack of success against Chinle will likely drop them out of contention for a host seed. Still, they can stop their two-game slide and do much to redeem their seeding with an April 5 home win over Snowflake. Their top five hitters, including state stolen base kings Caleb and Casey Tsosie, can also prove they weren't just getting fat on an easy early schedule, and that getting outscored in two games, 26-9, in that doubleheader was just an April Fool. With 58 thefts combined by them and another 24 from sophomore utility player Kanaan Marianito, and an insane on-base percentage from senior shortstop LaShawn Platero, Window Rock is a team with a need for speed. Six-foot, two-inch, 280-pound third baseman Elijah-Kane Morgan fills in the power.
11. Snowflake [8-3, 5-0 East]*: After beginning its baseball season earlier than most other teams, Snowflake was riding high following a 4-0 showing at Sabino's Cowboy Up Tournament. But that did not prepare the Lobos for what is quickly becoming their greatest Phoenix rival, American Leadership Academy - Gilbert North. A 16-1 loss March 1 to the third-ranked Eagles dropped them back to earth fast. Consecutive losses a week later at Thatcher and to Gilbert Christian had the Lobos digging in. The response has been classic Snowflake: six wins in a row behind two senior right-handed pitchers, Ryan Caskey and Caleb Cantrell, with a five-inning, 55-pitch performance March 22 by 6-6, 225-pound Caleb McCray over Alchesay for good measure. Just to show Snowflake's depth, which, as usual, is a team effort offensively, spearheaded by another upperclassman, infielder Jace LeSueur, who has hit three homers and scored 25 runs to date.
13. Winslow [8-3, 2-2 East]: Head coach Chris Garrett's Bulldogs are at a crossroads following an 8-7 home loss Saturday, April 2, to 14th-ranked ALA Ironwood. It was their second loss in four days and their third in five games–all at home, all coming on sixth- or seventh-inning rallies in which Winslow initially held the lead. With a Wednesday, April 6, win over Holbrook, Winslow can stay in contention behind Snowflake for a favorable 3A seed, especially by sharing the region's best overall record with the Lobos. Plus, the Bulldogs do have a late-season weekend tournament coming up at Estrella Foothills High School to iron out the kinks. Ace A.J. Vargas is one of the conference leaders in strikeouts with 46, but he's running out of time to give he and his fellow multi-sport lettermen Chris Arellano, Aiden Fallaha, Micah Johnson and Lucas Milligan one last deep postseason run.
17. Show Low [5-3, 3-1 East]: After a 7-3 loss March 8 at 19th-ranked Chino Valley dropped the struggling Cougars to 2-5, they caught Page's scheduling good fortune: a two-week midseason break. Head coach Jeff McNeil's team regrouped, refocused, and the results, offensively, since returning to action March 23 speak for themselves. The Cougar bats teed off on Snowflake and Holbrook for 10 runs in the first three innings of each game, with 10 more in the first five at Payson. The four-run rally in the top of the seventh to win at Winslow, however, showed that the Cougar bats do not fall asleep when they are needed late. Senior pitcher Cougar Cooke also gets on-base two-thirds of his at-bats, and fellow upperclassman Colton Yeager has his back defensively.
21. Blue Ridge [5-5, 2-2 East]: Head coach Bryan White's Yellowjackets debut in the top 24 of the power rankings after edging 24th-ranked Chino Valley at home, 9-8. Senior slugger Cody Wallace's five homers are tied for the conference lead. He also gets on base two-thirds of the time, making his .667 percentage the best in 3A outside of Window Rock. Knowing that, the Cougars chose to pitch around him three times, but he still ended up scoring twice. A young pitching staff is headed by sophomore Dustin Rosenthal, who struck out seven in six innings while allowing just two earned runs in the win.
22. Wickenburg [6-4, 1-1 North Central]: After run-ruling No. 25 Camp Verde in six innings, 12-2, the Wranglers face an eight-game home stretch of North Central Region games that will either make or break their season. Junior pitcher Eleazar Dominguez, after no-hitting Alchesay on March 11, got his fourth win by allowing just one earned run through four innings, with senior Drake Matney getting the save out of the bullpen. Matney, with a .565 batting average among the top 10 in the conference, is Wickenburg's big hitter, along with fellow upperclassman and infielder Drew Ullery. Ullery had two doubles, a run scored and an RBI to add to his team-leading 25 in the win. But timely hitting and pitching has really been a team effort in Wickenburg: Sophomore pitcher Trace Buchert, who had a double, two runs scored and two RBIs against the Cowboys, also has a no-hitter this season and has combined with Matney for five home runs, while senior utility Ro Dicamillo is the team leader with a .657 on-base percentage and tied for second in 3A with 27 runs scored. The team effort will decide whether the Wranglers get to host a home playoff game or drop out of the play-in games entirely.
23. Chinle [7-5, 3-2 North]: Head coach Charles Kimbrough has the Wildcats on a serious roll after they swept Ganado and Window Rock in doubleheaders, with three wins by run-rule. Senior pitcher Shaydin Tsosie has a 1.78 ERA and become sixth in the state in strikeouts after hurling his 60th of the spring April 1 in a 13-1 win over the Fighting Scouts the first game of the doubleheader. But sophomore reliever L.J. Grey is the closer with a top-three ERA in the conference: 0.66. Offensively, senior infielder Isiac Kee's .577 batting average gives the Wildcats their claws, while brothers Jake and Isiah Guy's 45 combined stolen bases give Rez ball new life in Canyon de Chelly in the spring.
24. Chino Valley [5-5, 1-2 North Central]: The Cougars are practically in free-fall heading into an April 5 roadie at Bourgade after losing their last three games. Granted, all three of these losses were also on the road, with the slump starting at top-ranked Northwest Christian. Still, if the Cougars are serious about getting back to the 3A tournament, they need to rediscover their confidence from 7-3 wins over Fountain Hills and Show Low–and they need to get it back fast against the Golden Eagles after a wild seventh inning at Blue Ridge. A 107-pitch, 11-strikeout, four-hit start Saturday, April 2, by junior Riley Roskoff was wasted after he left with two outs in the sixth, up 4-3. Although senior reliever Jayden Smith, who crossed the plate for the second time in his team's four-run top half of the seventh, got a strikeout to end the sixth, he would only last one more K before giving way to sophomore Connor Peterson. He would last just one more out and exactly 22 pitches before giving up his fifth run in the Yellowjackets' walk-off win.
Next Time
The Connor Watson no-hit watch continues. His magic number is 4. Beach volleyball in Flagstaff is further discussed, and playoff previews begin for baseball and softball in the 1A Conference. Tell me how you think it will go down--or just share your secrets to enjoying a wheelchair, which I will be in, for the next month, a la Rear Window. Any help you can give is truly appreciated--here, on Facebook or on Twitter at @ProfGWerner, or email me at gwerner@azpreps365.com.