Living life in silence
April 13, 2022 by Zanna Thompson, Arizona State University
---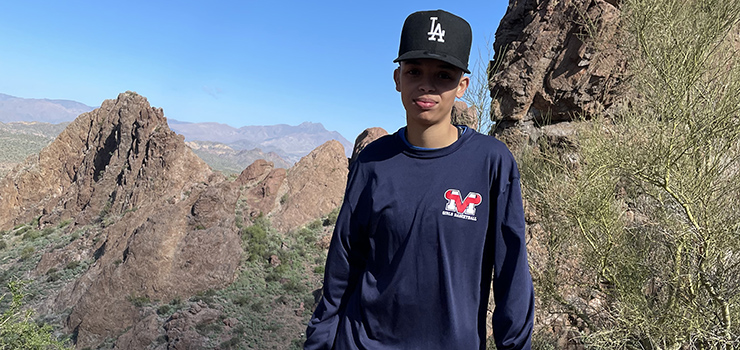 Imagine the game of basketball in silence. What would be the first thing you would observe? It could be the motion of the ball, arms of your teammates flailing everywhere or the one flickering light above your head that needs a new bulb.
For Mountain View's Alexia Watkins-Grijalva, when she steps onto the court, she observes her teammates' movements, coaches' gestures, interpreters' hand motions, the opposing team's formation and the arch of the ball as it flies through the air towards the net.
Alexia is not defined by her inability to hear, but rather her natural talent and persistence to break down barriers.
"When I put her into basketball, (that) was where she really found her passion," Alexia's mother, Susy Grijlava, said.
From the first day Alexia could walk, she was always active and on the move. But when she was around 10-years-old, the basketball switch was turned on and has not been turned off since.
"I have loved basketball my whole life," Alexia said. "I would go to the park every day for hours and just play."
Throughout life, Alexia has faced countless obstacles, but there was something about basketball that was freeing for her.
"Her passion for basketball stems from not needing to really focus on the deaf part of herself," Susy said. "When she is on that court it is just her, the basketball and her team."
Alexia is a born athlete. She is passionate and determined to perform at the highest degree despite her deafness.
"No matter what, everyday Alexia is the first one in the gym, the first one to grab a basketball and the first one to get her shots up," Mountain View head coach Mandi Carson said.
Alexia has trained herself to memorize the countless plays that occur during a game so she does not have to rely on her interpreter. Since basketball is ever-changing and the game can go in many different ways, she uses her natural basketball instinct.
Alexia relies heavily on lip reading and hand gestures from her coach and teammates, needing to always be aware of every movement made.
"(Because of) the love that she has for the game, there is nothing that is going to stop her from continuing to grow," Carson said. "To me she is a kid (that) no matter what struggles she might have, she is going to make things work."
Despite her ability to figure out new formations, her struggles off the hardwood are constant.
Alexia is the only person in her family who is deaf. And since Alexia was born, her mom has had to continually fight for her.
Alexia failed her hearing test as a baby, and the doctors said it was water stuck in her ears that caused it. After a grueling three-year battle of trying to grab the doctors' attention, explaining that water was not stuck in her ears, Alexia's family finally took her to Mexico where it was confirmed she was deaf.
"A lot of the world treats (the deaf community) like they are an inconvenience," Susy said. "(Alexia) feels like she is broken sometimes because of the way people treat her for not being able to communicate."
The struggles continue as she tries to find a job but is constantly turned away.
"(Businesses) cancel her out of getting a job because she can't talk," Susy said. "(They) wear masks over their mouth and they won't pull it down so she could lip read. At the end of the day you cannot control what another person does … you can only control how you react."
Despite the constant roadblocks put in her way, Alexia reminds herself to listen to her heart and learn from what she has observed. Alexia emphasizes not to worry about what others think. Instead, be unapologetically yourself and go for whatever you want.
Susy stressed that many people consider the deaf community as a problem that needs fixing; however, she believes that is far from the truth. There is nothing that needs fixing. Besides sign language as their first language, those in the deaf community live their lives just as those who can fully hear.
Although there is an extensive community of people who understand the struggles that come from being deaf, Alexia has still experienced bullying and has felt alone.
"Growing up I felt like I was on the outside," Alexia said. "But I (also) see people and how they ruin their lives. It has (taught me) to follow your dreams (and) listen to your heart, not your mind – your heart."
When she plays basketball, Alexia is in the zone and finds ways around giant stop signs, proving everyone wrong. She shakes the bench when she hypes up her team and breaks the stereotypical definition of an athlete.
"Treat them like everyone else," Susy said. "...They are going to have days where they feel like they don't belong in the world and that is when you have to tell them, 'You definitely belong in this world.'"
Off the court Alexia's life is challenging; however, on the court Alexia is free from any misconceptions. She becomes a shining basketball player who redefines basketball norms and no one will ever be able to take that away.